At Last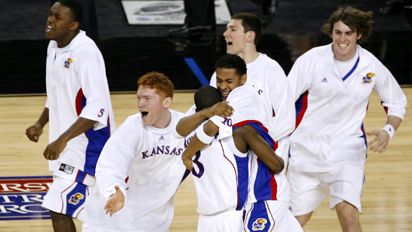 AP Photo/Gary Malerba
Kansas ended Cinderella's run to make its first Final Four since 2003.
Davidson was America's darlings, but Kansas has its own feel-good story, too. Bill Self failed in the regional final four times, but his team held off Stephen Curry to reach the coach's first Final Four.
Pat Forde
Must Read

Carmelo Anthony, Dwyane Wade and Richard Hamilton are just some of the players who have helped their draft positions with a big March. Which prospects could do it this year?


Chad Ford: Midwest Region

More from ESPN.com
Team Breakdown

The Jayhawks have played solidly throughout the season, cruising to a share of their eighth Big 12 regular-season title. Previous recent struggles in the NCAA tournament ...
Team coverage
Midwest
Omaha, NE
Tampa, FL
Omaha, NE
Raleigh, NC
Detroit, MI