For The A-10, It's All About National Respect
NEW YORK -- The Atlantic 10 has long straddled a perplexing line in college basketball.
It doesn't have football, which you'd think would make it more valuable as a basketball league, but because pigskin equals dollars, the conference always has been perceived as a step below the big six of the BCS.
Never mind that the Atlantic 10 perennially pushes one of the big six out of way in the final conference RPI rankings.
Never mind that Xavier is one of only two schools to appear in the last three Sweet 16s (the other is Michigan State).
If the coaches within the league want anything this year, it is a bullhorn. Tired of being the best-kept secret in the college game, they want to make people stand up and take notice.
"If you called 20 coaches and asked them about the Atlantic 10, they'd tell you our league is as good as any in the country," Rhode Island coach Jim Baron said. "What else do you need to talk about? We have a formula here that needs to be spoken about. I'll never understand why the teams in this league, the coaches in this league don't get more respect."
The problem for the league isn't the top. It's the middle. Xavier, Temple and Dayton have risen above the fray.
Thanks to consistent success, all three have national name-brand recognition.
After that, the league suffers from the peaks and valleys of the rest of its members.
Richmond has climbed its way back into the picture and appears poised to stay there. Otherwise, the schools in the A-10 are consistently tough, but not yet consistently good enough.
Saint Joseph's was great in 2004 and good in 2008; George Washington made it to the NCAA tournament in 2007 but since has been relegated to the CBI. Rhode Island, tantalizingly close to NCAA-worthiness in recent years, has nonetheless had to settle for the NIT.
Everyone else? Let's put it this way: It's been a while.
"When you talk Big Ten, ACC or Big East, you know what you're going to get," said Charlotte first-year coach Alan Major, who was hired because of the 49ers' recent failure to reach the NCAA tourney under Bobby Lutz. "That's beginning to happen in the Atlantic 10. With Xavier, Temple and Dayton, you know what you're going to get. They've established an identity for themselves. Now it's up to the rest of us to do the same."
The good news for the A-10? This could be the year things change. The top will be good again, but the middle is gaining ground. Major inherits a decently full cupboard at Charlotte and Ron Everhart has a Duquesne team still itching from underachieving last year. If Kwamain Mitchell can play in January, Saint Louis will still challenge.
Equally important, the bottom is starting to rise. Derek Kellogg has three years in at UMass now and at St. Bonaventure, Mark Schmidt led the Bonnies to their first A-10 tourney victory since 2002.
The league also is stuffed with game-changing players, the simplest path to success. Chris Wright (Dayton), Lavoy Allen (Temple) and Kevin Anderson (Richmond) return to anchor the favorites.
More vital, Duquesne's Damian Saunders, Rhode Island's Delroy James, Charlotte's Shamari Spears, La Salle's Aaric Murray and Nicholson all have the ability to raise the play of their teams.
"It's so important, not just for us but for this league, that we get over that hump," Everhart said. "We've been close, so close, but now we've got to take that next step. We need to move into that upper echelon of teams. And as a league, we need to make it even tougher on the selection committee, where they can't help but be persuaded we deserve even more at-large bids."
Martelli Desperate To Keep St. Joe's Relevant
NEW YORK -- Six years ago, Saint Joseph's basketball starred as the darlings of college basketball. From their tiny bandbox of a gym and led by the most powerfully built little engine that could in Jameer Nelson, the Hawks racked up 27 wins in a row, a perfect run through the regular season, and then narrowly missed a Final Four berth.
[+] Enlarge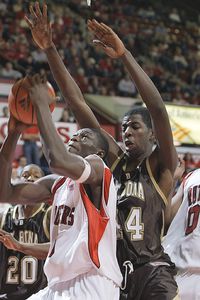 William Perlman/The Star-Ledger/US PresswireAndrew Nicholson leads the way in the Bonnies' rebuilding effort.
The years since Nelson moved on to the NBA haven't exactly been barren. St. Joe's has twice made it to the NIT and turned in another NCAA trip as recently as three seasons ago.
But success has a funny way of raising the bar. After one average season and one dismal one, the natives are getting restless.
None more so than the chief native in charge.
"We always talk about how winning begets winning and losing begets losing," coach Phil Martelli said. "Well I think excuse-making can beget excuse-making. We are at the point in time where we're in danger of becoming irrelevant and I can't let that happen and I won't let that happen."
Martelli looked hard in the mirror this offseason. An 11-20 finish, the most losses he's suffered in his career, will do that to you.
What Martelli discovered was a coach so focused on the big picture, he lost sight of the day-to-day. He saw a coach who maybe felt a little sorry for himself, who offered more excuses than solutions.
"I was leaving for a game one day and my wife pulled me aside and said, 'Just tell me everything is going to be all right,"' Martelli said. "It's hard to think about those things. I had to get back to thinking about this day. We play on Nov. 12. That counts. It's not about what we can be, but what we are right now."
To his credit, Martelli has adjusted -- his own frame of mind and how he teaches. With a roster stuffed with six newcomers, he has made sure not to assume they know anything and has boiled living in the here and now to its very core.
For the first time in his career, he said, he devoted two hours of his preseason workouts to explaining the pace of practice.
The return to the basics plus the influx of new players has energized Martelli. He has talent -- freshman C.J. Aiken was the Pennsylvania 4A player of the year and Langston Galloway averaged 26 points in his senior year in Louisiana.
Both were tabbed to the Atlantic 10 preseason all-rookie team.
But Martelli isn't interested in what they can be. He's interested in what they are now.
"We can't wait to see where we are in 15 games," said Martelli, whose Hawks were picked 12th, ahead of only St. Bonaventure and Fordham. "There may not be anybody here to see us in 15 games. We need to be on an uptick now. We're swimming in the deep end of the pool and we've got to get our heads above water."
Schmidt Slowly Rebuilds The Bonnies
NEW YORK -- St. Bonaventure coach Mark Schmidt motioned toward Chris Mack, sitting at a table behind him, and tried to explain the difference between being the head coach at Xavier and being the head coach at St. Bonaventure.
"If I won 25 games, I'd be the head coach of the Boston Celtics," Schmidt said. "If he wins 25 games, he's doing what he's supposed to do."
In three years at St. Bonaventure, Schmidt has slowly and steadily rebuilt a program whose very foundation was eroded by an academic scandal in 2003. Once mired at the bottom of the league, the Bonnies under Schmidt have steadily climbed from the basement to a respectable eighth-place finish last season that included their first Atlantic 10 tournament berth since 2005 and their first tourney win since the bottom fell out on the program.
But as he's undertaken the arduous job of resurrecting a program in the hard-to-reach corner of southwestern New York, Schmidt has maintained his refreshing candor. The Boston accent giving a voice to his blue-collar temperament, he is equal parts Don Quixote and equal parts realist.
The Bonnies, an NCAA Tournament team as recently as 2000, can be good again and Schmidt is planning on making that happen.
At the same time, he's OK admitting that there are different ways to define good.
"You have to know who you are," he said. "Can we get to the NCAA tournament. Absolutely. Can we get there every year? No. We're not going to win a national title. We're not a program that is going to win 25 games every single year, but we can still be very good."
Schmidt has plenty working against him. His school isn't exactly easy to reach. The closest city, Buffalo, is 70 miles away and in the winter that 70 miles can feel like 700.
In terms of budget, St. Bonaventure ranks 299th in athletics expenses, last among its league brethren, and though the NCAA sanctions have long since ended, pulling a program out of that punitive state takes time.
But Schmidt still has managed to attract one of the best players in the league in Andrew Nicholson, a player virtually everyone in the Atlantic 10 agrees is a future pro.
And despite the league's expansion, the Bonnies have managed to improve every season. They won seven league games last year, improving as the season grew as evidenced by a four-game win streak in late February/early March.
"We're not Xavier and we're not trying to be Xavier," Schmidt said. "That's OK. You can define success in different ways. We won 15 games and finished eighth. That's a great success. Some guys, it would have been, 'What are you doing?' Everything is relative and relative to what we want to be, we're doing pretty well."
Mack Gets Rid Of Pain In The Neck
NEW YORK -- Chris Mack joked about the sort of neckwear he might don on the Xavier sidelines this season. "Maybe a blue and white scarf with a big X on it," the coach laughed.
But the three-inch scar sliced across his neck is no laughing matter, nor is the injury that precipitated it.
Three weeks ago, Mack had three vertebrae in his neck fused together, doctors entering through the front of his neck to remove two discs that had all but been rendered useless by two crazy accidents this summer.
Fine now, Mack has been anything but since mid-August.
The problems started on Father's Day. Showing off for his daughters, Mack dove (not jumped, dove as in headfirst) off a high dive, unknowingly compromising the discs in his spine.
Three weeks later during a family waterskiing outing -- or as Mack now calls it, 'waterfalling' -- he took a nasty spill and immediately felt a shooting pain down his right arm.
The pain temporarily disappeared and Mack wrote it off, but when it came back with a vengeance, he visited his team doctors. They tried anti-inflammatory medication and a cortisone shot, uncomfortably injected right into his neck, but neither worked.
Finally the doctors gave him the surprising news: he needed surgery.
"I remember when I first went for the cortisone shot, they said, 'If this doesn't work, you're going to need surgery,"' Mack said. "And I thought to myself, 'No way I'm having neck surgery.' Four weeks later, I had neck surgery."
The outpatient procedure was minimally invasive and an immediate success. Mack said doctors told him as soon as they removed one disc during surgery, the reading measuring his nerve activity jumped immediately.
Mack already is getting back to full movement in his arm and joking about future plans. He still wants to sky dive and figures he's technically still eligible for an NFL career.
"They say in the NFL, if you have two vertebrae fused together, you can play; three is iffy and four your career is over," he said. "I have three, so my career is iffy but I think I could be a holder or something."
The only thing, in fact, really bugging Mack right now is the scar.
"God I hope it goes away," he said. "I look like Frankenstein."
Perhaps an ascot would work?
UMass coach Derek Kellogg
They Said It: A-10 Coaches

Charlotte: "The number one way you get better is by building daily habits. Your team has to have the right mindset and know what is expected of them every day."
-- Alan Major

Dayton: "Our guys are very proud of what we accomplished, but maybe more so of what we showed down the stretch. We showed a lot about what we are made of, that there's no quit in this program. At the same time, they're hungry to do more."
-- Brian Gregory on the Flyers' NIT Championship

Duquesne: "Damian Saunders takes a lot of pride in what the word Duquesne means across his chest. He takes that very seriously. He's a blue-collar, Pittsburgh-type kid and he plays like that."
-- Ron Everhart on his senior

Fordham: "We have to become relevant again, not just locally in New York but nationally. That's the goal and if I didn't think I could do that, I wouldn't have taken this job."
-- Tom Pecora

George Washington: "With this team, we talk about consistency, about improving as the year goes on but maintaining that level of effort. Last year we had too many ups and downs."
-- Karl Hobbs

La Salle: "Aaric came in as one of the most highly rated recruits in our conference in a long time. So you have to put yourself in his shoes. In high school, you really don't play against anyone your own size. You've got all of these people telling you how good you are. I don't think he understood how hard it was going to be. This year he knows."
-- Dr. John Giannini on sophomore Aaric Murray

Massachusetts: "The hardest thing for me has been patience. At all levels, I've been lucky enough to have some success, so to go through the growing pains is hard for me sometimes. But I see the progress. I see the maturity."
-- Derek Kellogg

Rhode Island: "I am concerned. You win 20 games every year and it starts to catch up with you. How do we do that this year? Depth is definitely a concern because it's real for us."
-- Jim Baron
Richmond: "I was worried that they wouldn't work as hard, but that has not been the case at all. They're setting records in the weight room; they've been in the gym more. They've tasted that success and they want more."
-- Chris Mooney

Saint Joseph's: "There's a different energy, a different vibe to this group. I'm not forgetting that we lost 20 games last year and neither are they. And I'm not going to forgive it, but you look out on the court and you say, 'Well those six guys weren't involved in that and how can I build a positive framework with that."'
-- Phil Martelli on working with his young team

Saint Louis: Rick Majerus did not attend the Atlantic 10 media day. The university did not send anyone in his place.

St. Bonaventure: "When I took this job, I asked a lot of people for advice and they all said the same thing: This is a program that has had success in the past -- why can't you resurrect it? You can. We're not Xavier. We're not Temple. Bob Lanier isn't showing up tomorrow, but we have things we can sell."
-- Mark Schmidt on establishing the Bonnies

Temple: "You have to keep your kids level-headed about it. It's a prediction, not a result."
-- Fran Dunphy on the Owls, the three-time defending champions, being picked to win the league again

Xavier: "Our guys have been on the big stage. They've been to three straight Sweet 16s. But they still bring that hunger every single day."
-- Chris Mack
Duquesne coach Ron Everhart
A-10 Preview Content
For a Blue Ribbon breakdown of all 14 A-10 teams, click here.
More Atlantic 10 coverage:
• Eamonn Brennan's "Five Things I Can't Wait To See" in the A-10
• Insider's five key questions for the conference
• Dana O'Neil profiles the league's two new head coaches: Alan Major (Charlotte) and Tom Pecora (Fordham)
• O'Neil on Canadian whiz kid Andrew Nicholson, who is leading the rebuilding charge at St. Bonaventure.
• Andy Katz on the recent setbacks at Saint Louis and Xavier.
• Mark Adams visited practice at Dayton, which unlike last year, is sort of flying under the radar.
• Our Atlantic 10 Summer Shootaround, which includes predictions, players to watch and team capsules.
• For more A-10 coverage in the Nation blog, click here
Brennan's A-10 Wind Sprint
Best Of Atlantic 10 Media Day
Best boast: "He's the best passer I've ever seen."
-- Duquesne coach Ron Everhart on freshman guard T.J. McConnell
Best quip: "You know that new show on HBO, Boardwalk Empire? That's really about Temple."
-- Saint Joseph's coach Phil Martelli, talking about the run of three consecutive tourney titles in Atlantic City for the Owls
Second-best quip: "I know I've been asked to speak because I'm from New York. It's not because of our record last year."
-- Fordham coach Tom Pecora, speaking at the luncheon. The Rams finished 2-26 last season
How to use your mentor's advice: "Coach Carril is … honest. He has these simple Coach Carril-isms that really capsulizes everything in such simplicity. I'll be talking about a player and saying he can do this and do that and he'll just stop me and say, 'Can the guy make a shot?' -- Richmond coach Chris Mooney
Best perspective: "Because I've been lucky enough where there's been no tragedy in my life, no death, no horrible diseases, last year was probably the worst thing that ever happened to me. That was five years of building something and to have so much go wrong is really hurtful." -- La Salle coach John Giannini on the injuries that changed a promising season into a 12-18 disappointment