Can Shorthanded Jayhawks Extend Streak?
KANSAS CITY, Mo. -- Kansas was picked to share the Big 12 regular-season title with Texas A&M, but those votes were tallied before the Jayhawks were informed that two key newcomers, Ben McLemore and Jamari Traylor, would be ineligible.
Dismissing that news would be a major mistake and should probably knock KU from its co-favorite perch. That's not the media making that statement or any other Big 12 coach. That comes from Kansas coach Bill Self. "I don't know how anybody could pick us after this decision," said Self during Big 12 media day Thursday. "I don't know. In this particular case it may be out of respect. We've been picked to win the league several times and had a nice little run. But to me the team to pick is Baylor. They have arguably the best front line in the country, and certainly the longest, with that 2-3 zone." The reason Self doesn't mind taking the Jayhawks down a notch is because of McLemore. "Ask Thomas [Robinson] and Tyshawn [Taylor] and they'll all tell you that the best pro prospect on the team was Ben," Self said. "That's a big loss. The one thing about it is that he's doing great in school. He's doing well this fall. He's hungry and he'll have something to prove, along with Jamari. We respectfully disagree [with the academic-ineligibility decision], but it is what it is and we'll deal with it."
[+] Enlarge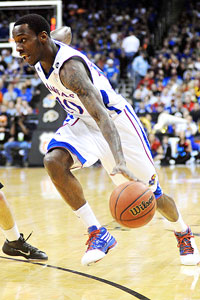 Mark D Smith/US PresswireTyshawn Taylor will take on an increased role both on and off the court for KU.
Added Taylor: "It definitely hurts us because it takes our rotation from eight or nine to six or seven. I think those guys could have helped us a lot. [McLemore] is a long, athletic wing, and even Jamari would have helped with his body inside." The absence of the 6-foot-8 Traylor means Loyola-Marymount transfer
Kevin Young
will be called on for more significant minutes. The Jayhawks do have another key newcomer on the perimeter in 5-11
Naadir Tharpe
. But it's not like the returning core wasn't enough to warrant some high praise. There's not a team in the Big 12 that doesn't have plenty of questions left to be answered. So why not stick with Kansas? The Jayhawks do have Robinson, Taylor, guards
Elijah Johnson
and
Travis Releford
and 7-foot center
Jeff Withey
. "I don't think anyone should count us out," Taylor said. "We lost some pieces but we've got a great coaching staff. We've got guys who are waiting their turn. It's here and we're excited." Self said if there is any player ready to assume a No. 1 role, it is Taylor. "Tyshawn wanted this to be his team for a while, but there was no way with Sherron [Collins] and then Cole [Aldrich] and the Morris twins," Self said. "He's not a good leader -- he's turning into a
great
leader. He's coaching young guys. I see him get frustrated. He's become an extension of the staff and me. He's wanted this." And now he's got it, with even more responsibility due to the depleted roster.
The Talent Is Certainly In Place At Baylor
KANSAS CITY, Mo. -- First they bombarded his Twitter account. Then they hit him up on Facebook and message boards. Hundreds of times after he announced his college intentions, people had the same question for freshman Quincy Miller.
Why Baylor? "Everyone was like, 'Why would you want to go there?'" said Miller, a consensus top-10 recruit. "It really made me mad, because Baylor is a great place, a great school. We have a chance to do something special." Baylor turned some heads when it reached the Elite Eight two years ago. But this season's Bears could accomplish something even more significant by capturing the program's first conference title since 1950.
Talented as his team may be, head coach Scott Drew disagrees with the pundits who have pegged his team to win the league.
"Until someone beats Kansas, they should be picked," Drew said. The Jayhawks have won or shared the last seven Big 12 titles, but for the first time in his tenure, Bill Self's squad lacks depth and doesn't boast nearly as much talent as the Bears, who have two players -- Miller and forward Perry Jones -- who are projected to be top-10 selections in next summer's NBA draft. With KU, Texas and some of the league's other traditional powers in various stages of rebuilding, the time seems ideal for Baylor to finish at the top of the heap.
[+] Enlarge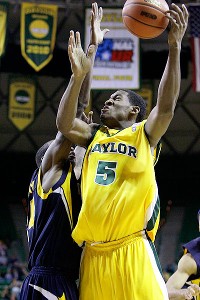 AP Photo/Tony GutierrezPerry Jones III and his Baylor teammates have high hopes.
Drew is doing his best to make sure his players don't look too far ahead. Baylor opened last season ranked No. 17, but failed to make the postseason after finishing 18-13 overall and 7-9 in conference play. "It was a good lesson about handling expectations," Drew said. "The veteran players have told the new guys, 'It doesn't matter what attention we get right now. It matters what happens on the court.' Coaches telling players something is good, but when players hear it from their own teammates, it's even better. They tend to believe their peers more." Baylor's frontcourt should be one of the best in the nation with Jones, Miller,
Quincy Acy
,
Anthony Jones
and J'mison Morgan. After averaging 13.9 points as a freshman, Jones shocked the nation when he announced he was returning to school instead of turning pro. "The best thing about a freshman is they become a sophomore," Drew said. "Usually that means they improve. Perry had flashes of dominance and then other flashes where we need to get him more involved. Hopefully he'll be consistently more dominant." The 6-foot-11 Jones and the 6-9 Miller are as versatile as they come, with guard-like handles and the ability to score from anywhere on the court. Miller missed his senior season of high school with a torn ACL. "It taught me to be humble at all times," Miller said. "[Success] can be taken away just as quickly as it's given to you. It helped me get bad people out of my life. People backed off of me because they thought I might not come back as the same player. It was discouraging at first. But now I'm back and better than I was before." As tough as they'll be in the paint, the Bears know the key to their success is on the perimeter, where Baylor was among the country's worst teams in assist-to-turnover ratio last season.
A.J. Walton
returns at point guard, but now he'll have some help with
Pierre Jackson
and
Brady Heslip
. Jackson earned National Junior College Player of the Year honors last season at the College of Southern Idaho. A combo guard, Heslip began his career at Boston College but never played for the Eagles before transferring to Baylor. The twosome will combine with Walton to form what could be a pesky backcourt rotation. "Everyone returning has to be better with the ball," Drew said. "Everyone coming in has to value the ball. If we accomplish that, good things should happen." Jones agrees. "Last year left a bad taste in our mouths," he said. "We didn't perform very well. The new guys are as hungry as [the veterans]. There's determination from everybody on the team."
Can Transfer U Work At Iowa State?
KANSAS CITY, Mo. --
Chris Allen
was a starter and the best 3-point shooter for Michigan State's 2010 Final Four squad, but that didn't stop coach Tom Izzo from dismissing him from the team the following summer.
Royce White
was a top-20 recruit who was named "Mr. Basketball" as a high school senior in Minnesota, but he never saw the court for the home-state Gophers before leaving the team in December 2009. Both players transferred to Iowa State. More and more these days, it's looking like a smart decision -- for both sides. One year after finishing last in the Big 12 with a 3-13 record, the Cyclones have realistic hopes of catapulting into the top half of the league. Allen and White are both eligible after sitting out last season under NCAA transfer rules. The same can be said for
Chris Babb
and
Anthony Booker
, who began their careers at Penn State and Southern Illinois, respectively. "The great thing about those guys is that they all played together last year [in practice]," second-year ISU coach Fred Hoiberg said. "They were building chemistry while they were sitting out. I think the situation was appealing to all of those guys when they were deciding where they wanted to go. "It's pretty rare when a program brings in four transfers."
[+] Enlarge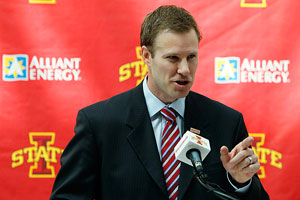 AP Photo/Charlie NeibergallFred Hoiberg is hoping a host of transfers will pay off as he rebuilds ISU.
In some ways, Hoiberg had no choice. Iowa State's fan base is traditionally one of the best in the Big 12, but interest in the program was waning following four straight losing seasons under Greg McDermott, whose teams were cursed by a rash of injuries, dismissals and unexpected transfers. Hoiberg knew he needed to go after a few "quick-fix" players to bring the magic back to Hilton Coliseum. "For me, when I got the job, it was all about trying to get as much talent as I possibly could," said Hoiberg, who starred at Iowa State from 1991-95. "You can't win in this league if you don't have talent. It's too good. It's a what-have-you-done-lately society we live in. People want results and they want them fast." That's not to say Hoiberg was reckless with his recruiting. He had each player meet with Iowa State's president and athletic director. He spoke to Izzo about Allen and to Tubby Smith about White. Then he contacted coaches who had mentored them during their high school and AAU days. "When you hear the term 'taking risks,' it's your job to do the background work to see if that's accurate," Hoiberg said. "You don't read blogs and chat rooms and those kinds of things. For all I know it could be a 14-year-old kid in his basement writing things about someone they know nothing about. So you do your homework and make sure kids are the right fit, and we felt like all of them were." The newcomers should certainly mesh well on the court, where Iowa State lost nine games by six points or less last season. Allen and senior
Scott Christopherson
will form the top 3-point-shooting backcourt in the Big 12. Neither player, however, is a true point guard, which is probably Iowa State's biggest concern entering the season, along with a lack of depth -- especially down low. Hoiberg said the 6-8, 265-pound White is freakish with his strength and athleticism, adding that he's incredibly unselfish and plays with "the mentality of a point guard." An adept passer and ball handler, don't be shocked to see White with the ball on the perimeter from time to time. He'll also be a force down low. White recently bench-pressed 185 pounds 28 times. "I think the all-time record at the NBA combine is 26," Hoiberg said. White and the other newcomers -- Babb averaged 9.5 points at Penn State two years ago -- have certainly created a buzz in Ames. Hoiberg said the school sold out of student season tickets in record time, and overall season ticket sales have increased as well. "It's easy to sense the excitement," Christopherson said. "I think everyone is really curious right now. They want to come out and see what these new guys are all about."
Texas A&M's Khris Middleton
They Said It

Baylor: "[Boston College transfer guard] Brady Heslip is 6-2 and lost 24 pounds of fat. His stroke is the same, but now he can guard a bit. He's going to help us. We've got a lot of options now."
-- Coach Scott Drew

Iowa State: "[Royce White] is a very versatile player. He's unselfish. His best quality is as a passer. He's a good scorer and he'll have shooters around him in Scott Christopherson and Chris Allen."
-- Coach Fred Hoiberg

Kansas: "We've got eight guys on scholarship and we need all of them. I feel really good about our returning guys. Our new guys should have a huge impact. They'll have to step up."
-- Coach Bill Self

Kansas State: "Angel Rodriguez is a feisty, competitive kid. He's got the making of a point guard. When you walk into a practice you can tell who the point guards are, and when you walk into our practice you can tell Angel and Will Spradling are our point guards."
-- Coach Frank Martin

Missouri: "Ricardo Ratliffe has been awesome. He's been so assertive and he's been aggressive. I think Ricardo's numbers [weren't as good as they could've been] because he didn't get to the free throw line enough, and part of that was he didn't understand how to attack."
-- Coach Frank Haith

Oklahoma: "Andrew Fitzgerald is a guy who can score, get separation and face up. He knows how to hit the 17-footer and he's got a good feel for the game. He can get his shot, and he'll work hard every day."
-- Coach Lon Kruger

Oklahoma State: "Talent is the right word for [LeBryan Nash]. He's a very, very talented player. But like most freshmen, he has to learn how long he has to play and at both ends of the court. He's getting better each and every day. I'm excited for the moment that it becomes habit at both ends of the court. He's a great kid who has an enormous amount of talent."
-- Coach Travis Ford

Texas: "[Myck Kabongo] has a tremendous work ethic and love of the game. He'll go through growing pains. But he really wants to be good at this game. He's got a tremendous attitude. He's got enough guys around him. There are a lot of new players, but Myck can handle it."
-- Coach Rick Barnes

Texas A&M: "I think you kind of reset [expectations] every year. Personally, our expectation is to be really good again. … We have built a program that has been really consistent, we've won a lot of games every year, and we expect to do it again this year. We realize there are good teams in our league, but we expect to have another great year."
-- Assistant coach Glynn Cyprien

Texas Tech: "We've got 10 new guys. I know the staples of this team will be defensively and toughness and chemistry. We have to become a really good rebounding team. We've got to do things offensively through our defense. I'm really excited about this team even though there are a lot of unknowns."
-- Coach Billy Gillispie
Texas Tech coach Billy Gillispie
Big 12 Preview Content
For a Blue Ribbon breakdown of every Big 12 team, click here.
More Big 12 coverage:
• Jason King with Five Things I Can't Wait To See in the Big 12
• Fran Fraschilla examines five burning questions in the league.


• Andy Katz with 10 observations from KC
• King on how Texas is counting on the mature Myck Kabongo to lead an extremely young team
• Katz takes a team-by-team look at the league's nonconference schedules
• Katz's Daily Word looks into the future of the Big 12 and what the current basketball coaches would like to see
• John Stovall with a look at the recruiting picture in the conference


• Chad Ford analyzes the top draft prospects in the Big 12


• Video: Baylor coach Scott Drew talks about both of his parents being diagnosed with cancer
• New Faces, New Places: Profiles of Oklahoma's Lon Kruger, Texas A&M's Billy Kennedy, Texas Tech's Billy Gillispie and Missouri's Frank Haith (Video interview of Haith can be found here)
• Eamonn Brennan recaps a wild offseason in the conference
• Summer Buzz series: Brennan takes an in-depth look at Kansas, Baylor and Texas
• For more Big 12 coverage in the Nation blog, click here.
Kansas State coach Frank Martin
Iowa State coach Fred Hoiberg
Missouri coach Frank Haith