Big East Coaches Feeling Helpless These Days
NEW YORK -- Aside from losing, there is maybe one thing college coaches hate more than anything, and that's ceding control. Given their druthers, they would dictate every morsel that crosses a player's lips and what kind of socks he wears with his sneakers.
So these are some unique times for the game's biggest power brokers. Their worlds are being upended. Where they play, whom they play and what their futures will look like are being decided for them.
"I say this without even a small dose of humility," Louisville coach Rick Pitino said. "I have absolutely no voice in this process."
He is not alone.
As the Big East coaches gathered Wednesday for their annual media confab, against a conference backdrop that soon could become a collector's item, it was startling to look around a room dotted with current and future Hall of Famers and realize just how little they all had to do with the process.
[+] Enlarge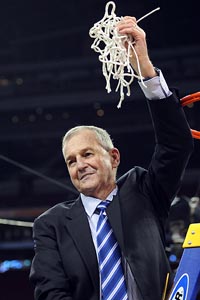 Bob Donnan/US PresswireJim Calhoun is coming off his third title, but that doesn't mean a lot when it comes to realignment.
That conference realignment is football first, football second and football 83rd is not breaking news. It just never was driven home quite so hard as it was in a conference room at the New York Athletic Club, with the game's biggest movers and shakers -- Pitino, Jim Boeheim and Jim Calhoun -- spread across the room, all powerless to determine the fate of their own programs. "Clearly this is about helmets and shoulder pads, so there is a helplessness there," said Calhoun, who likes helplessness about as much as he likes the New York Yankees. "Do I have an idea who I think we should play against? I do. Do I think I've earned the right to share that? I think we have. But that not's the way things are right now. So no, I don't feel like I'm in control." It is, no one will argue, an odd feeling. During his opening statements, league commissioner John Marinatto desperately tried to push the message that this was a day about basketball and not conference realignment. It was a nice effort, but the reality is there is no moratorium on the conference realignment conversation. Since UConn cut down the nets in Houston, it has dominated the conversation. But the questions, at least in this room, were hard to answer because these players didn't hold the cards. "I'm a basketball coach, but as you all have written, football is driving this," Georgetown coach John Thompson III said. "Georgetown has football, but not at that level, so the decisions are being made for us. We have less control than some others." Calhoun admitted that, given his preference, UConn would never leave the Big East. He is a creature of habit, yes, but also a person who recognizes just how much the current conference affiliation has done for his program and, more, his university. Yet now entering his 40th year in the profession, Calhoun is first and foremost a realist. "I don't think I have a chance to win three national championships without the Big East," Calhoun said. "I was coaching at Northeastern when Dave Gavitt and [former Syracuse athletic director] Jake Crouthamel went up to Saratoga and, over a bunch of bologna sandwiches, put this thing together. Connecticut has never been the same since, and in my opinion, this is where we belong. But what you want isn't always what you end up getting." No, instead what Calhoun will get -- and what Boeheim and Pitt already have received -- is whatever the folks in the ivy (and occasionally ivory) towers decide is better for their universities, their pocketbooks and their football programs. And not necessarily in that order. "College sports have always liked to say we're about collegiality and all that," Villanova coach Jay Wright said. "That's never been the case, and that's what all of this is proving. This is a big business. That's what this is about, and now we're finally acting like it. We're not pretending it's about collegiality anymore. We're saying it's about big business. It's about money. So now the question is, how do we proceed as a big business going forward?" A tough question, with few answers among the basketball coaches.
Feels Like A Farewell To Pittsburgh, Syracuse
NEW YORK -- The two coaches, both Hall of Famers, sat side by side on the bleachers at a New Hampshire prep school. They were there to watch a recruit, but as they sat passing the time, the conversation stretched and wandered. "The one thing Jim [Boeheim] said to me was, 'How the hell did we pass up on all that money?'" Jim Calhoun recalled. The question, concerning the reported $1.2 billion television deal the Big East turned down, was posed by the Syracuse coach on a Wednesday.
[+] Enlarge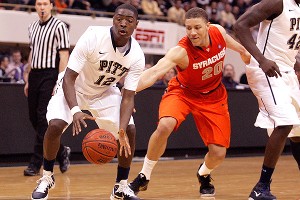 Justin K Aller/Getty ImagesNo one knows when, but Pitt and Syracuse will eventually exit the Big East together.
That Friday, his university announced it was heading to the ACC. And now Boeheim and Jamie Dixon are Big East short-timers. They could be here another three seasons -- commissioner John Marinatto is holding fast to his 27-month exit plan -- but at some point, the league will gather for its media day and the two will no longer be there. Boeheim wasn't interested in talking. He said plenty when the original announcement was made and, at least on Wednesday, took a break from the discussion. "I'm only interested in talking about basketball," he said. "That's what I'm concerned about. That's all the players talk about. These guys don't care." Although Dixon did address the subject, he too is almost talked out. Pittsburgh long had been mentioned in the conference realignment rumors, hypothetically paired as a travel partner for Penn State in the Big Ten at one point. So any questions, concerns or awkwardness his coaching peers might have had long ago were addressed. "It's kind of like the discussion has been over for a long time," he said. "What else is there to say?" His players did have one point to make. "I only wish I could play in it," Nasir Robinson said. "I'd love to have a chance to go up against Duke and North Carolina." That day won't come for Robinson. He is a senior, and will begin and end his career as a Big East player. As for those who follow? That remains to be seen. "Once we get a suitable timeframe in place, we'll move forward," Dixon said. "We've made it very clear that we don't wish any ill will on the Big East, and we understand that they have to fill out their teams and settle their situation. We'll all know when it's the right time."
Finally Over Hump, Cincy Wants To Stay There
NEW YORK -- A year ago, Mick Cronin walked into Madison Square Garden, sneaked a peak at the preseason poll and stole a look at Yancy Gates. Cincinnati was picked to finish 12th in the 16-team league.
"I knew we were better than that,'' Cronin said. "I practically kicked Yancy under the table.'' Cronin, of course, was right. The Bearcats finished 11-7, tied with West Virginia for sixth, and ahead of Georgetown, Villanova, Marquette and eventual national champ UConn. Fast-forward a year. Cronin walked into the New York Athletic Club on Wednesday morning and, with an NCAA tournament win in his belt, glanced at the rankings. There in the No. 5 spot sat Cincinnati. It is what Cronin has worked for since taking over five seasons ago. A UC graduate, a native of the city and a self-described fan of the Bearcats, he took the job because he wanted to bring the program back to national prominence. Now that he has, well, it's time to gulp. "In this league, you never win because of who you are,'' Cronin said. "That might happen in some leagues, but in this league, no one is giving you the empty chair. That's definitely my biggest concern for this team. How do we deal with having a target?'' It is the beautiful conundrum of coaching -- you spend years toiling and clawing to get to the summit, and then the rest of your career fretting and worrying about how to stay there. Just last season, Cronin put himself on the hot seat, declaring that if he didn't take the Bearcats to the NCAA tournament in his fifth year, he didn't deserve to keep his job.
[+] Enlarge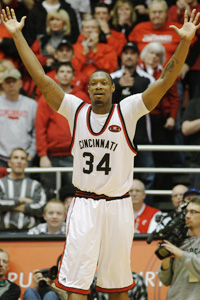 AP Photo/Al BehrmanYancy Gates has finally started to figure it out at Cincinnati.
Then he spent the entire season trying to insulate his team from the very pressure he put on himself. "It's a good thing we're a bunch of goofballs,'' Cronin said. "We spent a lot of time in the locker room joking.'' But players aren't stupid and players don't live in a bubble. They knew what was up. Four years ago, Gates arrived as the heralded hometown hero who was going to save Cincy. Instead, his career was a constant push-pull between coach and player, a private battle of wills that included public suspensions. "I worried that it wouldn't happen before I left,'' Gates said. "When I was a sophomore, when we had all of those great players like Lance Stephenson and we went to the NIT, I wondered if it wasn't going to happen for me.'' That Cincinnati jelled once Gates had his own aha! moment isn't coincidence. The big man put together his best season in 2010-11 -- averaging 11.9 points and 6.9 rebounds -- but it was how he finished that mattered most. Suspended in February, he came back to score in double figures in the Bearcats' final nine games. Now he comes into his senior season on the preseason second team, a bona fide focus of both UC's offense and its success. "Now it's about trying to maintain it,'' he said. "We worked so hard to get here but now we want to stay. That's almost harder. We know what it's like to lose, and we don't want to taste it anymore.'' No one in Cincinnati does. "I know what Kevin Willard and Ed Cooley and Mike Rice are going through,'' Cronin said. "You can get bogged down in trying to get things done in this league. It can consume you and eat you alive.''
More Media Day Musings
NEW YORK -- Clearing out the notebook from Big East media day: • From 10th to first, that's how far Connecticut has traveled in one year's time. A national championship -- not to mention a late-addition blue-chip recruit -- will do that for you. "Last year, we weren't in the top 68 [in the preseason],'' senior Alex Oriakhi said. "That's when it's easy. No one is paying attention to you. You can just go out and play. Now we're No. 1 in the Big East, top five in the country. It's more work than fun sometimes, but the key is to making it fun.'' • Tim Abromaitis has spent three years waiting for the shoe to drop. In 2008-09, the Notre Dame forward played two exhibition games before taking a redshirt year. The decision violated one of the technical letters of the NCAA law. By rule, players can participate in exhibition games as freshmen and retain their redshirt status, but sophomores, juniors and seniors cannot. It could have been much worse for Abromaitis -- the NCAA could have docked him his entire senior season. Instead, he will miss the Irish's first four games (against Mississippi Valley State, Detroit, Sam Houston State and Delaware State), a small punishment but one that will test Abromaitis' patience. "It's going to be hard to sit,'' he said. "But at least the games are all pretty close together, so it's maybe just a week or so. There's nothing I can do except be the team's biggest cheerleader.'' Asked whether he'll spread his duties to part-time coach, Abromaitis smiled. "No,'' he said. "I'll leave the yelling to coach [Mike] Brey.'' • When Maalik Wayns arrived at Villanova, he was billed as the next Kyle Lowry. A Philly product who had the same fearless approach to his point guard duties as Lowry, Wayns considered the comparison an honor. Except things haven't gone exactly Lowry-like for Wayns. In each of Wayns' first two seasons, the Wildcats suffered an NCAA tournament flameout, upset by Saint Mary's in the second round two seasons ago and dispatched by George Mason in the first last season. Then, at least, Wayns was playing understudy, backing up Corey Fisher at the point. Now this is his team, which means Nova's postseason woes are his baggage to inherit. "I'm ready,'' he said. "I think you have to wait your turn. You have to learn because this league, it's so much different. In high school, you're the best guy on the floor. In this league, everyone was that guy.'' How much Wayns learned will go far in determining just how well Villanova, a team stacked with talent but also loaded with youth, goes. The gild is hardly off the lily -- it's hard to complain about a team that hasn't missed the NCAA tournament since 2004 -- but certainly there are plenty of folks hoping the gild at least gets a new shine. •
News and notes
: Pitt's Ashton Gibbs was named preseason player of the year. … Steve Lavin, still recuperating from prostate cancer surgery, did not attend media day. Assistants Mike Dunlap and Gene Keady spoke in his place. … Louisville coach Rick Pitino said he expects the NCAA to decide on freshman Wayne Blackshear's eligibility in the next two weeks. … Pitt senior Nasir Robinson, who had surgery to repair his right knee Friday, isn't worried about his recovery. "It already feels pretty good; I'll be back soon,'' he said.
Georgetown's John Thompson III
Big East Quotable

Cincinnati: "What I've realized is it's just as hard to maintain a successful program as it is to build one. It never ends, at least not in the Big East."
-- Coach Mick Cronin

Connecticut: "I don't love this team like I loved last year's team. Yet. But they're pretty likeable."
-- Coach Jim Calhoun

DePaul: "We need to play pressure defense and run. It's what we have to do. Our pressure defense has got to be the difference-maker for us."'
-- Coach Oliver Purnell

Georgetown: "The world doesn't know what we're going to have. Losing Austin Freeman and Chris Wright, those two guys have had the ball in their hands for most of their four years, so I understand that."
-- Coach John Thompson III

Louisville: "We're a little unsettled right now because of the situation with [freshman] Wayne [Blackshear, who is awaiting clearance from the NCAA]. With him, we are an extremely good team. Without him, we are very good."
-- Coach Rick Pitino

Marquette: "I fear we may have bitten off more than we can chew with our nonconference schedule, but I also hope that will prepare us better for the Big East and then again for March."
-- Coach Buzz Williams

Notre Dame: "I saw that we were [picked] ninth, and I like that 9-hole. We've come out of that before."
-- Coach Mike Brey

Pittsburgh: "I like this team. We've got a lot of guys who played a few minutes last year. We lost three good players, so usually you're not picked that high, but we are based on past history because they think we're going to have somebody. And I think we will."
-- Coach Jamie Dixon

Providence: "I want to do it my way. That's not to be arrogant. I can steal pieces here and there, borrow an idea, but I want Providence to be Providence and to find our own way. That's the only way I know."
-- Coach Ed Cooley

Rutgers: "We want a winning record in the Big East. That's our goal, to do something our predecessors haven't done. I don't know if that's going to be one over .500 or six or seven games over, but that's the goal."
-- Coach Mike Rice

Seton Hall: "It takes five solid years to really build something. There is no quick fix, and if you try to use one, you'll be out of a job."
-- Coach Kevin Willard

South Florida: "The big challenge for us is to be consistent, to not be that up-and-down team. We need to learn how to handle the highs and the lows."
-- Coach Stan Heath

St. John's: "I never had a team this young in a league this good, so it will be difficult. But I don't want to hear about how we're young. That's an excuse."
-- Assistant Gene Keady, filling in for Steve Lavin

Syracuse: "Fab [Melo] lost 30 pounds. That's the big difference for him. Last year, his biggest problem was getting up and down the court. Once he got there, he could do some things. He just couldn't get there."
-- Coach Jim Boeheim

Villanova: "I think he's ready, like he's waited his turn and it's his time. He knows it's on him now."
-- Coach Jay Wright on Maalik Wayns

West Virginia: "Usually you have two or three older guys, so they can help you out as you try to fix things. Well, we've got trouble all over the place and you can't fix it all."'
-- Coach Bob Huggins
Cincinnati coach Mick Cronin
Syracuse guard Scoop Jardine
Big East Preview Content
For a Blue Ribbon breakdown of all 16 Big East teams, click here.
More Big East coverage:
• O'Neil's "Five Things I Can't Wait To See" in the Big East.
• Chad Ford's breakdown of the Big East's top NBA prospects.


• Joe Lunardi's five key questions for the conference.


• Kieran Darcy takes a look at how St. John's is coping as Steve Lavin recovers from cancer surgery.
• With the late addition of Andre Drummond, Andy Katz writes that Connecticut has all the makings for a repeat run.
• Matt Fortuna on life at Notre Dame after Ben Hansbrough, along with a feature on longtime coach Mike Brey.
• Dave Telep gives us a look at the incoming freshmen in the Big East.


• Katz takes a team-by-team look at the league's nonconference schedules.
• Katz with a look at the future of the Big East.
• New Faces, New Places: Katz on the inspiring life story of new Providence coach Ed Cooley.
• Summer Buzz series: Eamonn Brennan took an in-depth look at Pittsburgh, Syracuse, St. John's and Louisville.
• For more Big East coverage in the Nation blog, click here.
Notre Dame coach Mike Brey
Villanova coach Jay Wright
Marquette coach Buzz Williams