Matta Keeps Fans -- And Buckeyes -- Guessing
By Eamonn Brennan
ESPN.com
ROSEMONT, Ill. -- When Ohio State fans send mailbag questions and chat comments to a national college basketball writer, the theme is almost always the same: What's our starting lineup?
Sorry, everyone: Thad Matta isn't giving anything away. That goes for the media, too, who assembled at Big Ten media day near Chicago's O'Hare Airport on Thursday hoping to learn exactly how the Ohio State coach plans to retool his hyper-talented 2011-12 team. How many minutes would a touted freshman class be expected to contribute? Who has impressed him most? Will he go big? Small? Somewhere in between? The media didn't get much in the way of answers, but the scribes shouldn't feel bad: Matta's players haven't learned those answers yet, either. If their coach has them, he's not letting on -- and that's just the way he likes it. "I really haven't put a ton of thought into a quote-unquote starting lineup," Matta said Thursday. "The reason for that is I'm really enjoying the competition that we're getting in practice every day. And as I told our guys at the conclusion of last night's practice, I think that guys are getting better and they don't know it -- that's because of the competition."
[+] Enlarge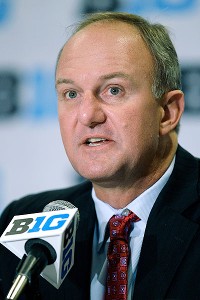 AP Photo/Nam Y. HuhThad Matta's team has fallen short of expectations the last two NCAA tourneys. Will 2012 be the year?
The uncertainty, if you want to call it that, is unusual for a team with so much returning talent. Last spring, Ohio State forward and Big Ten Preseason Player of the Year
Jared Sullinger
turned down the chance at becoming a top-five NBA draft pick to return to school for his sophomore season. Typically, a team with a talent like Sullinger's could afford to be fairly straightforward about its plans. (We're going to give the ball to Jared in the post. He's going to score. What else do you need to know?) But thanks to Sullinger's offseason transformation -- the formerly bulky big man cut weight, dropped body fat and focused on adding an outside threat to his arsenal of scoring moves -- Matta does have some questions to solve before the season opener arrives. For example: If Sullinger plays power forward (one of the reasons he returned to school, after all), it leaves a gap around the rim, where the wide-bodied version of Sully dominated so handily last season. Does that mean that freshman center
Amir Williams
will take over as the low-block banger? Will sophomore forward
Deshaun Thomas
play a post role, or will he float to the perimeter? And what about the backcourt? Point guard
Aaron Craft
was one of the most important freshmen in the country last season, a brilliant defender and solid game manager who arrived at a time when Ohio State's point guard options looked nonexistent. A few months later, Craft suddenly finds himself among a crowd, one that includes senior
William Buford
and incoming recruit
Shannon Scott
, the No. 6-ranked point guard in the class of 2011. Could Craft lose minutes to this year's big-time freshman? Could Buford? Craft didn't seem to know, but he said his coach's approach has kept everyone guessing. "Nothing is guaranteed," Craft said. "It really does feel like a genuine competition. Coach isn't just saying that. I go against Shannon in practice every day. We're getting after it in practice -- but I think he's right, I do think it's making us work harder." At some point, Matta will have to settle on a rotation. In the past two seasons, his rotation has been slimmer than many in the country -- 2010's Evan Turner-led team relied primarily on six players, and in 2011, Matta granted a mere 30 minutes per game to his two notable reserve roles (Thomas and senior forward Dallas Lauderdale). That wasn't necessarily by design. This season, Matta may have more question marks, but he may also have more pieces on the chessboard than he's had in years. "I think we can be eight or nine guys deep," Craft said. "I really do. It's up to us to figure out what our roles are and how we can all help the team. But we have that kind of talent." Considering how good the Bucks were a year ago, that's another scary preseason prognostication for the rest of the Big Ten. Ohio State, like its star forward, could be more versatile, more athletic and far deeper than the 2011 version. But first things first, Coach: Who's going to start? "I'm leaving things a little bit open-ended right now," Matta said. "In my mind, from what I've seen, that's helping our basketball team."
Seeking Silver Linings, Hummel Returns To Court
By Eamonn Brennan
ESPN.com
ROSEMONT, Ill. -- If any player in college basketball is due for a run of good fortune, it's Purdue forward Robbie Hummel.
Hummel tore his ACL twice in 2010. Both injuries came at crucial times. The first happened in February, just as the loaded 2009-10 Boilermakers looked set to earn a No. 1 seed in the NCAA tournament. The second came in October, on the first full day of practice, months after fellow stars E'Twaun Moore and JaJuan Johnson eschewed the NBA in the hopes of pursuing a national title with their friend and classmate. Not once but twice, Purdue fans were left to wonder: What if? What if Robbie had been healthy? How good could the Boilermakers have been? Would they have been the No. 1 seed in 2010? How different could 2011 have been? Hummel -- after 12 months of rehabilitation and recovery -- doesn't have that luxury. He has more pressing concerns. Chief among them? Learning how to be comfortable on the court again.
[+] Enlarge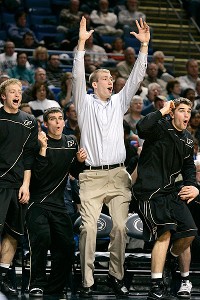 Chris Gardner/Getty ImagesRobbie Hummel was reduced to bench cheerleader last season.
"My knee is structurally sound," Hummel said. "I've gotten knocked down, I've cut on it, I've done things the same way as when I got hurt at Minnesota. It's not a physical thing. At this point, it's all mental." Purdue coach Matt Painter has re-entered Hummel into workouts tentatively, letting him engage in full practice every other day. And Hummel admitted that while he felt like he was ready to jump in at full speed, there were still areas of the game that gave him pause. "Rebounding in traffic, I still need to figure out how to do that again," Hummel said. "There's a lot of action down there." This is not the only challenge the Purdue forward will face this season. Having lost Moore and Johnson to the NBA, Painter's team now lacks its two best and most dependable scorers. It will have to rely on former role players -- guards Lewis Jackson and Ryne Smith -- and a batch of young, as-yet-unproven players if it wants to keep its recent run of Big Ten title contention alive. More than ever, Painter said, it will rely on Hummel. "He's such a selfless guy," Painter said. "And he's always going to make the extra pass and make that next play. He's got to make sure that now, that next play is better for Purdue, instead of maybe being a little bit what some people would call selfish in taking that uncontested shot. I would look at it as an unselfish play because maybe it's a higher percentage shot than making an extra pass for that next guy." Painter raved about Hummel from the podium Thursday, not only praising his player's skills but his work ethic and size. The coach said that Hummel's younger, thinner version has been replaced by a "grown man" who stands 6-foot-8 and weighs 220 pounds. Painter also thinks, for all the negatives it foisted upon the Boilermakers these last two seasons, there may even be some positives to Hummel's ordeal. "I think sitting out and understanding the game is one thing, but being able to sit out as much as he did, I think it will really help him even more to make good decisions and help other guys out on the court," Painter said. There were times, according to Hummel, when he couldn't run or jump but could work on his shot. Sometimes all he could do was lift weights. Other times he could only sit and watch and realize how much he missed practicing and playing -- from the frenzied games to the gut-sucking wind sprints. "In terms of strength, I think I'm stronger than I've ever been," Hummel said. "Maturity-wise, I look at the game a different way. I appreciate practice more. I never disregarded it or anything like that -- it's just that when you lose something, you appreciate it more. I'm better off in that way." It would take the shiniest silver lining of all time to wipe away the negativity of Hummel's injuries; the short-term positives will never outweigh the long-term downsides. Still, he is slowly but surely getting back on the floor, gradually finding his feet in a game that has always come naturally. Even the most objective observer will root for the Purdue forward this season. But while Painter is clearly happy to have Hummel back on the court, the reasons for his excitement go deeper than sentiment. "He makes other people around him better," Painter said. "He does little things. I think you could stand him out there with crutches and he could still help your team win. … But we expect him to have the best season of his career."
Michigan State Ready To Rebound?
By Eamonn Brennan
ESPN.com
ROSEMONT, Ill. -- Exactly 12 months ago,
Draymond Green
stood tall at Big Ten media day and answered a reporter's obvious question -- "What are your expectations for the season?" -- with a bold but understandable response. "Our goal is to win the national championship," Green said. "We're not settling for anything less." You can't fault Green for his confidence. At that time, we all agreed. (There's a reason that team was ranked No. 2 in the nation in the preseason, after all.) In the end, Michigan State did settle for much less. Unlike most Izzo teams, the 2010-11 Spartans never found their stride. Unlike most Izzo teams, they didn't overachieve. Quite the opposite, actually. And unlike the past two Izzo teams, they didn't congeal down the stretch in time for an impressive Final Four run. Rather, they limped to the NCAA tournament in time to be dealt a first-round loss by UCLA. Now guards Kalin Lucas and Durrell Summers are gone. This fall, forward Delvon Roe's chronic knee injuries cut short his career. The Spartans as currently composed couldn't be more opposite from last year's team: Youth rules, returning stars are few and far between, and they weren't even picked to finish second in the Big Ten.
[+] Enlarge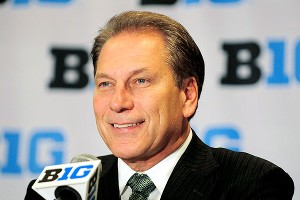 Reid Compton/US PresswireAfter a disappointing 2010-11, Tom Izzo seems more upbeat about these Spartans.
Are the Spartans -- gasp --
underdogs
? And if so, does Izzo actually enjoy it? "Hell, no!" Izzo said. "Once in a while it's good -- it's a back-to-reality check. … I don't enjoy the underdog role because I think our program is to the point where you don't want to be there. But I'm enjoying the challenge of realizing we lost a lot. "I'm looking forward to it. I really am. I don't want anybody to think I enjoy being the underdog, because I'm not. But I do think when you have to re-evaluate every once in a while, it's good for you. It's healthy for you. Like I said last year, in a masochistic way I'm going to enjoy this battle and see where we can take this team." This year's team may be the closest thing to a modern-day Michigan State underdog, but that still feels like a loose use of the term. Green -- one of the more versatile players in the country and the de facto leader of this team -- is back for his senior season. Guard
Keith Appling
, a tenacious defender with the kind of toughness Izzo covets, was one of the top freshmen in the Big Ten. Sophomore forward
Adreian Payne
showed flashes of athletic brilliance in 2011 and could shine with more minutes and touches alongside suddenly fit fellow forward
Derrick Nix
. And thanks to Izzo's recruiting, the Spartans have help on the way, chief among it small forward
Branden Dawson
, a McDonald's All-American ranked No. 23 overall in the class of 2011. Does this team have the top talent of the past few years? Maybe not. But according to Green, talent was never the issue. "[Rebounding] was a staple of our program, and we got away from it," Green said. "Running, we like to run, that was a staple of our program. Being tough on defense, that was a staple of our program. Look at us last year -- we didn't do any of those three staples. That's what we're focusing on. We have to get back to what made this program successful." In the meantime, this team's two leaders, coach and player, seem to be relishing the rare opportunity as a … sleeper? Underdog? Dark horse? Whatever you want to call it, Izzo may not want to admit his enjoyment. As for Draymond? He's not so shy. "We're always the team everybody's coming at," Green said, a mischievous smile rolling across his face. "Now it's time to see how it feels for us to be coming at them. "Our expectations aren't going to change. This is Michigan State. They're always going to be the same."
Wisconsin's Jordan Taylor
They Said It

Illinois: "But, when you look at [the seven new players on our team], you can look at it two ways: a lot of worries -- what's going to happen? -- or with excitement. That's what I'm looking at."
-- Coach Bruce Weber

Indiana: "The point at the end of the drill was no matter what you think you have been as a player here at Indiana, you're not somebody that has made it easier for everybody else. [Freshman forward] Cody [Zeller] makes it easier for everybody else. We knew this when we recruited him. You can go at him and give him the ball and something can happen, or you can play through him, and that's what our team has got to learn to do right now."
-- Coach Tom Crean

Iowa: "I think: Can you play faster? Absolutely. This is not a walk-it-up league like I think a lot of people think it is, but it is a league where there's going to be a lot of strategy and there's going to be different approaches."
-- Coach Fran McCaffery

Michigan: "No one person is going to replace Darius Morris. I'm not going to do it, Tim [Hardaway Jr.]'s not going to do it, no one of us is going to be able to replace him ourselves. But if we can replace him together, I think we can maintain this program's momentum and even aim a little higher."
-- Guard Stu Douglass

Michigan State: "Draymond Green and Austin Thornton are going to bring valuable leadership. Day-Day is kind of in the same sentence with a Magic Johnson or a Mateen Cleaves or a Travis Walton as far as his leadership ability. He's not afraid to hear his own voice, not afraid to disagree. Sometimes too often."
-- Coach Tom Izzo

Minnesota: "I think a big difference is a lot of guys on our team were around to experience how last year went. We don't want to do that again. I think this year can kind of be our redemption year. We all want to succeed."
-- Forward Trevor Mbakwe

Nebraska: "You can spend as much time as you can watching tapes, but I don't think you really get a true picture [of your league] until you actually get into it. We've watched everyone. The thing about it, you're watching them play against each other, you're not getting a chance to watch them play against yourself. … The unknown is always scary."
-- Coach Doc Sadler

Northwestern: "It doesn't weigh on my mind. You have 340 teams. That's the goal of every team -- to get in the tournament. But the spotlight is on us more than other teams because we haven't been there. We're getting pretty close. I like our team. So I think we have a real good shot."
-- Coach Bill Carmody

Ohio State: "It's so much easier to get to the top than to stay there. Not that we are the top, but that is what we're striving for. That, and just getting guys that enjoy the fight every day."
-- Coach Thad Matta

Penn State: "We can't be afraid to get into some backstreet [recruiting] brawls. We can't be afraid to go up against Villanova, Georgetown, Pitt, West Virginia, Ohio State, Michigan State, wherever the area may be. … But we can't be afraid of going up against those guys. And we're going to get that one guy. It's going to happen." -- Coach Pat Chambers

Purdue: "I think [Robbie Hummel] is going to be bigger. I think he's better. And I think he's really going to cause problems for teams in our league in terms of the matchup, and that's something we've always played off in the past."
-- Coach Matt Painter

Wisconsin: "A lot of times [we like to schedule] senior-dominant teams [in the nonconference]. They're good teams to play, because if you look at the NCAA tournament over the last 10 years and look at some of the schools that have won, they've won with guys that have been together for a long time."
-- Coach Bo Ryan
Penn State coach Pat Chambers
Northwestern's John Shurna
Big Ten Preview Content
For a Blue Ribbon breakdown of every Big Ten team, click here.
More Big Ten coverage:
• Eamonn Brennan with Five Things I Can't Wait To See in the Big Ten
• John Gasaway examines five burning questions in the league.


• Brennan takes a team-by-team look at the league's nonconference schedules, while Katz takes a look at some of the intriguing league schedules.
• ESPN Chicago: Scott Powers on Northwestern having a "good shot" at making that first tournament appearance and Bruce Weber claiming he feels no pressure now that a new AD is in town.
• UNC, Kentucky and UConn are the most talked-about title contenders, but Katz says Ohio State shouldn't get lost in the discussion.
• Reggie Rankin with a look at the incoming freshmen in the conference


• Katz writes that Bo Ryan is headed toward revered status at Wisconsin
• New Faces, New Places: Dana O'Neil on how new Penn State coach Pat Chambers is already becoming a fan favorite in State College
• Video: Katz with Michigan State coach Tom Izzo in advance of the Nov. 11 Carrier Classic.
• Brennan recaps the offseason in the conference
• Summer Buzz series: Brennan takes an in-depth look at Michigan State, Ohio State and Indiana
• For more Big Ten coverage in the Nation blog, click here.
Best Of Big Ten Media Day
Best wishcasting: "I'm trying to remember who our second starter is. This is why I love football more than basketball, because if I taped something across their forehead in basketball, some player would probably sue me. But in football, they get to do that with the helmets."
-- MSU coach Tom Izzo, on the paucity of veterans on his team this year
Best unintentional philosophical noodling: "The unknown is always scary."
-- Nebraska coach Doc Sadler on adjusting to new teams, coaches and players in the Cornhuskers' first season in the Big Ten
Best "at least it wasn't the first question" answer: "I was hoping to get through this press conference without that. But I guess five questions in it's all right."
-- Northwestern coach Bill Carmody on his frustration with questions about the school's NCAA tournament drought
Best fast-food reference: "That might be because people don't know that much. Mike Bruesewitz was not a McDonald's All-American, despite what he looked like with that red wig -- I mean, not wig, his red hair. He was called Ronald McDonald at a few places."
-- Wisconsin coach Bo Ryan on why his team is so frequently underrated
Best "can I get an amen?": "Prayer. That's the only thing I would say. Good solid prayer. Hope he misses."
-- Purdue coach Matt Painter on how to stop Ohio State forward Jared Sullinger
Nebraska coach Doc Sadler
Brennan's Big Ten Wind Sprint