Crean Keeps No. 1 Indiana Moving Forward
By Eamonn Brennan
ESPN.com
CHICAGO -- Tom Crean doesn't often stand still.
On the sideline, the dude's a picture of barely controlled chaos. He stalks and claps and screams and forever slugs something with caffeine in it -- an energy drink, a Diet Coke -- to fuel the next burst of intensity. In practices, he's the same, scrambling from one end of the court to the next, shifting focus to each drill and each player, constantly preaching improvement, waging a one-man war against stagnation. He does not seem the type to spend much time in deep, reflective thought about the recent past. He's always moving forward. Indiana's rapid progress over the past four years, from a down-and-out post-scandal morass to the preseason favorite in both conference and country, is proof enough of that. But even Crean, while seated with a venti coffee at Big Ten media day Thursday, had to stop for a moment and consider just how far his program has come -- and how fast. "I remember doing that the day of the first practice," Crean said. "ESPNU was coming in, and then it hit me a little bit. It was like, 'Wow,' you know? I called a couple of people. It was just amazing to think about it. "I never want to take winning for granted," Crean said. "I don't think I did ever as a coach. But I do know that after being at Marquette and getting the program where it was, and then coming to this, you really don't
ever
take winning for granted."
[+] Enlarge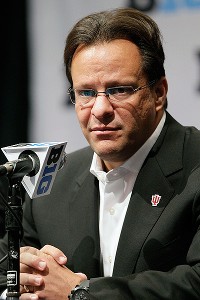 AP Photo/Nam Y. HuhTom Crean has Indiana being discussed as a contender for the national championship.
Crean's Hoosiers were the toast of Big Ten media day Thursday. Sophomore forward
Cody Zeller
won a unanimous vote for Big Ten Preseason Player of the Year honors and a Preseason All-Big Ten selection, while Indiana was picked to win the league. Reporters spent more time scrumming around the Hoosiers' tables than anywhere else; at various points, Zeller was practically mobbed. None of which is remotely surprising, of course -- with its potential All-American center and four other starters returning, plus a deep bench and a crop of talented recruits, Indiana is the odds-on favorite to win the 2013 national title. But it is almost mind-boggling to consider the contrast from just two years ago, when Indiana won a mere 12 games. It is baffling to remember that Crean's first season, a six-win campaign when the program was decimated by scandal and the resulting defections in Kelvin Sampson's wake, was as recent as 2009. "There were some hard days,"
Christian Watford
, a senior who joined in 2009-10, said. "We had days when it felt like we were just stuck in place. It was a constant grind, day after day. But our coaching staff stayed with us through the tough times, and we've constantly gotten better and better." Zeller's arrival, which preceded the impressive 2012 recruiting class -- newly arrived McDonald's All-American point guard Yogi Ferrell is likely to start this season -- had much to do with that. But the solid four-year contributions of former players like Tom Pritchard, Verdell Jones and Matt Roth helped set the stage, while juniors
Will Sheehey
and
Victor Oladipo
emerged last season, their skill sets filling out what eventually became the fifth most efficient offense in the country, per Ken Pomeroy. By last New Year's Eve, Indiana had upset No. 1-ranked Kentucky and No. 2-ranked Ohio State; by the time the Hoosiers' Sweet 16 date with Kentucky rolled around, the transformation was complete. This season, the next step -- the chase for a national title -- will primarily require better defense. The Hoosiers were an OK defense last season, but not a great one, and ultimately couldn't stop the Wildcats in the Sweet 16. (The final score of that game, which involved zero minutes of overtime: 102-90.) At his media day table, Crean was sure to preach the importance of defensive improvement. He cited his team's expanded strength and conditioning, its depth, its ability to press teams more frequently. It is the final piece of the puzzle, the final stage in IU's metamorphosis from six-win doormat to national title contender. Given the constant propulsion of Crean's program, there's no reason to expect anything less. In the meantime, the run-up to Indiana's season has felt like a coronation -- something Crean has stopped moving long enough to consider every now and then. "You don't take the way the fans feel about your program for granted," he said. "I think it's important to remember that. You don't sit and work and live by where you were, but you do think about it once in a while. I'd be lying to say that I don't."
Burke Quickly Matures As A Leader For Michigan
By Eamonn Brennan
ESPN.com
CHICAGO -- Although Trey Burke developed into a crucial leader for Michigan last season, he didn't begin the season in that position.
[+] Enlarge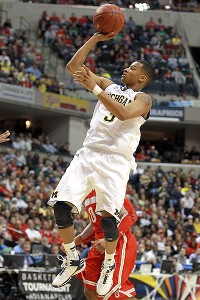 Andy Lyons/Getty ImagesTrey Burke says his biggest job is to help Michigan play as one unit.
"I think last year, he was a great follower of Zack Novak and Stu Douglass. He listened to them and he watched the different ways that they commanded the team," Michigan coach John Beilein said during Big Ten media day in Chicago Thursday. "Novak was a guy who raised his voice now and then. Stu Douglass was more of a player that would go over and talk, get into somebody's ear quietly. He does both of those right now." Burke's return -- he toyed with the idea of going pro last summer -- solidifies the projections that place the Wolverines among the top five or six teams on most reputable preseason rankings. Burke led the Wolverines to a share of last season's Big Ten title, the precursor to the growing anticipation in Ann Arbor, Mich. Although the squad lost Douglass and Novak, it's still one of the nation's most dangerous crews with the bulk of last season's contributors still on the roster and a nationally ranked recruiting class. But Burke's presence expands the possibilities for the Wolverines this season. "I think I just have to give this team confidence," Burke said. "We definitely have the talent to make a run. But I think it's a matter of getting people to understand their roles and getting people to understand what they need to do. … I think the biggest thing is for me to just get this team [to play] as one." Burke illustrated his evolution as leader as he discussed his relationship with Tim Hardaway Jr. The duo's early bumps were evident. Burke failed to connect with Hardaway. Hardaway didn't quite understand Burke. But Burke said he accepted the blame for those struggles and adjusted. "I didn't really know all the tweaks to the offense," he said. "It's different because I know where Tim's at at all times and I know what he's capable of doing. I didn't really know all of his tendencies last year. And I think that was something I needed to learn from him throughout the season and just learning him more even off the court." Added Hardaway: "He's an incredible leader. Everybody looks up to him on this team." Burke is just a sophomore this season. But his elders within the program made it plain in Chicago: They'll go as far their dynamic young leader will take them. And based on the progress he's made in a year, they trust his guidance. "He realizes the impact he can have as a leader," said forward
Jordan Morgan
.
Iowa Works On Clutch Situations
By Eamonn Brennan
ESPN.com
CHICAGO -- In 2012-13, Fran McCaffery will coach an Iowa team that's bigger, stronger and faster than it was a season ago.
[+] Enlarge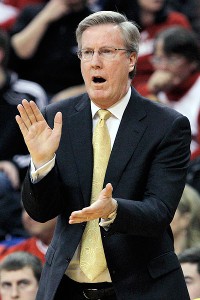 Bruce Thorson/US PresswireFran McCaffery's Iowa team could be a sleeper in the Big Ten.
The Hawkeyes will be better, he said, because they can run more of their offense through their frontcourt, which now features 7-foot-1 freshman
Adam Woodbury
. They're deeper, too. McCaffery said he's so comfortable with freshman point guards
Mike Gesell
and
Anthony Clemmons
that he might play them together. What he can't measure right now is his team's response to the clutch situations that baffled the program during the 2011-12 season. The Hawkeyes finished 8-10 in the Big Ten a season ago. They lost five of those 10 games by single digits. To reverse last season's fortunes, the Hawkeyes will need late stops in tight games, the crux of their downfall a season ago. "A lot of it is more from within," McCaffery said during Big Ten media day in Chicago Thursday. "'We're going to get a stop.' We want to be better collectively so you're not in that position, hopefully, but the reality is in this league there are a lot of close games. And the tougher team at the end is the one that gets that stop, gets that big rebound. We've got to be that team." Iowa looks like a potential sleeper in the Big Ten. The Hawkeyes have lost former star Matt Gatens, but they have a strong frontcourt. They should be more versatile and athletic, too. But the team's defense, ranked No. 180 in Ken Pomeroy's adjusted defensive efficiency ratings, must improve, said guard
Roy Devyn Marble
. "We've got to be more in tune defensively this year," Marble said. "Guys have taken great strides in practice moving toward that. I remember games like Purdue, Purdue home and away, where all we needed was one or two stops and we win that game." Added
Eric May
: "We failed to do that a couple games. And it was just a couple possessions. That's all it takes. And I think it's going to come down to that."
Nebraska Latest Project For Tim Miles
By Eamonn Brennan
ESPN.com
CHICAGO -- Tim Miles will try to tell you he's the "shy one of the bunch" -- the "bunch" being his five siblings, three of whom he describes as "obnoxious people." Do not be fooled. In point of fact, Miles could have been the best door-to-door salesman you'd ever meet, an engaging and natural social presence fluent in the language of endearment. He also happens to be funny. An example: In a riff about Midnight Madness, Miles said the event needs to be more than "one spotlight and some music from 'Jock Jams II' … which is a really strong CD, by the way." The good news for Miles is that his new job is for now almost entirely about salesmanship. That's also good news for Nebraska. The Cornhuskers are in the midst of an Extreme Makeover: Program Edition, including the building of a sparkling new practice facility and the 2013 opening of Pinnacle Bank Arena in downtown Lincoln, Neb. It falls on Miles to usher a newly awakened Nebraska team to actual hoops success. It's a process the 46-year-old is familiar with, but it won't be easy. "This is my fifth start-up," MIles said. "I've been an NAIA coach, a Division II coach, and I've coached places nobody's ever heard of. But there are always the same challenges. I don't know that people always want to hear that, but it is. It's about establishing your culture, your expectations, and the discipline that goes with it on an everyday basis. "The hard part is, everyone's an NAIA player," he said. "This -- [gestures around a table full of reporters] -- could be a team, we could all get out there and go. But there aren't that many Division II players, and there's even fewer Division I players, and I promise you there's completely fewer Big Ten players. So it's more difficult, because your pool to draw from is smaller." The ultimate goal is to get Nebraska on the map. For that, Miles will have to recruit well, and schedule well (a forte of his), get local fans to buy in, and get national recruits to take notice. There is a plan here, even if he's too busy being self-deprecating to admit it. "I just look at probability," Miles said. "We haven't been there [the NCAA tournament] since 1998. Eventually somebody's got to put one in play. It might as well be me."
Michigan State's Keith Appling
They Said It

Illinois: "I think the biggest thing is the mental side for [Brandon Paul]. People ask me what we expect out of him. He's a guy right now that I'm talking a lot to about making guys around him better. 'Who did you touch today? Who did you help today? Who did you help to get to play at a different, higher level? Who are you helping?' I think that's a big thing with him."
-- Coach John Groce

Indiana: "There's no question we're receiving a lot of attention and we're trying to keep our business-as-usual approach … when those guys hit the practice floor or the weight room or when they go into the film room starting this weekend, they're working toward where they want to work, and none of [the attention] matters."
-- Coach Tom Crean

Iowa: "I think I would be foolish not to embrace [preseason chatter about Iowa being a sleeper]. I prefer to be much more optimistic. A lot of coaches try to temper any level of enthusiasm to take the pressure off themselves. I prefer to challenge our team and our players. … We have some pieces. We can score. We have multiple options I can do in terms of personnel. I can go big. I can go small. I think we can pressure more because we have more depth. The key is … defensively. We didn't defend last year, we didn't defend consistently."
-- Coach Fran McCaffery

Michigan: "We love the young men we have. With just three returning starters, we have challenges . … But there is great opportunity because of the young talent and the returning players."
-- Coach John Beilein

Michigan State: "I like that fact that we have depth, we have some youth, we have some guys that have been in a Final Four. … And maybe the best present is it looks like Branden Dawson is healthy." "
-- Coach Tom Izzo

Minnesota: "I see [Rodney Williams] making that next step to not just being a good player, but being a dominant player, and carrying the role of being a leader, not just a great athlete."
-- Coach Tubby Smith

Nebraska: "You can spend as much time as you can watching tapes, but I don't think you really get a true picture [of your league] until you actually get into it. We've watched everyone. The thing about it, you're watching them play against each other, you're not getting a chance to watch them play against yourself. … The unknown is always scary."
-- Coach Tim Miles

Northwestern: "You don't have to go far to see our athletic department through and through is outstanding. Women's basketball has been terrific. We need to get men's basketball up and running where it should be."
-- Coach Bill Carmody

Ohio State: "I don't start thinking about the Big Ten until late December, because I'm trying to keep my sanity. … It will be another great challenge for this team and the guys are ready to go."
-- Coach Thad Matta

Penn State: "Everywhere we went [on the road] last year was sold out. … To win on the road in the Big Ten is huge. We didn't do it last year. We're going to have to do it this year."
-- Coach Pat Chambers

Purdue: "It's going to be a youth movement for us. I do like our talent. I don't like our experience level."
-- Coach Matt Painter

Wisconsin: "We could be one of the better teams [in the Big Ten] this year, but I don't know if the records will show it with everybody in this league."
-- Coach Bo Ryan
Michigan's Tim Hardaway Jr.
Wisconsin's Jared Berggren
Big Ten Preview Content
For a Blue Ribbon breakdown of every Big Ten team, click here.
More Big Ten coverage:
• Video: ESPN.com interviews Ohio State's Deshaun Thomasat Big Ten Media Day
• Video: ESPN.com interviews Indiana's Jordan Hullsat Big Ten Media Day
• Jason King's Five Things I Can't Wait To See in the Big Ten
• Seth Greenberg answers five burning questions for the conference


• Our staff of writers gathers to answer questions at the Big Ten roundtable
• Video: Jay Williams and Dan Dakich break down IU's national-title chances
• Brennan's Three Big Things on Indiana, Michigan, Ohio State, MSU and Wisconsin
• Brennan rates and analyzes the nonconference schedules of the Big Ten
• Andy Katz warns us not to forget about Michigan State in the Big Ten title race
• Katz on the recovery process for Wisconsin's Mike Bruesewitz after a gruesome injury
• Scott Powers on Northwestern's eternal quest for the NCAA tournament
• Myron Medcalf on the off-court troubles at Minnesota
• Reggie Rankin identifies the top freshmen and potential recruits in the Big Ten


• Podcast: Katz and Greenberg talk Big Ten hoops with Iowa's Fran McCaffery
• ESPN.com's Summer Shootaround preview of the Big Ten
• Chad Ford on the Big Ten's best NBA draft prospects


• For more Big Ten coverage in the Nation blog, click here. In addition, visit WolverineNation, BuckeyeNation and ESPNChicago.com.

Minnesota's Andre Hollins
Brennan's Big Ten Wind Sprint