No Matter The Era, Veteran Leadership Still Crucial
By Myron Medcalf
ESPN.com
The end of Kentucky's 55-game winning streak at Rupp Arena -- following Baylor's 64-55 road win over the Wildcats on Saturday -- actually began in New Orleans last April. Before this season's concerns became doubts. Before John Calipari said, "That's what happens when you have a bunch of freshmen out there." As I walked toward the press room at the Superdome, I heard a beep from an approaching golf cart. I paused, swerved and barely avoided a collision as the vehicle cruised through the venue's corridors following the national title game. Kentucky senior Darius Miller sat on the back of the buggy with the championship trophy in his arms and a "Man, this feels good" smirk on his face. The headlines rarely captured his full effect. Calipari's collection of NBA-ready freshmen was the focus of the buzz surrounding the program. Not even future pros Terrence Jones and Doron Lamb defined last season's Wildcats as much as Anthony Davis, Michael Kidd-Gilchrist and Marquis Teague did. Those youngsters, however, recognized their elder. In the buildup to the Final Four, they talked about winning one for Miller, the glue guy who'd arrived in Lexington as a wide-eyed teenager and left as a man.
[+] Enlarge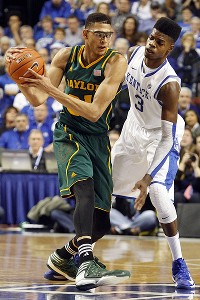 AP Photo/James CrispIsaiah Austin has plenty of veteran players to turn to on the court at Baylor. Fellow freshman Nerlens Noel? Not so much.
Against Baylor on Saturday, the new Wildcats needed a Miller-like presence as the fog thickened on the program's lofty preseason prospects. It was their second consecutive loss against a team with more experience and poise. As Kentucky fumbled in the final minutes,
Nerlens Noel
looked at his equally bewildered teammates for answers. But without the veterans -- Lamb and Jones had reached the Final Four in 2011 -- that tend to ease the transition for talented young players even in this one-and-done climate, they were all lost. But Baylor freshman
Isaiah Austin
(11 points, 5 rebounds) relied on
Pierre Jackson
(17 points),
Brady Heslip
(10 points) and
A.J. Walton
(11 points), three upperclassmen who've protected him from some of the pressures that his contemporaries across the court began to the feel the moment they arrived. "It'd be very similar to when you're younger, and you go somewhere with your mom and dad, you just feel more comfortable because they've been there, they know where they're going, they know what to expect," Baylor coach Scott Drew said. "I think it's the same thing with experienced players. Just how they conduct themselves the night before a game to how they conduct themselves in a shootaround. … It's a calming influence." The NBA's age limit has made college basketball a bona fide farm league for the pros. Since the best freshmen could probably compete at the next level, we're inclined to assume that they'll dominate once they arrive. And that's not always the case. Those who do, however, have a much better chance of achieving that early success on teams anchored by experienced contributors. Kentucky isn't the only team that proves as much. Michigan State is struggling without Draymond Green's voice in the locker room. Ben Howland pulled in the No. 1 recruiting class in the country, but
Shabazz Muhammad
& Co. must lead now too, and that's not a role that they likely anticipated with Joshua Smith, David and
Travis Wear
and
Larry Drew II
on the roster when they signed. And life would be easier on Wisconsin freshman
Sam Dekker
with former All-American
Jordan Taylor
in the backcourt. Hey, the value of veteran leadership is easy to overlook. When Carmelo Anthony & Co.'s national championship run in 2003 is discussed, senior Kueth Duany is usually mentioned last. The showdown between Earvin Johnson and Larry Bird in the 1979 national title game became the subject of books and documentaries. But Greg Kelser, a senior, was the leading scorer and rebounder on Michigan State's championship squad. The Fab Five and other freshmen-laden squads rarely win championships. Not alone. Even though some 18-year-olds enter the collegiate ranks with abilities beyond their years, most struggle. While they're balancing life on campus, pop quizzes and girlfriends, they're also placed on a stage and asked to perform for thousands.
[+] Enlarge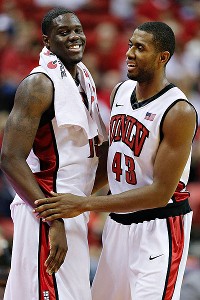 AP Photo/Julie JacobsonUNLV forward Anthony Bennett (left) is tops among freshman in scoring at 18.7 points a contest.
And that's where the tutelage of veterans helps most. They offer relief. "It's a lot easier sometimes being the Robin instead of being the Batman," Drew said. He doesn't separate the success of Austin from the models established by Walton, Jackson and Heslip. Michigan's highly touted freshman
Mitch McGary
hasn't blossomed yet, but he's playing on a Wolverines squad that didn't need him to look like a first-rounder in November. UNLV's
Anthony Bennett
(18.8 ppg, 7.8 rpg) is one of the most productive freshmen in the country. Ask Dave Rice about his furious start and he'll note that the Canadian rooms with junior
Mike Moser
on road trips, a plus for the first-year star. "I've always felt like talent is critical in college basketball, but there's no substitute for experience," Rice said. "There's always a learning curve any time you move up a level." It's not unfair to expect a team such as Kentucky to make a run in March. It's a long season and it's still early for a roster that features a couple of future NBA rookies. But the leadership void that is now a reality in Big Blue Nation may ultimately lower the ceiling on this team's potential. Coaches can recruit talent, but leaders are often retained. And once members of the latter group exit and the next class of talent enters, the program may encounter trouble if it lacks the cohesiveness that UK enjoyed a year ago. The most impactful photos from the Wildcats' run to the national title last season featured a beaming Anthony Davis, the Final Four's MOP, cheering and yelling on the elevated court. But there weren't many cameras tracking his teammate, Darius Miller, on that short trip to the postgame podium in the Superdome. Though it seemed inconsequential eight months ago, it's possibly the most significant image now.
THE RUNDOWN
A look at 10 highly touted freshmen who have benefited from playing alongside at least one veteran teammate:
Arizona: Brandon Ashley, with Mark Lyons --
Ashley (11.0 ppg, 7.4 rpg), like the rest of the Wildcats, is a beneficiary of playing with veteran guard Lyons (14.0 ppg, 2.4 apg), who played any plenty of huge games at Xavier.
Baylor: Isaiah Austin, with Pierre Jackson --
The 7-1 Austin and 5-10 Jackson have combined to average 33.6 ppg for the Bears this season.
Butler: Kellen Dunham, with Rotnei Clarke --
With Dunham (10.1 ppg), a freshman, and Clarke (18.0 ppg), a senior who transferred from Arkansas, Brad Stevens has one of the Atlantic 10's strongest backcourts.
[+] Enlarge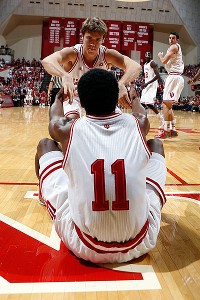 Brian Spurlock/US PresswireJordan Hulls and Yogi Ferrell have worked seamlessly so far for the top-ranked Hoosiers.
Duke: Rasheed Sulaimon and Seth Curry --
Both Sulaimon (12.9 ppg) and Curry (15.1 ppg) can torch Duke's opponents with their scoring abilities.
Indiana: Yogi Ferrell, with Jordan Hulls --
Both can play point guard, but Tom Crean isn't afraid to use Ferrell (team-leading 4.8 apg) and Hulls (12.1 ppg, 4.0 apg) together.
Kansas: Ben McLemore, with Jeff Withey --
McLemore leads the Jayhawks in scoring (14.9 ppg) and senior Withey (14.6 ppg) is second, while maintaining his monster presence defensively.
Michigan: Glenn Robinson III, with Tim Hardaway Jr. --
Trey Burke
is the offensive catalyst but any team that faces the Wolverines has to focus on the potent duo of first-year standout Robinson (12.3 ppg, 7.0 rpg) and Hardaway (16.6 ppg, 5.6 rpg), too.
Pittsburgh: Steven Adams and Tray Woodall --
Adams (6.0 ppg, 1.6 bpg), a freshman from New Zealand, still has a lot to learn but Woodall (12.9 ppg, 5.6 rpg), a senior point guard, will help him develop into a player who can handle a bigger load once Big East play begins.
UCLA: Shabazz Muhammad, with Larry Drew II --
The Bruins have had plenty of struggles but both Muhammad (16.0 ppg) and Drew (8.5 apg, second in the nation) are off to promising starts.
UNLV: Anthony Bennett, with Mike Moser --
The Canadian freshman (18.8 ppg, 7.8 rpg) and Moser (12.3 ppg, 9.2 rpg) anchor one of the nation's top frontcourts.
The Weekly Forecast
By Myron Medcalf
ESPN.com
A quick look at the temperature of college basketball as we head into a new week:
Coaches
Hot:
Wichita State made a smart move when it restructured coach Gregg Marshall's contract in March. He's making seven figures now. But will that be enough to stop a bigger program from making another run at him, now that he's led the Shockers to an 8-0 start (wins over VCU, Iowa) despite losing most of his top contributors from last season? Bigger question: Will he listen?
Cold:
UCLA assumed it had made a smart move when it boosted Ben Howland's salary in 2008 (he'll make $2.3 million in 2014-15), following three consecutive runs to the Final Four. Howland, however, has done little to quiet ongoing speculation about his job status this season. The Bruins have the top recruiting class in the country but two players, Joshua Smith and Tyler Lamb, have already transferred and they've already lost three games.
Conferences
[+] Enlarge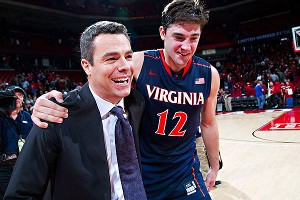 AP Photo/David StlukaUVa did what few teams do: win at UW's Kohl Center. Now it's time for a home game versus Tennessee.
Hot:
How about the ACC? The conference tied the Big Ten in the ACC/Big Ten Challenge last week. Duke looked like a possible No. 1. Virginia Tech, Miami and Virginia also scored significant wins and proved that the ACC might not be as top-heavy as it appeared to be a couple weeks ago.
Cold:
What's wrong with the CAA? The league, sans VCU, is clearly a one-bid conference now. George Mason is decent, but hard-luck Drexel is 2-5, Delaware is 2-6 and Old Dominion is 1-6. Not a good start for the conference.
Buzzer-Beaters
Hot:
Cincinnati beat a solid Alabama squad Saturday on Cashmere Wright's last-second shot. And he hit it even though Crimson Tide big man
Moussa Gueye
put a hand in his face. He'd struggled all night before he knocked down that game-winner. Had he missed the shot, the matchup would have gone into overtime. Can't fault that shot.
Cold:
You
can
fault Tennessee's late-game execution against Georgetown. Yes,
Skylar McBee
(38.7 percent) was the right guy to take the shot. But why set up a 3-pointer against a Hoyas zone that stifled the Vols all night, with four seconds to play in a one-point game? It was an ugly night for both teams, but UT didn't have to end it that way.
Freshmen
Hot:
UNLV's
Anthony Bennett
has averaged 19 points, 7 rebounds and 2.6 blocks in his last three games. Dave Rice's program already has one of the country's top frontcourts with Bennett and Moser together. And remember, Khem Birch will be eligible this month.
Cold:
Kentucky forced 19 turnovers in its 64-55 loss to Baylor at Rupp Arena, but the young Wildcats couldn't overcome 30 percent shooting and saw an end to their 55-game home win streak.
Nerlens Noel
was 3-of-14 from the field.
No. 1s
Hot:
Both Duke and Indiana have made strong cases for the No. 1 slot in the polls. The Hoosiers toyed with North Carolina in an 83-59 victory in Bloomington last Tuesday. But the Blue Devils responded with a 73-68 win against Ohio State the next day, setting up an intriguing battle for the top spot.
Cold:
Georgetown achieved a different No. 1 Friday night. Its 37-36 win over Tennessee was the first time the program had registered 37 points or fewer in a win since beating Catholic during the 1945-46 season. It wasn't pretty, folks.
Viewer's Guide
All times ET

Monday
7 p.m.: Eastern Michigan at Syracuse (ESPNU) Tuesday
7 p.m.: Texas vs. Georgetown (ESPN)
7 p.m.: Oklahoma at Arkansas (ESPN2)
9 p.m.: NC State vs. Connecticut (ESPN)
9 p.m.: Northwestern at Baylor (ESPN2)
9 p.m.: Louisville at Charleston (ESPNU) Wednesday
7 p.m.: Florida at Florida State (ESPNU)
7 p.m.: Ohio at Memphis (CCS)
7 p.m.: Tennessee at Virginia (ESPN3)
8 p.m.: Charlotte at Davidson (ESPN3)
9 p.m.: Temple at Villanova (ESPN2)
10:30 p.m.: Colorado St. at Colorado (PACN)
11 p.m.: Gonzaga at Washington St. (ESPNU) Thursday
8 p.m.: Creighton at Nebraska (ESPN3) Friday
8 p.m.: Iowa State at Iowa (BTN)
Saturday
Noon: Arkansas at Michigan (CBS)
2 p.m.: Colorado at Kansas (ESPN2)
3:15 p.m.: Duke vs. Temple (ESPN)
4 p.m.: Virginia Tech at West Virginia (ESPN2)
5:15 p.m.: UCLA vs. Texas (ESPN)
6 p.m.: Wisconsin at Marquette (ESPN2)
8 p.m.: Arizona at Clemson (ESPN2)
9 p.m.: Valparaiso at New Mexico (Root Sports)
10 p.m.: Illinois at Gonzaga (ESPN2)
10:30 p.m.: Minnesota at USC (PACN)
Sunday
6 p.m.: UNLV at California (ESPNU)
Places To Be This Week
Tuesday
New York (Jimmy V doubleheader):
The night at the Garden, which features Texas-Georgetown and NC State-Connecticut, probably looked better back when Texas was considered a threat to compete for the Big 12 title. The Longhorns have since lost to Chaminade and USC, and star point guard
Myck Kabongo
's NCAA status remains bafflingly opaque, and much of the luster is lost. But Georgetown can really play, Connecticut will look to continue its solid start under Kevin Ollie and NC State will try to take another step toward expectations so many foisted upon it this preseason. Intrigue still abounds.
Charleston, S.C. (Louisville at Charleston):
Even if Louisville hadn't nearly taken a home loss to Illinois State on Saturday, this would be a big-time potential upset special. Why? Because Charleston is (a) at home and (b) already the owner of an upset win at Baylor. Doug Wojcik's team seems to specialize in tight games (the type of games UL's combination of so-so offense and tight defense tends to create) and if I'm a Cardinals fan, I'm feeling just a little bit nervous, right?
Wednesday
Tallahassee, Fla. (Florida at Florida St.):
A quick recap: The Florida State Seminoles lost to South Alabama at home on Nov. 9. They lost to a good Minnesota team at home Nov. 27. All things considered, you can live with that. Or you could until Sunday, when Mercer became just the latest team to drop the suddenly defense-averse Noles at home. December might feel too early to talk about the NCAA tournament bubble, but it isn't, not with nonconference losses like that piling up. A home crack at a potential No. 1 seed such as Florida couldn't possibly be more important.
Boulder, Colo. (Colorado St. at Colorado):
A few years ago, we would have scoffed at the notion that this game mattered to anyone outside of a few basketball junkies nestled in the foothills of the Rockies. No more. Tad Boyle has CU relevant, and Larry Eustachy is likely to keep former coach Tim Miles' upstart CSU program moving toward NCAA tournament berths. A more intense in-state rivalry could be just one more byproduct of mutual hoops success.
Thursday
Lincoln, Neb. (Creighton at Nebraska):
Speaking of in-state rivalries … well, no, this probably doesn't qualify. These two schools have had a nice little deal for decades: The Cornhuskers handle the football, the Bluejays handle the hoops. Win-win. (I'd be genuinely curious to know how many Creighton basketball fans also count themselves as Husker football fans.) Nebraska is committing to its hoops program like never before, and the Huskers have shown some nice signs early in Tim Miles' tenure, but with
Doug McDermott
& Co. scoring at will, don't expect a tectonic shift anytime soon.
Saturday
Lawrence, Kan. (Colorado at Kansas):
Does Colorado have a shot at beating Kansas in Allen Fieldhouse? I doubt it. But it's not as though KU has been setting the world ablaze. Consider this quote from Bill Self's post-Oregon State press conference: "I was just trying to find anybody that could go out there and give us some positive contributions. To be honest with you, we didn't find anyone." It is a huge uphill challenge for any team, even one led by a dynamic rebounder such as
Andre Roberson
, to get a win at the Phog (especially if you can't handle Wyoming's Arena-Auditorium). But the Buffs have the talent to pull it off, no question.
East Rutherford, N.J. (Duke vs. Temple):
The Duke Blue Devils could get unseasonably warm weather for 30 days straight, get everything they want for Christmas, have the most memorable New Year's Eve of all time, and their month still wouldn't be better than the November they just had. They already own wins over Kentucky, Minnesota, VCU, Louisville and Ohio State; it's hard to remember a group of November wins anywhere near that good. Temple is no pushover, even in a Duke-fan-friendly Meadowlands;
Khalif Wyatt
and
Scootie Randall
are for real. But a neutral-court game against a good team is practically clockwork for Coach K's team by now.
Houston (UCLA vs. Texas):
From a viewer's (and OK, writer's) perspective, there is no floor on the entertainment value the UCLA Bruins could provide this season. Either they come together and harness all that talent and make a real run at the Pac-12/Final Four, or they crash and burn and lose to Cal Poly at home (oh, wait). That has been the read on this strange combination of team and coach, and it is only more evident now. Texas is a slightly less-obvious trainwreck -- the Longhorns could sure use Myck Kabongo -- but they share the Bruins' no-lose viewership proposition. This could be a weird one.
Spokane, Wash. (Illinois at Gonzaga):
So you want to be the surprise of the season? You can start by (a) quitting on your coach last year, (b) being reenergized by his energetic young replacement, (c) blitzing the Maui Invitational en route to the tourney title and (d) surviving your next two home games and moving to 8-0. That's a good start! It creates the possibility (which most Illinois fans must have dreaded in the preseason) that a trip to Gonzaga would be more than a ruthless bloodletting. In any case, this is the real test.
Sunday
Berkeley, Calif. (UNLV at Cal):
Allen Crabbe
was playing lights-out offensively, and Cal was off to a 6-0 start without a really quality win in the mix, and then Sunday's trip to Wisconsin -- an 81-56 Badgers romp -- brought everybody back down to Earth. But don't let that scoreline fool you. UNLV looks like the slight favorite heading in to Berkeley, but the Rebels are still working out plenty of kinks. A win against Mike Montgomery's team should probably be seen less as an expected outcome and more as another small milestone in a very talented but still new team's development. We'll see.
-- Eamonn Brennan
Three Questions For This Week
Is the real Joe Jackson back for Memphis?
Jackson, the Tigers' enigmatic point guard, was terrible in back-to-back losses to VCU and Minnesota in the Battle 4 Atlantis. Things got so bad that Josh Pastner had to get him off the court. Jackson, though, bounced back with a 15-point effort in a win over Northern Iowa and he had 13 points and eight assists against UT-Martin five days later. Memphis will face a bigger test Wednesday against 6-1 Ohio, and it will be interesting to see how Jackson responds. The Tigers' success this season depends on him.
Will CU halt KU's 25-game home streak?
Kentucky's loss to Baylor on Saturday ended the country's longest home winning streak at 55 games. So Kansas and Syracuse now hold the national-best mark at 25, but KU's streak could easily be stopped if the Jayhawks don't show improvement in the backcourt, where
Elijah Johnson
and backup
Naadir Tharpe
have been subpar. Colorado boasts one of the nation's top perimeter defenders in
Spencer Dinwiddie
, a pair of versatile forwards in
Andre Roberson
and
Josh Scott
and an incredibly underrated coach in Tad Boyle, whose team has already defeated Baylor.
Bigger disappointment: UCLA or Texas?
We'll find out Saturday when the teams meet in Houston. UCLA probably has been a bigger letdown thus far simply because of the hype it received after signing the nation's No.1 recruiting class. Teams with
Shabazz Muhammad
and
Kyle Anderson
on the roster aren't supposed to lose to Cal Poly. And
Myck Kabongo
's suspension at Texas doesn't give the Longhorns, who some thought would challenge Kansas for the Big 12 title, an excuse to get blown out by Division II Chaminade.
-- Jason King
Upset Pick Of The Week
Marshall over West Virginia, Wednesday: Now, on the surface, you may not look at a 5-3 team beating a 2-3 team as an upset. But this would still qualify. Marshall seems to have stopped its early slide. Coach Tom Herrion is feeling much better about the direction of the team and appears to be finding itself after three straight wins over Nevada, Morehead State and UNC Wilmington. If the Herd can produce an in-state win over West Virginia in Charleston, it would do wonders for the team's confidence moving forward. It'll need it, too. Marshall has some heavy games ahead with Cincinnati back in Charleston on Dec. 15 and a trip to Kentucky on Dec. 22.
-- Andy Katz