One Month In, It's Too Early To Pass Judgment
By Myron Medcalf
ESPN.com
He has a ring. Yet the old doubters and the negative vibe they created still bother him. Ernie Myers earned that national-title jewelry in 1983 as a member of Jim Valvano's Cardiac Pack at North Carolina State. Myers said Valvano -- much like his famous speech at the 1993 ESPYs -- told his players to fight, even when some of their supporters began to doubt their potential. That Wolfpack squad was nationally ranked in the preseason polls and returned a senior core of Dereck Whittenburg, Sidney Lowe and Thurl Bailey. The moment Whittenburg suffered a foot injury in mid-January 1983, however, the mojo changed. The Pack lost three of its next four games and most folks wrote them off. "We felt like we could play with anybody early in the season but when Whittenburg got hurt, everybody essentially thought the season was lost," Myers told ESPN.com. "There was a mood. You'd walk on campus … it was that vibe."
[+] Enlarge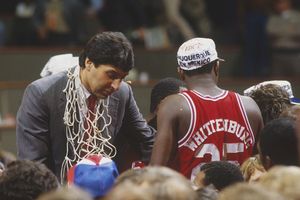 Focus on Sport/Getty ImagesNorth Carolina State was counted out at several points during the 1982-83 season.
NC State recovered in time to make a run when it mattered. Whittenburg returned after missing 14 games. And the Wolfpack beat Houston 54-52, winning it all on Lorenzo Charles' buzzer-beating dunk. Myers knows how long it can take a team to jell, especially when injuries affect lineups. Folks back then wrote off the Pack far too early, just as it's too early to judge programs now that we've officially reached the one-month mark in the 2012-13 season. So I listen to Myers when he questions those who've already dismissed Kentucky, a team packed with pro prospects but recently dismissed from the AP Top 25 after a back-to-back losses to Notre Dame and Baylor. "It's where you end up; it's always where you end up," he said. And I listen to Myers when he praises Indiana but also acknowledges that the Big Ten's gauntlet could make the Hoosiers look less invincible. "You never know what that team will look like a month or two from now if they get smacked in the mouth," he said. There's always a temptation to assess programs in early December even though some of their respective identities won't materialize for weeks, maybe months. It's a dangerous prognosis because we just haven't seen enough basketball yet. But we do it anyway. I'm as guilty as the rest. I've probably been too dismissive of squads such as UCLA, North Carolina and Baylor, and probably too high on teams such as Indiana, Arizona and Michigan. It's so easy to get amped off a string of games and put a team on a premature pedestal. It's so easy to leave it there when it fails to meet those unfair projections. Patience. We all need it. I think Indiana and Duke are the top two teams in the country right now. Still, this season's field lacks one truly great team in my opinion. There are a bunch of squads that seem as though they're on a similar level. And more teams that might be one player or one month away from restoring lost faith in its chances of salvaging the rest of the season. Kentucky is still searching for its footing, but I can't remember the last time John Calipari had so many future pros and failed to figure it out. I haven't dismissed NC State either.
C.J. Leslie
& Co. made it work late last season and could do it again this year. But Illinois, 10-0 after Saturday's 85-74 win at Gonzaga, could crack in the Big Ten. Creighton has to slide through a multitude of notable contenders in the Missouri Valley, including Wichita State -- possibly the league's best team. The Zags face Baylor and Kansas State in the coming weeks. Arizona nearly crumbled at Clemson on Saturday. The young Wildcats could get crushed by Florida this Saturday. The Gators are that good. Arizona is that unproven. The uncertainty is the sport's glow. Turn on the TV, any night of the week, and you may see something unexpected, something surprising. With so much parity this season, and every season, there's just no way that one month will tell the full story about 2012-2013. It will feel so distant once the NCAA tournament begins. We'll look back and wonder what this first month meant, if anything, for the season's most significant chapter.
[+] Enlarge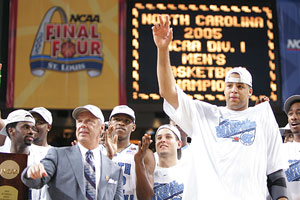 Ronald Martinez/Getty ImagesMany remember the 2004-05 Heels as one of the best teams of the past decade. What they don't remember is an early-season loss to Santa Clara.
A month into the year, North Carolina's eventual 2005 national champion still wondered what it was. The Tar Heels opened that season with a 77-66 loss at Santa Clara. Raymond Felton missed that game. But that wasn't the problem, according to former starter Jackie Manuel, now an assistant with UNC-Greensboro. The Tar Heels were overconfident, he said, so they suffered a shocking loss on their way to the Maui Invitational. "Coach [Roy] Williams, when we got on the plane heading to Maui, he told us, 'I'm going to let you all know now, you're not in Maui until I say you're in Maui, and when we get off this plane, you all are going to study hall, you all are going to lift weights and then we're going to practice,'" Manuel said. "And those two days were probably one of the worst two days, as far as practice, that we've ever had because he got into us real good." Despite the NBA-level talent on their roster, the Tar Heels continued to provide ammunition for their skeptics with surprising losses, including one to Georgia Tech in the semifinals of the ACC tournament. But Manuel's team regrouped and beat Illinois to win the national championship. He said players ultimately recognized that the NCAA tournament was their last chance to make history at a school that swims in it. So they turned up their swagger at the right moment. But really, Manuel said, they had finally figured out who they were and what they could accomplish. That wasn't the case with every North Carolina team. Manuel was a member of the 2002-03 Tar Heels, who started 5-0 and won the Preseason NIT but ultimately finished the season 19-15 and missed the NCAA tournament. "I don't think the judgment should start happening until February, late January," he said. "Then you can start judging a team and seeing how things are going to go with that team. But November, it's still early. People are still trying to work out the kinks, trying to build rotations. There's some teams that are trying to get that chemistry going. It's real early." And that's why I will enjoy the coming months of college basketball. Because I know myths -- many concocted within my own mind -- will be shattered. Some teams will shock. Others will disappoint. We'll all know more soon enough. But how much do we really know right now? After only a month, it's just not wise to kill any team's vibe.
THE RUNDOWN
Three teams I still believe in …
Iowa:
Yes, the Hawkeyes lost to Wichita State and Virginia Tech in back-to-back games. At the time, however, few knew how good both teams were. The Shockers are ranked nationally and Virginia Tech could have been prior to Saturday's loss at West Virginia. Iowa could still be a dangerous squad in the Big Ten. Its defense has made dramatic strides since last season.
Aaron White
is one of the most underrated leaders in America. Since giving up 95 points to the Hokies in the ACC/Big Ten Challenge, the Hawkeyes have been more disciplined. They could rise again once Big Ten play begins.
Kentucky:
Three Wildcats (
Archie Goodwin
,
Nerlens Noel
and
Alex Poythress
) are ranked in the top 10 of Chad Ford's top 100 NBA prospects. So Kentucky doesn't have a talent problem. It has a youth problem, a point guard problem, an inexperience problem. The Cats were not as good as they thought they were and now they know it. But I think falling out of the Top 25 takes some of the pressure off this young team. It's the perfect platform for a turnaround. They just need
Ryan Harrow
to evolve into a leader and a trustworthy point guard.
North Carolina State:
The Wolfpack is a good team now. But the question is whether it's as elite as the preseason rankings assumed. NC State looked ordinary in its losses to Oklahoma State and Michigan, but it's still one of the nation's most versatile and talented teams. Its defense has been suspect (No. 95 in defensive efficiency), but it has been tougher in the past two games, wins over UConn and Cleveland State. C.J. Leslie's on-again/off-again pattern is always a concern, but he has been more consistent in recent outings. With Leslie dialed in, the Wolfpack can move up the rankings again.
[+] Enlarge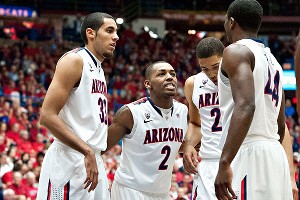 Casey Sapio/USA TODAY SportsArizona is unbeaten, but will face its toughest test by far against the fifth-ranked Gators.
Three teams I'm not sold on quite yet …
Arizona:
The Wildcats finished strong in their toughest test of the year Saturday. But they were on the ropes multiple times in that 66-54 win at Clemson in Littlejohn Coliseum. Their reliance on youth was evident. Freshmen
Brandon Ashley
,
Kaleb Tarczewski
and
Grant Jerrett
struggled down the stretch.
Mark Lyons
(20 points) was unstoppable in the final minutes but Sean Miller will need big plays from his youngsters in similar situations. Yes, Arizona earned that win. But the Wildcats also looked like a team that could get whipped by Florida on Saturday.
Georgetown:
Ugh. What more can you say about No. 15, gulp, Georgetown? The last few weeks have been tough for John Thompson III's crew. The Hoyas scored 37 points in a one-point win over Tennessee and two games later, they had only 46 as they scraped by Towson. Yes, that Towson. This is the same Georgetown team that tussled with Indiana, the nation's most efficient offense, and scored 78 in regulation on UCLA a few weeks ago, right? There's just no flow right now for the Hoyas. They can lock down any team in the country (fourth in defensive efficiency), but that won't matter in the future if they're struggling to put up 50 against the Big East's best.
Illinois:
Kudos to the Illini for Saturday's 85-74 victory at Gonzaga. The Illini went to Spokane and beat a deep Zags squad. Illinois is a team that takes more 3s (265) than every team in the country that's not named VMI. Yet, they needed a monster performance from
Brandon Paul
(35 points) to pull off that victory. This is the same Illinois squad that required a late 3-pointer to beat Gardner-Webb a few weeks ago. In that game, Paul scored 13 points. The Illini also squeezed by Hawaii in overtime. Don't get me wrong. This is a great and unexpected start for John Groce's team. But I'm not going to get too excited until I see what this squad does in a few weeks against Missouri and then, the Big Ten. Stay tuned.
The Weekly Forecast
By Myron Medcalf
ESPN.com
A quick look at the temperature of college basketball as we head into a new week:
The state of Indiana
Hot:
The Hoosiers are still rolling. Notre Dame hasn't lost since Nov. 16. And Butler is on a four-game winning streak entering its clash with Indiana this weekend.
Cold:
Purdue registered only 44 points in Saturday's three-point loss at Eastern Michigan. Matt Painter's squad recorded 18 turnovers and went 14-for-47 from the field.
The state of Wisconsin
Hot:
After suffering a lopsided, 82-49 loss at Florida, the Golden Eagles bounced back with Saturday's 60-50 win over in-state rival Wisconsin. It was their fourth win in their past five games.
Cold:
Wisconsin lost its fourth game of the year Saturday, a condition its Division I colleagues around the state understand well. Green Bay (3-5) has won one game since Nov. 16. Milwaukee has lost six of its past seven games.
Coaches in Year 1
Hot:
No coach in Illinois modern basketball history has gotten off to a better start than John Groce has in his first 10 games. The former Ohio head coach has led the Illini to an undefeated start, a mark anchored by Saturday's win at previously unbeaten Gonzaga.
Cold:
Dan Hurley has been a winner at every stop. But he'll clearly need more time to transform a Rhode Island team that's just 2-7 entering Saturday's matchup against SMU and new head coach
Larry Brown
.
Viewer's Guide
All times ET

Tuesday
7 p.m.: Saint Joseph's at Villanova (ESPNU)
8 p.m.: Norfolk State at Illinois (ESPN3) Thursday
7 p.m.: Wichita St. at Tennessee (FS-South) Friday
7 p.m.: Charlotte at Miami (ESPN3)
9 p.m.: LSU at Boise State Saturday
2 p.m.: Indiana vs. Butler (CBS)
2:30 p.m.: Louisville at Memphis (FSN)
2:30 p.m.: Iowa vs. Northern Iowa (BTN)
4 p.m.: Alabama at VCU (CCS)
4:30 p.m.: Notre Dame vs. Purdue (ESPN2)
7 p.m.: Belmont at Kansas (ESPNU)
8 p.m.: Michigan vs. West Virginia (ESPN)
9 p.m.: Kansas State vs. Gonzaga (ESPN2)
10 p.m.: Florida at Arizona (ESPN)
11 p.m.: Creighton at Cal (PACN) Sunday
3 p.m.: Western Kentucky at Murray St. (ESPN3)
6 p.m.: Eastern Kentucky at Illinois (ESPNU)
Places To Be This Week
Thursday
Knoxville, Tenn. (Wichita St. at Tennessee): The weekday pickings are slim this week; we have finals to thank for that. But anyone who has taken notice of Wichita State's 9-0 start should be interested in this one, because the Shockers should get a true test on the road in Knoxville. The Volunteers, meanwhile, will be looking to jump-start their offense; they've scored 45, 36 and 38 points in each of their three losses.
Friday
Coral Gables, Fla. (Charlotte at Miami): It was easy to dismiss Charlotte's 7-0 start, because most of those wins came against bad or mediocre teams. Davidson is not that, and Alan Major's team got a road win against the Wildcats last week. That result made it much more difficult to write off the 49ers as a product of their early schedule, and now they get another road barometer against a big, physical Miami team -- one that already knocked off Michigan State.
Saturday
Indianapolis (Crossroads Classic): Not only is the Crossroads Classic just an excellent event on its own merits -- there's something special and even state tournament-esque in the way it brings four fan bases together under one fieldhouse roof -- but it also has the benefit of good basketball. With a young Purdue team struggling to find consistency early in the season, Notre Dame-Purdue might be a straightforward affair. But the Indiana-Butler finale should be a real highlight, provided the Bulldogs can keep the pace low and the scoring at bay.
Memphis, Tenn. (Louisville at Memphis): The renewal of this rivalry couldn't come at a more crucial time for the Tigers. A lackluster showing in the Battle 4 Atlantis had Memphis locals loudly doubting coach Josh Pastner and Pastner rethinking his guard positions, moving Joe Jackson (a long-time point guard) to the 2. Memphis responded by drubbing a solid Ohio team 84-58, but it will take more than that to convince the fan base this team is really hunting for a national title. What better way, then, but a win over Louisville?
Brooklyn, N.Y. (Michigan vs. West Virginia): Before this season, the best team John Beilein ever coached came during his West Virginia days, when Mike Gansey and (especially) Kevin Pittsnogle shot their way into the national consciousness in 2005. (Man, that team was great.) On Saturday, Beilein will face off against his old school with what is pretty clearly the best and most talented team he has ever coached.
Seattle (Gonzaga vs. Kansas St.): Gonzaga began the season as hot as any team in the country, but it has taken a step back since. The first cracks in the foundation showed at Washington State, where the Zags needed a last-second Kevin Pangos winner to escape with a two-point win. On Saturday, an impressive Illinois toppled Mark Few's team in Spokane. Maybe this putatively neutral-court game will give Gonzaga the chance to hit the reset button -- even if taking down the physical Wildcats won't be easy.
Tucson, Ariz. (Florida at Arizona): This is the game of the week, and there's no close second. It's not just because a very good Florida team is going on the road yet again (last time we saw that, we saw Florida State take a rivalry beating for the ages), but because said very good Florida team is doing so against a very talented Arizona squad that has, thanks largely to a soft November schedule, flown under the radar so far. But the Wildcats have the size and athleticism to match up with the Gators; the question is whether they can hold them back on the offensive end. In any case, it's going to be a good one.
Berkeley, Calif. (Creighton at Cal): Creighton's offense is, surprise surprise, one of the most efficient (and entertaining) in the country, and while All-American/divinely gifted scorer Doug McDermott continues to have much to do with that, credit should also go to senior guard Grant Gibbs, whose 138.4 offensive rating is among the 15 best in the country. Gibbs might be the nation's best passer, and he creates points for teammates (McDermott especially) while rarely turning the ball over. But Cal shouldn't be underestimated. After an 81-56 blowout loss at Wisconsin, the Bears gave UNLV all they could handle Sunday, and if they can maintain that scoring pace, they might be able to keep up with the Bluejays.
-- Eamonn Brennan
Three Questions For This Week
Can West Virginia get back on track?
It may be too early to make that bold of a statement, but the Mountaineers certainly took a step in the right direction by defeating rival Marshall and then previously-unbeaten Virginia Tech. Against the Hokies, Juwan Staten hit a layup with just under 4 seconds to win it for WVU, which improved to 4-3 in time for Saturday's tilt with No. 3 Michigan in Brooklyn. Bob Huggins' squad starts two transfers in Staten and Aaric Murray, so it's understandable that chemistry has been lacking early. But West Virginia is talented enough to make some noise in a woeful Big 12 if it builds on the momentum it created this weekend.
Will any transfers make an impact when they become eligible this month?
Two come to mind. Missouri's Jabari Brown, who quit Oregon's team after only two games last season, will give the Tigers the perimeter scorer they so glaringly lack. That will take some pressure off of point guard Phil Pressey, who is trying to do a bit too much offensively. Also, look for Khem Birch to make a name for himself at UNLV. The 6-foot-8 Birch earned McDonald's All-American honors in high school, but he averaged only 4.4 points at Pittsburgh before leaving school last December. He could be great in the paint for UNLV alongside freshman standout Anthony Bennett, especially with Mike Moser's injury.
Any under-the-radar games this week?
With players studying for and taking exams, things will be pretty slow this week until Saturday, when Florida-Arizona highlights an excellent batch of games. One contest to keep an eye on, though, is a showdown between Belmont and Middle Tennessee on Thursday. MTSU is 7-2, with its only losses coming against Florida and Akron (in overtime). Belmont (6-2) is led by standout guard Ian Clark, who averages 19.4 points per game. The Bruins won at Stanford last month and turned in a solid performance in a 10-point loss to VCU.
-- Jason King
Upset Pick Of The Week
Memphis over Louisville, Saturday: The Tigers have been much maligned this season. But Memphis may be ready for a game like this after failing to knock off one of the big boys in the Battle 4 Atlantis. Geron Johnson and Shaq Goodwin have found their footing for Josh Pastner and Memphis lately and this game against an old rival is at home and could be a turning point for the Tigers this season. With Gorgui Dieng still out for Louisville, the Cardinals continue to be vulnerable inside. The Tigers will take advantage in front of a frenzied FedExForum crowd.
-- Andy Katz
Katz's Monday Musings
• One month into the season and there are already candidacies being formed for national player of the year. It's still so early, but the players who stand out the most have been Doug McDermott (Creighton), Mason Plumlee (Duke), Erick Green (Virginia Tech), Brandon Paul (Illinois), Michael Carter-Williams (Syracuse), Otto Porter (Georgetown), Sean Kilpatrick (Cincinnati), Jamaal Franklin (San Diego State) and Cody Zeller or Victor Oladipo from Indiana, but I'm not sure which Hoosier I'd pick now if I had to choose just one. What I love about this race is that it will be wide open. And as you can see, one player can change the way a team is performing and the overall perception of that squad's postseason chances.
• Kansas coach Bill Self said Ben McLemore was the team's top NBA talent a year ago, when the Jayhawks had Thomas Robinson and Tyshawn Taylor. McLemore sat out due to academics. Keep watching his trajectory -- he will get only better and make more of an impact. He scored 24 points in a win over Colorado on Saturday after 21 against Oregon State previously. The two best players in the Big 12 this season will likely to be first-year players in McLemore and Oklahoma State's Marcus Smart.
• Utah has been abysmal lately, but Larry Krystkowiak has turned the corner to where the Utes are more than competitive. The win over Boise State at home wasn't a fluke. Utah was one missed 3-pointer away from forcing overtime Saturday in Provo against rival BYU. The best way to honor the late Rick Majerus would be for this program to be relevant again. Majerus put so much of his life into building the Utes into a national winner. The Huntsman Center faithful deserve a relevant product again. Krystkowiak is close to delivering a relevant team.
To read the rest of Andy Katz's Monday Musings, click here.