For A Weekend, College Basketball Shines
By Myron Medcalf
ESPN.com
As I watched Mark Lyons take over in the final seconds of No. 8 Arizona's 65-64 win over fifth-ranked Florida on Saturday, I wanted to be there in Tucson, soaking in the Wildcats' game-winning push.
My reaction went from "There's just no way" to "What's happening to Florida?" to "Oh my!"
Text messages and emails were quickly dispersed to friends and colleagues after the game. "Did you just see that????"
Every year, college basketball puts up its shield against the naysayers who question its regular-season relevance. It's rare for a product that generates billions of dollars to need so much perennial protection. But the sport is always on trial, it seems.
[+] Enlarge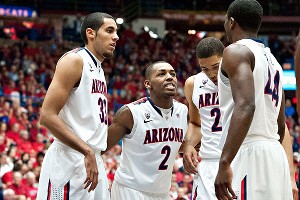 Casey Sapio/USA TODAY SportsThe Arizona Wildcats delivered one of the weekend's highlights by knocking off Florida.
"Does college basketball matter before March?" is the central query.
But with the NFL, NBA, NHL (most years) and college football overlapping with the college basketball season each year, it's a valid question.
And if the ratings war is the only battle that assesses the game, then college basketball will lose many times. The crux of the NFL regular season, primetime NBA matchups and BCS football tend to dominate the fourth quarter of each calendar year. College basketball, however, is a worthy competitor that offers similar thrills. Even in November and December.
Saturday's slate offered a snapshot of college basketball's early-season potential on one of the first weekends without BCS football.
Florida and Arizona finished a captivating day that Butler and Indiana commenced with an overtime matchup that made Alex Barlow, a walk-on, an unlikely hero. Barlow scored the game-winning floater in the closing seconds of Butler's 88-86 win over No. 1 Indiana in Indianapolis.
That was the game's pinnacle, not its only highlight. Two plays kept Indiana alive: Victor Oladipo's steal and layup off a quick spin move and Kevin Ferrell's huge 3-pointer at the end of regulation, seconds after the freshman's costly turnover. And then, Butler relied on its gutsiness in overtime. Next, Barlow's shot. Wow.
Then Louisville overcame a 16-point deficit at Memphis. The Cardinals, who competed without Gorgui Dieng, were resilient. The Tigers, however, failed to finish strong enough to put their rivals away in the second half. And they couldn't overcome the officiating crew, either. But the Cards were terrific as they fought back in the second half of an 87-78 win.
Michigan's Trey Burke dropped 27 points on West Virginia. Creighton's Doug McDermott put up 34 points at California. Gonzaga's Kelly Olynyk scored 20 points against Kansas State.
East Carolina threatened North Carolina in the second half. And Georgia Southern upset Virginia Tech on the road. All of this before Arizona's come-from-behind win over the Gators. In that game, the Wildcats were on the ropes most of the evening. And then Sean Miller's squad pressed, and the Gators unraveled.
In 18 seconds -- from 1:01 to 0:43 -- Florida committed three turnovers. They were necessary breaks for the Cats -- breaks that led to Lyons' game-winner.
It was a great day for the game. I'm not sure what it meant for the larger discussion about college basketball's significance in November and December.
All I know is that I rarely left my couch. I had no reason to.
And that's worth noting in the conversation.
THE RUNDOWN
My favorite moments of the 2012-13 season ... so far.
Chaminade over Texas in Maui Invitational: Yes, it happened. Chaminade, a Division II team, beat Texas 86-73 in the Maui Invitational on Nov. 19. The loss was clearly just the beginning of the Longhorns' early troubles, but it was an embarrassing effort for Texas and a huge win for Chaminade.
[+] Enlarge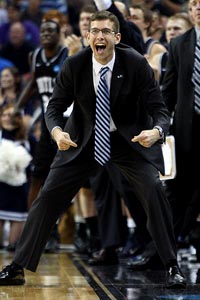 Derick E. Hingle/US PresswireBrad Stevens' Bulldogs have had a flair for the dramatic.
Butler's buzzer-beater against Marquette in Maui: Butler's win over Indiana on Saturday wasn't its first thriller. Rotnei Clarke's buzzer-beating 3-pointer sealed a win over Marquette at the Maui Invitational last month. Clarke launched the shot with one hand, as he drew contact and fell to the floor. The Bulldogs' bench exploded. So did the folks who were watching at home.
Butler beats Indiana in overtime: Somehow, the Bulldogs topped that moment with another spectacular finish in Saturday's win over Indiana. It was the program's first regular-season win over a No. 1 team. Due to foul trouble, the Bulldogs weren't at full strength. Yet they didn't relent. Barlow hit a late floater and Indiana suffered its first loss.
Taylor scores 138 points: Jack Taylor of Grinnell College, a Division III school, took 108 shots in 36 minutes in his record-breaking effort in a win over Faith Baptist Bible last month. Taylor's 138 points in the 179-104 victory shattered previous high marks at the collegiate level. He took 71 3-pointers. You have to feel sorry for David Larson, though. He scored 70 points for Faith Baptist Bible.
Cal Poly upsets UCLA: Coach Ben Howland signed the nation's top recruiting class, so there was a lot of hype surrounding the Bruins in the weeks that preceded the 2012-13 season. But the NCAA investigation that sidelined Shabazz Muhammad for the team's first three games tempered expectations. Once he arrived, however, the sky was supposed to be the limit. And then Cal Poly beat UCLA 70-68 at Pauley Pavilion Nov. 25. Changed everything we'd previously thought about the Bruins.
Baylor over Kentucky: There weren't many reasons to assume that Baylor had a chance to upset Kentucky. The Bears were coming off a 63-59 home loss to Charleston on Nov. 24 when they traveled to Lexington on Dec. 1. But they pulled it off and snapped Kentucky's 55-game winning streak at Rupp Arena with a 64-55 win.
Connecticut beats Michigan State in Germany: College basketball kicked off the season with an unprecedented bang when Connecticut and Michigan State faced off on Ramstein Air Force Base. Led by Shabazz Napier (25 points), the Huskies earned the 66-62 upset victory and kicked off the Kevin Ollie prove-it year in grand style.
Illinois wins at Gonzaga, quiets doubters: Many (including yours truly) weren't sold on the Illini, even after they won their first nine games. But an 85-74 win over the Zags in Spokane on Dec. 8 added vast credibility to Illinois' résumé. Senior guard Brandon Paul scored 35 points and was unstoppable in Illinois' most significant win under new coach John Groce.
The Weekly Forecast
By Myron Medcalf
ESPN.com
A quick look at the temperature of college basketball as we head into a new week:
Canadians
Hot: UNLV forward Anthony Bennett (20.3 ppg, 8.9 rpg and 1.9 bpg) is not only America's best freshman, but also a strong candidate for national player of the year. He's been as dominant as any player in the country thus far. Fellow Canadian-born big man Khem Birch, who transferred from Pitt last year, will join UNLV's rotation Monday against UTEP.
Cold: Really? Another lengthy investigation, NCAA? This time, Myck Kabongo is the victim of the organizing body's internal bureaucracy and inefficiency. Kabongo hasn't played for Texas this season as he awaits the results of the NCAA investigation into his ties to an agent and a pro trainer whom he allegedly worked out with during a trip to Cleveland. But why has it taken so long for the NCAA to announce a verdict?
The state of Virginia
Hot: Virginia has defeated Wisconsin and Tennessee during its seven-game winning streak. Richmond has won five consecutive games. And VCU's 73-54 win over Alabama on Saturday was its fourth in a row.
Cold: Virginia Tech's 78-73 home loss to Georgia Southern (4-5), which lost to Samford (2-10) two weeks ago? Ugh. Not a good weekend for the Hokies.
Bulldogs
Hot: The Gonzaga Bulldogs bounced back from last weekend's double-digit loss against Illinois with a 68-52 victory Saturday over Kansas State in Seattle. And the Butler Bulldogs captured the weekend's top moment when they upset No. 1 Indiana in Indianapolis in an 88-86 overtime win Saturday.
Cold: The Georgia Bulldogs' struggles continued with a home loss to Iona. They've lost three in a row and seven of their past eight games.
Viewer's Guide
All times ET

Monday
7 p.m.: Detroit at Syracuse (ESPN2) Tuesday
7 p.m.: Richmond at Kansas (ESPN2)
7 p.m.: Michigan St. at Bowling Green (ESPNU)
9 p.m.: Stanford at NC State (ESPN2)
11 p.m.: Long Beach State at UCLA (PACN) Wednesday
7 p.m.: Xavier vs. Cincinnati (ESPN2)
9 p.m.: North Carolina at Texas (ESPN2)
9 p.m.: New Mexico at New Mexico St. (ESPN3) Thursday
7 p.m.: Elon at Duke (ESPNU)
8:30 p.m.: Eastern Michigan at Michigan (BTN) Friday
7 p.m.: Florida Atlantic at Indiana (ESPN2)
9 p.m.: BYU at Baylor (ESPN2) Saturday
12 p.m.: Syracuse vs. Temple (ESPN2)
2 p.m.: Texas at Michigan State (ESPN2)
2 p.m.: Florida St. vs. Charlotte (CBS-SN)
4 p.m.: Kansas at Ohio State (CBS)
4 p.m.: Marshall at Kentucky (ESPN2)
6 p.m.: Illinois vs. Missouri (ESPN2)
8 p.m.: Florida vs. Kansas State (ESPN2)
8:30 p.m.: W. Kentucky vs. Louisville (ESPNU)

Places To Be This Week
Tuesday
Raleigh, N.C. (Stanford at NC State): Want to see a really good offense play a really good defense? That's what's on tap Tuesday when the Cardinal will try to slow down the Wolfpack's menagerie of offensive weapons. Don't be fooled by Stanford's brisk pace thus far this season: Johnny Dawkins' Cardinal have been one of the 15 best per-possession defenses in the country. They are also one of the worst shooting teams. Stanford will have to find some offense to spring something like an upset here.
Wednesday
Cincinnati (Xavier vs. Cincinnati): The storylines are obvious, but just in case you just started liking college basketball, these two teams fought last season. Not in a symbolic sense. In an actual, Yancy Gates-throwing-roaming-haymakers way. Many of the players involved in last season's ugly fight are gone now, and the rivalry has been moved off campus to downtown Cincinnati. The heavily favored (and much more veteran-laden) Bearcats will be looking for some revenge, but the environment should be far less toxic.
Las Vegas (Northern Iowa at UNLV): Depending on how you feel about Iowa -- and the Hawkeyes do appear to be rounding into real form -- Northern Iowa's four losses are all understandable and do little to discredit the idea of the Panthers as yet another quality Missouri Valley team. But can they really spring the upset at UNLV? Rebels freshman forward Anthony Bennett is playing like an All-America candidate, and it's hard to imagine the Panthers matching his athleticism around the rim.
Austin, Texas (North Carolina at Texas): I know what you're saying: Texas? Really? Austin is a basketball place to be right now? OK, yes, the Longhorns are pretty awful without Myck Kabongo, who remains in NCAA investigation purgatory, but one little-known fact is that the reason they are awful (and seen as such) is almost entirely due to their completely helpless offense. Their defense? It's way, way better than you think. This could be at least a little bit intriguing, for that reason alone.
Saturday
Kansas City (Florida vs. Kansas State): How good is Kansas State, really? It's still defending well and still rebounding the ball on the offensive end -- the two things the Wildcats did especially well under former coach Frank Martin, too. But their inability to convert those rebounds -- or anything else -- has them posting a 43.5 effective field goal percentage, No. 298 in the nation. Their two losses to good teams (Michigan and Gonzaga) have both been blowouts. Can K-State hang around with a Florida team that (a) has been beating up on everyone except Arizona in Tucson and (b) will be eager to correct that loss?
St. Louis (Illinois at Missouri): This game is always a big deal. The Illinois-Missouri rivalry game, which takes place every year in St. Louis, is one of the more underrated cross-conference rivalries in the country. So it would have been good even if the past five weeks hadn't happened. They did, and so what we have now is a top-10 matchup featuring an undefeated and just-plain-rolling Illinois team (featuring suddenly efficient star guard Brandon Paul) up against Missouri's very talented group. Yes, please.
Columbus, Ohio (Kansas at Ohio State): Illinois-Missouri might have the whole rivalry thing covered, but Kansas-Ohio State is the marquee matchup of the weekend. Both teams look a good deal different from when the Jayhawks handled the Buckeyes in Lawrence last season, but there are plenty of familiar faces, too. Kansas will have to figure out how to stop Deshaun Thomas, while Ohio State's Aaron Craft will have his hands full defending against the Jayhawks' guards, including Elijah Johnson and bouncy freshman Ben McLemore. Keep an eye out for OSU's LaQuinton Ross, a talented sophomore who has picked up his scoring in recent weeks.
-- Eamonn Brennan
Three Questions For This Week
Will peace reign in the Crosstown Classic?
Last season's brawl between Cincinnati and Xavier left a stain on 2011-12. Players were suspended, coaches were criticized and reputations were forever tarnished. The Bearcats and Musketeers meet again Wednesday, and after the public ridicule they endured following the fracas, I can't imagine there will be anything close to a fight this year. In fact, there's a chance players from both schools could be downright timid.
Can Illinois make it through nonconference play without a blemish? We'll know by this time next week. The Illini travel to St. Louis to take on No. 12 Missouri on Saturday in the annual Braggin' Rights game. Illinois has been one of the season's biggest surprises, with a neutral-site win over Butler and a road win at Gonzaga. Missouri, though, likely will be the Illini's toughest test to date because of its overall depth and edge in frontcourt experience. The only nonconference game remaining on Illinois' schedule is against SEC bottom-feeder Auburn.
What was Texas thinking?
The Longhorns always schedule tough, and for that, coach Rick Barnes deserves credit. But this season's slate is so difficult that it's almost cruel. The Longhorns (5-4) already have played in the Maui Invitational and lost to Georgetown and UCLA. This week they'll host North Carolina on Wednesday before traveling to Michigan State on Saturday. With point guard Kabongo still under investigation by the NCAA, a 15th-straight NCAA tournament appearance seems unlikely.
-- Jason King
Upset Pick Of The Week
Texas over North Carolina, Wednesday: The Tar Heels were nearly upset by East Carolina on Saturday. North Carolina didn't have an issue scoring, putting up 93 points, but gave up 87 points to the Pirates. Texas has hardly shown that it can produce a significant victory after losing to Chaminade, USC, Georgetown and UCLA, but there's still a chance Myck Kabongo could finally get clearance by the NCAA. But Texas may not need Kabongo to pull off the upset. The Longhorns have to cut off transition, limit turnovers and control the backboard. It's not a huge reach. Texas is capable. Let's see if the Horns can turn their season around with a much-needed win.
-- Andy Katz