If There's No Dominant Team, So What?
By Myron Medcalf
ESPN.com
LOUISVILLE, Ky. -- Over the course of 40 minutes on Saturday, Louisville made its case as the nation's best team.
It's not the only school with an argument, though. In the equitable landscape of 2012-13, multiple teams deserve consideration. Duke, Arizona, Michigan, Indiana and Kansas are in the conversation, too.
But there are far more Davids than Goliaths this season. That's why UCLA can lose to Cal Poly but beat Missouri; why Baylor can lose to Charleston but win at Rupp Arena; why Texas can lose to Chaminade but beat North Carolina.
Louisville's nonconference resumé exemplifies the parity that's defined the first two months of the season. In an 80-77 victory, the Cardinals outplayed a talented, yet inexperienced, Kentucky team that fought as hard as any previous opponent on UL's slate.
[+] Enlarge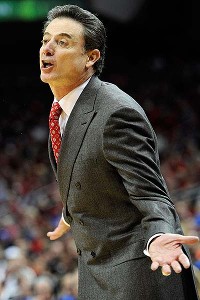 Jamie Rhodes/USA TODAY SportsRick Pitino's Louisville Cardinals squad has the makings of a great team, but is far from flawless.
The Cards' only loss came against current No. 1 Duke in the Battle 4 Atlantis tourney last month, but they didn't have the services of Gorgui Dieng, who suffered a wrist injury that kept him out of action for a month. But Louisville won six in a row without him and when complete, few programs offer a comparable assembly that's as gritty and effective as Rick Pitino's squad (first in adjusted defensive efficiency, 17th in offensive efficiency).
Still, the Cards blew an 18-point lead in a narrow win over Northern Iowa. At the Yum! Center, Illinois State missed a 3-pointer in the final seconds that would've tied the game. Memphis crumbled late against Pitino's team but only after amassing a 16-point advantage. Kentucky had its chances, but its woeful free throw shooting and youth got the best of the Cats.
But even Pitino recognized that Kentucky -- much like a multitude of programs with the potential to make vast improvements between now and March -- could evolve into a potent group in the coming months.
"Quite frankly, I thought we had more talent than them because our talent is more experienced," he said after Saturday's game. "They're going to be a great team come February."
The Wildcats aren't alone.
There's been enough carnage in November and December to suggest that college basketball possesses few, if any, elite programs. It's more accurate to say that the NCAA product comprises an uncertain field. Right now, the overused "anyone can lose" mantra is probably a solid assessment of the current picture.
Multiple Division I coaches echoed this sentiment to ESPN.com over the weekend:
• Tom Crean (Indiana): "Teams I think that have the fewest weaknesses are Louisville, Kansas, Florida and Duke. I haven't watched the Big Ten much, but that will change. Arizona might be the most relentless at this point with Kansas being the most explosive. Sean Miller has his stamp all over Arizona. Syracuse is the deepest, most talented team right now."
• Dan Monson (Long Beach State): "One-and-done has made parity even greater. Just think if Kentucky did not lose anyone from last year. I think there are five to eight really good teams. Duke, Syracuse, Michigan, Ohio State, Arizona, Indiana … and another 15 who could win it all. [There is] no one out there that is a great team right now. A month from now, maybe. That is what makes March Madness."
• Frank Haith (Missouri): "It's early. I do think there is parity right now. But teams will get better throughout the year so there can become some separation, but I think there are a lot of really good teams that will get better. Early entry in the draft has given teams a chance to catch up."
• Scott Drew (Baylor): "[There is] no dominant team in my opinion. Several good teams but no dominant team. Just look at the scores and who has beaten who."
At this time last year, the eventual national champion wasn't flawless. But it was obvious that Kentucky's roster full of NBA prospects would eventually become the unanimous favorite to win the national title. North Carolina, Kansas, Ohio State, Missouri and Michigan State were all very good teams, but they were not in UK's league.
[+] Enlarge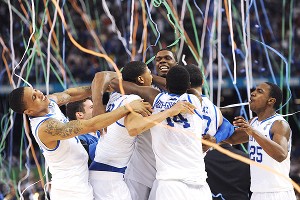 Richard Mackson-US PresswireIt's safe to say there isn't a team this season that NBA scouts rave about like they did 2011-12 UK.
"Kentucky was really good," Tennessee coach Cuonzo Martin said. "They were a great team."
This year's class lacks that juggernaut. And I'm fine with that. It results in more nightly intrigue, and it creates more mystery leading up to the NCAA tournament.
A few teams will separate in league play, but probably not the way that Kentucky did last season. No team in 2012-13 has the skill and ability that John Calipari's team relied on in 2011-12.
There have been too many close calls and nailbiters among the top 10 in the first two months of the season to put any team on that pedestal.
So it still feels like an open field with a top 10 that's capable but not invincible and a fleet of up-and-comers that could rise in time to make a run in March.
"Those teams [in the top 10] have parts to be successful," Martin said. "But you still have a ways to go. You have to go through the fire to get to where you're going."
And it appears that we're on our way to another explosive March, one that could arrive without an undisputed favorite to win the national championship.
THE RUNDOWN
Four teams that could become contenders by March
Kentucky: On Saturday at Louisville, the Wildcats were just 11-for-23 from the free throw line and committed 10 of their 14 turnovers in a crippling 15-minute stretch. But Nerlens Noel and Willie Cauley-Stein are going to make life tough on every opposing big man they face this season. Archie Goodwin and Alex Poythress can take over games, but they just haven't done it consistently. And Ryan Harrow has matured into the crucial leader that John Calipari needs. This group is getting better at the right time.
[+] Enlarge
Brace Hemmelgarn/USA TODAY SportsMinnesota hasn't won an NCAA tourney game since making the 1997 Final Four. Is this finally the year?
Minnesota: Tubby Smith has one of the country's most athletic backcourts. Andre Hollins, Austin Hollins and Joe Coleman can compete with their contemporaries throughout the nation. Forward Rodney Williams (13.0 ppg) is one of three Gophers averaging double figures and Minnesota is 16th in adjusted defensive efficiency and first in offensive rebounding percentage, per Ken Pomeroy. Plus, former all-Big Ten forward Trevor Mbakwe is working his way into the rotation a year after suffering a season-ending knee injury. The Gophers are pretty good already. They could be an even more dangerous crew two months from now.
Oklahoma State: The biggest concern for OSU is its inconsistent offense (76th in efficiency). But this young group, Kansas' greatest threat in the Big 12, could grow up once conference play begins. Freshman Phil Forte has averaged 15.6 PPG in the past three games and Marcus Smart and LeBryan Nash are studs. The most surprising development for Travis Ford is his team's defensive improvement. This team was 15-18 (7-11 in the Big 12) last season because its defense had so many holes (107th in KenPom.com's efficiency ratings). This season, however, the Pokes are fourth in efficiency. They're not the biggest or deepest team in the country, but Smart's leadership, a dynamic talent pool and legit defense could transform this team in the next couple of months.
UCLA: The Bruins' victory over Missouri on Friday legitimized the team's under-the-radar improvement during its current five-game winning streak. Now that Shabazz Muhammad is in shape (27 points against the Tigers), UCLA is a different program with a higher ceiling. The Bruins are far from great on defense, but have shown signs lately (forced 17 turnovers against Mizzou). Look, those lofty preseason projections really don't matter now. Ben Howland's veterans are finally blending with his highly touted recruits and that could lead to a late-season run that erases all of the mishaps that impeded the team's progress in November.
The Weekly Forecast
By Myron Medcalf
ESPN.com
A quick look at the temperature of college basketball as we head into a new week:
Presidential Connections
Hot: President Obama graduated from Harvard Law School. Harvard's men's basketball squad has won five of its plast six games, including a 67-62 road win over Cal on Saturday. Georgetown, just a few miles from the White House, has won its past seven.
[+] Enlarge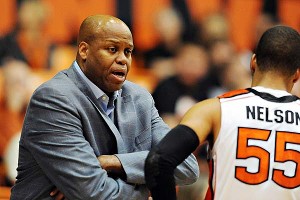 Steve Dykes/USA Today SportsJust when it looked like Oregon State would go a season without an embarrassing nonconference loss, Towson came along.
Cold: On Sunday, Oregon State's Craig Robinson -- President Obama's brother-in-law -- tweeted that his team had a great practice and would be prepared for its next outing. Sure hope so, considering the last outing ended with an overtime loss to Towson at home. They didn't look ready then.
First-year Coaches
Hot: John Groce has guided Illinois to a 13-1 start as it prepares for its Big Ten opener at Purdue Wednesday. Over the weekend, Connecticut's Kevin Ollie earned a five-year, $7 million extension. The Huskies are 10-2 (neutral-site losses to New Mexico and North Carolina State are their only blemishes).
Cold: Virginia Tech won its first seven games, a run capped by a Dec. 1 victory over Oklahoma State. But James Johnson's squad has lost four of its past six, including a 97-71 shellacking at BYU over the weekend. Mississippi State's Rick Ray has been shorthanded all season, but Sunday's 59-57 home loss to Alabama A&M may have been its lowest moment on the year.
7-foot Freshmen
Hot: Baylor's Isaiah Austin finished with 20 points, eight rebounds, two assists, a block and a steal in Friday's 94-87 loss at Gonzaga. He was also 2-for-5 from the 3-point line.
Cold: Kentucky's Willie Cauley-Stein was very active on defense in his team's 80-77 loss at Louisville on Saturday, but his 0-for-4 mark from the free throw line was costly, especially down the stretch.
Viewer's Guide
All times ET

Monday
Noon: Cincinnati at Pittsburgh (ESPN2)
2 p.m.: Michigan State at Minnesota (ESPN2)
4 p.m.: Indiana at Iowa (ESPN2)
6 p.m.: Gonzaga at Oklahoma State (ESPN2)
7:30 p.m.: New Mexico at Saint Louis (CCS)
8 p.m.: Harvard at Saint Mary's (ESPN2) Tuesday
8 p.m.: Connecticut at Marquette (ESPNU) Wednesday
7 p.m.: Duke vs. Davidson (ESPN2)
7 p.m.: Rutgers at Syracuse (ESPN3)
8 p.m.: Creighton at Illinois State (ESPN3)
8 p.m.: Wyoming at SMU Thursday
7 p.m.: Michigan at Northwestern (ESPN2)
8 p.m.: Colorado at Arizona (ESPNU) Friday
8 p.m.: Memphis at Tennessee (ESPN2) Saturday
1:30 p.m.: Oklahoma St. at Kansas St. (ESPN3)
2 p.m.: Georgetown at Marquette (ESPN3)
2 p.m.: Texas at Baylor (ESPNU)
2:15 p.m.: Ohio State at Illinois (BTN)
3 p.m.: Stanford at UCLA (PACN)
3 p.m.: Indiana State at Creighton (ESPN3)
4 p.m.: Bucknell at Missouri (ESPN3)
5 p.m.: Lehigh at VCU (NBCS)
8 p.m.: Gonzaga at Santa Clara (ROOT) Sunday
Noon: Iowa at Michigan (BTN)
4:30 p.m.: Temple at Kansas (CBS)
8 p.m.: North Carolina at Virginia (ESPNU)
10 p.m.: Oregon at Oregon State (FSN)
10 Places To Be This Week
Monday
Pittsburgh (Cincinnati at Pitt): As you may have noticed, this year's New Year's Eve celebrations extend early into the day for college hoops fans, when both the Big East and Big Ten commence league play. Cincinnati is coming off its first loss of the season, while Pitt -- one of the best 10 teams in the country on a per-possession basis, even adjusted for the questionable competition -- has flown completely under the early radar. If (when?) the Panthers' excellent rebounding and efficient offense sink the Bearcats in the Pete, we'll hear talk about how much UC is struggling; some may even call it an upset. You, dear reader, will be far too smart for that.
Minneapolis (Michigan State at Minnesota): The Spartans have had their share of growing pains, and a glaring leadership and production gap since losing do-everything star Draymond Green. But this is still a really good team, particularly on the defensive end, and one of the few in the Big Ten that can match up with Minnesota's imposing athleticism and dominating offensive rebounding. (Rodney Williams is one of the best leapers in the sport and when fully healthy, Trevor Mbakwe has often resembled a varsity high school player toying with kids in junior high). Both of these teams have a legitimate chance to win a well-stocked Big Ten. This should be an excellent start to league play.
Iowa City, Iowa (Indiana at Iowa): The Hoosiers won't have the luxury of a slip-up in Iowa City, where an ever-improving Hawkeyes team -- one that swept its in-state rivals (Iowa State and UNI) and features some great young talent and one of the league's best rebounders in Melsahn Basabe -- will be more than ready to give IU its best shot. Besides, the Hoosiers haven't exactly proven they're road warriors quite yet. If Indiana does its usual thing on offense, it''ll be fine. But IU fans have the right to be just a little bit skittish about this one.
Stillwater, Okla. (Gonzaga at Oklahoma St.): Gallagher-Iba was long one of the nation's most imposing venues, and while it may have lost some of its claustrophobic bleacher-slapping charm in modern-era renovations, it is still a high-pitched home to a hungry fan base that breathes basketball. With freshman Marcus Smart, who is praised so often for his intangibles that at this point repeating that praise just feels cliche, Travis Ford's team was one of the real surprises of the early season. For as much as Gonzaga is feted as a road-warrior program, this year's noncon schedule has thus far included only one true road game at Washington State, a game the Zags needed a last-second shot to win. Monday's fixture will be a whole new challenge.
Wednesday
Syracuse, N.Y. (Rutgers at Syracuse): Under normal circumstances, Rutgers showing up in Syracuse for its ritual stomping wouldn't warrant much notice. But if all goes as planned, this is the game in which SU coach Jim Boeheim will pass Bob Knight's 902 wins and become the second-winningest Division I men's basketball coach of all time. That's a milestone you won't want to miss.
Thursday
Tucson, Ariz. (Colorado at Arizona): While UCLA has clearly improved -- its offense-heavy, defense-averse win over Missouri was an encouraging step in the right direction -- there's no longer any question about the Pac-12 favorite heading into the start of league play. That team is Arizona. The Wildcats are deep and versatile and feature a great blend of talented young players, veterans and emerging sophomore Nick Johnson, the team's best (and most improved) player to date. And while the Pac-12 doesn't have a deep roster of potential title challengers, Colorado might be on that short list -- making this early game a very big one.
Saturday
Milwaukee (Georgetown at Marquette): We will use the term "sneaky-good" to describe a lot of Big East tilts this season, and this is one of them. Marquette is better than whatever happened during that ugly loss at Green Bay, while Georgetown, led by forward Otto Porter, is a really tough defensive team that grinds out wins rather than sprinting to them. Intriguing clash of styles from two above-average Big East contenders.
Champaign, Ill. (Ohio State at Illinois): The Big Ten is going to be amazing this season, mostly because games like this are going to be utterly humdrum. The Buckeyes are very much a league title contender, even if they're clearly missing that elite edge they've had with stars (Sullinger, Turner) and veteran wings (Lighty, Buford, et al) in the past three seasons. Instead, they're talented but young, without a real post presence outside of Deshaun Thomas's all-court scoring work. But Illinois is not an interior team either; the Illini are all about spacing the floor and scoring on the perimeter. If they hit 3-point shots, John Groce's team is good enough to beat just about anybody.
Columbia, Mo. (Bucknell at Missouri): The more casual fans out there might look at this game and say, Bucknell? Really? Won't Missouri cruise? Not so fast. Bucknell is one of the better true mid-major teams in the country, with one of its most unsung stars -- forward Mike Muscala. The Bison have knocked off their share of high-major squads already this season, but no one as talented as Missouri. The Tigers are coming off a tough loss against UCLA, in which their defense gave up enough to negate a near-historic performance from point guard Phil Pressey. They'll need to shore things up to avoid drama against Muscala.
Sunday

Lawrence, Kan. (Temple at Kansas): A few weeks ago, I would have dismissed this game as just another certain KU romp. Temple had yet to notch a quality win, and had lost by 10 to Canisius at home. If that team goes to Kansas, it's a blowout. End of story. But last week Temple outplayed and outscored previously unbeaten Syracuse, lending a whole new possibility to this game. Is Kansas vulnerable at home? Never. Not with such a solid, strong team, and not with redshirt freshman Ben McLemore getting more potent every day. But the Owls have proven they can't be written off.
-- Eamonn Brennan
Three Questions For This Week
Who is the best team in the SEC? The league is, for the most part, atrocious past the top three, but Florida, Kentucky and Missouri are all legit. The Gators were the most impressive during nonconference play, the Wildcats have the biggest upside and the Tigers have the best blend of experience and depth. It should be a fascinating race.
How good is Illinois? Each time I get ready to go all in with the Illini, something happens that makes me push the pause button. A Dec. 22 loss to Missouri didn't bother me. The Tigers are outstanding, and Illinois was right there with them for most of the game. But Saturday's two-point victory over Auburn -- one of the worst teams in a mediocre league -- was a bit concerning. Back in November, Illinois beat Gardner-Webb by one point and needed a buzzer-beater to top Hawaii. I know teams have off nights, but those types of scores make me question UI's chances of finishing in the top three of the Big Ten.
Is it time to put UCLA, Kentucky and UNC back in the top 25? The Bruins' victory over No. 7 Missouri was their fifth in a row. Ben Howland's team is now 10-3 and surging. North Carolina upended No. 20 UNLV at home and did it without Reggie Bullock, making the win even more impressive. Kentucky lost to No. 4 Louisville 80-77, but the setback came on the road in a game that many predicted would be a blowout. Instead, the young Cats hung tough.
-- Jason King