The rise of the Mountain West Conference
By Myron Medcalf
ESPN.com
On Sunday, Wyoming coach Larry Shyatt stepped onto the pulpit and evangelized like a Southern Baptist preacher.
But the Good Book wasn't the subject of his sermon.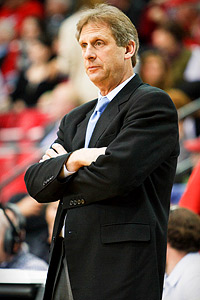 Darrell Walker/Icon SMILarry Shyatt and Wyoming have helped drive the MWC's rise in national relevance.
"Our league is finally getting national recognition," he told ESPN.com. "Our bottom [tier] isn't acting like a bottom [tier]. We have a situation where there couldn't be a coach who's really comfortable at home or on the road in our league this year. There's no way. And that's odd."
The Mountain West's growth is one of most surprising developments of the 2012-13 season.
Joe Lunardi's latest bracket on ESPN.com features six of the Mountain West's nine teams. The conference is ranked second behind the Big Ten in overall RPI. And six Mountain West squads are ranked among the top 55 squads in Ken Pomeroy's ratings.
Those teams -- Boise State, UNLV, New Mexico, San Diego State, Wyoming and Colorado State -- are all ranked in the RPI's top 50.
"The top half of the league has been performing at a high level nationally for years and now the so-called lower division is winning at a high percentage," Mountain West commissioner Craig Thompson said via email. "When half the league is .500 in league play after the first two weeks, you know you have a very deep conference."
The combination of quality and parity has created a high level of uncertainty in the conference. Saturday's results exemplified its unpredictability.
San Diego State, ranked 15th at the time, scored just nine points in the first half of a 58-45 road loss at Wyoming. Colorado State outplayed the same UNLV team that defeated San Diego State on the road last week in a 66-61 victory. Air Force scored 91 points in a win over short-handed Boise State.
Entering this week, six teams are at .500 or better in conference play. New Mexico is 3-0, but Lobos coach Steve Alford said he doesn't believe any team has truly separated itself from the field yet.
"The parity in the league just keeps getting stronger," Alford said. "It's not like there's one team that's 9-10 deep on a given night."
The Mountain West may begin to establish a more concrete hierarchy in the coming days. Colorado State travels to New Mexico on Wednesday. UNLV will host Wyoming on Thursday. On Saturday, New Mexico will play at San Diego State and Air Force will go to Wyoming.
It's a fascinating slate, but it's just as intriguing to consider the conference's overall position.
Most of the Mountain West's teams encounter geographic quandaries in recruiting. They're either in remote locations or Pac-12 country. Yet they've matured individually with experience, talent and the development of their unheralded prospects.
"We're not going to get the five-star guy," said Colorado State's Larry Eustachy. "But a lot of stuff comes with the five-star guy. About nine million suitcases, a lot of baggage, a lot of entourage. So you've gotta find the guy that plays well against the five-star kid in the summer but isn't as highly recruited. And believe me, there's a lot of them."
[+] Enlarge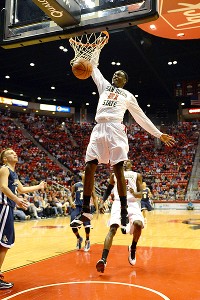 Jake Roth/USA TODAY SportsIn Jamaal Franklin, San Diego State may have the league's top player.
San Diego State (Jamaal Franklin) and UNLV (Anthony Bennett, Mike Moser) are led by NBA prospects. Boise State is young but relentless on offense (26th in Ken Pomeroy's adjusted offensive efficiency ratings).
Minnesota transfer Colton Iverson (14.4 PPG, 9.0 RPG) has made Colorado State tougher.
Wyoming lost top scorer Luke Martinez, who was suspended from the program last week as the result of a bar fight. But the Cowboys' defense (18th in adjusted defensive efficiency) will keep them alive in the race.
New Mexico's Alex Kirk (12.3 PPG, 7.9 RPG) is a key component for a Lobos team that's arguably the most balanced in the conference. Air Force is led by five seniors.
They don't win the same way or use the same tactics and strategies. But the conference's strong start suggests that there's quality within that diversity.
"There's no debating it, the Mountain West went out and earned the national respect that it [has]," said Boise State's Leon Rice.
But the high praise for the conference, which will retain San Diego State and Boise State as members, may not last. In college basketball, leagues are often judged by their performances in March.
And the perennial knock against the Mountain West has been that its best can't compete with the top teams around the country once they reach that stage. Four programs were granted at-large berths to the NCAA tournament in 2011-12. Only New Mexico won a game in the Big Dance.
Since its inception in 1999, the league has gone 15-33 in the NCAA tourney, and it has never sent a squad to the Elite Eight. That, in the modern climate, is usually the barometer for a conference's success.
"Fair or not, that's how you get judged," said San Diego State's Steve Fisher. "And I think that's the next step for our league is to get a team to the Final Four, have multiple teams get to the Sweet 16 and win in the tournament. So I would say, yeah, I think it's fair."
Shyatt disagrees with that assessment process. Winning in March demands talent and luck, he said. Shyatt was an assistant to Billy Donovan when Florida won the 2006 national championship following a 10-6 campaign in the SEC.
Shyatt trusts two things in evaluating programs: advanced stats and results. Computers, which favor the Mountain West, aren't "biased." Another gauge? The Mountain West, Shyatt said, competed with some of the nation's top teams during the nonconference season in true road games while other leagues enjoyed more neutral-site opportunities.
"Shame on the people who refuse to play road games," Shyatt said. "The Shakas and the Butlers and many of us ... we do. Some people say [the Mountain West] didn't play a high-profile schedule. Well, come play us. C'mon."
THE RUNDOWN
The Mountain West's most critical players:
1. Anthony Bennett (UNLV): If/when Bennett, one of the top candidates for national freshman of the year (18.5 PPG), jells with Mike Moser and Khem Birch in lineups that feature all three players, the Runnin' Rebels could be the best team in the conference.
2. Jamaal Franklin (San Diego State): Franklin's pass-off-the-backboard dunk was one of the season's highlights, but the junior is ranked third among Mountain West players who use a minimum of 28 percent of their team's possessions per Ken Pomeroy (101.2 offensive rating).
3. Colton Iverson (Colorado State): The Rams are second in offensive rebounding rate because Iverson (14.4 PPG, 9.0 RPG), who sat last season after transferring from Minnesota, is such a force inside for Eustachy's program.
4. Alex Kirk (New Mexico): The 7-footer has been in Beast Mode for the past month (he's averaged 16.0 PPG, 9.0 RPG and 1.6 BPG in his past five games) with a New Mexico team that leads the conference with a 3-0 mark.
5. Derrick Marks (Boise State): The sophomore guard is one of the top reasons (17.0 PPG, 45.5 percent from beyond the arc) Rice's squad possesses the conference's best offense.
6. Leonard Washington (Wyoming): The Cowboys took a hit when Martinez was suspended, but Washington (2.0 BPG, 1.5 SPG), a transfer from USC, will help the program maintain its elite defense.
7. Michael Lyons (Air Force): The senior, who averages 18.9 points and possesses the conference's top offensive rating (111.3), had 37 of his team's 91 points in a win over Boise State on Saturday.
8. Deonte Burton (Nevada): The junior (16.8 PPG) is the Wolf Pack's most significant weapon in their bid to avoid the MWC's basement.
The Weekly Forecast
By Myron Medcalf
ESPN.com
A quick look at the temperature of college basketball as we head into a new week:
[+] Enlarge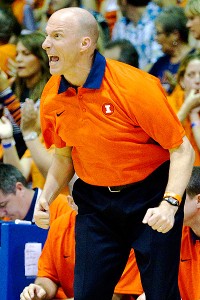 AP Photo/Eugene TannerJohn Groce is seeing just how tough life in the Big Ten can be.
Turnarounds
Hot: Towson won a single game last season (a 66-61 win over North Carolina-Wilmington). But Jerrelle Benimon (16.9 PPG, 11.7 RPG and 2.2 BPG) has led the Tigers to a 5-1 start (second place) in the CAA. The Tigers will face Georgia State, George Mason and William & Mary this week.
Cold: Illinois didn't lose its first game of the season until Dec. 22 (82-73 against Missouri in St. Louis). But that streak seems like something the program enjoyed months ago. The Illini are 1-4 in the Big Ten. And after they play Nebraska on Tuesday, John Groce's squad will commence a streak that includes matchups against Michigan, Michigan State, Wisconsin, Indiana and Minnesota. Ooh.
West Coast
Hot: Dan Monson's Long Beach State squad has won five consecutive games after a rocky nonconference slate. The 49ers will look for No. 6 when UC Irvine visits on Saturday. Oregon has won seven in a row, and the Ducks have already defeated Arizona and UCLA in their only meetings with those Pac-12 contenders this season. They'll face Washington and Washington State this week.
Cold: San Diego State has lost consecutive games for the first time this season. But the Aztecs can get rid of the taste from a weekend loss to Wyoming by knocking off Nevada and New Mexico this week.
Top-10 recruits
Hot: Nerlens Noel (10.8 PPG, 9.2 RPG, 4.1 BPG), the top recruit in the 2012 class per RecruitingNation, leads the SEC in block percentage, per Pomeroy. Shabazz Muhammad, No. 2 in the 2012 class, has scored at least 21 points in six of his past 10 games for UCLA.
Cold: Steven Adams (6.6 PPG, 6.1 RPG, 2.0 BPG) was supposed to make an immediate impact for Pitt, but the freshman hasn't blossomed on offense as quickly as his No. 6 rating in the 2012 class (per RecruitingNation) suggested he would. Arizona's Kaleb Tarczewski (5.9 PPG, 6.0 RPG), No. 4 in that class, has been inconsistent throughout the season, too.
Viewer's Guide
All times ET

Monday
3:30 p.m.: Cincinnati at Syracuse (ESPN)
5:30 p.m.: Oklahoma State at Baylor (ESPN)
7:30 p.m.: Georgetown at Notre Dame (ESPN) Tuesday
6:30 p.m.: Iowa at Ohio State (BTN)
7 p.m.: Michigan State at Wisconsin (ESPN)
8 p.m.: Kansas at Kansas State (ESPN3)
9 p.m.: Kentucky at Alabama (ESPN) Wednesday
6 p.m.: Lehigh at Bucknell (CCS)
7 p.m.: Duke at Miami (ESPN)
8 p.m.: Colorado State at New Mexico (CCS) Thursday
7 p.m.: Purdue at Michigan (ESPN)
9 p.m.: UCLA at Arizona (ESPN2)
9 p.m.: Wyoming at UNLV (CCS)
11 p.m.: BYU at Gonzaga (ESPN2) Saturday
11 a.m.: Syracuse at Villanova (ESPNU)
12 p.m.: Louisville at Georgetown (ESPN)
1 p.m.: Maryland at Duke (CBS)
1:45 p.m.: Kansas State at Iowa State (ESPN3)
2 p.m.: Minnesota at Wisconsin (BTN)
4 p.m.: Oklahoma at Kansas (ESPN)
4 p.m.: New Mexico at San Diego St. (NBCS)
6 p.m.: Temple at Butler (ESPN2)
7 p.m.: North Carolina at NC State (ESPN)
7 p.m.: Washington at Oregon (PACN) Sunday
1 p.m.: Michigan State at Indiana (CBS)
6 p.m.: Michigan at Illinois (BTN)
Greenberg: UCLA-Arizona Preview
10 Places To Be This Week
Monday
Syracuse, N.Y. (Cincinnati at Syracuse): Syracuse got the most impressive win of the weekend -- and one of the best of the season -- when it made a mad late dash to topple No. 1 Louisville in the Yum! Center. Its two-day hangover game comes with good news and bad news. The good news is the Orange get to play in the Carrier Dome. The bad news is that Cincinnati's defense makes it just as dangerous on the road as at home.
Tuesday
Manhattan, Kan. (Kansas at Kansas State): The Jayhawks have never looked like anything but the Big 12's best team this season, but that doesn't mean conference play has been a romp. There was the OT home test by Iowa State, and on Saturday, the Jayhawks needed all 40 minutes to overcome the grinding Longhorns in Austin. The Wildcats thrive not only on their defense, rebounding and the offensive work of Rodney McGruder, but on a home crowd that is as intense as any in the country -- especially when hated Kansas is in town. This might be KU's biggest challenge to date.
Wednesday
Coral Gables, Fla. (Duke at Miami): Like Kansas, Duke better watch out. The Hurricanes have been the third-best team in the ACC for much of the season, and they have been especially difficult in their own building, where they're unbeaten (and where they knocked off Michigan State). The Blue Devils are still without versatile power forward Ryan Kelly, and they clearly miss not only his size and shooting but his underrated ability to guard tweener opponents out to the perimeter (i.e. Miami forward Kenny Kadji).
Albuquerque, N.M. (Colorado St. at New Mexico): If ever you are in need of a quick shorthand explanation for why the Mountain West is so good, look no further than Colorado State. The Rams, a veteran team that returned basically everyone after former coach Tim Miles left for Nebraska, are without question an NCAA tournament-worthy team at this stage of the season. In fact, in a league that also contains San Diego State, New Mexico and UNLV (to say nothing of Boise State and Wyoming), through three games the Rams have posted the most efficient offensive numbers (1.07 points per possession) and second-most efficient defense (0.88 PPP allowed). First-year coach Larry Eustachy has this team humming.
Thursday
Tucson, Ariz. (UCLA at Arizona): In the summer, we looked forward to the renewed rise of these two historical Pac-12 heavyweights. This fall, we lamented UCLA's rough start, clucked over its transfers and its home loss to Cal Poly, and wondered how soon Ben Howland would be losing his job. On Thursday, thanks to UCLA's steady and very real improvement in the past three weeks, this game will be more like the former scenario than the latter. At home, Arizona is definitely the favorite, and UCLA has to defend better if it plans to score the upset on the road, but the fact that the Bruins have a chance at all is a testament to how far they've come, despite Saturday's disappointment against Oregon.
Saturday
Washington, D.C. (Louisville at Georgetown): After a really promising start, and after some really tantalizing flashes of stardom from small forward Otto Porter, the Georgetown Hoyas have become shockingly average on the offensive end. John Thompson III's team scores just 0.99 points per possession this season. The good news, of course, is that the Hoyas still guard very well. But their inability to score makes the thought of playing a defense even better than their own (Louisville's) disconcerting at best.
Madison, Wis. (Minnesota at Wisconsin): After dropping two straight games at Indiana and at home to Michigan last week, things don't get any easier for Minnesota. The Gophers have to go on the road to Wisconsin, which knocked off Indiana in Bloomington last week and will be as difficult to beat as ever in the Kohl Center.
San Diego (New Mexico at San Diego State): Besides the Big Ten, is there a better pound-for-pound conference in the country? At the very least, the 2012-13 Mountain West delivers great hoops on something like a nightly basis, and this fixture is no different. The Lobos are very much in the MWC title chase with SDSU, and they've proved themselves capable of winning away from their own gym, with victories in the Virgin Islands, at Cincinnati and, most recently, in an overtime thriller at Boise State.
Raleigh, N.C. (North Carolina at NC State): NC State fans already have had a lot to celebrate this season; not only is their team in the ACC title hunt, but it took down hated in-state rival Duke and then euphorically stormed the court afterward. On Saturday, they get to partake in the all-day GameDay party before gearing up to take down another hated in-state rival, UNC, an eminently beatable young team.
Sunday
Bloomington, Ind. (Michigan State at Indiana): The Hoosiers have been winning more often than not all season, but their past three games haven't been the most encouraging. On Jan. 12, they blew Minnesota out of the water before nearly letting the Gophers come all the way back. On Tuesday, they lost at home to Wisconsin. And Sunday, they had to scrap hard to take care of Northwestern in the second half. Any win over Michigan State is a good win, but it'll be interesting to see if the Hoosiers can clean a few things up in time to handle the Spartans at home.
-- Eamonn Brennan
Three Questions For This Week
How good is Kansas State?
The Wildcats are 15-2 and winners of eight straight. But other than Florida and Oklahoma State, K-State doesn't tout many victories over marquee teams. That could change Tuesday, when the Cats host in-state rival Kansas in a game pitting the only two Big 12 teams with unblemished conference records. Rodney McGruder is playing as well as any player in the league and KU has struggled offensively in recent weeks. Sounds like a recipe for an upset.
Who is the fourth-best team in the Pac-12?
Arizona, Oregon and UCLA are the top three -- and not necessarily in that order. But after that, it's anyone's guess. Washington would've been the easy choice until it lost to last-place Utah at home Saturday. That one stung. Arizona State seemed like a candidate until it got blasted by Arizona on its home court. At times Colorado appears good enough to beat anyone in the conference, yet the Buffaloes are just 2-4. Anyone got a coin?
When is the Butler-VCU game?
The Atlantic 10's top two teams don't square off until March 2, when VCU hosts the Bullodgs in a game that could determine the conference title. There will be lots of highly anticipated conference games during the next six weeks, but this one has to rank in the top 10, if not the top five. Both of these squads are good enough to make the Final Four.
-- Jason King
Upset Prediction For This Week

Kansas State over Kansas, Tuesday: Kansas is my pick to win the Big 12 and make the Final Four. But the Jayhawks have been flirting with disaster for too many games (see: Iowa State at home and Texas on the road). Kansas State coach Bruce Weber and Kansas coach Bill Self have had an unofficial rivalry since Weber replaced Self at Illinois. Well, maybe it's not a rivalry, but a competitive friction between the two head coaches has been created. Both are exceptional coaches and have their teams primed for a showdown in Manhattan.
-- Andy Katz