Caught in the web of freshman hysteria
By Myron Medcalf
ESPN.com
Baylor's L.J. Rose packed the backseat of his SUV with dirty clothes and drove two-plus hours to Houston, his hometown, about two to three times per month before the season started. There, he dropped them off with a laundering service called "Mom's House."
It was easier that way, it seemed. He had classes and study hall and practice and a social life to master in his first few weeks on campus. Laundry? Mom would take care of it.
"She didn't like that too much," Rose told ESPN.com.
[+] Enlarge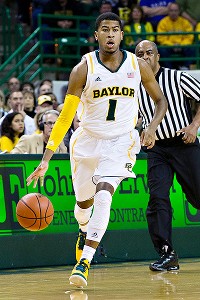 Cooper Neill/Getty ImagesL.J. Rose has experienced life as a freshman on and off the court.
He is a freshman on and off the floor. As much as Rose -- and other first-year Division I college basketball players -- seeks success on the court, he's had to navigate the transition off it, too. Both demanded change and a new routine.
Rose eventually learned to separate his colors from his whites. And he's growing as a basketball player through grueling practice matchups against all-Big 12 guard Pierre Jackson. But his numbers barely crack the stat sheet each night. Rose, ranked 63rd in the Class of 2012 by ESPN.com, is playing just 8.9 minutes per game. He's averaging 1.1 points per contest.
Scott Drew, however, believes that Rose will evolve into a talented point guard and leader for the Bears. He witnesses his progression in practice and games each week. So the coach will wait. Others may not.
Rose plays in a college basketball climate that expects -- demands -- immediate contributions from first-year players. Although most develop gradually, the college success of one-and-done prospects named Michael Beasley, Kevin Durant, Greg Oden and Anthony Davis has enhanced presumptions about subsequent freshman classes. Kentucky's run to the 2012 national title only magnified the myth that many freshmen are ready for stardom on Day 1.
"Sometimes we forget that freshmen are still freshmen and that there's still a major transition going from high school to the four-year level," UNLV's Dave Rice said.
It's an unfair level of anticipation that's created by media members searching for the next prodigy, fans who want to win now, coaches who speak prematurely about a young player's potential and an incomplete ranking system that projects more than it accurately assesses current skills.
Most freshmen struggle. At the prep level, the best prospects are bigger, stronger, faster and better than everyone else on the floor. In college, they face mature athletes who've developed their respective skill sets for years.
Everything is different.
"I think we get into the comparison game a lot," Drew said. "A lot of times in the Big 12, we're always comparing everyone to Beasley and Durant and what Blake Griffin were able to do. Those are three of the best players in the [NBA] right now."
The dominance that highly ranked recruits enjoyed for two, three or four years in high school vanishes.
Sam Dekker was unstoppable at Sheboygan Lutheran in Sheboygan, Wis. He earned the state's Mr. Basketball honors and achieved the No. 17 ranking in the 2012 class on ESPN.com. And then he joined the Badgers.
Bo Ryan demanded a defensive fluidity that was new for Dekker. Yes, he's a 6-foot-7 forward with underrated athleticism, but he initially lacked the offensive ease that was beneficial throughout his high school career.
"You're playing against men instead of boys," Dekker said. "As a freshman, it's eye-opening. Watching on TV, you think you can go out there and do what you did in high school. You get there, and it's not what it seems at first."
Dekker, however, is not behind. He's exactly where he should be, where most freshmen belong.
Few -- think UNLV's Anthony Bennett -- prevail early. Those who do last for only a season, perhaps two, before they enter the NBA draft. But most follow a path that's led to success at the mid-major level. Those schools rely on experience, not prep All-Americans.
"For us, our freshmen should come in and play a backup role as a freshman," said Wichita State's Gregg Marshall.
That was the norm in past generations, even with the top programs. Freshmen were not even allowed to play at the varsity level until the 1972-73 season. Nearly 40 years later, the top first-year players come and almost immediately go to the NBA. Their lone season is just an audition for the next level.
They're famous before they graduate high school. Mock draft boards identify 16-year-olds who might be future lottery picks. Projections, however, are often based on unknowns.
Pitt's Jamie Dixon said he didn't pay attention to the preseason buzz surrounding freshman center Steven Adams, because he was one of the few people who'd actually traveled to New Zealand to see him play.
"I think the catchphrase 'one-and-done' ... It's nice copy, so it gets overused," he said. "The beginning of the year, there are 50 one-and-dones. By draft time, there's four. I think the past success of one brings hope on many. There's always been a few that have been able to immediately impact [a team], very few at the high level."
For some young players, there's so much information and exposure that the buildup can become an exaggerated vision most athletes can't meet.
[+] Enlarge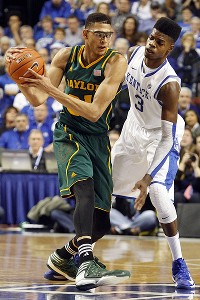 AP Photo/James CrispIsaiah Austin and Nerlens Noel both entered the season with incredibly high expectations.
Isaiah Austin recognized the hype before he reached Baylor's campus. He'd earned multiple national accolades during his high school career. And the 7-1 center's start -- he's averaging 14.5 points, 9.4 rebounds and 1.3 blocks per game -- suggests that he'll confirm the assumption that he'll be a lottery pick next summer. But he's not free from scrutiny.
The latter is constant in a society that embraces social media. Austin and his peers hear from naysayers whenever they underperform. It's a nonstop stream that players who competed just a decade ago were not subjected to.
"I got a lot of people that hate on me," Austin said. "[They] tell me on Twitter that I shoot too many 3s or I'm soft and all that. It's just like fuel to the fire."
Added Rose: "It's just crazy some of the things that people will say."
Allow me to confess my own hypocrisy.
I've been just as impatient as the rest. I'm confused by Kentucky's struggles. With all of the NBA-level talent, what's wrong? I expected more from Iowa's Adam Woodbury, Arizona's Kaleb Tarczewski and North Carolina's Marcus Paige. I've failed to consistently stress the patience that this column is advising. I get caught up in the hoopla, too.
That kid who's a top-10 pick on a mock draft board? Yeah, I'm disappointed if he's not a consistent contributor by January because I'm wrapped up in this, too. But the bar is usually too high and unrealistic for the 18- and 19-year-olds who join collegiate rosters each season.
We're waiting for miracles.
And many of them are just hoping that Mom will still help them with their laundry.
THE RUNDOWN
Raw freshmen with bright futures:

Mitch McGary (Michigan): The 6-10, 250-pound center looked lost throughout the nonconference season. But McGary has used his energy and physicality to contribute on one of the top rosters in the country. His effort in Saturday's loss at Indiana was a testimony to his growth in recent months. He finished with 10 points, 7 rebounds, 2 steals and 1 block. He's a factor right now for a Michigan team that relies on multiple big men. But he could evolve into a monster this offseason and enter 2013-14 as a more complete player.

Steven Adams (Pitt): The 6-10 center from New Zealand was ranked sixth in the 2012 class by RecruitingNation. But he's certainly had a multitude of early hurdles in his first season at Pitt. Big men face the toughest transition from high school to college, because power forwards and centers are so much stronger and tougher than everyone else at the college level. Adams, however, has been comfortable around the rim in recent weeks. He had 8 points, 7 rebounds and 2 blocks in his team's 65-55 win over No. 6 Syracuse on Saturday. Adams didn't back down from the moment, a good sign for a young player who could take another step within the next month and make a major impact in the NCAA tournament.

Willie Cauley-Stein (Kentucky): The center is fifth in the SEC with an 8.25 block percentage. He's certainly a work in progress on the offensive end, but his potential is very high. That's why he's a projected lottery pick on multiple draft boards. He's already a defensive talent with a gift for blocking and altering shots. Now he just needs work to become a more consistent and diverse contributor on offense. His defensive tools, however, should help a young Kentucky team as it makes a push toward the NCAA tournament. If the Wildcats crack the field, Cauley-Stein will be an important element of John Calipari's postseason plans, assuming he's healthy.

Marcus Paige (North Carolina): When Paige reached North Carolina's campus, expectations were high. He's a McDonald's All-American who had offers from some of the top programs in the country. But he also faced more pressure due to the Tar Heels' point guard pedigree. Kendall Marshall, Ty Lawson, Raymond Felton & Marcus Paige? Well, Paige has progressed more slowly than some of those standouts. He also doesn't have the talent that they did. Still, the freshman may have turned the corner on Saturday when he scored eight of his 19 points in overtime of North Carolina's victory against Virginia Tech. Can he lead the Tar Heels in the coming weeks and into the future? He certainly looked like a leader against the Hokies.

Rico Gathers (Baylor): The freshman is a 6-8, 260-pound athlete who's registered multiple highlights in his first season with the Bears. Thus far, he's been a solid -- albeit inconsistent -- contributor for Scott Drew's program. But he has the building blocks for a successful collegiate career, especially since he's physically equipped to compete with anyone as a freshman. Most players need a year or two to develop their bodies. Gathers doesn't have to do that, but he has to expand his game. He needs a jump shot. He has to evolve into a versatile defender who can stick with small forwards if necessary and put a body on big men, too. And he has to make some major strides at the free throw line (48.2 percent). Give it a year. Gathers might be the next breakout star in the Big 12.

Chris Obekpa (St. John's): We know Obekpa can block shots -- he's second in the country with 4.5 blocks per game. But just imagine what the 6-9 Nigerian center could become in a year or two. I like St. John's as a sleeper to win the Big East tournament. That program is stacked with talent and athleticism. And when it all comes together & wow. Obekpa is a special defender on a team with a high ceiling. His offense is still light years behind his defense. He's essentially a guy who's impactful only when he's next to the rim on offense. But he's growing. He could mature and enter next season as a more efficient and effective player.
Other freshmen who could blossom: Montrezl Harrell (Louisville), Jerami Grant (Syracuse), Sam Dekker (Wisconsin), Yogi Ferrell (Indiana)
The Weekly Forecast
By Myron Medcalf
ESPN.com
A quick look at the temperature of college basketball as we head into a new week:
Kansas
Hot: Kansas State has won two in a row and 10 of its past 12. The Wildcats have excelled in the Big 12 with a defense that's ranked 31st in adjusted efficiency per Ken Pomeroy. They have the top scoring offense in the Big 12 (60.5 ppg). They'll face Iowa State and Texas Tech prior to a Feb. 11 road game against Kansas that could send the Wildcats to the top of the standings.
[+] Enlarge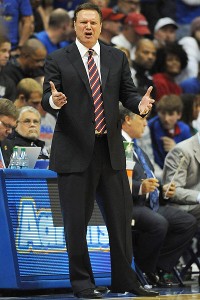 USA TODAY SportsIt doesn't take many losses for Bill Self to feel the angst of Kansas on his neck.
Cold: It's been a rough stretch for a pair of nationally ranked programs in the state of Kansas. The Jayhawks had their 33-game winning streak at Allen Fieldhouse snapped by Oklahoma State on Saturday. And Wichita State has lost back-to-back Missouri Valley Conference games to Indiana State and Northern Iowa. The Shockers have been doomed by foul trouble (Carl Hall against the Sycamores last week, Cleanthony Early against the Panthers on Saturday). Kansas has been on the ropes in multiple home games this season. The Pokes were just the first crew to make the Jayhawks pay for their inconsistency. No time to panic for either squad, though. Kansas could win every remaining game on its slate, and the Shockers are still a serious contender for the MVC crown.
"Hawk"
Hot: Remember when Lehigh's season was supposed to end after NBA prospect C.J. McCollum suffered a foot injury that could end his season? Well, the Mountain Hawks didn't get that memo. Not only have they defeated Bucknell, a team many expected to run away with the crown, they've won six of their seven Patriot League games. They'll play Bucknell again on Feb. 18. That's a prime-time matchup for both programs.
Cold: Iowa has lost three of its past four games. The Hawkeyes are now 3-6 in the Big Ten after squandering a late lead in a Sunday loss to Minnesota. Fran McCaffery's squad has played some of the Big Ten's toughest teams in its first nine games. But Iowa has failed to finish in multiple close matchups. The Hawkeyes have to turn the corner at some point. Their last nine games are not as challenging as their first nine. Wednesday's road trip to Wisconsin will be Iowa's first chance to move in a different direction.
No. 1
Hot: Ken Pomeroy's No. 1 team, Florida, might be America's best. The Gators are playing in one of the weakest conferences in the country, but they're dominating the SEC. Florida has defeated its past 10 opponents by 14 points or more. Not one team in the conference is on the same level as the Gators. And if we're talking about the present, they're arguably America's most powerful program right now.
Cold: Michigan played tough in Bloomington but couldn't overcome an Indiana squad that attacked inside and outside, while maintaining a defensive effort that limited Michigan's offense. Sure, the Wolverines will lose their No. 1 slot in the Associated Press poll. But take a look at their next three games (Ohio State, at Wisconsin, at Michigan State). They can't get Saturday back. The Wolverines, however, need to stay focused to avoid a rough stretch in their next three matchups.
Viewer's Guide
All times ET

Monday
7 p.m.: Notre Dame at Syracuse (ESPN)
7 p.m.: Oklahoma at Iowa State (ESPNU) Tuesday
7 p.m.: Florida at Arkansas (ESPN)
7 p.m.: Villanova at DePaul (ESPN2)
8 p.m.: Kansas State at Texas Tech (ESPN3)
9 p.m.: Ohio State at Michigan (ESPN) Wednesday
7 p.m.: Baylor at Oklahoma State (ESPN)
7 p.m.: Marquette at South Florida (ESPN2)
7 p.m.: Connecticut at St. John's (ESPNU)
7 p.m.: Minnesota at Michigan State (BTN)
7 p.m.: Creighton at Indiana State
7:30 p.m.: Louisville at Rutgers (ESPN3)
9 p.m.: Stanford at Arizona (ESPNEWS)
9 p.m.: Air Force at New Mexico (ROOT)
11 p.m.: Boise St. at SDSU (Time Warner) Thursday
7 p.m.: Indiana at Illinois (ESPN)
8 p.m.: Belmont at Murray State (ESPNU)
9 p.m.: NC State at Duke (ESPN3)
9 p.m.: Washington at UCLA (ESPN)
11 p.m.: Colorado at Oregon (ESPNU) Saturday
12 p.m.: Michigan at Wisconsin (ESPN)
1 p.m.: Ole Miss at Missouri (CBS)
2 p.m.: North Carolina at Miami (ESPN)
4 p.m.: Kansas at Oklahoma (ESPN)
4 p.m.: Memphis at Southern Miss (CSN)
5 p.m.: Mississippi State at Florida (ESPN3)
6 p.m.: Iowa St. at Kansas St. (ESPN2)
6 p.m.: Pittsburgh at Cincinnati (ESPN3)
7 p.m.: Michigan State at Purdue (BTN)
9 p.m.: New Mexico at UNLV (NBCSN)
9 p.m.: Louisville at Notre Dame (ESPN) Sunday
1 p.m.: Indiana at Ohio State (CBS)
3 p.m.: St. John's at Syracuse (ESPN)
6 p.m.: Duke at Boston College (ESPNU)
6 p.m.: Illinois at Minnesota (BTN)
Lunardi: Latest Bracket Movement
10 Places To Be This Week
Tuesday
Ann Arbor, Mich. (Ohio State at Michigan): No rest for the weary. That's quite often been the situation in the Big Ten this season -- all it takes is one unfortunate schedule jumble and even the league's best teams can rattle off a handful of consecutive losses. That stretch begins for Michigan on Tuesday against Ohio State -- who beat Michigan at home Jan. 13 -- and is followed by Saturday's game at Wisconsin and next week's rivalry game in East Lansing. That would be bad enough, but after coming off Saturday night's tough loss at Indiana, it crosses over into brutal.
Wednesday
East Lansing, Mich. (Minnesota at Michigan State): The Gophers snuck away with a win against Iowa at home on Saturday, but they needed an Austin Hollins 3 with just 11.6 seconds left to hold on 62-59. It was a close call for Minnesota, one that could have kicked off questions about whether the Gophers are a surefire bet to make the NCAA tournament despite their hot start in November and December. Next up is a trip to Michigan State, where things will be just as difficult -- especially because the Spartans could neutralize Minnesota's chief strength: offensive rebounding.
Thursday
Durham, N.C. (NC State at Duke): Is this conference suddenly Miami's to win? Duke will still have a role to play here, no doubt, and NC State is still a good enough team, but the Wolfpack's back-to-back losses at Virginia and at home against Miami have made their chances of a league title seem somewhat remote. The Wolfpack could change that with a win at Duke on Thursday night, but they'll have to prove they can guard at an elite level on the road to do so.
Saturday
Madison, Wis. (Michigan at Wisconsin): As we wrote above, this is just another brutal date in a series of four for Michigan. There are few teams more difficult to beat than Wisconsin, and few places more challenging to play than the Kohl Center, and it's made only worse by the consistent effort Michigan will have to bring over the next two weeks to emerge at least relatively unscathed.
Columbia, Mo. (Ole Miss at Missouri): Can Missouri's season be salvaged? The Tigers began the season with high hopes, but blowout losses at Ole Miss and Florida (especially Florida, where the final score was 83-52) have caused Mizzou fans to reevaluate their standing as an SEC contender. This week's loss at LSU was just unsavory icing on the cake. The Tigers have a chance to at least add something like a résumé win against Ole Miss, but they have to play some defense -- particularly on the perimeter.
Coral Gables, Fla. (North Carolina at Miami): Miami's rolling these days, beating up on the ACC's second tier, knocking off Duke in high style, stealing a last-second win at NC State -- everything's proceeding according to plan. Unless UNC figures out how to defend, or how to play physical interior hoops, the Hurricanes' big frontcourt should keep things moving in Coral Gables.
Hattiesburg, Miss. (Memphis at Southern Miss): Don't look now, but Southern Miss -- which Larry Eustachy took to the tournament last season -- is arguably just as good this season and 7-0 in C-USA play to date. In fact, it's not clear whether obvious league favorite Memphis is in fact better than the Golden Eagles; Southern Miss ranks No. 34 in KenPom.com's adjusted efficiency rankings, while Memphis is No. 54. (Memphis is ranked higher in the BPI.) Big, big game -- or at least as big as C-USA games can be.
South Bend, Ind. (Louisville at Notre Dame): A week after taking part in a raucous Indiana venue, the "College GameDay" crew will be back in the Hoosier State this Saturday when Notre Dame plays prime-time host to the Louisville Cardinals. Notre Dame's Jack Cooley is coming off a stellar 26-and-15 effort, but the Irish are still struggling on the defensive end. Can they outscore Louisville's tough defense enough to get a big win at home?
Las Vegas (New Mexico at UNLV): The Mountain West is sort of insane. At least six teams have a chance to go to the NCAA tournament, and a seventh, Air Force, just knocked off San Diego State at home Saturday. The Rebels have been slightly disappointing, given their talent, but they still have a chance to turn things around, and a home win over New Mexico would be a great place to start.
Sunday
Columbus, Ohio (Indiana at Ohio State): Speaking of tough Big Ten schedules, things don't get all that much easier for Indiana this week, either. The Hoosiers have to fend off Illinois in Champaign; the Illini are at least starting to play better after their ugly Big Ten start. Then, on Sunday, it's a trip to Columbus, where they'll have to find a way to put up points on one of the nation's best defenses. This is something of a burgeoning rivalry, too; there is no love lost by either coach, let's just say.
-- Eamonn Brennan
Greenberg On Ohio State-Michigan
Three Questions For This Week

Will Indiana maintain its No. 1 ranking for more than a week?
If the Hoosiers move into the top spot as expected, it will mark the fifth straight week with a different No. 1 team. That's tied for the second most in AP poll history. Hanging onto the ranking won't be easy for Tom Crean's squad. Indiana visits Illinois on Thursday before taking on Ohio State on Sunday in Columbus. Such is life in the Big Ten.

How will Kansas respond?
The Jayhawks are 19-2, but there is definitely a "sky is falling" atmosphere in Lawrence following Saturday's home loss to Oklahoma State. Bill Self shredded his team in the postgame news conference -- "Physically, this is our softest group of all time," he said -- and fans are blasting players (particularly point guard Elijah Johnson) on message boards. KU has what should be an easy game at TCU on Wednesday, but beating Oklahoma in Norman on Saturday will be a tall task for a team that suddenly has a lot of question marks.

Which UCLA team will we see this week?
The Bruins have lost three of their past four games, yet they still have an outstanding chance to win a Pac-12 title. At 6-3 in league play, Ben Howland's squad is just one game behind Arizona and Oregon (both 7-2) in the standings. And with this week's games against Washington and Washington State both at home, UCLA has a golden opportunity to pick up a few wins and gain some much-needed momentum.
-- Jason King
Upset Prediction For This Week

DePaul over Villanova, Tuesday: I know, I know, this may not sound like an upset to the general masses. But I'm going with the Blue Demons in beating Villanova at Allstate Arena after nearly beating Notre Dame at home before losing in overtime. A loss would really hurt Villanova's long-shot bid possibility after beating Syracuse and Louisville.
-- Andy Katz