The personal thrill and agony of Rivalry Week
Tom Izzo remembers the letters.
He'll never forget them.
Men and women, either exhilarated or damaged by Michigan State's latest result against rival Michigan, began sending letters to the Spartans' head coach after he replaced mentor Jud Heathcote in the 1995-96 season.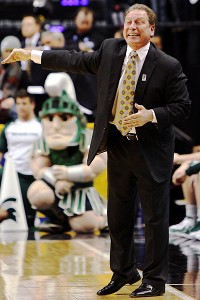 Cal Sport Media via AP ImagesFor Tom Izzo, the importance of Rivaly Week was spelled out.
The mailings were usually emotional correspondences that conveyed the rivalry's significance. If they'd won, Spartans' backers would praise Izzo. After a loss, those fans would articulate their disappointment.
Or worse.
"It's just a big game because it's so important to so many people," Izzo told ESPN.com. "I get letters from people after these games, win or lose, and if you lose it's like you killed somebody. … I remember getting letters saying 'You ruined my life.'"
On Tuesday, Michigan and Michigan State will play another matchup in a rivalry that began on the football field more than a century ago. It is only a game. Unless you're involved in the feisty affairs that define Rivalry Week.
There's a history and a connection and a proximity that intensifies every moment leading up to the actual matchups: practices, campus chatter and news conferences. Everything.
Izzo and other coaches must acknowledge the added hype without allowing it to overtake preparations. With the Spartans and Wolverines potentially entering this matchup as top-10 squads fighting for the Big Ten title, it will not be an easy task. But Izzo will attempt to curtail the internal buzz.
"Jud Heathcote used to say it best. 'It's a privilege to be at a place where you have true rivalries,'" Izzo said. "When it's in your state and it's for state bragging rights and it's that true rivalry game, that's special. That's what I tell my players. It'll be interesting. There were some years when [former stars] Draymond Green and Mateen Cleaves were bouncing off the walls. I had to bring them down."
He's not the only coach with that dilemma, especially with the elevated stakes.
Kansas State -- not Kansas -- enters Monday's matchup at the Phog with sole possession of first place in the Big 12. The Jayhawks hope to end a three-game losing streak.
Florida is on upset alert with a hot Kentucky team coming to town Tuesday night.
Ignore the records and stat sheets when North Carolina plays at Duke on Wednesday night. The legendary rivalry rarely disappoints.
Chapter II in 2012-13 for Gonzaga and Saint Mary's is on Thursday, the same night that Wisconsin travels to Minnesota -- a game that probably will involve vulgar chants from Gophers fans. It wouldn't be a Minnesota-Wisconsin game in Minneapolis if it didn't.
Purdue and Indiana play in Bloomington on Saturday. The programs are in contrasting situations. A Boilermakers win is not likely. But don't tell the folks in West Lafayette that their favorite team doesn't have a chance this weekend.
Oklahoma at Oklahoma State is a matchup with Big 12 title implications. Who would have believed that a few months ago?
"You can't make too much of it, but you don't want to make nothing of it," said Virginia's Tony Bennett, whose red-hot Cavaliers will take on in-state rival Virgnia Tech on Tuesday. "I think it's an unsaid thing that your players understand."
Saint Mary's coach Randy Bennett spends a lot of time in his office whenever his squad is prepping for a matchup against rival and WCC powerhouse Gonzaga. A Gaels win this week would end Gonzaga's six-game winning streak and send the program into a first-place tie with its rivals.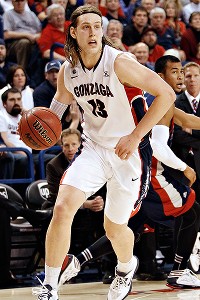 William Mancebo/Getty ImagesKelly Olynyk and Gonzaga will be featured in one the week's best games.
Bennett knows the program's fans will want to discuss the matchup ad nauseam.
"Everybody looks to that game," Bennett said. "Everybody knew when Gonzaga was coming to town in November. They know the date. People have been talking about it all year. Even if there weren't conference implications in the game, it would be a big game. The fact that there are makes it that much more. There's an excitement, there's a buzz in our town, in our community."
It wasn't always that way. When he accepted the head-coaching job in 2001-02, the Zags were the undisputed kings in the WCC.
"It was different. They had a streak of like 16 or 17 in a row at one point," he said. "It wasn't a rivalry. It was a show to watch Gonzaga. Now it's changed into more of a competition. This is a great basketball game. It has intensified for sure. In my first year, three-quarters of the people were Gonzaga fans. It's certainly not that way anymore."
The proverbial bragging rights that the winners of a Gonzaga-Saint Mary's game -- and other rivalries -- will enjoy come with other benefits, too.
Recruiting is a nonstop task for coaches seeking new talent. Teams that lose local standouts are often criticized. That's criticism Cuonzo Martin hopes to avoid.
Tennessee is just 4-6 in SEC play. So any win -- rivalry game or not -- is important for the Vols this season. But Martin also recognizes the spotlight that will magnify the program locally when it plays Vanderbilt in Nashville on Wednesday.
"You want to be the best team in the state," Martin said. "It's important in recruiting."
Wednesday's game could lead another player such as Jarnell Stokes to Knoxville. The sophomore was ridiculed by Tigers fans when he chose Tennessee over Memphis, his hometown program.
Yet he didn't completely comprehend the magnitude of the in-state rivalries that govern college basketball in the state until he played his first road game against Vanderbilt.
He'd played boys in high school. But former Commodores center Festus Ezeli was a man, he realized, as the big man pushed him around the floor.
Stokes felt like he had to run a mile every time he went to the Vandy benches uniquely positioned on the edge of the floor. And no matter what he did, it seemed, he was booed by Commodores fans, who used a tone that startled him.
It was not like the other SEC games he'd played.
"Soon as I got to Vanderbilt … that was my first wake-up call to college," he said.
This week will do that to young players. It is unmatched. As much as coaches preach "normalcy," they know these Rivalry Week games are different.
Players get it, too. Fans are there to remind them if they don't.
These matchups are personal.
Tom Izzo has the letters to prove it.
THE RUNDOWN
Rivalry Week X factors:
Elijah Johnson (Kansas): Monday's matchup against Kansas State is one of the most significant meetings in the series' recent history. Kansas hasn't looked this bad in years. Three consecutive losses? It was an unfathomable thought until it happened. Now, K-State will come to Allen Fieldhouse as the top dog (8-2) in the Big 12 on Monday.
Johnson has been criticized for his inefficiency during this losing streak. While it's not on him alone, his errors (10 turnovers in the past three games) can't be ignored. To beat a Wildcats squad that has won four in a row and possesses the league's No. 2 scoring defense (61.3 ppg allowed in conference play), Johnson will have to be a better player. Limiting turnovers will help, but he also has to reverse his offensive woes (9-for-37 from the field in the past three games).
Nerlens Noel (Kentucky): Kentucky might be the only SEC team that can beat Florida in Gainesville, where the teams will meet Tuesday. The Wildcats have frontcourt length, their defense has improved and they're quick enough on the perimeter to harass Florida's speedy guards. The Wildcats have won five in a row, a stretch that has put them in a position to make a run at the SEC title.
A win Tuesday would guarantee a first-place tie between the Gators and Wildcats. To achieve that feat, Noel needs to play big. Yes, he leads the country with 4.5 blocks per game. But the freshman's ability to alter shots and make opponents think twice about approaching the lane is equally impactful. Kentucky's 28.9 percent 3-point defense, second in the SEC, is tied to Noel's interior dominance because it affects opponents' shot selection. He has recorded 26 blocks during his team's five-game winning streak. And he has had three double-doubles in the team's past three games.
Mitch McGary (Michigan): McGary took some heat for his decisions in overtime of Michigan's 65-62 loss to Wisconsin in Madison on Saturday. His overall game, however, showcased the freshman's progress. The 6-foot-10, 250-pound center has always been a physical post player. But now, he's maturing offensively and contributing more consistently.
On Saturday, he finished with 12 points, 8 rebounds, 3 steals and a block. He has topped double figures in his past three games. He has recorded nine steals and three blocks in the same stretch. Michigan State is scrappy as usual but not as tough inside as it has been in recent seasons (95th in offensive rebounding rate per Ken Pomeroy). Michigan, 94th in the same category, has been driven by guard play, too. But McGary's aggressiveness inside could be the difference when the Spartans and Wolverines meet Tuesday night.
Marcus Paige (North Carolina): Even after Duke's struggles at Boston College on Sunday, I'm not convinced that the Tar Heels are any less vulnerable in Wednesday's road matchup against the Blue Devils. But I can't see North Carolina pulling off the upset unless Paige has one of the best offensive and defensive performances of his freshman season.
There's a correlation between Quinn Cook's struggles and his team's challenges. Cook was 3-for-11 with four turnovers as Duke squeezed by Boston College on Sunday with a 62-61 win. He was 1-for-12 in Duke's 27-point loss at Miami on Jan. 23. He shot 38 percent from the field and committed four turnovers when Duke lost at NC State on Jan. 12.
Paige's ability to stall the talented guard will be significant in this edition of the Duke-UNC rivalry. But the Tar Heels will need offensive playmaking from Paige, too. He had a breakthrough performance in overtime of North Carolina's 72-60 win over Virginia Tech on Feb. 2. That's the player that the Tar Heels will need to neutralize Cook and the Blue Devils.
Matthew Dellavedova (Saint Mary's): Gonzaga has lost one game since falling to Illinois in early December. The Zags run the West Coast Conference, a year after losing the conference and league tourney titles to Saint Mary's. But their Thursday night matchup is a big one for both teams. The Gaels appear to be the only team (eighth in adjusted offensive efficiency, per Ken Pomeroy) that could interrupt Gonzaga's path to the WCC title. With a St. Mary's win, both teams would be on top of the league with 10-1 records.
Plus, it's a home game for Saint Mary's. The Gaels suffered a five-point loss (83-78) in the first meeting on Jan. 10. But Saint Mary's star was 4-for-15 from the field and he committed four turnovers. That can't happen again.
The Zags are even better than the team that Saint Mary's lost to last month. Saint Mary's won't beat Gonzaga, even at home, without a high-level performance from Dellavedova. He struggled in the first meeting, and yet the Gaels were good enough to outscore Gonzaga 50-37 in the second half. With Dellavedova playing to his full potential, Saint Mary's can achieve the upset.
Other players to watch during Rivalry Week: A.J. Hammons (Purdue), Siyani Chambers (Harvard), Jared Berggren (Wisconsin), Otto Porter Jr. (Georgetown).
ESPN Staff Writer
Covers college basketball
Joined ESPN.com in 2011
Graduate of Minnesota State University, Mankato
The Weekly Forecast
A quick look at the temperature of college basketball as we head into a new week:
Tech schools
Hot: Louisiana Tech doesn't have the schedule to warrant any national hype, although the Bulldogs are ranked 25th in adjusted defensive efficiency, per Ken Pomeroy. They're 12-0 in the WAC with road games against Seattle and Idaho this week. This team could end the year without a blemish on its record since Dec. 12.
Cold: The rest of the "Tech" schools, however, haven't fared as well. Virginia Tech will enter this week's rivalry game against Virginia with a 2-8 ACC record. Remember when the Hokies beat Oklahoma State in early December? Seems as though that happened years ago.
Jesuit schools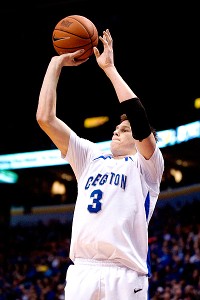 Jeff Curry/US PRESSWIREDoug McDermott may need to shoot Creighton out of its funk.
Hot: Gonzaga has defeated four of its past six opponents by 19 points or more. Perhaps Saint Mary's will end the Zags' six-game winning streak Thursday. But few teams nationally have matched Gonzaga's recent stretch of dominance.
Cold: Creighton, however, is going in the opposite direction. The Bluejays have lost two in a row, including Saturday at home against Illinois State.
Now they're locked in a three-way tie for first place in the Missouri Valley Conference with road games against Northern Iowa and Evansville this week. They're 1-3 in their past four MVC road games.
Free throws
Hot: Oklahoma State has won five in a row. Three of those games were single-digit victories. That's why the Pokes' 72.6 percent clip from the charity stripe in conference play (second only to Iowa State) is crucial. Remember that stat if they're in a tight match with rival Oklahoma this weekend.
Cold: Arizona is ranked 14th in the country with a 75.4 percent mark from the charity stripe. But check the stat sheet from Zona's loss to Cal on Sunday (16-for-24). The Pac-12 title race could come down to a few points in a few games. So free throws certainly matter.
Zona doesn't have any guarantees this week. The Wildcats squeezed by Utah in their first meeting, and they beat Colorado following a controversial shot at the end of regulation. Both teams will seek revenge in matchups on their home floors this week.
Viewer's Guide
All times ET:
Monday
7 p.m.: Marquette at Georgetown (ESPN)
9 p.m.: Kansas State at Kansas (ESPN)
Tuesday
7 p.m.: Kentucky at Florida (ESPN)
7 p.m.: Virginia Tech at Virginia (ESPNU)
8 p.m.: Villanova at Cincinnati (ESPN3)
9 p.m.: Michigan at Michigan State (ESPN)
Wednesday
7 p.m.: Syracuse at Connecticut (ESPN)
7 p.m.: Miami at Florida State (ESPN2)
7 p.m.: Oklahoma State at Texas Tech (ESPNU)
9 p.m.: West Virginia at Baylor (ESPN2)
9 p.m.: North Carolina at Duke (ESPN)
10 p.m.: SDSU at Colorado State (CBSN)
11 p.m.: Oregon at Washington (ESPN2)
Thursday
7 p.m.: Wisconsin at Minnesota (ESPN)
7 p.m.: Northwestern at Ohio State (BTN)
9 p.m.: UCLA at Cal (ESPN2)
9 p.m.: St. John's at Louisville (ESPN)
9 p.m.: Massachusetts at VCU (CBSN)
10 p.m.: Arizona at Colorado (Pac-12)
11 p.m. Gonzaga at Saint Mary's (ESPN2)
Friday
9 p.m.: Georgetown at Cincinnati (ESPN)
Saturday
12 p.m.: Villanova at Connecticut (ESPN)
12 p.m.: Virginia at North Carolina (ESPN3)
1 p.m.: Pittsburgh at Marquette (CBS)
1 p.m.: Kentucky at Tennessee (CBS)
1:30 p.m.: Oklahoma at Oklahoma State (ESPN3)
2 p.m.: Purdue at Indiana (ESPN)
4 p.m.: UCLA at Stanford (ESPN)
6 p.m.: Duke at Maryland (ESPN)
7 p.m.: Baylor at Kansas State (ESPNU)
9 p.m.: Texas at Kansas (ESPN)
9 p.m.: Arizona St. at Colorado (ESPNU)
9 p.m.: San Diego St. at UNLV (NCBN)
Sunday
1 p.m.: Louisville at South Florida (ESPN)
1 p.m.: Ohio State at Wisconsin (CBS)
6 p.m.: Miami at Clemson (ESPNU)
Dykes' Top Rivalry Memory
10 Places To Be This Week
Monday
Washington, DC (Marquette at Georgetown): In all the talk about Louisville and Syracuse and even Pittsburgh and Cincinnati, it has been easy to overlook the Big East's burgeoning depth. We shouldn't. Marquette and Georgetown are two of the best 30 or so teams in the country, if not fewer, one an efficient offensive dynamo, the other a stalwart defensive wall. This is a really good game.
Lawrence, Kan. (Kansas State at Kansas): A few weeks ago, back when Kansas was beating the Wildcats on the road, you wouldn't have thought much of K-State's chances to come into Allen Fieldhouse and escape with a win. But now Kansas has lost three in a row -- a home game to Oklahoma State, a profoundly weird upset at TCU, and Saturday's loss at Oklahoma -- and now no prediction feels particularly safe.
Tuesday
Gainesville, Fla. (Kentucky at Florida): Just how far has Kentucky come? We're about to find out. The Wildcats' ceiling may be lower than at any point since John Calipari took the job, but the dismal group they were even a few weeks ago has almost fully disappeared, replaced by a flawed but much more solid group, led by the blocks, steals, deflections and redirections of center Nerlens Noel. Of course, being improved and being able to take down the well-oiled Gators in Gainesville are two entirely different things.
East Lansing, Mich. (Michigan at Michigan State): This being Rivalry Week, it's no wonder we'll get to see Michigan and Michigan State square off -- there may be more high-profile hoops rivalries out there, but the level of hate in this one is right up there with the best of them. Even better: It's a massive game. Michigan is a national title front-runner and Michigan State is not at all far behind, even if it is relatively under the radar.
Wednesday
Hartford, Conn. (Syracuse at Connecticut): Previously academically suspended James Southerland won his appeal and returned in Syracuse's win over St. John's Sunday; that means guard Michael Carter-Williams will get his favorite assist target back, and Jim Boeheim's offense -- which has stalled out on occasion in recent weeks -- will get its best scoring option back in the lineup.
Durham, N.C. (North Carolina at Duke): This one doesn't need much introduction, at least not as a rivalry. As a game, though, it might struggle to hold up. Why? Because North Carolina simply isn't very good, particularly on the road, where it has been handled by almost anybody marginally better than average. Duke had issues of its own Sunday at Boston College, but in its own building, it's good enough that this likely won't be a classic.
Fort Collins, Colo. (SDSU at Colorado State): The Mountain West conference title chase remains as wide-open as ever, and both of these teams are well within striking distance of current leader New Mexico. In fact, Colorado State remains one of the nation's more underrated teams; no team in the country rebounds as well on both the offensive and defensive ends.
Thursday
Boulder, Colo. (Arizona at Colorado): In case you don't remember what happened the last time these two teams played, Colorado guard Sabatino Chen made what appeared to be a game-winning 3-point shot in regulation. It was close, but the call should never have been reversed, and Arizona eventually won the game in overtime. Now it's payback time, or at least that's what Colorado will be thinking, particularly after Arizona fell at home to Cal Sunday night.
Moraga, Calif. (Gonzaga at Saint Mary's): Speaking of rivalry week, in the past five seasons few rivalries, and none on the West Coast, have been as good or as heated as the one between the Zags and the Gaels. Gonzaga held the upper hand until last season, when the Gaels finally broke through the league title barrier. This season, Gonzaga is clearly the WCC's best team, but that rarely governs matters when rivalry pride is on the line.
Sunday
Madison, Wis. (Ohio State at Wisconsin): Just another ho-hum Sunday in the Big Ten. The Buckeyes had one this week against Indiana at Columbus, but they couldn't hold the top-ranked Hoosiers' offense down long enough to get the win. Seven days later, they're the ones on the road at Wisconsin, which is coming off Saturday's thrilling, half-court-buzzer-beating win over Michigan.
Greenberg on Kansas St.-Kansas
Three Questions For This Week
How much longer will Marquette remain atop the Big East? The Golden Eagles are 8-2 and tied with Syracuse for the conference lead, but their past five wins have come against South Florida (twice), Providence, DePaul and Seton Hall. This week, Buzz Williams' squad plays two upper-tier teams it defeated last month. One of them is Georgetown, which Marquette defeated 49-48 on Jan. 5. The other is Pittsburgh, which lost to the Golden Eagles 74-67 in overtime at the Peterson Events Center on Jan. 12. A series sweep against the Hoyas and Panthers seems unlikely, but if they happen, it will be time to start talking about Williams as a national coach of the year candidate.
Can Kentucky hang with Florida on Tuesday? I won't go so far as to predict a Wildcats win, but I definitely think John Calipari's squad could make things interesting in Gainesville, Fla. Kentucky has won nine of its past 11 and is gaining more and more confidence each time it takes the court. As revved up as the Wildcats were to play at Ole Miss a few weeks ago -- they won 87-74 -- they'll be even more amped for this one. Florida bounced back from last week's stunning loss at Arkansas with a home win over a depleted Mississippi State squad, but second-leading rebounder Will Yeguete is out for the remainder of the regular season with a knee injury. I think this will be a competitive game that Florida ends up winning by 10 to 12 points.
Who wins the Missouri Valley Conference? Less than a month ago, I went on an Omaha radio station and discussed the possibility of the Bluejays going undefeated in league play. At the time it didn't seem that far-fetched considering Creighton led the nation in field goal percentage (it still does at 51 percent) and ranked among the top 10 in scoring. Somehow, though, Doug McDermott & Co. have lost four of their past seven games, including Saturday's home setback against Illinois State. Co-MVC favorite Wichita State did nothing to capitalize, losing three in a row before beating Missouri State Saturday. All of it has allowed Indiana State to work its way into the mix, as the three teams are tied for the league lead with 9-4 records.
Upset Prediction For This Week
Colorado over Arizona, Thursday: The Buffaloes haven't been the same team since losing the overtime game in Tucson last month. Their late win over Oregon earlier in the week would indicate a slight tick upward. Arizona is one of the best teams in the country, so don't read into this being a knock on the potential for the Wildcats to win the Pac-12. This is a classic example of a team that needs this win and will be playing with the home court behind it. Look for the CU guards to have one of their best games of the season, helping the Buffs avenge their loss in Tucson. If this can become a rivalry, then it's good for the league.