The perils and pitfalls of league road games
On the road, food comes first. Literally.
The pregame meal on the road is a key element in the meticulously planned routine that's created by coaches who must help young men stay focused many miles from campus.
So when Dayton's food was 30 minutes late, the team panicked. Nearly a decade later, Shaka Smart -- then the squad's director of basketball operations -- vividly recalls the frenzy and the hunger that preoccupied the program hours before a key game at Old Dominion.
By the time the chicken dish arrived, players didn't waste time.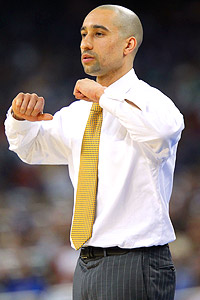 Andy Lyons/Getty ImagesShaka Smart knows quite well how hectic road trips can be.
"We're tearing into this food, these chicken breasts," Smart said. "About five minutes into eating, somebody says, 'This chicken isn't cooked!' By then, everybody has a half-eaten chicken breast. We were so hungry we hadn't noticed. It wasn't even close to being cooked all the way through. We were worried about food poisoning. We ended up winning the game. But some jobs might have been on the line if we'd lost."
It seems like a simple matter.
But food is pivotal in the delicate process of preparing for road games at this level. The obvious factor in every away game is the hostility that greets opponents once they enter someone else's gym. But it's bigger than that.
It's the food and the practices on foreign rims and the hotels and the occasionally wacky travel arrangements and the schoolwork and more.
Most coaches discuss execution and execution alone, whether they're home or on the road. They rarely cite environment or off-court circumstances for losses. The road, however, presents a variety of challenges that every program in the country must decipher.
"This has been an exhausting schedule for our team," Duke's Mike Krzyzewski said after the Blue Devils suffered an 83-81 loss at Maryland on Saturday.
Duke is not the only team that's struggled in conference road games this season -- just the latest. Miami (7-0 in ACC road games) and Gonzaga (7-0 in WCC road games) are anomalies even among the ranked.
Without those two schools, the reigning top 10 in The Associated Press poll would have entered Monday with a combined 33-18 record in conference road games.
Check the standings. The winners of the Big East, Big Ten, Mountain West, Atlantic 10 and other leagues throughout the country will need critical road wins in the coming weeks to secure their respective titles. It's that tight right now.
And it's that tough.
In the Big East, three teams -- Georgetown, Marquette and Syracuse -- begin Monday with 9-3 conference records. Louisville is a half-game behind. Notre Dame and Pitt, who will meet Monday in Pittsburgh, are 8-5.
The coaches in this league recognize both the challenges and the pressure tied to upcoming road games. That doesn't mean they've discovered any foolproof formulas.
"You know you're going to be in tight games [on the road]," Pitt's Jamie Dixon said during last week's Big East media teleconference.
On the same call, Georgetown's John Thompson III added: "There's something to the phrase 'home-court advantage.' The opposition's fans are part of the equation. The fact that they're sleeping in their own bed the night before and you're at a hotel could be part of the equation. You're just more comfortable at home."
Wisconsin led Minnesota by 10 points in the first half of a 58-53 overtime loss in Minneapolis on Thursday. The Badgers had maintained an edge in the first five minutes of the second half. And then ...
"They got the crowd into it," Wisconsin's Jared Berggren said about Minnesota's surge. "They started feeding off that."
That's typical.
Home crowds -- from the Barn to the Phog to a variety of arenas known by single names -- infuse their programs with an energy that can have an impact on the game. In a season like this, however, successfully fighting through that atmosphere is not typical. But it's necessary.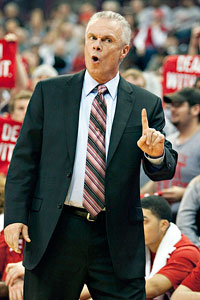 Greg Bartram/US PresswireBo Ryan knows road wins don't come easily in the Big Ten.
"Every team has to face it," Wisconsin coach Bo Ryan said. "Those that can persevere usually have a chance of playing on at the end of the year."
It's easier to overcome those conference road challenges on seven or eight hours of sleep. And that's no guarantee on a stiff hotel bed, especially if someone is screaming in the hallways in the middle of the night.
That happened to former Kansas forward Jeff Graves and his teammates on a road trip to play rival Missouri. Tigers fans tried everything to disrupt the Jayhawks prior to tipoff. They called their cellphones. One night, they even stormed the team's hotel and sprinted past players' rooms, yelling and screaming.
"As players, we're trying to figure out how they got our cellphone numbers," Graves said.
Shariff Chambliss always worried about the rims on the road. He never trusted them. Chambliss, now an assistant at UW-Milwaukee, played at both Penn State and Wisconsin in the 2000s.
He said his top priority for road trips was completing any outstanding homework or class assignments. On the floor, however, he always tried to ensure that he'd have adequate time to warm up in a foreign gym before game time.
"At Minnesota, I always thought it was tough when they had the posts that came out of the ground on the raised floor," he said. "I always felt like those floors were a little bit different. That floor was a little more bouncy with the springs under it. It definitely felt like those rims were a little bit tighter than usual."
And every Big Ten opponent that's traveled to Madison probably would present a similar conspiracy theory about Wisconsin's home floor.
These are the things coaches and players sometimes consider whenever they're slated to face a conference foe on the road. What happens on the court is the only result that matters.
But the period that precedes the actual game is significant, too. The programs that achieve that balance also may enjoy the most success on the road down the stretch.
"On the road it's always tough," Graves said. "You have to play right as a team."
You have to eat right, too.
THE RUNDOWN
Potentially crucial road games for contenders:
ACC: Miami at Duke, March 2 -- Duke's loss at Maryland on Saturday changed the ACC race. The Blue Devils (9-3) don't control their fate. They'll need the Hurricanes (12-0) to take a few L's before and/or after their second meeting of the season on March 2 to make that matchup more meaningful. Still, it's a game that could decide the ACC title. And it's also an opportunity for payback more than a month after the Canes beat the Blue Devils by 27 points on Jan. 23. But it could become the coronation for a Miami team that's surprised the conference and has not lost in ACC play.
Atlantic 10: VCU at Saint Louis, Tuesday -- For all of the talk about the Rams' "HAVOC" defense, their offense has jelled in Atlantic 10 play. Their 77.5 ppg tops the conference. Saint Louis, however, leads the league with 61.6 ppg allowed. VCU (9-2) and Saint Louis (8-2) are first and second in the standings. But the Atlantic 10 is so competitive it doesn't feel like any team has truly separated itself from the rest of the field.
Big 12: Kansas State at Oklahoma State, March 9 -- Right now, the Big 12 is locked in a three-way tie for first place. But the Wildcats (9-3) are at a disadvantage because they've been swept by the Jayhawks. Their late-season matchup against the Cowboys, however, could be pivotal for their Big 12 title hopes. With a victory, they'd sweep the Cowboys (Kansas State won 73-67 on Jan. 5).
Big East: Syracuse at Marquette, Feb. 25 -- Entering the week, Marquette, Georgetown and Syracuse all possessed 9-3 conference records. Syracuse will face the Hoyas twice in the coming weeks, and it'll go for the sweep when Louisville travels to the Carrier Dome on March 2. But the Orange face Marquette just once this season. And it's in Milwaukee, where the Golden Eagles have won 23 consecutive games.
Big Ten: Indiana at Michigan State, Tuesday -- This is the first of three tough road games for the Hoosiers. The Hoosiers regained their No. 1 slot with a win at Ohio State last weekend, but they were shaky in the final minutes of a loss to Illinois preceding that. Tuesday's matchup against Michigan State, which also owns an 11-2 record, is for first place in the Big Ten. The Hoosiers certainly haven't been flawless on the road under coach Tom Crean. How will they fare in East Lansing? And Minneapolis? And Ann Arbor? The Hoosiers might not secure the Big Ten title, or even a slice of it, if they fail outside Bloomington in the coming weeks.
Missouri Valley Conference: Wichita State at Creighton, March 2 -- The MVC has been one of the most unpredictable leagues in the country. Wichita State and Creighton have suffered surprising losses in recent weeks. Northern Iowa, Indiana State and Illinois State have surged up the standings. Right now, however, Wichita State (11-4) and Creighton (10-5) are on top of the conference. And if that's still the case March 2, then these two could be battling for the conference crown that night. Wichita State won the first meeting at home, but the Shockers were 1-3 in four road games prior to their win Sunday at Illinois State.

Mountain West: Colorado State at Boise State, March 2 -- Much like the MVC, the Mountain West is a very confusing assembly right now. Colorado State (8-2) sits behind first-place New Mexico (9-2) in the standings. I have no doubt the Rams will be prepared against UNLV in Las Vegas on Tuesday and their home matchup against New Mexico next weekend. But they could win both and still fall at Boise State. The Lobos needed overtime to win there. UNLV lost at Boise State on Feb. 2. The Rams don't have any easy games left in this competitive conference. This is definitely one that they can't overlook.
SEC: Florida at Missouri, Tuesday -- The Tigers might be the only SEC team that could give Florida problems in the coming weeks. Florida (11-1) is two games ahead of second-place Alabama (9-3). Other than their loss at Arkansas, the Gators have not been blemished in conference play. But if there's any chance of a late slide by Florida, it could begin in Columbia, where the Tigers are a different team. The same Mizzou squad that has lost to Arkansas, LSU and Texas A&M on the road defeated Ole Miss by 19 points at home on Feb. 9.
Pac-12: Arizona at UCLA, March 2 -- Oregon has the inside track to the Pac-12 title. The Ducks (10-3) already have defeated Arizona, UCLA and Arizona State in their first and only meetings with those teams this season. But the Wildcats and Bruins (both 9-4) are clearly in the mix. A Wildcats road win over the Bruins would allow them to avoid the sweep and rise in the standings. They can't control what happens in Eugene, but a second loss to UCLA probably would ruin their chances of securing a slice of the crown.
The Weekly Forecast
A quick look at the temperature of college basketball as we head into a new week:
Mid-major bubble teams
Hot: Louisiana Tech (RPI: 51) is still in a tough situation. The WAC is so weak that the Bulldogs don't have any quality conference teams that can boost their résumeé. They've won 15 in a row and probably will enter the conference tourney on a 20-game winning streak. But one loss could eliminate their chances of remaining in the at-large conversation. They'll probably need a WAC tourney championship to guarantee a bid.
Cold: Creighton's 71-68 win over Evansville on Saturday was a positive development for the Bluejays (RPI: 45), who looked like a lock for the NCAA tournament just a few weeks ago. It doesn't change the fact that they've lost three of their past four in the MVC.
International prospects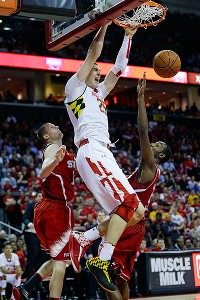 AP Photo/Patrick SemanskyMaryland is capable of hanging with the ACC elites when Alex Len goes off.
Hot: Gonzaga's Kelly Olynyk has scored 17 points or more in the past three games. The 7-footer from British Columbia is one of the reasons Mark Few's program could advance deep into the NCAA tournament. He will be a matchup problem for every team in America next month. ... Maryland's Alex Len is the most critical piece of the Terps' hopes of earning an at-large bid. The sophomore from Ukraine finished Saturday's 83-81 win over Duke with 19 points, 9 rebounds and 3 blocks. In February, the Terps are undefeated (3-0) when he scores 10 or more points.
Cold: Saint Mary's Matthew Dellavedova is one of the most talented guards in the country, but the Australian maestro has struggled on the road in recent weeks. After Saturday's 1-for-5 outing in a 61-50 win at Loyola Marymount, Dellavedova is 15-for-48 (31.2 percent) in the past five road games.
Tennessee
Hot: There's a lot of good basketball in the state of Tennessee right now. The Vols are rolling (three consecutive wins, including Saturday's 30-point victory over Kentucky) and are capable of winning five of their last six matchups to potentially sneak into the Big Dance. Memphis wasn't pretty for 40 minutes against Marshall, but coach Josh Pastner's program secured its 16th consecutive win over the weekend. And Middle Tennessee has won 12 consecutive games. Coach Kermit Davis earned a Sun Belt-record 113th victory in the Blue Raiders' 66-61 win over Louisiana-Monroe.
Cold: Belmont has lost two of its past three games. At 11-2, the Bruins are still on top of the Ohio Valley's East Division. Barely. They've swept Eastern Kentucky (10-3), but the Colonels have won five in a row. The latter could surge past a Belmont team that's struggled the past week.
Viewer's Guide
All times ET:
Monday
7 p.m.: Notre Dame at Pittsburgh (ESPN)
9 p.m.: West Virginia at Kansas State (ESPN)
Tuesday
7 p.m.: Indiana at Michigan State (ESPN)
7 p.m.: Marquette at Seton Hall (ESPN3)
9 p.m.: Florida at Missouri (ESPN)
9 p.m.: Virginia at Miami (ESPNU)
Wednesday
7 p.m.: Providence at Syracuse (ESPN)
7 p.m.: Minnesota at Ohio State (BTN)
8 p.m.: Vanderbilt at Kentucky (ESPN3)
9 p.m.: Kansas at Oklahoma State (ESPN2)
10:15 p.m.: Colorado State at UNLV (CBSN)
11 p.m.: Santa Clara at Gonzaga (ESPNU)
11 p.m.: Washington at Arizona (ESPN2)
Thursday
7 p.m.: Cincinnati at Connecticut (ESPN)
9 p.m.: Duke at Virginia Tech (ESPN)
9 p.m.: California at Oregon (ESPNU)
11 p.m.: BYU at Saint Mary's (ESPN2)
Friday
7 p.m.: Saint Louis at Butler (ESPNU)
Saturday
12 p.m.: Seton Hall at Louisville (ESPN3)
1 p.m. Miami at Wake Forest (ESPN3)
2 p.m.: Oklahoma State at West Virginia (ESPN2)
4 p.m.: Georgetown at Syracuse (CBS)
4 p.m. NC State at North Carolina (ESPN)
4 p.m.: New Mexico at Colorado State (NBCSN)
6 p.m.: Marquette at Villanova (ESPN)
6 p.m.: Creighton at Saint Mary's (ESPN)
8 p.m.: Stanford at Oregon (Pac-12)
9 p.m.: Missouri at Kentucky (ESPN)
Sunday
12 p.m.: Pittsburgh at St. John's (ESPN3)
1 p.m.: Illinois at Michigan (ESPN)
2 p.m.: Cincinnati at Notre Dame (CBS)
4 p.m.: Michigan State at Ohio State (CBS)
6 p.m.: Florida State at Virginia Tech (ESPNU)
10 Places To Be This Week
Tuesday
East Lansing, Mich. (Indiana at Michigan State): This game requires very little explanation. It features the Big Ten co-leaders, the nation's No. 1 team on the road, a Michigan State team that has almost quietly -- and totally typically -- seized its rightful place as a Big Ten title contender, the Izzone and Michigan State legend Magic Johnson on the call. This may be the game that decides the Big Ten title; it will definitely have something to say about top seeding in the NCAA tournament. It's about as big as big games get. I can't wait.
Columbia, Mo. (Florida at Missouri): With the exception of that woeful first half at Arkansas, Florida has cruised through the SEC on stellar interior offense from Patric Young and Erik Murphy and a perimeter that has defended as well as any in the country. Can Phil Pressey and a talented -- if occasionally incoherent -- Missouri team knock these Gators off?
St. Louis (VCU at Saint Louis): After a pair of letdowns in A-10 play (particularly at home against Richmond), VCU has been mostly peerless in conference play, particularly on the offensive end. When the Rams force turnovers, they are almost impossible to beat. Saint Louis excels at controlling the pace of the game, limiting turnovers and preventing easy buckets -- all of the things VCU does best. With Butler slightly flagging, this may yet be the A-10 title showdown.
Wednesday
Stillwater, Okla. (Kansas at Oklahoma State): The previous time these two teams met, Marcus Smart's late-game heroics led Oklahoma State to that rarest of birds: A road win in Allen Fieldhouse. Kansas reeled after that loss, flailing at TCU and dropping a third in a row at Oklahoma before regaining its verve at home against K-State. Which Kansas will show up in Stillwater? And can the Cowboys really seize this opportunity to take a run at that other rarity -- a non-KU Big 12 title?
Las Vegas (Colorado State at UNLV): If you are still one of those people sleeping on Colorado State, stop. The Rams are the nation's best rebounding team and, at least right now, one of the Mountain West's likeliest regular-season champions. UNLV has struggled on the road (its past three losses came at Boise, Fresno and Air Force), but nigh unbeatable in its own building, as it proved in a thrilling win over San Diego State Saturday night. Which bears mentioning: Whatever happens here, this being the Mountain West, you can basically guarantee it's going to be exciting.
Saturday
Syracuse, N.Y. (Georgetown at Syracuse): With Otto Porter doing a bit of everything well, the Hoyas are one of the nation's most fearsome defensive units and one of the few that seems genuinely capable of dealing with Syracuse's group of rangy wings in the Carrier Dome. But can the Hoyas' offense, which ranks 12th in the Big East in turnover rate (21.5 percent), protect the rock against that passing-lane-invading 2-3 zone?
Philadelphia (Marquette at Villanova): Marquette's win over Pittsburgh Saturday might have been the most impressive of the Golden Eagles' season, not because it was a blowout (it was, but not dramatically so) but because it was so businesslike. The coming Saturday's challenge is a trip to Villanova, which got a nice win at UConn Saturday and is still very much in need of quality wins to add to its still-uncertain NCAA tournament résumeé.
Fort Collins, Colo. (New Mexico at Colorado State): Again: Mountain West. Exciting basketball. These things go hand in hand. The best thing about this league is that it's so wide open at the top, and so tightly contested, that every game feels like it has conference title implications. This game is the genuine article. As of Saturday night, New Mexico (9-2) leads Colorado State (8-2) by a half-game in the league standings, with neither team looking likely to budge.
Moraga, Calif. (Creighton at Saint Mary's): This is the best game in this year's (final) edition of BracketBusters, and it should be a doozy. Not only are there obvious tournament implications -- Saint Mary's needs a good win, even if Creighton's RPI standing has been damaged by three straight Valley losses in the past two weeks -- but both teams are very good, efficient offensive units who, if we're being honest, don't really guard. That's an issue for them; for us, it just means entertaining hoops.
Sunday
Columbus, Ohio (Michigan State at Ohio State): How about this week for Michigan State? First the Spartans have to host No. 1 Indiana in a likely Big Ten title showdown. Then they have to travel to Columbus to face the stubborn defense of Ohio State. The previous time these two teams played, Deshaun Thomas poured in 28; none of his teammates scored more than six points individually, and the Buckeyes lost in East Lansing 59-56. We'll see if Ohio State can finally, mercifully find some more diversity in its offense. At this stage of the season, that seems like a pipe dream.
What's next for Kentucky?
Three Questions For This Week
Can Miami go undefeated in the ACC? Absolutely. The Hurricanes (12-0) have six regular-season games remaining, including four at home. The toughest in that grouping is Tuesday's tilt with Virginia. Miami's two road games are against Wake Forest (Feb. 23) and Duke (March 2). With the way Jim Larranaga's squad has been playing, there's no reason to believe it can't win all of these games.
Who will win the Big 12? Three teams (Kansas State, Kansas and Oklahoma State) are all 9-3 and tied for first in the league standings. That will change Wednesday after the Jayhawks and Cowboys meet in Stillwater. Kansas dominated K-State and Texas last week, but both of those wins were at home. It will be interesting to see how Bill Self's squad fares on the road against an Oklahoma State team it lost to at Allen Fieldhouse. Of the three teams, Kansas State appears to have the easiest remaining schedule with West Virginia, Texas, Texas Tech, TCU, Baylor and Oklahoma State still on the slate. My prediction: Kansas and Kansas State will share the conference crown.
Will Florida lose again? If it's going to occur, it will happen Tuesday at Missouri. As awful as they've been on the road, the Tigers have been incredible at home, where they've yet to lose this season. Missouri has the talent, athleticism, experience and depth to beat Florida, but I'm not saying it's going to happen. Impressive as they look in pregame warmups, the Tigers have yet to develop the on-court chemistry and cohesion that is so vital this time of the season. Maybe things will come together Tuesday, but that still may not be enough to beat a Florida squad that has a legitimate chance to win an NCAA title. Florida wins by seven to 10 points.
Upset Prediction For This Week
Detroit over Wichita State, Saturday: The Shockers need this game, but Detroit could make the selection committee pause about its candidacy with a BracketBuster weekend win at Wichita State. The Titans have been on a roll of late and will have the best player on the court in Ray McCallum Jr.