College basketball's version of 'Moneyball'
Ken Pomeroy needs just 30 minutes per day to tinker with numbers that ignore conventional wisdom and rebut tradition. The meteorologist-turned-stats-guru completes the necessary updates to the efficiency module that feeds his popular website, KenPom.com, in the time it takes to view your favorite TV show.
Yet, the devoted -- including many Division I coaches -- come to his stat hub with pen, paper and checkbook in hand. It has become a financially lucrative effort for Pomeroy, who recently quit his job as a local weatherman in Salt Lake City.
"Mainly, it was the concept of just evaluating teams or players based on the opportunities that they had to do things," Pomeroy told ESPN.com about the origins of his site. "The efficiency stuff comes out of this."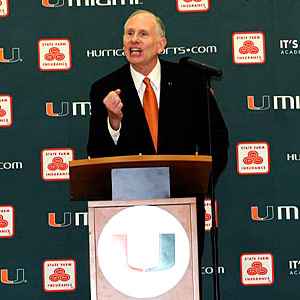 University of Miami photographer JC Ridley Veteran coach Jim Larranaga has been preaching about the virtue of advanced stats for years now.
Today, men and women tether mini-tablets to their other tablets. They have cellphones that essentially double as portable laptops. Their cars park themselves. And with one "Harlem Shake" video, they can attain worldwide fame in a matter of minutes through YouTube.
We're not quite "The Jetsons" yet, but we're close. It is within this technological renaissance that Pomeroy and others like him began to ponder the possibilities of a merger years ago.
What if we beefed up the typical stat sheet by using computer code and various formulas as filters? Would we learn more about the 340-plus teams that compete at the Division I level? Would we think differently about players and programs as a result?
The game has not reached a consensus on college basketball's version of "Moneyball," advanced stats, yet. But the list of cosigning coaches grows by the day -- and they're all faced with similar predicaments. Should they consult numbers, game film or both when preparing for opponents?
KenPom.com is just one of the stats-on-steroids tools available on the free market. Sagarin has been on the scene for years. Synergy Sports Technology offers mind-blowing stat breakdowns of players and possessions. ESPN unveiled the Basketball Power Index last season. The BPI, like the RPI, is a measuring stick of a team's value. Unlike the RPI, it accounts for a team's wins and losses when it's missing one or more of its best players.
Statistician Dean Oliver, who helped create the BPI as a member of the ESPN Analytics team, has played a vital role in modernizing the per-possession system. Oliver says that a team's ability to get to the free throw line, its effective field goal percentage (which gives teams/players more credit for 3-point shots since they're worth more points), the number of available rebounds it secures and its turnover rate are the four most significant factors in whether it wins or loses any given game. They're the same four factors KenPom.com uses to assess teams.
Arizona coach Sean Miller trusts those numbers.
"The simplifying of statistics helps you coach your team and helps you be more accurate in the things you know you're doing well and also the things that you aren't doing well," Miller said on last week's Pac-12 media teleconference. "[KenPom.com] … from my perspective, that's the story of your team."
UCLA coach Ben Howland, however, relies on his eye.
"I put way more stock in the film and watch what people are doing," he said on the same teleconference. "But obviously we're looking at percentages of different personnel from the other team and what they do as a team. So it's a combination."
Even for nonbelieving coaches, the detailed advanced stats systems supply their staffs with useful information. For some of them, it's just another device that's occasionally considered as they seek an edge each night.
For others, it's everything.
A few weeks ago, Jim Larranaga told Kenny Kadji to wait for the trap.
As the Miami coach analyzed Synergy-produced footage of Virginia, he noticed that the Cavaliers loved to trap bigs in the post as soon as they were fed. So Kadji anticipated the pressure and chose passing over panicking.
He found Reggie Johnson for a jumper in the first half and another in the second during a 54-50 win.
"We knew they were going to trap Kenny," Larranaga said.
According to Larranaga, per-possession stat tracking commenced long before the Internet made it easier to process the data. When he was an assistant at Virginia in the 1980s, he sought trends on the success opponents had with different lineups.
He said he had an interest in evaluating data when he was a player. And as a young coach, he just wanted to be ready for every opponent. So it was a natural connection.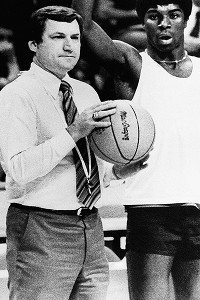 AP PhotoDean Smith was tracking per-possessions numbers long before it was a trendy thing to do.
"It goes back to 'The Art of War' by Sun Tzu, which says, 'If you know the enemy and know yourself, you need not fear the result of a hundred battles. If you know yourself but not the enemy, for every victory gained you will also suffer a defeat,'" Larranaga said.
Although he's probably the only coach who quotes a book written in 500 B.C. to articulate the value of advanced stats, he wasn't the first to realize their value.
Former North Carolina coach Dean Smith began utilizing per-possession numbers in the 1960s. He's credited as the pioneer. So even though various websites and online services have popularized advanced stats and given laymen access to the information, it is not new. Its accessibility in 2013, however, allows a level of implementation that past generations could not have imagined.
"We use it a lot, every day really, during the season for our scouting efforts and to paint a picture of who people are," said Eric Konkol, an assistant for a Miami team that tracks points per possession on a specific scoreboard in practices.
On Saturday, the then-No. 2 Hurricanes played a Wake Forest team that's ranked 116th by Ken Pomeroy, 115th by the BPI and 135th by the RPI. And these ratings were posted after the Demon Deacons scored an 80-65 upset of the Hurricanes over the weekend.
This is a Wake team that has suffered losses against Iona and Nebraska. The squad is ranked ninth in the ACC in 3-point shooting (32.4 percent). But the Deacons went 7-for-12 from beyond the arc against the Hurricanes. Codi Miller-McIntyre shot 3-for-12 from the field in two previous games. But he scored 15 points and hit 75 percent of his attempts (6-for-8) against Miami.
"The biggest thing that is scariest about stats is that it doesn't necessarily judge what a person's capable of, it judges what they normally do," Butler coach Brad Stevens said. "And I think that's something that you have to weigh because we all know that in basketball, there are certain days when a guy that hasn't made a shot for a month starts feeling better about himself. And he makes two or three in a row. You've got to be able to adjust on the fly. You have to have a good idea about what somebody's capable of but also what they normally do from a trend standpoint."
Even with today's computerized precision, numbers are not perfect. Saturday's Wake Forest-Miami matchup proved as much.
It's college basketball, a sport that's fueled by unpredictability. That's why March Madness continues to flourish. The unexpected is attractive.
But it can be a nightmare for coaching staffs that peruse the data in search of an advantage. The multitude of information doesn't always help, either.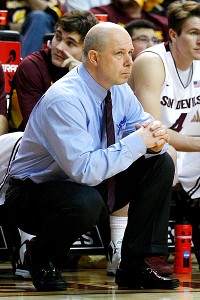 Rick Scuteri/USA TODAY SportsLike many coaches, Herb Sendek takes a cautious approach to overloading his staff and players with advanced stats.
"Sometimes, if you get too much information it could have the reverse effect," Arizona State coach Herb Sendek said. "It could diminish your clarity. So you try to focus on perhaps a few key stats that point out what's most important. You certainly don't want to overburden your players or your coaches for that matter. And at the same time, you have to prepare. … You just try to discern the best you can."
Yet, many would rather have it than coach without it.
The day could come -- soon -- where per-possession information supplied by intellectual hoops fans such as Pomeroy replaces the typical box score and becomes widely accepted as the info that most accurately describes a team's or player's performance. Coaches aren't waiting.
Some have already created their own internal KenPom-like stat systems. "We don't use outside statistics. We have our own statistical data we use for scouting," Louisville coach Rick Pitino said. "We don't depend on outside statistics because what we look at from a scouting standpoint is totally different."
The coaches who say that they're opposed to advanced stats, however, often employ someone who is intrigued by the data. "To this day, there are coaches who say, 'I just want my guys to play hard,' but usually now that same head coach has a bright young assistant who's contacting me or somebody like me," said John Gasaway, a writer for ESPN Insider and author of Basketball Prospectus.
Stevens said he would create an entire stat division for his program if he had the resources.
"I think that'd be a great asset to any program," he said.
Imagine that. A group of numbers-crunchers committed to helping a specific college basketball team win. That's nearly as bizarre as an ex-weatherman changing the statistical current within college basketball in 30 minutes or less each day. "Pretty amazing, huh?" Pomeroy said.
THE RUNDOWN
Numbers to consider
Memphis: The Tigers are riding an 18-game winning streak, tied with Akron as the nation's longest active winning streak. Josh Pastner's program possesses the athleticism to run with any team in the country (38th in adjusted tempo per Pomeroy). The Tigers are clearly the class of Conference USA. But their turnover issues could be their downfall once March Madness begins. They've committed turnovers on 21.3 percent of their possession, 240th in the country. Remember that when you pick Memphis to make a run in the Big Dance.
Minnesota: The RPI loves the Gophers, even though Tubby Smith's program has lost eight of its past 11 games. They've lost their past two games by a combined 47 points. But they have a top-20 RPI. That's because they're facing quality teams most nights in the Big Ten. And they have the nation's top strength of schedule, per RPI. This squad hasn't played like a tourney team since early January. But a team with that RPI, 12 victories over top-100 teams and wins over Michigan State, Illinois (in Champaign), Memphis and Wisconsin will stay in the mix. However, the Gophers haven't done anything recently to suggest that they'll finally win a game in the Big Dance under Smith.
Stanford: Johnny Dawkins might be lucky to get into the NIT at this point. But the Pac-12's best have been hot and cold all season. So the conference tourney in Las Vegas next month could be interesting. And a team such as Stanford -- with wins over Oregon, Arizona State and Cal -- could spring an upset or two. Its 3-point shooting could prove to be critical in Las Vegas. Overall, Stanford is seventh in the Pac-12 with a 34.3 percent clip from beyond the arc. In conference play, however, the Cardinal have been the Pac-12's best from the 3-point line (41.1 percent).
VCU: The "HAVOC" defense has led Shaka Smart's program to the top of the Atlantic 10. It's no surprise that the Rams lead the nation with 12.07 steals per game. That's more than a steal per game difference over Southern Miss, which is second in the country with 10.89 per contest. Those numbers are even more impressive when churned through Pomeroy's per-possession quadrant. Smart's program is first in the country with a 17.4 steals percentage.
Indiana: The Hoosiers are one of the nation's top two 3-point shooting teams. Their 42.8 percent mark from the 3-point line is tied with that of Weber State. Tom Crean's squad is so difficult to contain outside because it's stacked with players at different positions who can hit the shot. The 6-foot-9 Christian Watford (49 percent) has range. Victor Oladipo can slash to the rim with the best of them, but he's also Indiana's top 3-point shooter (51.1 percent). And you obviously don't want to lose Jordan Hulls in transition because he'll burn you, too (48.9 percent). In all, the Hoosiers have six players who are connecting on at least 35 percent of their 3-point attempts. Yes, they're one of the two most accurate teams from the 3-point line. And they're also the most versatile.
Florida: The Gators are ranked second in the BPI, even after suffering last week's road loss to Missouri. Florida earned a No. 5 ranking in last week's Associated Press poll and will probably drop. But Florida forward Will Yeguete (21.9 minutes per game, 6.0 PPG, 6.3 RPG, 1.1 SPG) has missed Florida's past five games as he recovers from knee surgery. The 6-7 forward missed all but the first minute of Florida's 80-69 loss at Arkansas on Feb. 5. That's important, because Yeguete could return soon, and this Florida team hasn't lost one SEC game with him at 100 percent. The Gators are so high in the BPI in part because the barometer gives teams credit for margin of victory. And few squads have matched Florida's overall dominance in 2012-13.
ESPN Staff Writer
Covers college basketball
Joined ESPN.com in 2011
Graduate of Minnesota State University, Mankato
The Weekly Forecast
A quick look at the temperature of college basketball as we head into a new week:
Bears
Hot: Cal has won five in a row after Saturday's 60-59 victory at Oregon State. With a 10-5 record, the Bears are just a game behind Pac-12 leaders Arizona and Oregon with three games to play. So yes, there's still a chance, especially in the unpredictable Pac-12.
Cold: Montana's Grizzlies suffered their second loss in three games when they were defeated by Davidson in overtime on Saturday. But that wasn't their most significant loss. Senior Will Cherry aggravated a foot injury that sidelined him for a chunk of the nonconference season. Last weekend, the Grizzlies lost leading scorer Mathias Ward to a foot injury. The injuries certainly jeopardize Montana's chances of a representing the Big Sky in the Big Dance.
Streaks
Hot: Middle Tennessee. The Blue Raiders have a top-30 RPI and a win over Ole Miss. But they've also lost head-to-head battles against Akron and Belmont, who have played their way into similar at-large scenarios, and they suffered a conference loss at Arkansas State on Jan. 3. There are no guarantees for this program without a Sun Belt tournament title. But they've won 14 in a row, and three of their past four victories were by 31 points or more. Still, they're the only top-130 (RPI) squad in the conference.
Cold: Grambling. The Tigers have three more regular-season opportunities to earn their first win of 2012-13. They've lost their first 24 games of the year and 15 straight in the SWAC.
Feet
Hot: Michigan State's Derrick Nix has made gradual improvements throughout his career, even as he's battled to maintain a solid playing weight. Right now, the 6-9, 270-pound forward is one of the best bigs in the Big Ten. That's mostly due to his work ethic and his footwork, which has been stellar all year. He seems more agile than he's ever been.

Cold: Oregon has managed to maintain its first-place slot in the Pac-12 (the Ducks are tied with Arizona at 11-4) even though point guard Dominic Artis has missed the past nine games with a foot injury. He could return in the coming weeks, even days. And they need him and they need him healthy. Right now, Oregon leads the Pac-12 with 14.5 turnovers per game in conference play. Per Pomeroy, they've committed turnovers on 21.8 percent of their possessions (270th in the nation).
ESPN Staff Writer
Covers college basketball
Joined ESPN.com in 2011
Graduate of Minnesota State University, Mankato
Viewer's Guide
All times ET:
Monday
7 p.m.: Syracuse at Marquette (ESPN)
9 p.m.: Kansas at Iowa State (ESPN)
Tuesday
7 p.m.: Indiana at Minnesota (ESPN)
7 p.m.: Memphis at Xavier (ESPN2)
9 p.m.: Florida at Tennessee (ESPN)
Wednesday
7 p.m.: Georgetown at Connecticut (ESPN2)
7 p.m.: Akron at Ohio
10:15 p.m.: SDSU at New Mexico (CBSS)
11 p.m.: Colorado at Stanford (ESPN2)
11:30 p.m.: Arizona State at UCLA (PACN)
Thursday
7 p.m.: Ohio State at Northwestern (ESPN2)
9 p.m.: Duke at Virginia (ESPN)
11 p.m.: Gonzaga at BYU (ESPN2)
Friday
7 p.m.: Harvard at Princeton (ESPNU)
Saturday
12 p.m.: Alabama at Florida (ESPN)
12 p.m.: Butler at VCU (ESPN2)
12 p.m. Louisville at Syracuse (CBS)
1 p.m.: Memphis at UCF (FSN)
1:30 p.m.: Iowa State at Oklahoma (ESPN3)
2 p.m.: Notre Dame at Marquette (ESPN)
2 p.m.: Wichita State at Creighton (ESPN2)
2 p.m.: West Virginia at Kansas (CBS)
4 p.m.: Kentucky at Arkansas (CBS)
5 p.m.: Portland at Gonzaga (ROOT)
5 p.m.: Colorado at California (ESPNU)
6 p.m.: Miami at Duke (ESPN)
7 p.m.: Kansas State at Baylor (ESPN2)
7:30 p.m.: Iowa at Indiana (BTN)
8 p.m.: Colorado State at Boise State
9 p.m.: Arizona at UCLA (ESPN)
Sunday
12 p.m.: Villanova at Pittsburgh (ESPN3)
1 p.m.: Purdue at Wisconsin (ESPN)
4 p.m.: Michigan State at Michigan (CBS)
Greenberg on Syracuse-Marquette
10 Places To Be This Week
Monday
Milwaukee (Syracuse at Marquette): Georgetown may have taken hold of the Big East reins in the Carrier Dome on Saturday, but the regular-season title chase remains very much in the balance, with four teams -- the 11-3 Hoyas, as well as Louisville, Marquette and Syracuse, all 10-4 -- within immediate striking distance. There are a handful of games that will decide this thing the rest of the way. This is the first.
Ames, Iowa (Kansas at Iowa State): The last time these two teams met -- before Kansas hit that three-game skid, and its infamous nadir, the loss at TCU -- Iowa State gave the Jayhawks an early conference test, and in Lawrence to boot. Ben McLemore had to have his best game of the season to bail out KU, and it took overtime to do so. With an NCAA tournament bid in the offing, the Cyclones will have had this one circled on their calendar for weeks.
Tuesday
Knoxville, Tenn. (Florida at Tennessee): Much like they did last year, when they finished a previously mediocre season with eight wins in their last nine games to post a 10-6 record in the SEC, the Volunteers are making a late outside push to get in the NCAA tournament. The Vols are beefing up their offense and have won their past five, including an 88-58 demolition of Kentucky. Now, Florida comes to town. Can you say marquee win?
Wednesday
Albuquerque, N.M. (SDSU at New Mexico): In a league this tight, a two-game advantage over the rest of the conference at this stage of the season has to be considered a mortal lock on the title race. That's what New Mexico earned with a road win at Colorado State on Saturday, when Kendall Williams poured in 46 points on 10-of-13 shooting from 3-point range and the Lobos scored 91 points in 69 possessions. Unless San Diego State can spring an "upset" here -- and an upset only in the sense that (despite what UNM did at CSU) it really is hard to win on the road -- the Lobos are almost certain to take home the conference title.
Thursday
Charlottesville, Va. (Duke at Virginia): Not unlike Tennessee, Virginia's NCAA tournament case is sure to come down to the final weeks of the season, and marquee-win opportunities don't get much better than this. Duke still has the top RPI rank in the land, but no one would confuse the Ryan Kelly-less Blue Devils with the best team in the country. That makes this an utterly realistic, high-reward game for the Cavaliers, particularly if they can control the pace of the game. Upset alert.
Saturday
Syracuse, N.Y. (Louisville at Syracuse): Long considered the Big East favorite and co-favorite -- in one order or another -- the Cardinals and Orange find themselves with some company (Georgetown, Marquette) at the top of the league. Even so, this is still a big-time, recent-era Big East (and future ACC) matchup, and also not a small deal as it pertains to tangible goals, particularly NCAA tournament seeding.
Omaha, Neb. (Wichita State at Creighton): A month ago, this game was a calendar-circler for obvious reasons: Creighton and Wichita State were the Missouri Valley's two best teams, and even if you don't care who wins the Valley, it is always a lot of fun to see good, familiar conference rivals square off with a lot on the line. That's all still true, but now that Creighton has lost four of its past five and slipped to somewhere in the No. 10-seed region, this game is clearly more important for what it means for the Bluejays' at-large chances.
Ann Arbor, Mich. (Michigan State at Michigan): It won't require deep, zen-like concentration for the Michigan Wolverines to remember exactly what their hated rivals -- and, for much of the past 15 years, basketball overlords -- did to them in their most recent meeting; it happened just two weeks ago. Will the return trip be as brutal? Does Michigan have revenge ready? And after the Spartans' loss at Ohio State on Sunday, does anyone have the juice to catch Indiana in the Big Ten title chase?
Durham, N.C. (Miami at Duke): If you're a fan of the RPI, here you go: Your No. 1 and No. 2 teams square off Saturday! If you're just a fan of college basketball, in particular, the ACC, then you shouldn't need any fuzzy-metric reasons to get up for this one. It's the ACC's two best teams, both of whom are gunning for No. 1 seeds, one of which (Miami) utterly demolished the other in their first meeting this season. Miami also just suffered its first full-strength loss of the season at Wake Forest (go figure) and probably "needs" this Duke game for seeding purposes. But whichever prism you choose to view it through, this is going to be a good one.
Los Angeles (Arizona at UCLA): The 2012-13 season was billed as the return of the Pac-12, thanks almost entirely to the putative return of this classic battle for West Coast supremacy. Instead, the Pac-12 has returned, but for different reasons; it is better around the margins, not necessarily more dominant at the top. Still, both of these teams have improved, both feature future NBA talent, both will be back in the NCAA tournament this season and both (yes, even UCLA) have variously good odds at pulling off a Pac-12 title in the final three regular-season games of the season.
Three Questions For This Week
Can Tennessee make the NCAA tournament? Consult Joe Lunardi for a definitive answer, but it certainly seems as if the Vols could work their way into the discussion. Cuonzo Martin's squad has won five straight games and is now 16-10 overall and 8-6 in the SEC. Tennessee still has two huge opportunities to boost its résumé, as the Vols host Florida (Tuesday) and Missouri (March 9). Victories in those games -- coupled with road wins against Georgia and Auburn -- would make UT hard to ignore on Selection Sunday. The trio of Jarnell Stokes, Jordan McRae and Trae Golden has been outstanding in recent weeks.
Can Minnesota get back on track? The Gophers climbed to No. 8 in The Associated Press rankings after opening the season with a 14-1 record. But Tubby Smith's squad has lost eight of its past 11 games, which has caused some in Minneapolis to question Smith's job security. Minnesota hosts No. 1 Indiana on Tuesday before closing out the regular season with winnable games against Penn State, Nebraska and Purdue. The offseason could be interesting if the Gophers don't finish strong.
How will Memphis fare in its return to the big stage? The 24-3 Tigers have won 18 straight games, and hardly anyone has noticed. That's because Memphis plays in Conference USA. It's easy to assume success has come mainly because the Tigers are playing against weak competition, but Josh Pastner's squad has a chance to silence some doubters when it takes on a solid-but-not-spectacular Xavier squad Tuesday in Cincinnati. Beating the Musketeers on the road would be a huge momentum boost for Memphis as it prepares for the postseason.
Simon Says: My Top 5 Teams
Upset Prediction For This Week
Tennessee over Florida, Tuesday: The Vols had to go to four overtimes to win at Texas A&M on Saturday, but have been the second-hottest team behind Florida in the SEC. The big three of Trae Golden, Jarnell Stokes and Jordan McRae have carried this team during its five-game win streak. The short-handed Gators could have problems with the Vols' size and ability to get to the free throw line. If the Vols win this in front of a jazzed-up home crowd, they must be considered a possible at-large team out of the muddled SEC.