The great wave of March momentum
CHAPEL HILL, N.C. -- On Sunday afternoon, Roy Williams noticed a difference in his team.
The Tar Heels were tough against the Seminoles. Florida State made an early run, but North Carolina weathered that blitz and crushed its ACC foes in a 79-58 victory.
After the game, Williams praised P.J. Hairston, who took multiple charges, and the rest of his roster for its collective physicality. It was a sign of the squad's growth, he said.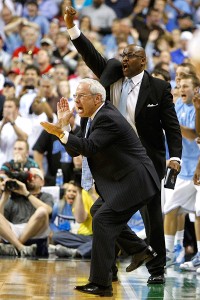 Bob Donnan/US PresswireRoy Williams has encouraged his young Tar Heels, and now they're finally showing growth.
"I think we're getting more confident, and we should be," Williams said. "When you see your teammates take the charge … that gives you a little more enthusiasm to play, too. We didn't have those kinds of plays earlier in the year that we're having now, and I think that's really helping us, too."
North Carolina has won five in a row, a strong finish that has allowed the program to conclude 2012-13 with the coveted mojo most teams in the final weeks of the season prefer.
Momentum -- every team craves it as the postseason looms.
It was a hot topic in the region throughout the weekend.
Duke's players discussed the value of Ryan Kelly's presence, and what his return might mean for the Blue Devils' immediate future, after he led the Blue Devils to a win over Miami on Saturday.
"It's so big. We've kind of said all year, we want to be at our best come mid-March," Mason Plumlee said. "Obviously, we can't win the regular-season ACC [title outright], so now it's about us hitting our stride going into the tournament."
But the Hurricanes stressed the significance of recovering from the loss and regaining their swagger in the last days of the regular season.
"You want to be playing your best basketball at this time of year," Jim Larranaga said after the game.
In recent years, multiple teams have proved that ending the season on a run can help a program acquire the boost it needs to rally in the Big Dance.
Others, however, have reversed late-season misfortune and advanced.
Louisville had lost four of its past six regular-season games in 2011-12 before the Cardinals earned a Big East tourney title and eventually reached the Final Four. Connecticut had lost four of five entering the tournament in 2010-11, the season the Huskies earned their most recent national title.
Missouri had won the Big 12 tournament title and five consecutive games in 2011-12 before the Tigers lost to Norfolk State in the first round of the NCAA tournament.
In the same year, Kentucky lost only one game between its Dec. 10, 2011, loss to Indiana and its national championship run in New Orleans.
There's no set formula. But most coaches obviously desire their team to be in rhythm to end a regular season rather than a lukewarm culmination.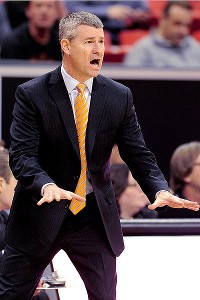 Ethan Miller/Getty ImagesIf Leon Rice's Boise State Broncos get into the tournament, they could do damage.
Leon Rice believes his Boise State Broncos can use their current winning streak to propel them into the Mountain West tournament and possibly the NCAA tournament.
Rice's squad has competed with a ferocity that defines most teams sitting on the bubble. But the real key, Rice said, is the chemistry his program regained when players returned from injury. Three of Boise State's top five scorers have missed time this season. They're healthy now and jelling again, and the Broncos have won four in a row.
They can't catch first-place New Mexico, but they can launch themselves into the Mountain West tourney and March Madness if they can crack the field.
"The season is more like a mile," Rice said. "It always seems like that third lap of the mile is the hardest. Now we're on that fourth lap. The fourth lap is about guts and toughness and who can just lay it all out there."
For the bulk of the bubble teams, success toward the end of the season is an extension of their respective uncertainty.
The stakes are high. Without late momentum, they'll be excluded from the field.
That's essentially Boise State's situation. With a 44 RPI and 3-5 record against the top 50, there are no guarantees that the Broncos will seal a bid. But they're close, especially after a weekend win over Colorado State.
And if Rice's program earns that opportunity, he believes this late rally will help.
"We're going to go in as the hunter, we're going to go in as the underdog," he said. "It's a lot easier to be in that tournament as the underdog."
THE RUNDOWN
Finishes you should track in the coming weeks:
Duke Blue Devils: Ryan Kelly's 36-point explosion in Saturday's win over Miami solidified Duke's slot as the No. 1 team in America in my mind. He's clearly a difference-maker for a team that maintained its elite status without him. But check the fine print on that effort: He went 10-for-14, while the rest of the starters hit a more modest 15-for-33.
This is obviously a dangerous team that can win its last two ACC games and the conference tournament. But the Blue Devils will have to adjust to playing together when Kelly's numbers reach a more reasonable level. How will the team respond when he's not in beast mode?
Tennessee Volunteers: Even though Cuonzo Martin's program suffered a surprising road loss at Georgia on Saturday, the Vols have finished strong. They can beat Auburn and handle Mizzou in Knoxville in their final two games. They're ranked 49th in Ken Pomeroy's adjusted offensive efficiency ratings. Jordan McRae and Jarnell Stokes compose one of the SEC's toughest inside-outside combinations.
The SEC is a very unpredictable league -- the past few weeks have proved as much. The Vols are capable of competing for the conference tourney title. The loss to the Bulldogs was a bad one, but Martin's program had won six in a row before that. The Vols have accrued momentum in the final weeks. If they get into the Big Dance, they could be a sleeper.
Miami Hurricanes: The Hurricanes played at Duke on the same night Kelly returned to the floor for the first time in nearly two months. The senior standout scored a career high. Cameron Indoor was on fire. And with seconds on the game clock, the Canes had a chance. The Hurricanes have not been as dominant in recent weeks as they had been in the first chunk of the ACC season, but they've lost only two ACC games.
And in Saturday's defeat, they could have tied the score in the final seconds. Miami is still 10th in adjusted defensive efficiency per Ken Pomeroy, it should beat Georgia Tech and Clemson at home in its final regular-season conference games, and is winning the ACC tournament. One tough stretch doesn't nullify Jim Larranaga's accomplishments.
Kentucky Wildcats: It's possible the Wildcats will fulfill their potential in the coming weeks. Their ceiling changed, however, when Nerlens Noel suffered that knee injury a few weeks ago. They lost to Tennessee by 30 points in their first game without him, and then they won their next three home games, including a Feb. 23 victory over Missouri.
But in Saturday's road loss to Arkansas, the Wildcats demonstrated some of the mishaps that had hindered their progress earlier this season. They recorded 18 turnovers. They shot 3-for-14 from the 3-point line. I don't think it's fair to judge John Calipari's team off one outing, but it's also not wise to assume that the prior three-game winning streak means the Wildcats have figured things out.
UCLA Bruins: On Saturday, the Bruins defeated Arizona to earn a first-place tie with Oregon in the Pacific-12. They're both 12-4. Remember that UCLA squad that had the makings of a national title contender? Ben Howland had assembled the nation's No. 1 recruiting class last spring. With Shabazz Muhammad, Kyle Anderson & Co., the Bruins were set to dominate the conference and the college basketball world. And then they struggled. Folks began to doubt them.
But the Bruins have finished strong. Muhammad is averaging 18.3 PPG. Howland's program is leading the Pac-12 in scoring (72.0 PPG) and has improved on defense in recent weeks (69th in adjusted defensive efficiency per Ken Pomeroy). The Bruins are competing at a high level right now. Who wants to face that squad during March Madness?
Minnesota Golden Gophers: Prior to their current two-game winning streak, one that includes a win against former No. 1 Indiana, the Gophers had lost eight of their previous 11 games. But they preserved their lofty RPI through that difficult period because they played some of the toughest teams in the country. The Gophers currently possess the No. 2 strength of schedule per the RPI. They've faced the best. They've defeated some of those elite foes. As the Big Ten and NCAA tourneys approach, however, it's still difficult to assess the program.
The Gophers showcased their potential when they defeated the Hoosiers in Minneapolis last week. They're obviously talented, but they've slipped multiple times and produced average efforts, too. The latter has made it easy to question the program. Which team will show up in Chicago and the Big Dance? The one that outplayed the Hoosiers or the squad that Iowa crushed a few weeks ago?

Colorado State Rams: Larry Eustachy's program sailed to the top of the standings in the Mountain West. The Rams were a contender for the title. And then late February/early March happened -- they've lost three of four games. Time to doubt the Rams? Well, this slide included losses to a hungry Boise State squad, a talented yet unpredictable UNLV team and New Mexico.
The Rams are still ranked seventh in adjusted offensive efficiency and second in offensive rebounding rate per Ken Pomeroy. But they're giving up 66.0 PPG in conference play, sixth in the league. That's certainly a concern. Colton Iverson (13.9 PPG, 9.8 RPG) & Co., however, can lead Eustachy's squad to a strong conclusion in 2012-13.
Memphis Tigers: Last week's road loss at Xavier shouldn't erase every gain Josh Pastner's program had achieved prior to that loss. The Tigers had won 18 consecutive games, but the loss did not help the Tigers defend themselves against questions about their legitimacy. Are they a skilled and athletic program that can compete with the best teams in the country? Or is this an overrated team that has blossomed in a so-so league (Conference USA)?
Well, Memphis is not the team that blew a double-digit lead against Louisville in mid-December. But it's not necessarily an elite squad, either. The Tigers don't have many (any?) convincing wins. They're 2-3 against the RPI's top 50. Even if they run through the C-USA tourney, the Tigers should be treated with caution as the NCAA tournament approaches.
Butler Bulldogs: The Bulldogs have participated in multiple thrillers this season. But they've been on the wrong end of a few of those exciting matchups. They suffered an 84-52 loss at VCU on Saturday. It was the third time they'd failed to register 60 points in Atlantic 10 play and their third loss in five games. Saint Louis and VCU (responsible for two of those defeats), however, are two of the best teams in America.
Butler's problem is that it could hit a roadblock as the postseason approaches if it doesn't end this slide. Pending matchups against UMass and Xavier are not guaranteed victories for the program, and the Atlantic 10 tourney will feature a strong field. Brad Stevens' crew needs to stop this decline as soon as possible.
Kansas State Wildcats: The Wildcats have been on a roll since enduring a 21-point loss at Kansas on Feb. 11. They've earned five consecutive wins to maintain a first-place tie with Kansas, although the Jayhawks swept the Wildcats during the regular season. But check the slate. That run includes wins over Texas, West Virginia, Texas Tech and Baylor (twice). Not exactly the Big 12's best.
It's a nice recovery for Bruce Weber's squad, but a season-ending matchup at Oklahoma State on March 9 will really help us gauge the Wildcats and their postseason potential in ways that this current winning streak -- they'll play TCU on Tuesday -- can't.
ESPN Staff Writer
Covers college basketball
Joined ESPN.com in 2011
Graduate of Minnesota State University, Mankato
The Weekly Forecast
A quick look at the temperature of college basketball as we head into a new week:
Coaches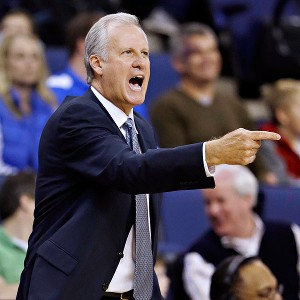 AP Photo/Jeff RobersonSaint Louis coach Jim Crews deserves praise for the job he's done in the wake of Rick Majerus' death.
Hot: The national coach of the year conversation should include Jim Crews and Steve Alford. Crews has led Saint Louis to the top of the Atlantic 10 three months after the death of former coach Rick Majerus. Alford's New Mexico squad is three games ahead of Colorado State and UNLV in the Mountain West.
Cold: Andy Kennedy's job status has been questioned in recent weeks. Ole Miss has lost six of its past 10 games. Saturday's loss at rival Mississippi State, a team that's literally competing with a half-dozen scholarship players, did not help his cause.
Big Ten
Hot: Ohio State has won four of five as it prepares for this week's matchup against Indiana in Bloomington.
Cold: Michigan State has lost three in a row. All three losses, however, came against nationally ranked teams (Indiana, Ohio State and Michigan). But the Spartans will end the year with a pair of home games (Wisconsin and Northwestern).
Follow-up performances
Hot: Kansas guard Elijah Johnson scored 39 points in Monday's overtime win against Iowa State. He recorded 12 points and 10 assists in Saturday's 91-65 victory over West Virginia and has made his past 10 free throws.
Cold: Virginia's Joe Harris recorded 36 points in Thursday's 73-68 victory over Duke. He went 4-for-11 from the field in a 53-52 loss at Boston College on Sunday.
ESPN Staff Writer
Covers college basketball
Joined ESPN.com in 2011
Graduate of Minnesota State University, Mankato
Viewer's Guide
All times ET:
Monday
7 p.m.: Cincinnati at Louisville (ESPN)
Tuesday
7 p.m.: Arkansas at Missouri (ESPN)
7 p.m.: St. John's at Notre Dame (ESPN2)
7 p.m.: Illinois at Iowa (BTN)
9 p.m.: Ohio State at Indiana (ESPN)
9 p.m.: Alabama at Ole Miss (ESPNU)
10 p.m.: Boise State at UNLV (Time Warner)

Wednesday
7 p.m.: North Carolina at Maryland (ESPN)
7 p.m.: Georgetown at Villanova (ESPN2)
7 p.m.: Oklahoma St. at Iowa St. (ESPNU)
7 p.m.: Michigan at Purdue (BTN)
9 p.m.: Saint Louis at Xavier (Time Warner)
11 p.m.: Stanford at Cal (ESPN2)
Thursday
7 p.m.: Kentucky at Georgia (ESPN)
7 p.m.: Butler at UMass (NBCS)
9 p.m.: Wisconsin at Michigan State (ESPN)
9 p.m.: Oregon at Colorado (ESPN2)
9 p.m.: La. Tech at New Mexico St. (ESPN3)
Friday
7 p.m.: Kent State at Akron (ESPN2)
Saturday
12 p.m.: Syracuse at Georgetown (ESPN)
12 p.m.: Florida at Kentucky (CBS)
1:30 p.m.: Kansas St. at Oklahoma St. (ESPN3)
1:30 p.m.: La Salle at Saint Louis (NBCS)
2 p.m.: Marquette at St. John's (ESPN)
3:30 p.m.: San Diego St. at Boise St. (NBCS)
4 p.m.: Notre Dame at Louisville (CBS)
4:30 p.m.: Arizona St. at Arizona (FSN)
6 p.m.: Kansas at Baylor (ESPN)
6 p.m.: New Mexico at Air Force (Altitude)
9 p.m.: Duke at North Carolina (ESPN)
Sunday
12 p.m.: VCU at Temple (CBS)
12:30 p.m.: Illinois at Ohio State (ESPN)
4 p.m.: Indiana at Michigan (CBS)
6 p.m.: Maryland at Virginia (ESPNU)
Greenberg on Ohio State-Indiana
10 Places To Be This Week
Wednesday
Philadelphia (Georgetown at Villanova): Villanova missed an excellent opportunity to shore up its NCAA tournament credentials Sunday when it fell just short at Pittsburgh in overtime. Fortunately, Villanova has an even better chance this week when the Georgetown Hoyas come to town. Of course, Georgetown isn't an easy win, even at home; the Hoyas are the nation's hottest team, winners of 11 in a row, and one of the best defensive groups in the country. They're also looking like a viable No. 1 seed. After an up-and-down season spent clinging to the bubble, the best news for Villanova is that its fate still rests in its own hands.
Ames, Iowa (Oklahoma State at Iowa State): Another bubble special, Iowa State was still reeling from last week's Kansas loss -- which was predicated on a brutal, game-deciding call that cost Iowa State a win -- in Saturday's blowout loss to Oklahoma. But it still has a chance to lock up a tournament bid, or at least a serious improvement in its résumé, when the Cowboys come to Ames this week.
Thursday
East Lansing, Mich. (Wisconsin at Michigan State): Wisconsin was rolling along in all its quirky glory, winning games and pushing toward the top of the Big Ten standings -- we all should have known the Badgers weren't going to finish outside the top four -- when a really weird thing happened: Bo Ryan's team lost at home. Not only that, but Wisconsin lost at home to Purdue, a team that has played some of the least appealing basketball in the league for the past month and change. This makes zero sense. But it also makes this final week of the Big Ten season as interesting as ever, as these two teams, as well as Michigan and Ohio State, fight to catch up to Indiana in time to grab at least a piece of the Big Ten title pie.
Boulder, Colo. (Oregon at Colorado): Miami coach Jim Larranaga has something like a stranglehold on the coach of the year award consensus and rightfully so. But you would be hard-pressed to find a coach who has done a better job from start to finish this season than Oregon coach Dana Altman, who not only rebuilt the Ducks in short order but also shepherded them through a potentially devastating late-season injury to point guard Dominic Artis. Despite losing Artis for weeks, the Ducks are still tied at 12-4 atop the Pac-12 in advance of their trip to Colorado this week. Incredibly impressive stuff.
Saturday
Washington, D.C. (Syracuse at Georgetown): This one needs zero introduction. When it's over, the Syracuse-Georgetown rivalry -- one of the great rivalries in the sport and the marquee matchup in the Big East since its founding in the glory days of college hoops -- will be over, too. Maybe there's a nonconference series in the future; let's hope so. But as far as we know, this is it, and in any case it's the last time these two teams will meet at the tail end of a Big East season, the way they're supposed to. Plus, there are real implications: The Hoyas' 11-game winning streak has put them in improbable control of the title race, and Otto Porter's 33-point masterpiece at Syracuse helped get them there.
Lexington, Ky. (Florida at Kentucky): When an SEC team has needed a big marquee win with which it can impress the NCAA tournament selection committee, it has one option: beat Florida. This is easier said than done, obviously. But in a down league full of mediocre bubble-bound squads, beating the Gators remains the best, or at least the fastest, way to improve your tournament résumé. After Saturday's loss at Arkansas, the stakes are that simple for the Wildcats.
Stillwater, Okla. (Kansas State at Oklahoma State): There is no bubble intrigue here, thankfully. The Wildcats' trip to Stillwater is just a good old-fashioned matchup between two good teams, both battling for a share of the Big 12 conference title. The Wildcats are tied with the Jayhawks at 13-3 as of this writing, while Oklahoma State is one game back at 12-4. Both teams have a chance to gain at least a share of the conference honors, and they probably should get while the getting's good. It isn't easy to win a Big 12 title with Bill Self around.
Waco, Texas (Kansas at Baylor): Two very different teams, two very different sets of stakes. As mentioned above, the Jayhawks are in the hunt for yet another Big 12 title -- their ninth straight shared or earned outright, which is completely insane and beyond all comprehension -- while the Bears are after something much more modest: a résumé win. Baylor nearly got one Saturday, before Rodney McGruder broke their hearts in the final second in Waco. Let's hope that whatever happens, Saturday's outcome isn't quite so brutal.
Chapel Hill, N.C. (Duke at North Carolina): For the first two months of the season, it didn't look like Duke-UNC, for all of the rivalry's intrigue, would include much in the way of exciting basketball. Duke was one of the best teams in the country; UNC was teetering into NIT territory. Now, as the regular season ends, Duke has displayed a handful of flaws, particularly on the defensive end, while UNC has consistently improved in recent weeks. Ryan Kelly's brilliant return for the Blue Devils surely gives them the edge, even in Chapel Hill, but UNC freshman point Marcus Paige keeps getting better, and don't forget the Tar Heels played Duke very close in the first meeting at Cameron. This one might be great after all.
Sunday
Ann Arbor, Mich. (Indiana at Michigan): Thanks to the Wolverines' huge home win over Michigan State on Sunday, Indiana clinched at least a share of the Big Ten title, its first since 2002. Can the Hoosiers win it outright for the first time since 1991? (Yes, 1991.) That depends on how they clear the decks in the final week of the season. That week begins Tuesday at home against Ohio State and ends on the road Sunday at Michigan. A win in the first game would make the second little more than a formality. Conference titles might not matter much to everyone, but in Big Ten country they mean everything. To Indiana fans -- who haven't seen their Hoosiers alone atop a league they once hegemonically ruled -- it would be huge. The chance to come full circle will either be realized or squandered this week. (And hey: A share of the title's not so bad, either.)
Three Questions For This Week
Can anyone other than Creighton or Wichita State win the MVC tournament? Absolutely. Less than a week ago, Evansville defeated Wichita State at home on senior night in a game that helped spoil the Shockers' regular-season title hopes. Illinois State had a stretch in the second half of league play where it won seven of eight games, including a victory over Creighton. Third-place Northern Iowa owns victories over both Creighton and Wichita State -- and Indiana State has a win over potential No. 1 NCAA tournament seed Miami. Expect the unexpected in St. Louis.
Who will win the Big East? Georgetown (13-3) has a one-game lead over Marquette and Louisville (both 12-4) in the standings with two games to play. The Hoyas, though, have a road game at Villanova and a home tilt with Syracuse. That's a much tougher slate than that of the Golden Eagles and Cardinals. Marquette's final two games are on the road against Rutgers and St. John's, who will be without suspended guard DeAngelo Harrison. Louisville closes regular-season play against Cincinnati and Notre Dame. Bottom line: If the Hoyas win out, John Thompson III's team will be outright champions. Otherwise, we could have a three-way tie for first.
Will Kansas State win its first conference title since 1977? Yes. Well, kind of. My guess is that the Wildcats will end up sharing the Big 12 championship with Kansas. Both teams are 13-3 in conference play and have easy home games during the week. K-State hosts TCU, and Kansas hosts Texas Tech. That means it will all come down to Saturday, when Kansas plays at Baylor and Kansas State plays at Oklahoma State. The Wildcats' game is definitely the tougher of the two, both because of the opponent and the venue. But Kansas State hasn't been upset all season, and I don't expect things to change Saturday.
Upset Prediction For This Week
Iowa State over Oklahoma State, Wednesday: Look, I'm not sure who will be favored. But if you're looking at the rankings, then the Cyclones will "upset" Oklahoma State and earn the necessary late-season win that they desperately need. Hilton Coliseum should be rocking again in Ames.