Daily Word: Biggest challenge for Louisville?
Every weekday, Andy Katz leads a panel of our college hoops experts on a discussion about the biggest issues, trends and themes happening in and around college basketball.
1. What's the most pressing issue for Louisville at the start of practice?
Andy Katz: Rick Pitino has made it clear from the beginning of the summer that the most pressing concern is who will replace the back line defense of Gorgui Dieng. Montrezl Harrell had a sensational summer. He's a budding star, but not a traditional, intimidating shot-blocker. Will Stephen Van Treese be that player? Or a combination of both? That's the question facing the Cardinals.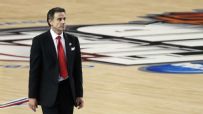 Daniel Shirey/USA TODAY SportsRick Pitino and Louisville begin their title defense.
Myron Medcalf: The biggest question for Louisville is tied to leadership. The Cardinals are arguably as talented, perhaps more talented, than they were last year. But they're going forward without Peyton Siva, who was a critical leader for the program throughout his career. Who will be that guy in 2013-14?
C.L. Brown: Hard to tell what will be more daunting for junior college transfer Chris Jones: replacing three-year starter Peyton Siva in the lineup or playing point guard for coach Rick Pitino. Neither will be easy, but Jones' play will be crucial as the Cardinals have experience at every other position.
2. Who may feel the most pressure to perform well for Kentucky in the preseason?
Andy Katz: The choices are Willie Cauley-Stein and Alex Poythress, the two returning players who played any kind of significant minutes. Julius Randle will be the dominant player on the Wildcats and perhaps at his position in the country at his position. That could push Poythress down a peg. But Cauley-Stein had a real shot to stand out as a shot-blocker. He still may. That he's out for at least two weeks with a hand injury may mean he'll have to play catch-up.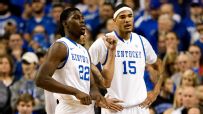 Mark Zerof/USA TODAY SportsAlex Poythress, Willie Cauley-Stein have some pressure.
Myron Medcalf: Alex Poythress probably feels as much pressure as anyone on that roster. He could be a starter for this team. Or he might get lost within this talented incoming pool if he doesn't prove his worth early.
C.L. Brown: By all accounts, Julius Randle is the alpha dog among a freshman class full of them. On a team lacking upper-class leadership, Randle is as good as any to establish an identity for the team.
3. Which player who recently received a waiver to play immediately will help the most?
Andy Katz: Michael Dixon could be a game-changer for Memphis. If he doesn't disrupt the veteran players returning in the backcourt, then the Tigers will have one of the most experienced and productive groups in the country. If he tries to eat up too many shots, then the addition of the Missouri transfer could backfire.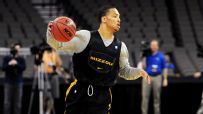 Peter G. Aiken/USA TODAY SportsCan Michael Dixon make an immediate impact at Memphis?
Myron Medcalf: I think Memphis will get a major boost from Michael Dixon. The Tigers have veteran guards, but Dixon's presence could help the Tigers emerge as legit threat to Louisville for the inaugural American Athletic Conference title.
C.L. Brown: Michael Dixon was arguably the missing piece that kept Missouri from flying higher last season. He should bring some stability to a Tigers lineup that averaged 14.5 turnovers last season.
YOU GOTTA SEE THIS
Since 2011, when Shaka Smart led his suddenly scorching Rams from the First Four in Dayton to the Final Four in Houston, VCU men's basketball has been on the steady, comfortable ascension portion of the backlash curve. More specifically, the defensive style pioneered by Smart -- HAVOC, he calls it, in all capitals -- has become the hottest, and best-branded, system in all of college hoops. The best part? It works.
For the rest of this post, click here.
---
The WAC you'll see in 2013-14 looks almost nothing like the WAC of last season or years prior. The Mountain West vacuumed up Utah State (the WAC hoops standard-bearer for much of the past decade, featuring one of the best home crowds in the country) and San Jose State. Denver took off for the Summit League. Louisiana Tech and UTSA joined a hollowed-out Conference USA. Texas State and UT Arlington found a home in the Sun Belt. That's -- count 'em -- seven teams from a previously 10-team league that will no longer be in the conference in 2013-14.
For the rest of this post, click here.
They Said It
NCAA rules clear SA may not accept money for items they sign, based on information provided by Manziel that did not happen in this case.

— Seth Greenberg (@SethOnHoops) Aug. 28, 2013
ESPNU Basketball Podcast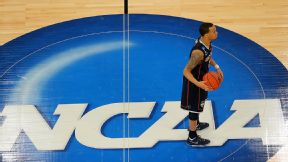 Adam Hunger/USA TODAY SportsAndy Katz and Seth Greenberg offer their thoughts on Kentucky vs. UConn.
Andy Katz and Seth Greenberg check in with newsmakers from around college basketball.