Daily Word: Ready to hear from the little guys?
Every weekday, Andy Katz leads a panel of our college hoops experts on a discussion about the biggest issues, trends and themes happening in and around college basketball.
1. Which non-major conference team has a chance to really make some noise?
Andy Katz: Harvard qualifies in this category. The Crimson have a chance to be a legit top 25 team throughout the season. But Harvard will need to be a factor in its nonconference schedule. The Crimson have a weaker slate, but have winnable games at Colorado, at home against Boston College and even at Connecticut. These will be benchmark games for Harvard. Win and the Crimson can be relevant all season long.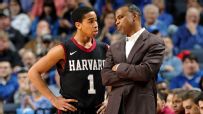 Joe Murphy/Getty ImagesHarvard could be the non-major that does some major damage.
Dana O'Neil: Sometimes things are obvious for a reason, as is the case here. The obvious and the right answer is VCU. Shaka Smart returns four of his five starters, including Juvonte Reddic and Briante Weber. Pair that with the Rams' HAVOC defense and you've got a team poised to do big things.
Eamonn Brennan: There are a handful of obvious candidates: VCU, Gonzaga, Wichita State -- even Harvard, which might be more talented and experienced than any true "mid-major" in the country. Don't lose Saint Louis in the shuffle. Losing Cody Ellis and Kwamain Mitchell won't be easy, but Dwayne Evans could be a breakout star in his senior season, while Jordair Jett, a lockdown perimeter stopper, should anchor another elite Billikens defense.
2. That said, which potential top 25 team outside the power five missed a chance to have a stellar schedule?
Andy Katz: Wichita State tried to upgrade, but going to the Final Four isn't going to bring in schools to Koch Arena. The Shockers have a good "name" schedule, but it may include only two NCAA teams when the bids are announced. The return game against Tennessee is the best of the bunch and going to Saint Louis gives the Shockers two high-profile games. Winning at Tulsa and Alabama, or even taking out Davidson at home, is hardly a walk, but none of those teams may make the NCAAs.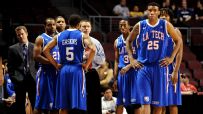 Jennifer Stewart/USA TODAY SportsDid Louisiana Tech miss a big chance to capitalize on a good season?
Dana O'Neil: After missing out on the NCAA tournament last season despite 27 wins, I would have thought Louisiana Tech would have done more to shore up its nonconference slate. The game against Oklahoma State is impressive, but otherwise, there's only Saint Mary's and Oklahoma to bump the RPI.
Eamonn Brennan: Scheduling at a place like Houston isn't easy, especially when the rest of the country's coaches are on to your secret -- that even without leading scorer Joseph Young, who transferred last spring, the Cougars are as able now as at any time in the past 20 years. Which is why it's especially disappointing to see Houston's schedule. The Cougars have the Legends Classic, a road trip to down Texas A&M and literally nothing else. That's a lot of pressure to put on a young team in its first season in the American.
3. What issue could still disrupt P.J. Hairston's season at North Carolina?
Andy Katz: The NCAA cannot ignore the rental car/extra benefit issue for Hairston. The NCAA's investigative credibility is at an all-time low. And UNC can ill afford to appear to be slacking. So due diligence must be done. But if Hairston is disciplined for any games this season it might be because of the rental car/associations rather than any legal issues he incurred.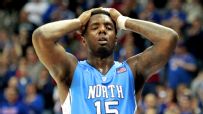 Ed Zurga/Getty ImagesCan P.J. Hairston sidestep the roadblocks that could come up?
Dana O'Neil: The biggest issue for P.J. Hairston is P.J. Hairston. I don't put a lot of stock in the NCAA investigation, not based on the organization's recent track record, at least. Roy Williams will suspend Hairston as long as he sees fit but in the end, this comes down to Hairston's maturity. He can disassociate himself from bad influences and questionable behavior and become a great player, or this mess of a year will be his final song.
Eamonn Brennan: Being cited for traffic violations a few times is not a very big deal. Being cited for traffic (or parking) violations multiple times in rental cars whose four-figure receipts lead back to the name and/or address of a convicted felon -- that is a big deal, at least where the NCAA is concerned. The chances of a hollowed-out NCAA enforcement staff breaking open a case like that in time to affect the 2013-14 season seems slim to me, but hey, Johnny Manziel was back for the second half against Rice. Anything is possible.
---
• Earlier Words: Sept. 30 »
YOU GOTTA SEE THIS
Weber State didn't get worse. It got better. Randy Rahe's team won four more games (30-7) than in 2011-12. Its defense got drastically better, zooming from 258th in the country to 99th. That would have been the biggest surprise, but for this: The Wildcats' offense didn't regress a bit.
For the rest of this post, click here.
---
VMI has a system. That system is a joy to watch, but it does not yield consistent victories. VMI's coach (Duggar Baucom) has stuck with that immensely enjoyable system even as it has failed to bear consistent fruit -- and risked becoming a sideshow -- because he thinks it's the best way his team can play basketball.
For the rest of this post, click here.
They Said It
UConn has an outstanding backcourt led by Napier/Boatwright and GW transfer, Lason Kromah, will really help. Development of 1 "big" is huge.

— Fran Fraschilla (@franfraschilla) Aug. 28, 2013
ESPNU Basketball Podcast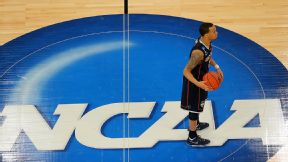 Adam Hunger/USA TODAY SportsAndy Katz and Seth Greenberg offer their thoughts on Kentucky vs. UConn.
Andy Katz and Seth Greenberg check in with newsmakers from around college basketball.