Daily Word: Which coach might be lured to NBA?
Every weekday, Andy Katz leads a panel of our college hoops experts on a discussion about the biggest issues, trends and themes happening in and around college basketball.
1. As Brad Stevens starts his first week of practice as Celtics coach, who might be the next college coach to leave for the NBA?
Andy Katz: Stevens came out of left field, so it's hard to go with a traditional name. But I'm not convinced Michigan State's Tom Izzo and Kansas' Bill Self won't one day try the NBA. If I had to go with one name that could go first, though, I would lean toward Iowa State's Fred Hoiberg. Hoiberg has a strong NBA background and is well-liked by all in the league. He would fit in smoothly.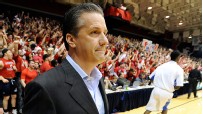 AP Photo/Don WrightWill John Calipari ever take a shot at the NBA?
C.L. Brown: I'm not convinced that Kentucky's John Calipari wouldn't return to the league, but I think a former assistant during his stint in New Jersey is more likely. That would be Rutgers' first-year coach Eddie Jordan, who has 19 years of NBA coaching experience, including six-plus seasons as a head coach. Jordan led the Washington Wizards to .500 or better records for four straight years. The franchise didn't have a .500 record in the five seasons prior to Jordan taking over and hasn't had one since he was fired 11 games into the 2008-09 season.
Myron Medcalf: Iowa States Fred Hoiberg comes to mind first. Last year, he signed a contract extension that included a $500,000 buyout if he decides to go pro in the future. And I think thats a potential setup for a guy who has been an NBA executive and always assumed hed start in the NBA once he began to pursue coaching after his pro career ended due to a heart ailment.
2. How much do you believe in Boise State?
Andy Katz: Boise State coach Leon Rice makes it easy to believe. Rice said on our ESPNU college basketball podcast last week that the Broncos are the only NCAA tournament team from 2013 with all five starters back and eight of the top nine. The Broncos are embracing the potential top-two selection in the Mountain West. Rice wanted the road game at Kentucky in December as a barometer. He will get it and we'll all know then where Boise stands nationally.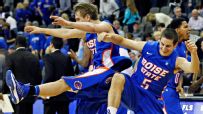 Matt Ryerson/USA TODAY SportsWill Boise State be celebrating another big year?
C.L. Brown: Boise State got its growing pains out of the way during its wonder year last season. With all five starters back including leading scorer Anthony Drmic, they won't have a bewildered look going into Rupp Arena for their Dec. 10 showdown with Kentucky. And no one should be surprised to see them springboard off last season's NCAA tournament appearance -- the Broncos' first since 2008 -- with a deeper run this season.
Myron Medcalf: I believe that Boise State has the potential to win the Mountain West crown and make noise in the NCAA tournament. Leon Rices program returns some of the leagues most talented players in 2013-14, including Derrick Marks and Anthony Drmic. But the Broncos will stumble again if they dont improve their defense (108th overall in adjusted defensive efficiency last season, per Ken Pomeroy).
3. How has Eddie Jordan handled the transition at Rutgers?
Andy Katz: Very well. Jordan weathered the degree issue by saying he would go back to school. He has done that. He also didn't overreact by getting players who couldn't help him. The Scarlet Knights got all their waivers for this season. Rutgers has a real shot to be much more competitive in the American Conference than originally projected. Jordan may not have been the first choice, but he was the one coach who wanted this job more than any other because he understood the place. As a result, the Scarlet Knights should come out of the Mike Rice chaos quicker than predicted.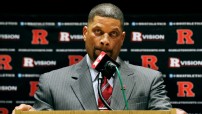 AP Photo/Mel EvansEddie Jordan has settled in at Rutgers after a shaky start.
C.L. Brown: I agree with Andy in that Jordan could have sheepishly bowed out after the degree issue became public. Instead, he proved that he wants to be at Rutgers. For a job as tough as the one in Piscataway, sincerely wanting to be there without thought of the next job is part of the battle. Losing transfers like Eli Carter will hurt in season one, but Jordan will build a tournament team before he's done.
Myron Medcalf: Given the turmoil he encountered the day he returned to his alma mater, I think hes handled it well. When he was criticized for not having a college degree (despite the fact that his official bio initially stated otherwise), he enrolled in courses. And although hes clearly in a mess created through the sins of his predecessor, hes remained positive in this uphill battle.
---
• Earlier Words: Oct. 1 | Sept. 30
YOU GOTTA SEE THIS
That's a big part of why Utah State's move is so exciting: The Mountain West will give [coach Stew] Morrill a full slate of quality opponents for the final two months of each season, sunsetting his scheduling woes once and for all. It's a major development.
For the rest of this post, click here.
---
But Stony Brook has three starters returning, and a host of promising young players. The best of them last season was 6-foot-8 freshman forward Jameel Warney, who shot nearly 62 percent from the field, cleared double-digit rebounding rate tallies on both ends of the floor, blocked 6.6 percent of opponents' available shots, and gradually began to fit the archetype of the dominant mid-major star.
For the rest of this post, click here.
They Said It
Big man Stephen Hurt has selected Kansas State. A true Center that was in high demand.

— Fran Fraschilla (@reggierankin) Aug. 28, 2013
ESPNU Basketball Podcast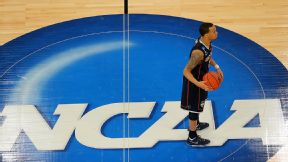 Adam Hunger/USA TODAY SportsAndy Katz and Seth Greenberg offer their thoughts on Kentucky vs. UConn.
Andy Katz and Seth Greenberg check in with newsmakers from around college basketball.