Daily Word: Impact of new practice rules
Every weekday, Andy Katz leads a panel of our college hoops experts on a discussion about the biggest issues, trends and themes happening in and around college basketball.
1. What kind of sense are you getting on how coaches are handling the 30 practices in 42-day window?
Andy Katz: There has been a wide spectrum. Florida's Billy Donovan is essentially ignoring it and starting on Oct. 11. A few others like Nebraska's Tim Miles started on the first day last weekend. The most consistent thing I've heard is that this new schedule will allow players to get three days off in a row in October. If the time is managed well then it could be a way to keep the players fresh before the glut of games in mid-November. The holiday season gets long and the players can get travel weary. Using this early-season wisely will be critical for the players and staff to be mentally sharp.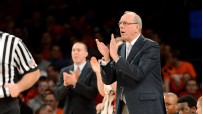 Tony Spinelli/ESPNMore practice? Who doesn't like more practice?
Dana O'Neil: I've never met a coach who didn't like more practice time and/or more time with his players, so I'd say the reviews on the new practice schedule are mostly good. The one concern I've heard is figuring out the balance -- trying to figure out how hard to go in practice and when to really turn on the jets. It's a long stretch before games, and some of the coaches I've spoken to are still tinkering with how to use the extra time, though they are quite happy to have it.
Myron Medcalf: Some like it, some don't. It's not a major change for everyone. Some coaches are just doing what they've always done, despite the change, while others are utilizing the longer stretches between practices to their collective advantage. But figuring out a balance has been their greatest challenge.
2. In light of Lane Kiffin's firing, how did USC athletic director Pat Haden handle the midseason firing of Kevin O'Neill last season?
Andy Katz: I've never been a huge fan of the midseason or early-season firings. But I can see it if the players have tuned out the coach and if the AD is going to do it anyway later in the season. But it was a bit misleading that Haden was really searching for a new head coach during the winter. He may have had a few candidates, but went with the hot name in March in landing Florida Gulf Coast's Andy Enfield. It may work out wonderfully for USC. But let's not assume the extra time is suddenly used to vet coaching candidates. The ADs that make these moves usually try to land the NCAA tournament name in March before someone else.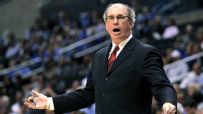 Stephen Dunn/Getty ImagesKevin O'Neill was fired mid-season by USC. Do in-season firings make sense?
Dana O'Neil: The Lane Kiffin firing was merely the Return of the Kevin O'Neill Dismissal. Not just the midseason timing of it, but the fact that it really could have and probably should have come at the end of the previous season. O'Neill finished 6-26 the year before he was let go and won one conference game. Haden would have been justified to pull the plug then and save USC a half-year in coaching limbo. Of course, if Haden didn't wait, Florida Gulf Coast wouldn't have exploded onto the scene and Andy Enfield likely wouldn't have been on Haden's radar. So I suppose all's well that ends well.
Myron Medcalf: I don't think in-season firings are ever smooth operations. So I think Haden handled it as well as he could have four games into Pac-12 play. We all knew that it was just a matter of time before USC's administration went in a different direction.
3. Who can become the benchmark program in the Horizon League, two years removed from losing Butler?
Andy Katz: Valparaiso can be the program of record as long as Bryce Drew is the head coach. But the Crusaders will have plenty of challengers. There is no reason why Detroit, Wright State, Cleveland State, Green Bay and Milwaukee can't challenge the Crusaders on a regular basis. If there is a sleeper program, it could be Illinois-Chicago. The Flames have the best city to recruit from, decent interest and one of the most engaging coaches in the league in Howard Moore.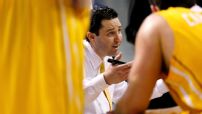 Gregory Shamus/Getty ImagesBryce Drew has made Valparaiso the standard in the Horizon League.
Dana O'Neil: Back before mid-majors became all the March rage, Valparaiso staged its Cinderella moment with Bryce Drew's 1998 shot to beat Ole Miss. With Drew back as head coach and back-to-back regular season Horizon League titles, the more name-branded Crusaders have the best shot to take over Butler's perch. But Valpo, which nosedived itself out of an NCAA tourney bid two years ago, needs to remain vigilant and consistent or else Wright State, Cleveland State or Wisconsin-Green Bay will push it off the top of the hill.
Myron Medcalf: Wright State excelled last season with young talent and junior college transfers. And when you're a mid-major in a recruiting hotbed like Ohio, you have to operate that way. I think Billy Donlon has a formula that could work well for this program this year and into the future, if he can continuously secure talented underclassmen to anchor his team.
---
• Earlier Words: October: 10/2 | 10/1 | Sept. 9/30
YOU GOTTA SEE THIS
This is, by and large, the way the rest of the Horizon League has traditionally played its basketball. Deliberate, defensive. Save Detroit, which cracked the vaunted 70-possessions-per-game mark last season, and Youngstown State, which finished at around 67 per, the Horizon League was its usual self. Five teams averaged fewer than 64 possessions per game. Six fell below 65, and Valparaiso finished at 65.4. This is not a fast league. Could it become one?
For the rest of this post, click here.
---
The 2012-13 season could have been a historic one for the Patriot League. Only two teams, Bucknell and Lehigh, have ever won NCAA tournament games as members of the Patriot League (Navy did its David Robinson-inflicted damage back when the Midshipmen were in the Colonial); this is not a conference in the habit of sending multiple teams to the NCAA tournament. But both the Bison and the Mountain Hawks had every reason to expect participation.
They Said It
Locking in Creighton or Marquette over Georgetown could be mistake. Don't sleep on Hoyas if they get balanced scoring. Will defend/board.

— Andy Katz (@espnandykatz) Aug. 28, 2013
ESPNU Basketball Podcast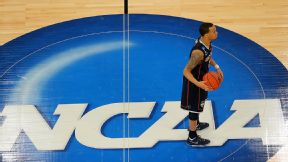 Adam Hunger/USA TODAY SportsAndy Katz and Seth Greenberg offer their thoughts on Kentucky vs. UConn.
Andy Katz and Seth Greenberg check in with newsmakers from around college basketball.