Daily Word: Wooden Award welcoming new faces
Every weekday, Andy Katz leads a panel of our college hoops experts on a discussion about the biggest issues, trends and themes happening in and around college basketball.
1. What do you think about the Wooden Award allowing freshmen and transfers in the preseason poll after not allowing them in previous years?
Andy Katz: It's about time. I've been a long-time voter and it made absolutely no sense that the Wooden Award was holding onto archaic views. If a freshman or transfer had a legitimate shot to be considered -- even in the preseason (like Kevin Durant) -- then there was no reason to omit the name from the list. Freshmen and transfers are now going to be in the conversation for player of the year and all-American lists. Ignoring their presence in the preseason would be naive and, quite simply, not smart/ignorant.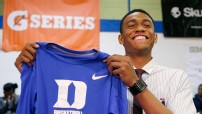 AP Photo/Charles Rex ArbogastJabari Parker might make the early Wooden Award list. Is including freshmen a good idea?
Eamonn Brennan: Two reasons why this is a good thing: One, the preseason polls are designed to be quick glances at the landscape for casual fans who don't keep up with recruiting and transfers, and if you don't include those in preseason polls, you're presenting a strangely limited version of that information. The other reason is that preseason awards polls are otherwise pointless, so why not?
Myron Medcalf: If the goal is to identify the best players in America, then it only makes sense to include freshmen and transfers. Today's era of college basketball certainly features a multitude of players who warrant that honor each year – see Andrew Wiggins, Julius Randle and Jabari Parker entering 2013-14. And with so many athletes switching teams in the middle of their collegiate careers, there are usually a variety of elite transfers out there, too. It's a good move for the sport.
2. How has Kansas handled Andrew Wiggins so far?
Andy Katz: The Jayhawks aren't shielding him. Wiggins will be at Big 12 media day. They know the deal. Wiggins will be the featured face for Kansas this season, competing with Oklahoma State's Marcus Smart for the player of the year in the Big 12. Some schools would attempt to shield their star player for the first few months of the season. Kansas isn't new to this at all. The Jayhawks can handle the attention. Their players are well-prepared for the media crush. It would be disappointing if Wiggins was sheltered and kept quiet.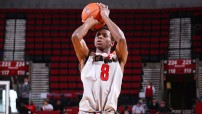 Sam Forencich/Getty ImagesKansas gets Andrew Wiggins' talent and all the attention that comes with it.
Eamonn Brennan: Still very early days here, but it seems like they've done a nice job. One of the biggest positives we always heard about Wiggins, beyond the otherworldly talent, was that he was a relatively grounded kid who didn't really go in for the whole 17-year-old hoops star ego trip thing. He's done interviews and a shoot for GQ at Kansas, but it seems like they've thus far struck the right balance between letting him be out front without becoming overwhelmed.
Myron Medcalf: I think KU has done a solid job of creating whatever buffer can be erected for a kid entering the college scene with so much hype. Other than a few YouTube clips of Wiggins dunking on Jayhawks alumni, we haven't really heard much about him. But the floodgates of scrutiny and attention will open as soon as he steps onto the court for the first time.
3. With A-10 media day next week, what does the league have to do to build on its identity?
Andy Katz: The league lost Xavier, Temple, Butler and Charlotte. Butler was only around for one season. Replacing Xavier and Temple won't be easy. VCU will be the team of record, and that means Shaka Smart has to continue to be visible. It would help if Saint Joseph's was relevant so Phil Martelli could be a national spokesperson for the league again. If Rhode Island were to rise then Danny Hurley would become more familiar. Saint Louis, Richmond and Dayton will always be strong, but the programs can't be vanilla and need to have a bit more pop. The canvas is open now for the league to paint a new identity.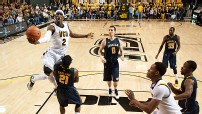 Scott K. Brown/Getty ImagesCan VCU help lift the Atlantic 10's identity?
Eamonn Brennan: But that's the problem: What is the A-10's identity? Before this season, I would have said Temple and Xavier led the way. Now those two are gone. VCU, a team that joined the league last season, is in charge, and La Salle and St. Louis are probably the second-biggest attractions. Realignment has cycled through the A-10 in some pretty weird ways; it'll be a decent league this season, but hardly a coherent one.
Myron Medcalf: The Atlantic 10 needs its best teams to rise in the coming years. This is a conference that's known for its balance but not an ability to produce true contenders. If VCU, Saint Louis and a few other teams manage to crack the Top 25 polls -- and stay there -- while making an impact in the postseason, the A-10 will warrant more respect and attention this season and beyond.
---
YOU GOTTA SEE THIS
Fans of Mid-American Conference basketball, please don't take this the wrong way: The MAC is not exactly the most exciting conference in the world.
In some very real ways, this is a compliment. The MAC has been relatively untouched by conference realignment in recent years. Members know each other well and play each other tough. Road trips are geographically compact. Rivalries are regional, and real.
The reason this doesn't always lead to excitement, at least for those of us with a full hoops plate, is that the MAC has always felt relatively predictable. It would produce a decent team, maybe two, would send its tournament champ to the NCAA tournament, and maybe there'd be an upset, and maybe not.
ESPNU Basketball Podcast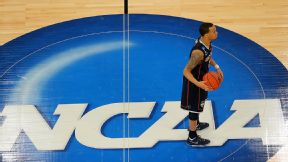 Adam Hunger/USA TODAY SportsAndy Katz and Seth Greenberg offer their thoughts on Kentucky vs. UConn.
Andy Katz and Seth Greenberg check in with newsmakers from around college basketball.