Daily Word: Who decides P.J. Hairston's fate?
Every weekday, Andy Katz leads a panel of our college hoops experts on a discussion of the biggest issues, trends and themes happening in and around college basketball.
1. How much should North Carolina coach Roy Williams have a say in P.J. Hairston's playing status?
Andy Katz: This needs to be a university decision. The academic adviser who quit in protest had a point, but took it too far in calling P.J. Hairston a criminal. But the game status should be taken out of Williams' hands for a number of reasons, because he can easily be the good cop by not having to decide on such discipline matters, and just focus on coaching the team that is in front of him.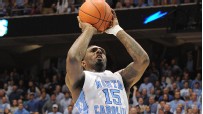 Cal Sport Media/AP ImagesP.J. Hairston's status has caused a lot of controversy in Chapel Hill.
C.L. Brown: Of course Roy Williams should have a say in P.J. Hairston's playing status -- just not the only say. Williams would open himself up for criticism with the appearance of a light punishment, or he could be too heavy-handed to avoid such an appearance. At the very least, athletic director Bubba Cunningham should interject in this situation.
Dana O'Neil: If there is no university-mandated suspension that goes along with Hairston's transgressions, then this is ultimately Roy Williams' decision. That is the burden for all head coaches, and it's not an easy one. The conflicts of interest are inherent -- Williams needs Hairston to play -- but that is also the responsibility of the coach, to decide for the greater good.
2. What do you make of players declaring that this is their last season in college, as Arizona State's Jahii Carson and Oklahoma State's Marcus Smart have done?
Andy Katz: No one doubted whether either player was going to come back for another season. The expectation of Andrew Wiggins at Kansas and Julius Randle at Kentucky leaving after one season is apparent, as well, and announcing their decisions now takes all of the questions away. The players can focus on the season.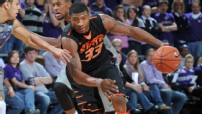 Peter G. Aiken/Getty ImagesMarcus Smart has taken the guessing out: This is his final year at Oklahoma State.
C.L. Brown: The only problem I see is when a player backs himself into a corner. What if the season doesn't go as well as anticipated and their NBA projection drops? Players are better off waiting until the season is over to make their declarations.
Dana O'Neil: I prefer it to lying or playing coy, which is what so many players used to do when asked about their obvious futures. So really I have no problem with it. The only caveat I would offer is not to the players offering the promises, but the ones receiving them. These proclamations do not obligate a player to leave school, nor should they be taken as absolutes.
3. Who could be the next La Salle out of the A-10 this season?
Andy Katz: UMass has flirted with making the NCAA tournament, but it hasn't been able to find that consistency. VCU coach Shaka Smart made it clear that Minutemen guard Chaz Williams may be the best player in the league. If that's the case, then UMass may have something special this season.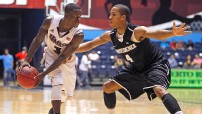 AP Photo/Ricardo ArduengoAll eyes in the Atlantic 10 will be on UMass' Chaz Williams.
C.L. Brown: George Mason looks to follow the first-season success of both Richmond and VCU. Those programs moved from the CAA to the Atlantic 10 and posted double-digit conference wins. The Patriots return all five starters to a team that had a win over Virginia last season. Senior guard Sherrod Wright will earn a spot among the league's top scorers.
Dana O'Neil: If you're looking at the immediate future, then the answer is UMass. Chaz Williams is exactly the sort of player you build a season around. If you're looking longer term, I think a team like Richmond or Dayton, programs that have had success in the past, have all of the tools to get back to the top.
---
• Earlier Words: October: 10-7 » 10-4 » 10-3 » 10-2 » Oct. 1 | September: 9-30 »
YOU GOTTA SEE THIS
Now, as we enter Year 1 of the post-Dunk City era, the biggest Atlantic Sun preseason question goes a little like this: Does Dunk City have a second act? … On its face, there's no reason why it shouldn't. Florida Gulf Coast returns most of last season's core, including (especially) point guard Brett Comer.
For the rest of this post, click here.
---
Finally, Robert Morris' long-deserved payoff looks imminent. Russell Johnson was the lone contributor the Colonials graduated this past spring; everyone else, including five rising seniors, are back for one last crack. Even better, LIU Brooklyn lost a host of four-year players, the core of its recent run of success.
For the rest of this post, click here.
They Said It
Breaking News: ESPN 100 #54 C Elbert Robinson has informed me he has committed to LSU over finalist Ohio St, Ga Tech & Neb @TXboysbasketbal

— Reggie Rankin (@reggierankin) Aug. 28, 2013
ESPNU Basketball Podcast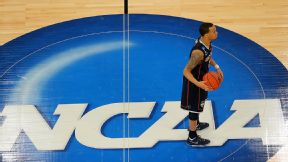 Adam Hunger/USA TODAY SportsAndy Katz and Seth Greenberg offer their thoughts on Kentucky vs. UConn.
Andy Katz and Seth Greenberg check in with newsmakers from around college basketball.