Daily Word: Challenges ahead for Butler
Every weekday, Andy Katz leads a panel of our college hoops experts on a discussion of the biggest issues, trends and themes happening in and around college basketball.
1. What will be the toughest challenge for new Butler coach Brandon Miller?
Andy Katz: Brad Stevens wasn't a dominant presence with his personality, but he was the identity of the program. Miller can't blend into the background. The Butler way is about team and, to some extent, anonymity of the individual. But Miller must assert himself as the unquestioned leader and face of this program.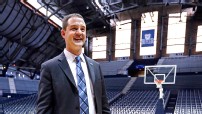 AP Photo/Michael ConroyBrandon Miller has a tall task in replacing Brad Stevens at Butler.
Eamonn Brennan: The 2013-14 season -- when Butler might be a tad thin at some key spots to make the tournament anyway -- is small potatoes compared to the years ahead. In a matter of five years, Brad Stevens' success took the Bulldogs from the Horizon League to the A-10 to the new Big East, and the difference between the three is less about fuzzy things such as prestige and recruiting than it is cold, hard cash. Stevens may have gotten Butler to the cusp, but the definitive work, the work that will transform Butler from a mid-major in spirit into a power-conference stalwart, begins now.
C.L. Brown: Navigating the new Big East will be a bigger challenge for Miller than escaping Brad Stevens' shadow. The reconfigured league will be deeper and tougher to navigate than the Bulldogs' former homes in the Horizon and Atlantic 10 conferences. The Bulldogs might find themselves unable to separate from the pack this season.
2. What do find most interesting about Marquette's Buzz Williams?
Andy Katz: Williams isn't a self-promoter. He's a grinder. He abhors any kind of attention about how he coaches and his teams mimic his energized work ethic every season.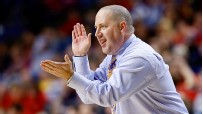 Kevin C. Cox/Getty ImagesIt's never boring around Buzz Williams, that's for sure.
Eamonn Brennan: It's easy to get sidetracked by Buzz Williams' massive personality. The stevedore's voice, the intense timeouts, the pinstripe suits, the comedic news conferences -- all of it can serve to distract from this fact: Other than the aforementioned Stevens, no coach in America has used advanced statistics, analytics and scouting to better advantage than Williams at Marquette. He's as hard-working a coach as any in the country, sure, but he's also one of the smartest.
C.L. Brown: I've never looked at Buzz Williams' rosters and been overwhelmed by their talent. Yet seemingly every season, Williams finds a way to get them to play on an elite level. That's why despite Vander Blue's unexpected exodus in the spring, I expect Williams to have the Golden Eagles near the top of the Big East.
3. What kind of case does Georgetown's Josh Smith have that would make him eligible instead of waiting until mid-December?
Andy Katz: If Smith wins an appeal it could shatter the mid-semester transfer rule, opening up a new round of free agency. Smith played in six games for UCLA. There wasn't a hardship, but in the current climate of earning waivers Smith might as well attempt to play after sitting out only one semester.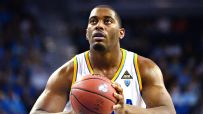 Harry How/Getty ImagesWhat's the right decision on Josh Smith and his playing status?
Eamonn Brennan: Judging by NCAA precedent, almost no case at all. But NCAA precedent is a fickle thing, especially these days. Smith would have to prove some mitigating circumstance for the eligibility office to deviate from its usual protocols. I have no idea what that would be, but it would have to be awfully convincing for the transfer-obsessed NCAA to be lenient on a midseason move.
C.L. Brown: The fair thing to do would be sit Josh Smith out the six games that he played for UCLA before transferring. This isn't about being fair. It would seem Smith would be denied his request, if for no other reason than to discourage others from trying to follow in his footsteps.
---
• Earlier Words: October: 10-8 » 10-7 » 10-4 » 10-3 » 10-2 » 10-1 | September: 9-30 »
You Gotta See This
But the biggest -- certainly the unifying -- story is what all of those disparate parts create in unison. What is the Big East, exactly? It's nothing like a mid-major, obviously. Is it a power league? Can you even have a "power" league without football? Has the landscape simply changed too much? In a year's time, how will we regard the first season of the new Big East?
When the "Catholic 7" staged its insurrection, walked away with the Big East name, and snapped up Butler, Creighton and Xavier, college basketball fans roundly applauded, and why not? We agree with Kalscheur: This is what the Big East should be. But Dave Gavitt's Big East was created in a different time. Is the great-basketball, no-football model still viable anymore? Can you really thread that needle? What if, in a year, all of these questions are silly?
For the rest of this post, click here.
ESPNU Basketball Podcast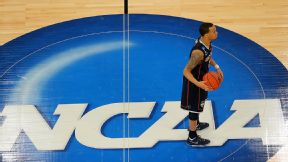 Adam Hunger/USA TODAY SportsAndy Katz and Seth Greenberg offer their thoughts on Kentucky vs. UConn.
Andy Katz and Seth Greenberg check in with newsmakers from around college basketball.