Daily Word: Who can steal McDermott's thunder?
Every weekday, Andy Katz leads a panel of our college hoops experts in a discussion of the biggest issues, trends and themes happening in and around college basketball.
1. Who could emerge as the top challenger to Creighton's Doug McDermott as Big East Player of the Year?
Andy Katz: Marquette's Jamil Wilson or Georgetown's Markel Starks should have monster seasons. They will have even more pressure on them to produce this year. McDermott will be tough to dislodge, but I'll lean toward Wilson now as a possible challenger since the Golden Eagles could win in the inaugural season of the new Big East.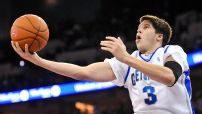 Dave Weaver/USA TODAY SportsDoug McDermott should own the Big East. But if he doesn't …
C.L. Brown: It's going to take a huge effort to keep McDermott from claiming the league's player of the year title, but Xavier point guard Semaj Christon could have the season to do it. Christon averaged 15.2 points and 4.6 assists last season and can not only produce a statistically satisfying season to merit the award, he has the talent to elevate his team into the league's elite.
Dana O'Neil: I think Georgetown might once again be underrated headed into this season, which is why I think Markel Starks has a chance to challenge what looks to be a prohibitive favorite in McDermott. The Hoyas don't lose a lot in people, but they lose a lot without Otto Porter Jr. Someone will have to make that up. Starks could be the guy.
2. Where will Kentucky find its hardest road matchup in the SEC?
Andy Katz: The Wildcats won't go 40-0. This is not UNLV of 1990-91. Kentucky catches a break not having to go to Tennessee, but a possible hiccup could come Jan. 28 at upstart LSU with Johnny O'Bryant, especially after a three-game homestand that could have the Wildcats feeling a bit comfortable.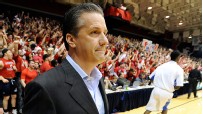 AP Photo/Don WrightWill John Calipari ever take a shot at the NBA?
C.L. Brown: I'd really like to say a team other than Florida, but I don't think schools in the league's middle pack will be strong enough to contend with UK. Tennessee is the one team other than the Gators who could give the Wildcats trouble, but it won't host Kentucky in Knoxville. So the Cats' toughest SEC road game will be their regular-season finale in Gainesville on March 8.
Dana O'Neil: Where won't they? Every place the Wildcats go the fans will be crazed and the opposing players ready to pull off the upset. That said, not everyone is equipped to actually make an upset, and outside of the last game in Gainesville, my money is on Missouri. With transfers in the mix, the Tigers are a little more veteran and could be able to give the Cats a real battle.
3. Which ACC newcomer will have the toughest adjustment?
Andy Katz: Syracuse will be fine due to its niche zone defense. And they have the length and talent that Jim Boeheim said could make this the best defensive team he's had. Notre Dame has an experienced perimeter. The easy answer then is a retooling Pitt, although the Panthers don't have to play at Duke.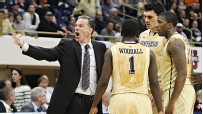 Charles LeClaire/USA TODAY SportsThe adjustment to the ACC could be rough for Jamie Dixon and Pittsburgh.
C.L. Brown: Syracuse has a zone that will give ACC teams some problems the first time they face it. Notre Dame has an experienced backcourt in seniors Jerian Grant and Eric Atkins that should make a seamless transition. That leaves Pittsburgh, which could have a problem scoring -- especially from deep with the departure of Tray Woodall.
Dana O'Neil: Pittsburgh, not just because the Panthers are rebuilding but because of how they play. Jamie Dixon's teams are built on blue-collar scruff and defense, and I'm not sure how that will fly in the ACC, with ACC officials and with the new rule changes. That could be a recipe for some frustrating games for Pittsburgh early on.
---
Earlier Words: October: 10/15 » 10/14 » 10/11 » 10/10 » 10/9 » 10/8 » 10/7 » 10/4 »
You Gotta See This
The conference realignment wave that hit these past few years left a lot of detritus in its wake. It turned athletic directors and universities into pimply high school kids approaching their would-be prom dates. It proved that football is an unstoppable entertainment force. It cemented the skyrocketing status of live sports in the current marketplace. It left hundreds of schools scrambling to find shelter. It terraformed the college basketball landscape in profound ways. But its crowning achievement -- the one result that says just about everything you need to know about just how fungible these silly collegiate athletics really are -- is the American Athletic Conference.
For the rest of this post, click here.
---

It's an easy punch line. From Indiana to SWAC in less than 15 years. I'm sure I've made it before. But to reduce (Mike) Davis' trajectory to "one-time successor to Bobby Knight, now coach in a league whose athletic departments often struggle to keep air in the basketballs" does a disservice to everyone involved, Davis especially. The man didn't need the Texas Southern job. If he cared about status, he probably wouldn't have.
For the rest of this post, click here.
They Said It
Hall Of Fame Coach Pete Carril is in town to check out practice this week. #aueagles& http://instagram.com/p/fgDm67Svmv/

— Scott Greenman (@coach_greenman) Aug. 28, 2013
ESPNU Basketball Podcast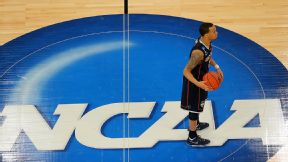 Adam Hunger/USA TODAY SportsAndy Katz and Seth Greenberg offer their thoughts on Kentucky vs. UConn.
Andy Katz and Seth Greenberg check in with newsmakers from around college basketball.