Daily Word: Faster pace -- UCLA or USC?
Every weekday, Andy Katz leads a panel of our college hoops experts in a discussion of the biggest issues, trends and themes happening in and around college basketball.
1. Which Pac-12 team in L.A. -- USC or UCLA -- will play more uptempo this season?
Andy Katz: USC coach Andy Enfield has talked a big game about playing Dunk City style. But I'm waiting to see if the personnel fit the style -- this season. UCLA may actually be more adept to run this season if Kyle Anderson can push the basketball and Jordan Adams is completely healthy.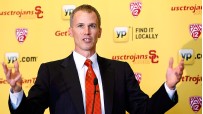 AP Photo/Damian DovarganesAndy Enfield is ready to run at USC. He's not sure what UCLA will do.
Dana O'Neil: Compared to Ben Howland and Kevin O'Neill's styles both will look like they are going at hyper speed, but my money is on Dunk City West to go quicker. This is really a transitional season for the Trojans. As he awaits the arrival of a terrific class next year, Andy Enfield can hope his uptempo style is an equalizer for a team that needs to mask some deficiencies.
Eamonn Brennan: It has to be USC, and not only because Andy Enfield has taken his show on the road. Steve Alford's teams almost never played uptempo at New Mexico, and did so rarely at Iowa. And I'm not sure his crop of inherited talent -- particularly a unique asset like Kyle Anderson, whose nickname as a prep star was, no joke, "Slo-Mo," or bruising big man Tony Parker -- would be best used in a fast-paced system anyway.
2. Which SEC team may have the hardest time with the officials' point of emphasis on handchecking?
Andy Katz: Tennessee. The Vols play a physical style and will have to adjust on how they defend, using their feet more than their hands. The Vols will have to be even more creative with rules that are geared more toward the offensive player.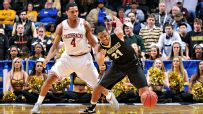 Frederick Breedon/Getty ImagesWill Arkansas have some issues as officials put an emphasis on handchecking this season?
Dana O'Neil: It might be Arkansas. Mike Anderson's version of "40 Minutes of Hell" requires his guards to get after the ball and get after people. That could result in some whistles where there weren't any before.
Eamonn Brennan: I'll do two: Arkansas and Alabama. The Razorbacks, who press constantly in Mike Anderson's system, led the SEC in opponents' turnover rate last season. Alabama, which thrives on hard-nosed half-court defense, finished second. It was already hard to force turnovers at high rates without fouling; good luck with it now.
3. Which transfer will have more of an impact -- Jermaine Marshall at Arizona State or Mike Moser at Oregon?
Andy Katz: This is a tough call. Moser was a tremendous rebounder two seasons ago for UNLV, but he may be more of a shooter this season on a team with plenty of scorers. The Sun Devils desperately needed a complement to Jahii Carson to elevate their team, making Marshall perhaps a bit more meaningful.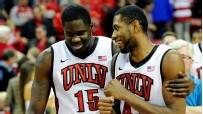 Josh H. Holmberg/USA TODAY SportsMike Moser left UNLV behind. How will he fare at Oregon?
Dana O'Neil: It's Marshall, because he gives Jahii Carson a Batman to work with. The Penn State transfer is a good scorer, so he's going to command his fair share of attention. And that means Carson can't command all of it. That's a win-win for Herb Sendek.
Eamonn Brennan: The 2012-13 season was a tough one for Moser, as Anthony Bennett's arrival totally negated Moser's offensive role and forced him out of position on both ends of the court. (Try as he did, Moser wasn't a college 3 last season.) But with Arsalan Kazemi, Oregon coach Dana Altman set a precedent for defensively, uniquely skilled tweener transfers last season, and I bet he'll find a similar role for Moser.
---
Earlier Words: October: 10/16 » 10/15 » 10/14 » 10/11 » 10/10 » 10/9 » 10/8 » 10/7 »
You Gotta See This
In other words, there is every reason to expect Norfolk State to win the MEAC in tidy fashion again this season and just as much reason to expect it to get back to the NCAA tournament for the second time in three years. Standing in its way are North Carolina Central, Morgan State and Savannah State, which defended at a top-30 rate (per adjusted efficiency rankings) last season, an unusual height for a MEAC team to reach.
For the rest of this post, click here.
---
In truth, the really interesting realignment shake-up in the Southland happened last summer, when Oral Roberts completed its move from the Summit League. The Golden Eagles had been among the Summit League's most consistent competitors before their move; it was generally assumed the same would be true in their new digs. Not so. Oral Roberts finished third behind Stephen F. Austin and Northwestern State last season. The former was one of the country's best defensive teams at any level; the latter finished 15-3 in league play and won the Southland automatic bid with a 68-66 win over SFA at the conference tournament in March.
For the rest of this post, click here.
They Said It
#ACCMEDIADAY is very hands on for the players as evident with these #SuperStarSelfies pic.twitter.com/PmgBusXczY

— ESPNU (@espnu) Aug. 28, 2013
ESPNU Basketball Podcast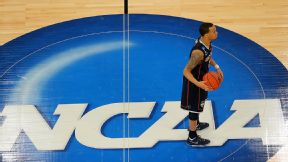 Adam Hunger/USA TODAY SportsAndy Katz and Seth Greenberg offer their thoughts on Kentucky vs. UConn.
Andy Katz and Seth Greenberg check in with newsmakers from around college basketball.