Daily Word: Kentucky center of the universe?
Every weekday, Andy Katz leads a panel of our college hoops experts in a discussion of the biggest issues, trends and themes happening in and around college basketball.
1. John Calipari said this at Kentucky's Big Blue Madness: "We don't just play college basketball; we are college basketball." Reaction?
Andy Katz: Love it. It's so Cal. The coach at Kentucky should have an ego and believe the college basketball universe revolves around them. While it may not at times, Kentucky has to be nationally relevant for the sport to thrive.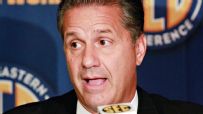 Marvin Gentry/USA TODAY SportsJohn Calipari riled up his fan base. Should his comments rile up the rest of college basketball?
C.L. Brown: Had he said it during the Champions Classic in front of Duke's Mike Krzyzewski, Kansas' Bill Self and Michigan State's Tom Izzo, that would have raised eyebrows. Instead, in the context of Midnight Madness in front of the Kentucky faithful, it doesn't really merit much of a reaction. Calipari understands, better than most, how to cater to his base, and that statement is another in a long line of examples.
Myron Medcalf: I'm all for it. I view John Calipari as the Jay Z of college basketball. He's an icon with a grand profile that the sport can't quite contain, and his ability to attract the best preps in America proves as much. The quote wasn't surprising as much as it was fitting for a man who enters the season with the greatest recruiting class in college basketball history.
2. Who could benefit the most from Chane Behanan's absence from Louisville's roster?
Andy Katz: Montrezl Harrell was already going to be a fixture, but this could open up even more opportunities for Wayne Blackshear, assuming he's able to rebound and be productive. The Cardinals will need their guards to rebound even more in his absence, so there will be a dispersal of his boards over the course of the game.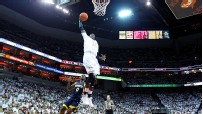 Andy Lyons/Getty ImagesCan Montrezl Harrell fill the void left by Chane Behanan's suspension?
C.L. Brown: Redshirt freshman Mangok Mathiang probably wouldn't have logged a lot of minutes in a three-man frontcourt rotation of Behanan, Harrell and Stephan Van Treese. In Behanan's absence, he'll get his chance immediately. The bright side for Louisville is coach Rick Pitino did say he's more developed than Gorgui Dieng was as a freshman. The downside: Mathiang is nowhere close to being Dieng as a junior.
Myron Medcalf: When I talked to Pitino a few weeks ago, he told me that he wasn't concerned about Harrell logging extensive minutes inside for the Cardinals because the sophomore boasts a 7-foot-5 wingspan. Harrell will get more touches and opportunities with Behanan out of the lineup. The 6-8 underclassman could be a star for the defending national champion.
3. Which secret scrimmage do you wish was made available to watch this month?
Andy Katz: Why not have scrimmages replace exhibitions, much like the NBA? Makes too much sense. I would like to see the results from Georgetown at Virginia on Oct. 26 -- a regional game that should be played but isn't between two teams that should contend for a top-three finish in the Big East and ACC.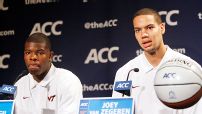 AP Photo/Nell RedmondVirginia has a couple of interesting matchups during this year's "secret scrimmages."
C.L. Brown: Virginia at Marquette, Nov. 2. It's the only matchup of Top 25 teams in these covert games. I'd be curious to see how the Cavs' frontcourt, including Akil Mitchell and Anthony Gill, matches up with the likes of Davante Gardner and Chris Otule of the Golden Eagles. I'd also like to know how the freshman point guards -- Devon Hall of Virginia and Duane Wilson of Marquette -- handle the competition.
Myron Medcalf: I wish they were all televised. But I'd love to see Iowa State and Creighton battle in Omaha. A lot of 3-pointers will be taken in that matchup. It's a good, early test for a Bluejays squad that could win the Big East title.
---
Earlier Words: October: 10/18 » 10/17 » 10/16 » 10/15 » 10/14 » 10/11 » 10/10 »
You Gotta See This
In four seasons at Arizona, Sean Miller's teams have had one defining characteristic: talent. No one on the West Coast has recruited elite prospects as well as Miller. But this season feels different. This season doesn't include a productive but ultimately makeshift option (Mark Lyons) at point guard. Arizona isn't staking its season on a freshman such as Josiah Turner. (Remember him?) It isn't mixing in maybe one too many young forwards with seniors (Solomon Hill) who have to play. This season, Arizona doesn't feel like a collection of really good pieces; it feels like a really good team.
They Said It
ICYMI: Duke freshman Jabari Parker gave the kids in Cameron Indoor a little something to go crazy about » http://youtu.be/A_ql3dHA1GIAug. 28, 2013
ESPNU Basketball Podcast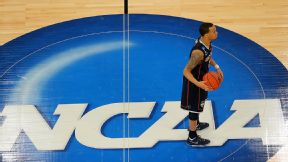 Adam Hunger/USA TODAY SportsAndy Katz and Seth Greenberg offer their thoughts on Kentucky vs. UConn.
Andy Katz and Seth Greenberg check in with newsmakers from around college basketball.