Daily Word: Biggest rivalry in the Big Ten
Every weekday, Andy Katz leads a panel of our college hoops experts in a discussion of the biggest issues, trends and themes happening in and around college basketball.
1. Which Big Ten rivalry will be most interesting to see this season?
Andy Katz: Michigan-Michigan State is the easy answer. But the recent rise of Michigan basketball has put the football version of Ohio State-Michigan back in play in hoops. The two teams played epic basketball a season ago. Though they meet only once -- Feb. 11 in Columbus -- the stakes should be high once again.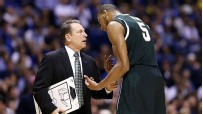 Streeter Lecka/Getty ImagesTom Izzo has to keep a close eye on Michigan this season.
Dana O'Neil: Michigan and Michigan State are battling for state supremacy, league supremacy and national bragging rights, which is why it will be the best. The Wolverines are coming off the national title game; a loaded Spartans team would like to get there this season. John Beilein has rebuilt Michigan into an annual contender, which will only make this tussle more intriguing.
Eamonn Brennan: It's been nearly two decades since Michigan was a viable national entity, long enough for Tom Izzo to have established the Spartans as among the sport's elite -- and led his teams to six Final Fours -- in the interim. Now, for the first time in memory, both rivals are on relatively equal footing. That should be a lot of fun.
2. Which Big 12 school needs to start making a move in the standings?
Andy Katz: West Virginia had a rough start to life in the Big 12, grabbing only six conference wins a season ago. The Mountaineers need to establish relevance in the conference. It helps that they finish with Baylor and Kansas at home in the final five games to, at the very least, play spoiler.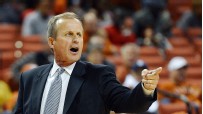 Cal Sport Media/AP PhotosIs the heat about to be turned up on Rick Barnes at Texas?
Dana O'Neil: That honor goes to Texas. The Longhorns finished an anemic 7-11 in the standings last season and haven't made a dent in the Big 12 in far too long. Yes, there have been reasons over the years, but with the deep pockets in Austin there's simply no excuse for Texas to finish near the bottom of the league.
Eamonn Brennan: Another 9-9 conference campaign would be a massively disappointing outcome for this season's Baylor group, which is arguably more talented (and certainly more experienced) than a season ago. But Texas is the key watch here: If Rick Barnes isn't able to right his wayward Longhorns this season, he could put athletic director DeLoss Dodds in the uncomfortable position of having to acknowledge that basketball exists. No one wants that.
3. Which game – not counting the two featured in the Champions Classic -- is must see during the Tipoff Marathon?
Andy Katz: The Virginia-VCU game should be as intriguing a matchup as you'll see in the nonconference. But if you're a bracket junkie then LSU-UMass has plenty of hidden meaning. These two teams may use the result as a reason they belong in the NCAA tournament field in March.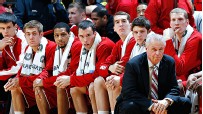 Joe Robbins/Getty ImagesFlorida will have an early test when it faces Bo Ryan and Wisconsin.
Dana O'Neil: Florida goes to the dentist for its second game of the season, facing Bo Ryan's Wisconsin team. It will be a great, albeit painful, test to gauge just how good the Gators are, especially since they may have to go without Will Yeguete and Eli Carter.
Eamonn Brennan: Virginia-VCU. Not only is it one of the best stylistic matchups you're going to get all season -- VCU's hectic 40-minute pressure defense versus UVa's methodical approach -- but here's hoping it marks the start of a heated, culturally rooted rivalry.
---
Earlier Words: October: 10/19 » 10/18 » 10/17 » 10/16 » 10/15 » 10/14 »
You Gotta See This

You have to feel for the Big Ten. After decades of punchlines -- 10 losses in its first 10 ACC-Big Ten Challenges, groaningly slow basketball, and a dearth of NCAA tournament success -- last season the Big Ten finally ascended to the conference-hierarchy throne.
For the rest of this post, click here.
They Said It
Here's an interesting line from the NCAA release re: Miami: "Staff members felt comfortable breaking rules." Alrighty then

— Dana O'Neil (@ESPNDanaOneil) Aug. 28, 2013
ESPNU Basketball Podcast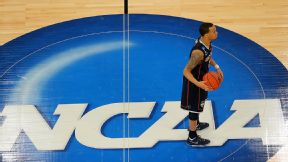 Adam Hunger/USA TODAY SportsAndy Katz and Seth Greenberg offer their thoughts on Kentucky vs. UConn.
Andy Katz and Seth Greenberg check in with newsmakers from around college basketball.