Daily Word: Will NCAA ruling hurt Miami hoops?
Every weekday, Andy Katz leads a panel of our college hoops experts in a discussion of the biggest issues, trends and themes happening in and around college basketball.
1. How damaging are the Miami basketball sanctions?
Andy Katz: A 13th scholarship shouldn't have a major effect on a high-major Division I program. But Miami is in the highly competitive ACC and must rely on taking a transfer or two as it did last season. The Hurricanes could find themselves in a pickle over the next three seasons or needing to be creative if they max out at 12 and a needed transfer is available.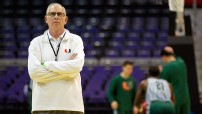 Geoff Burke/US PresswireWill Jim Larranaga suffer because of the violations of a previous regime?
Eamonn Brennan: Not at all. Relative to where the investigation seemed to be heading before the NCAA made a complete mess of it -- even relative to what the committee report included -- one scholarship a year for three years isn't much of a penalty at all. Perhaps the only upside is that the current players and coach Jim Larranaga weren't punished for the sins of the prior regime.
Dana O'Neil: Not terribly. One scholarship less per season is by no means a killer. It merely means Larranaga will have to be more selective in his recruiting. He can't afford to roll the dice on someone who won't qualify or pan out, nor can he afford too many recruiting "busts."
2. How effective a deterrent are the penalties forcing coaches to miss games?
Andy Katz: The NCAA can't fine coaches, so taking them out of games is the best option. The problem is the game penalties need to be stronger or, at the very least, consistent. Saint Mary's coach Randy Bennett was suspended for the first five WCC games, with the first three on the road. Missouri's Frank Haith was docked the first five regular-season games, which happen to be against weak foes. There's no question which penalty is harsher -- Bennett's.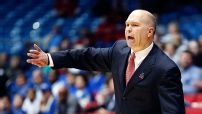 Gregory Shamus/Getty ImagesSaint Mary's Randy Bennett won't be on the sideline for five conference games this season.
Eamonn Brennan: They can be very effective. They're a good way to focus punishment on the coach and not players who had little to do with previous failings. But Andy's right. Suspending a guy for a few cupcake home games at the start of the season is just … I mean, who cares?
Dana O'Neil: The penalties for coaches is certainly a step in the right direction, but to really have value, they may need to be harsher or more selective. Sitting out five games is difficult for Haith, but let's be honest, those five games aren't against opponents that will be terribly difficult for Missouri. When Jim Calhoun was suspended, he sat out three Big East games. That has a little more impact.
3. How will the sanctions affect Missouri?
Andy Katz: Not much at all. Missouri's first five regular-season games are the softest part of the Tigers' schedule. Mizzou will be fine with either Mark Phelps or Dave Leitao in charge for those five games. Haith will have to deal with a perception hit once he returns, but the Tigers will show no effect from his suspension.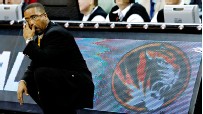 Ed Zurga/Getty ImagesFrank Haith will sit five games. But there aren't any big games among those he'll miss.
Eamonn Brennan: Unless Missouri is shockingly bad and Haith is so much better than his assistant coaches at game management that his absence is statistically significant -- both of which I highly doubt -- sanctions won't affect the Tigers in the slightest.
Dana O'Neil: Not really at all. Not having Haith around for five games may hurt the Tigers with continuity out of the gate, but that's really the only issue for Mizzou. If anything, the school will have to defend Haith in the short term and make sure in the long term that all of his compliance T's are crossed and I's dotted.
---
Earlier Words: October: 10/22 » 10/19 » 10/18 » 10/17 » 10/16 » 10/15 »
You Gotta See This
There are stories here. But to spend this space on them would mean to ignore the gigantic royal blue elephant in the room, and hey, guess what? Giant blue elephants are obvious.Let's just be real: The one thing you've got to see in the SEC this season is Kentucky. This is frequently true, especially since John Calipari arrived in Lexington. But at the risk of digging myself into an end-of-history fallacy, Calipari's entire tenure has been building toward 2013-14.
For the rest of this post, click here.
They Said It
If any industry had the red flags that were raised in the Miami case they would have to investigate Do it the right way within the by laws!

— Seth Greenberg (@SethOnHoops) Aug. 28, 2013
ESPNU Basketball Podcast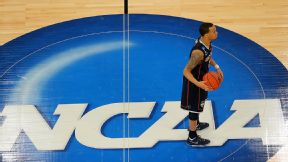 Adam Hunger/USA TODAY SportsAndy Katz and Seth Greenberg offer their thoughts on Kentucky vs. UConn.
Andy Katz and Seth Greenberg check in with newsmakers from around college basketball.