Daily Word: Does Alford fit in at UCLA?
Every weekday, Andy Katz leads a panel of our college hoops experts in a discussion of the biggest issues, trends and themes happening in and around college basketball.
1. Is Steve Alford the right fit at UCLA?
Andy Katz: Yes. The Bruins need brand names. Alford has one and has so far embraced the immensity of the position. This is Alford's toughest challenge yet, but he hasn't shied away. We can't judge his tenure before he's coached a game.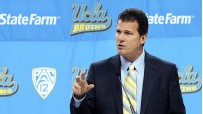 Victor Decolongon/Getty ImagesIs Steve Alford ready for the major task that awaits him at UCLA?
C.L. Brown: Five reasons why I'm not so sure it's a good fit. As in, Alford has won a combined five NCAA tournament games in 18 seasons as a head coach at Southwest Missouri, Iowa and New Mexico. Ultimately, his success at UCLA will be measured by what he does in March, and his tournament résumé is lacking.
Eamonn Brennan: If UCLA fans are looking for uplifting zen koans or bromidic self-improvement to go with their college hoops, they won't find it in Alford, who is brusque and even abrasive, a descendent of his former coach in more ways than one. Nor does his down-tempo, defense-first style scream Westwood. If Alford struggles, those things will be magnified … but if he recruits California well and wins, none of it will matter.
2. What is a reasonable win total for Andy Enfield in Year 1 at USC?
Andy Katz: The roster isn't made for Enfield to run as much as he would like this season. Winning a dozen games would be a solid accomplishment. So, I'll go with 13 overall and six in the Pac-12.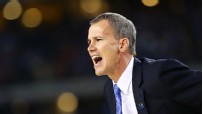 Tom Pennington/Getty ImagesCan Andy Enfield give the fans at USC something to shout about?
C.L. Brown: The Pac-12 schedule makers didn't do Enfield any favors, with five of their repeat opponents predicted to finish in the upper half of the league. Year 1 for Enfield will be more about establishing a foundation to move the program forward. I'll go with a dozen wins.
Eamonn Brennan: If Enfield can turn a depleted roster of Kevin O'Neill's defenders into something worth watching -- if the Trojans play good, exciting basketball and improve throughout the season -- that's the real Year 1 success worth tracking. But let's say 14 or 15 wins would suffice.
3. Which team between Nos. 25-21 in our Power Rankings -- Tennessee, UCLA, New Mexico, Oregon and Wisconsin -- could make the biggest move during the season?
Andy Katz: The Ducks have added one of the best available scorers in Joseph Young. Oregon will have the potential to be knocking on the top 15 a few times this season.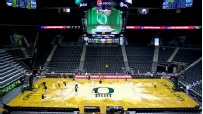 Scott Olmos/USA TODAY SportsCan Oregon make a move up the top 25 as the year progresses?
C.L. Brown: Out of this group I'm most intrigued by Tennessee's potential. The Vols have a solid core returning with Jordan McRae, Jarnell Stokes and Jeronne Maymon. Memphis transfer Antonio Barton and top-25 recruit Robert Hubbs III should have the Vols poised for their first NCAA tournament bid under coach Cuonzo Martin.
Eamonn Brennan: Oregon. We took stock of the Ducks before Houston transfer Joseph Young became immediately eligible late last week. His super-efficient perimeter shooting gives Oregon -- which, with Mike Moser, Dominic Artis, and Damyean Dotson, was already worth watching -- a legit pure backcourt scorer. Color me intrigued.
---
Earlier Words: October: 10/25 »10/24 » 10/23 » 10/22 » 10/19 » 10/18 »
Season Of Change
Ground was broken for the Galen Center, USC's first on-campus basketball arena, in October 2004. A month later, USC hired former Utah coach Rick Majerus. The implication then was clear: After 100 years spent as an afterthought and a half century in an old municipal gym, a new day had come. Nine years later, the venue is the only thing about USC basketball that has changed. Whether former Florida Gulf Coast coach and human meme Andy Enfield can finally change this trajectory is an open question that won't be answered in one season.
For the rest of this post, click here.
They Said It
LSU-Houston scrimmage: Johnny O'Bryant, Jordan Mickey and Tim Quarterman played well. UH Danuel House and TaShawn Thomas were standouts.

— Jeff Goodman (@GoodmanESPN) Aug. 28, 2013
ESPNU Basketball Podcast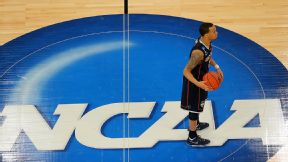 Adam Hunger/USA TODAY SportsAndy Katz and Seth Greenberg offer their thoughts on Kentucky vs. UConn.
Andy Katz and Seth Greenberg check in with newsmakers from around college basketball.