Daily Word: Can Henderson affect the SEC?
Every weekday, Andy Katz leads a panel of our college hoops experts in a discussion of the biggest issues, trends and themes happening in and around college basketball.
1. Can Marshall Henderson duplicate what he did last year and impact Ole Miss and the SEC the same way?
Andy Katz: He still has a chance to lead Ole Miss in scoring because the Rebels will rely on him once again to produce. Kentucky, Florida and Tennessee all have more balance. The Rebels are not as experienced at other positions, making it much more difficult for Henderson to lead the Rebels to an SEC tournament title again. Oh, and Kentucky is 1,000 times more talented than it was a year ago.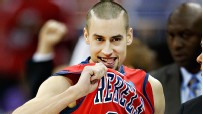 AP Photo/Orlin WagnerCan Marshall Henderson replicate his numbers from last season?
Myron Medcalf: Sure, if he finds a way to stay on the floor. You never know with a character like Henderson. But if he's available, he certainly could be the same potent scorer and potentially a more efficient shooter instead of a volume shooter (his 367 3-point attempts led the nation last season) in 2013-14.
Eamonn Brennan: Sure. The question for me is not whether Henderson repeats his 2012-13 output, but whether he expands it. If he can become a viable ball handler and decent distributor -- if he can run pick-and-roll sets effectively in addition to coming off wing screens every five seconds -- his impact (and draft hopes) are bound to expand.
2. Did Doug McDermott make the right call by coming back for another season at Creighton?
Andy Katz: Yes. McDermott has a great read on his situation and will be a mid-first round pick regardless of which year he had chosen to come out of college. He also will be able to lead the Bluejays and his father into a historic change for the school as it joins the Big East.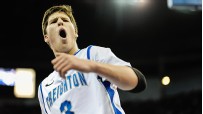 Eric Francis/Getty ImagesDoug McDermott is back for one more year. Was it the right choice?
Myron Medcalf: I think he did. In recent years, he has been stuck in that late first-round purgatory on mock drafts because of his limited athleticism. But he's a 6-foot-8 sharpshooter who can still elevate his draft stock and lead his father's program to the new Big East's championship in Creighton's first season in a high-major conference. Nothing wrong with that.
Eamonn Brennan: Yes. McDermott's logic for his decision was perfectly sound: He looked at the draft, talked to a few people (including former Creighton star Kyle Korver) and came away with the realization that the NBA already had codified its opinion of him (as a mid-late first-round pick), negating most of the risk of returning. Why not, right?
3. Which team between Nos. 20-16 in our Power Rankings -- Creighton, Virginia, UConn, Marquette and Gonzaga -- could make the biggest move during the season?
Andy Katz: Virginia. The Cavaliers have one of the most experienced rosters in the ACC and a potential conference player of the year in Joe Harris. If this team stays healthy, it can seriously challenge for the ACC regular-season title and with that, a higher ranking.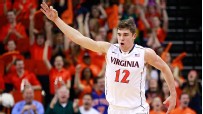 Geoff Burke/USA TODAY SportsVirginia's Joe Harris is a candidate for ACC player of the year.
Myron Medcalf: Marquette could rise. Buzz Williams' crew is back with the same frontcourt that led the team to last year's Elite Eight and a recruiting class packed with freshmen (see JaJuan Johnson) who will be ready to contribute immediately. Marquette's defensive strength could help it overpower the Big East.
Eamonn Brennan: Relative to our ranking, I'll go with UConn. Marquette is going to be good, we know what Creighton is, everyone has (rightly) come around on Virginia, and Gonzaga may be held back by just-OK defense. But UConn's veteran guard play and pair of talented breakout candidates (Omar Calhoun, DeAndre Daniels) will make them very dangerous -- and arguably underranked.
---
Earlier Words: October: 10/28 »10/25 » 10/24 » 10/23 » 10/22 » 10/19 »
Season Of Change
Doug McDermott eschewed the draft in favor of his senior 2013-14 season, in which he has a chance to become the first three-time All-American since Patrick Ewing and Wayman Tisdale. Grant Gibbs was granted a slightly miraculous sixth year of eligibility, so he returns as well. The Bluejays still have a host of veteran supporting pieces positioned to execute with maximum offensive efficiency, which they of course already did last season. But still, there is that nagging question: Can Creighton get stops?
For the rest of this post, click here.
They Said It
The season tips in a little less than two weeks...

__________ is the early season match-up I can't wait for.

— ESPN College Bball (@ESPNCBB) Aug. 28, 2013
ESPNU Basketball Podcast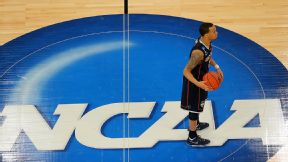 Adam Hunger/USA TODAY SportsAndy Katz and Seth Greenberg offer their thoughts on Kentucky vs. UConn.
Andy Katz and Seth Greenberg check in with newsmakers from around college basketball.