Daily Word: Who will win ACC Player of the Year?
Every weekday, Andy Katz leads a panel of our college hoops experts in a discussion of the biggest issues, trends and themes happening in and around college basketball.
1. The ACC has a lot of talent. How do you handicap the player of the year race?
Andy Katz: Virginia's Joe Harris starts with the inside nod, but his candidacy will depend on how well the Cavs do in the chase for the title. Duke's Rodney Hood and Jabari Parker could split the vote, which could open the door for Syracuse's C.J. Fair. If the Orange are in contention for the title, Fair could be the choice.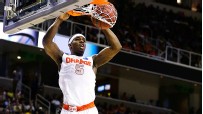 Ezra Shaw/Getty ImagesSyracuse forward C.J. Fair should contend for ACC Player of the Year.
Dana O'Neil: I'm sticking with Harris. I know Virginia will have to fight for position in the clogged standings, but if the Cavaliers are going to be even relevant, it will be because of Harris. He'll get his points and get the attention.
Myron Medcalf:This is the year of the freshman. And Parker might be the most talented newcomer in the class. He'll battle Harris, Fair and Hood for the honor. Don't be surprised if and when he wins it.
2. Who will make a bigger impact this year: C.J. Fair or Jabari Parker?
Andy Katz: Fair. He should thrive in the ACC, which won't be as physical as the Big East, allowing him to be a featured scorer. Parker will get his points, but may not be the go-to player every night.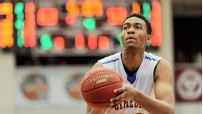 AP Photo/Cal Sport MediaIs Jabari Parker the sleeper pick for freshman of the year?
Dana O'Neil: Parker. In the Andrew Wiggins/Julius Randle-centric world suddenly no one is talking about Parker, which is astounding to me. There was a time, after all, when he was The Guy in this freshman class, and I have a feeling he still may be. The Blue Devils are going to be very good, and Parker will be a big reason why.
Myron Medcalf: Parker, only because coach Mike Krzyzewski's system will allow him to do more once he establishes that he's comfortable in it. Fair should have a great year, but Parker will emerge and earn the right to demand the ball and make plays early.
3. Which team between Nos. 15 and 11 in our Power Rankings -- Wichita State, VCU, Memphis, Ohio State, North Carolina -- can crack the top five?
Andy Katz: It's a tough call between Memphis and Ohio State. If the Tigers get the necessary frontcourt play, I'll lean toward the Tigers. But the Buckeyes have one of the most valuable players in the country in Aaron Craft, a rising star in LaQuinton Ross and a coach who is always chasing a title in Thad Matta.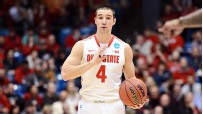 Jason Miller/Getty ImagesOhio State has not missed the NCAA Tournament since 2008.
Dana O'Neil: Ohio State is not the sexy pick, but it's my pick. I'd happily build my team around Craft and his defense. Besides, I think the been-there-done-that Buckeyes and Thad Matta are still a more reliable choice than the waiting-to-prove-themselves Tigers.
Myron Medcalf: It's easy to forget that some of the same key contributors who led Wichita State to the Final Four last season are back. With few nonconference tests and a Creighton-free Missouri Valley Conference, the Shockers could win a lot of games in 2013-14 and climb in the rankings.
---
Earlier Words: 10/29 »10/28 » 10/25 » 10/24 » 10/23 » 10/22 »
Season Of Change
A school's first trip to the Final Four in nearly 50 years is supposed to change things, and not just and not just enrollment. It's supposed to make a coach a household name, a very well-compensated new hire, or both. It's supposed to vault players to NBA stardom. It's supposed to make preseason stars of key returners. It's supposed to "legitimize" a program, make it a national "brand," flood this great nation's mall kiosks with officially licensed color ways. "Supposed to" doesn't apply to Wichita State. It certainly doesn't apply to coach Gregg Marshall, who has turned down a wide array of elite high-major jobs in the last two seasons (including UCLA last spring) in favor of enjoying what he has explained to anyone who will listen is a good life in Wichita.
They Said It
You should be excited and happy, but you also have to understand we have a long way to go.

— John Calipari (@UKCoachCalipari) Aug. 28, 2013
ESPNU Basketball Podcast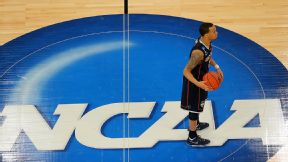 Adam Hunger/USA TODAY SportsAndy Katz and Seth Greenberg offer their thoughts on Kentucky vs. UConn.
Andy Katz and Seth Greenberg check in with newsmakers from around college basketball.