Daily Word: Right choice for Marcus Smart?
Every weekday, Andy Katz leads a panel of our college hoops experts in a discussion of the biggest issues, trends and themes happening in and around college basketball.
1. Did Oklahoma State's Marcus Smart make the right call by coming back for another season?
Andy Katz: Smart's case is unique. He's a top-five pick regardless of which year he decides to come out. He has a chance to lead the Cowboys to a possible Final Four berth, so the decision could prove to be a once-in-a-lifetime move.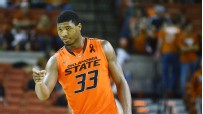 Brendan Maloney/USA TODAY SportsMarcus Smart turned down the NBA. Will another year of college pay off?
Dana O'Neil: It depends on how you define the right decision. As a college basketball player, it absolutely is because Smart and Oklahoma State could put together a storybook season that will be remembered for years. As a future NBA player, it may not be because of the projected talent in this draft, which ultimately could cost Smart some money if pro teams don't value him as highly as some of the freshmen.
C.L. Brown: Smart made the right decision because it was his decision. I'll never question a player for wanting another year of college, especially on a team that could be special. We see enough players come out when theyre not ready. Kudos to him for calling his own shots.
2. Of all the players who will play college hoops this season, which has the potential to be the best NBA player?
Andy Katz: That's a tough call. But I'll go with Kentucky's Julius Randle. He has the body type and power to last in the NBA. He should be productive from the outset, which will ultimately help his ability to have a long NBA career.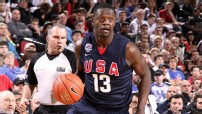 Sam Forencich/Getty ImagesJulius Randle could be the best future pro seen in the NCAA this season.
Dana O'Neil: If you're talking long haul, I think it's Randle. He's a beast already, and he's just out of high school. Imagine him in five to 10 years, after he's put on muscle and learned how to use his talent.
C.L. Brown: Smart is in the conversation. And I have a feeling I'm going to regret not making it a clean sweep for Randle. But I think Duke's Jabari Parker has that kind of potential. He's already got the size and strength to compete in the league. A season under Mike Krzyzewski will add a little seasoning.
3. Which team between Nos. 6-10 in our Power Rankings -- Syracuse, Michigan, Florida, Oklahoma State and Louisville -- has the best chance to reach the Final Four?
Andy Katz: That's another tough call. Syracuse might be a bit too young, but has the talent. Michigan lost too much. Florida is too injured right now. Oklahoma State has the star power, but not the depth. So, I'll go with Louisville because of the overall returning experience and versatility the Cardinals will have at nearly every position.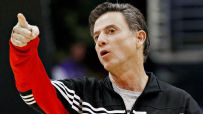 AP Photo/Matt YorkWill the Cardinals repeat as champions for the first time?
Dana O'Neil: My guess is that Chane Behanan will play sometime before January 1, so that makes Louisville the choice. The Cardinals are still a very good team without him, with potential to climb the standings. If he comes back humbled and ready, Louisville could be back in the title game.
C.L. Brown: While Louisville certainly has enough experience, I'm not certain Chris Jones will be as clutch as Peyton Siva was in the Cardinals' 2012 Final Four run and 2013 championship. And since March is about guards, I'll end this Daily Word where I started: with Smart and Oklahoma State.
---
Earlier Words: 10/30 »10/29 » 10/28 » 10/25 » 10/24 » 10/23 »
Season Of Change
It's hard to remember now, and for good reason: His freshman season lifted Oklahoma State out of its NIT doldrums, his return to college basketball was universally celebrated, USA Basketball made him the lone non-NBA player to receive an invite to team USA minicamp in July and his own coach, Travis Ford, is running short on new ways to praise. But as removed as it may seem, it wasn't so long ago that Marcus Smart's supremacy was a matter of some debate.
They Said It
This HUGE @ASUGrizzlies dunk will wake you up! https://vine.co/v/hDu2PFZjKOq via @YAFjason #ncaaMBB

— NCAA March Madness (@marchmadness) Aug. 28, 2013
ESPNU Basketball Podcast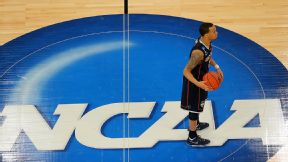 Adam Hunger/USA TODAY SportsAndy Katz and Seth Greenberg offer their thoughts on Kentucky vs. UConn.
Andy Katz and Seth Greenberg check in with newsmakers from around college basketball.