Daily Word: The season is finally here
Every weekday, Andy Katz leads a panel of our college hoops experts in a discussion of the biggest issues, trends and themes happening in and around college basketball.
1. What is the most pressing question facing Maryland in the opener against UConn?
Andy Katz: The frontcourt for the Terps. Maryland, even without Seth Allen, can hang on the perimeter. But this game should be won inside, and sans Alex Len, it's a mystery as to who takes the lead for the Terps.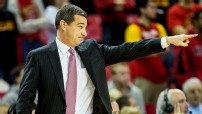 Paul Frederiksen/USA TODAY SportsMark Turgeon will turn to unproven frontcourt players in the absence of NBA draft pick Alex Len.
Eamonn Brennan: I think it's defense, as general as that sounds. Even with Len on the back line, the Terps were just OK defensively last season. Dez Wells can run at people and score; they need to get some stops.
Dana O'Neil: For Maryland, the question is who replaces Len in the low post? Shaquille Cleare and Charles Mitchell are the guys charged with the task, and coach Mark Turgeon is really excited about Cleare. But this is a new, more expanded role for both players, and how they handle the workload will tell how far the Terrapins go.
2. What are you looking forward most to seeing out of Duke in its opener against Davidson?
Katz: Jabari Parker will get his production. I'm most interested to see how Mississippi State transfer Rodney Hood debuts after sitting out last season. Hood has the potential to be a star, especially with his versatility.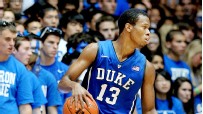 Lance King/Getty ImagesRodney Hood will debut for the Blue Devils on Friday against Davidson.
Brennan: Spacing! Coach K doesn't have the same kind of bigs he did a year ago; Jabari Parker and Hood will encourage the Dukies to play spaced, speedy, secondary-break basketball. Yes, please.
O'Neil: What else? Parker's debut. There's been so much hype about Andrew Wiggins and the freshmen at Kentucky that Parker has almost been lost in the shuffle. He's fine with that, but I'm curious to see just how good the freshman is.
3. Who will now feel the most pressure for Oregon in the opener against Georgetown in the absence of Dominic Artis and Ben Carter?
Katz: Damyean Dotson. He will need to eat up some of Artis' minutes and shots. He'll get help from Joseph Young, but the onus will be more on Dotson.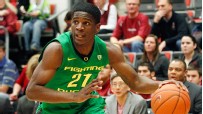 William Mancebo/Getty ImagesDamyean Dotson will be asked to pick up the slack left by Dominic Artis and Ben Carter.
Brennan: I'll say Mike Moser, but I think that's true no matter which Ducks were suspended. Joseph Young and Damyean Dotson will be fine. Moser is the guy who has to replace Arsalan Kazemi and Tony Woods, and that could be the difference in Oregon's season.
O'Neil: The Ducks are fortunate that they are fairly deep in the frontcourt. Still, they struggled mightily when Artis was out with an injury last season. They need someone to help fill his void, and while there are a few candidates -- Dotson and Young -- they really need Mike Moser to play the way he did in his final year at UNLV in this game against Georgetown.
---
Earlier Words: 11/7 » 11/6 » 11/5 » 11/4 » 11/1 » 10/31 » 10/30 »
(Freshmen) Games To Watch
UNC-Asheville vs. Kentucky, 7 p.m. ET, ESPN3


Kentucky's much-hyped freshmen hit the floor for the first time. The Wildcats are already being compared to the Fab Five. How will it all play out? We're about to find out.
---
Davidson vs. Duke, 7 ET, ESPNU


Duke, as usual, will have upperclassmen ready to contribute toward another run at the Final Four. But it is a freshman who will carry a heavy burden as Jabari Parker starts his journey in Durham.
---
UL Monroe vs. Kansas, 8 ET, ESPN3


Andrew Wiggins has already said he's focused on this season, his lone season at Kansas. Perhaps no other player in Jayhawks history will have as much attention as likely future No. 1 pick Wiggins.
---
Cal Poly vs. Arizona, 10 ET


You've heard all about Kentucky's monster class, right? And you've seen Andrew Wiggins' face everywhere? And you know about Jabari Parker, too? Well, don't forget about Aaron Gordon, who just might be the best of the bunch.
ESPNU Basketball Podcast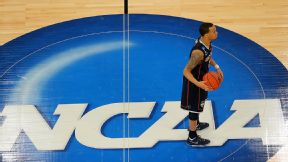 Adam Hunger/USA TODAY SportsAndy Katz and Seth Greenberg offer their thoughts on Kentucky vs. UConn.
Andy Katz and Seth Greenberg check in with newsmakers from around college basketball.