Daily Word: Ready for the Tip-Off Marathon?
Every weekday, Andy Katz leads a panel of our college hoops experts in a discussion of the biggest issues, trends and themes happening in and around college basketball.
1. Which Tip-Off Marathon matchup -- excluding the two top-5 games at the Champions Classic -- have the biggest March relevance?
Andy Katz: There are a number to choose from, especially opposite the Champions Classic with VCU-Virginia and Florida-Wisconsin, but I think we'll reference LSU-UMass in March. These are two teams with March potential that will need every power-rating point they can get to stand out. The winner of this game will have a solid win, while cheering for the loser to maintain its standing in the respective conference in 2014.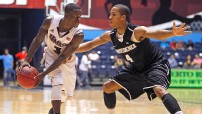 AP Photo/Ricardo ArduengoUMass' Tip-Off matchup with LSU is a big game now, but it also could have an impact months down the road -- say, in March.
C.L. Brown: Ill take Andys castoffs in Florida at Wisconsin and VCU at Virginia. These are exactly the kind of March matchups that are so intriguing because both games will feature teams with contrasting styles. The winners of both contests will prove that they can be successful no matter the tempo and thats what advancing in the tournament sometimes demands.
Myron Medcalf: I think the LSU-UMass matchup could help the winner, especially if it's a bubble squad on Selection Sunday. The Tigers have a strong returning crew and freshman Jarrell Martin on a squad that could reach the NCAA tourney a year after winning 19 games. And Chaz Williams came back to UMass with the same goal in mind. Could be a meaningful matchup for both teams.
2. What did you learn from Gonzagas first game that could be telling going forward?
Katz: The Bulldogs need to shore up the defense (giving up 35 points to Bryant's Dyami Starks) and better get rebounding help. Sam Dower had 17 points, but Przemek Karnowski had only one rebound and committed four personal fouls in just 12 minutes. He must rebound or his purpose on the floor will be hard to justify. Dower can't do it all on the glass.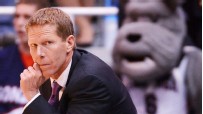 Harry How/Getty ImagesMark Few's teams are built on consistency, so it's not unfair to expect more of the same this season.
Brown: Rebounding could definitely be a problem with the Bulldogs using a smallish three-guard lineup. Forward Sam Dower Jr. accounted for nine of the Zags 20 rebounds in the first half and 17 of their total of 39. Remaining starters accounted for only seven rebounds combined, although reserve Drew Barham showed some promise with five in 19 minutes of play.
Medcalf: It was just a reminder of the Zags' perennial depth. Sam Dower goes from reserve who backed up Kelly Olynyk and Elias Harris to a potential star (21 points, 17 rebounds in the team's 100-76 opener against Bryant). Coach Mark Few always finds talent and that's why Gonzaga has owned the West Coast Conference for so many years.
3. What was the biggest red flag from the seasons first weekend?
Katz: The bottom of the ACC took a hit. Two of the losses were legitimate -- Boston College against Providence and Maryland against UConn. But two other losses were not -- Miami against St. Francis (N.Y.) and Virginia Tech against USC-Upstate. The strength of the ACC won't be determined by the top, but rather by its overall depth from 1-15.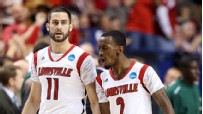 Andy Lyons/Getty ImagesThe Cardinals have Russ Smith. What they could also use is a healthy Luke Hancock.
Brown: Louisville needs a healthy Luke Hancock in the lineup. The Cardinals shot just 22 percent from 3-point range (4-for-18) against College of Charleston without him. (They could also use some help from the free throw line where, aside from Russ Smith and Wayne Blackshear combining to go 10-for-10, the rest of the team was 4-for-13.)
Medcalf: I don't really know if it's a major red flag, but if you take away the production of Davante Gardner and Todd Mayo (45 points, 10-for-15 combined), Marquette went 3-for-21 in Friday's win over Southern. After losing Trent Lockett, leading scorer Vander Blue and Junior Cadougan (30.3 PPG combined) from last season's squad, the Golden Eagles definitely need to identify some consistent scorers. But it's too early to assume that Buzz Williams doesn't have that on a roster with so much young talent.
---
Earlier Words: 11/6 » 11/5 » 11/4 » 11/1 » 10/31 » 10/30 » 10/29 »
Games To Watch
Colorado State vs. Gonzaga, 9 p.m. ET, ESPNU


Gonzaga and Colorado State are both getting used to some new lineups after losing key contributors from teams that went to the NCAA tournament. The Bulldogs, though, have reloaded faster, and will rely heavily on Sam Dower during the early-season adjustment period.
---
Western Kentucky vs. Wichita St. 1 a.m. ET, ESPN2


Wichita State started the season against a Division II opponent, and things went about how they should have against Emporia State. But with that 93-50 rout in the opener behind them, the Shockers step up in class against a Western Kentucky team that has appeared in the past two NCAA tournaments and has its sights set on a third this season.
They Said It
WKU at Wichita State in ESPN's Tip Off Marathon at midnight, Nov 12. Get ready for a fun night!!! #NeverSayNever pic.twitter.com/hrNyg10Rwm

— WKU Basketball (@WKUBasketball) Nov. 7, 2013
ESPNU Basketball Podcast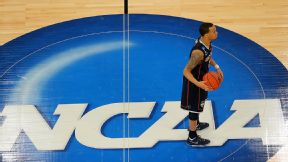 Adam Hunger/USA TODAY SportsAndy Katz and Seth Greenberg offer their thoughts on Kentucky vs. UConn.
Andy Katz and Seth Greenberg check in with newsmakers from around college basketball.