Daily Word: Most to gain at Champions Classic
Every weekday, Andy Katz leads a panel of our college hoops experts in a discussion of the biggest issues, trends and themes happening in and around college basketball.
1. Which team -- Kentucky, Michigan State, Duke or Kansas -- has the most to gain with a win at the Champions Classic?
Andy Katz: Michigan State would be No. 1 with a win. But if Kentucky beats the Spartans, the Wildcats have taken out arguably the toughest opponent on their schedule, outside of Louisville, the rest of the season. A Kentucky win would feed the 40-0 chatter.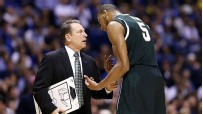 Streeter Lecka/Getty ImagesMichigan State can make some early waves if it can knock off No. 1 Kentucky.
C.L. Brown: Kentucky does, despite coach John Calipari's (I think) tongue-in-cheek claims that playing the experienced Spartans this early was unfair. A win over Michigan State would validate the Cats No. 1 ranking, which right now speaks more to where they could be at the end of the season than where they are now. It should help that UK is the only team of the four that has already played two games.
Dana O'Neil: Michigan State, for the obvious and less-than-obvious reasons. The obvious -- beating No. 1 would launch the Spartans to the top of the rankings, although I'm certain Tom Izzo would rather be there in April than November. Less obvious and more legit, I'd argue that Michigan State is the non-glam team of this quartet, the one that is probably getting the least amount of attention because the Spartans don't have the hot freshmen to turn heads. A win over Kentucky would change all of that.
2. Which individual matchup are you most looking forward to seeing?
Katz: Kansas coach Bill Self

pointed out that Andrew Wiggins will be matched up more against Duke's Rodney Hood. This will be a stern test for both elite players. Whoever gets the best of this matchup will give his team the edge to win the game.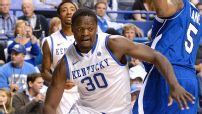 AP Photo/Timothy D. EasleyJulius Randle has had two big games already. Can MSU stop him from having another?
Brown: Whoever gets matched against Kentucky's Julius Randle. Will Michigan State coach Tom Izzo go with senior forward Adreian Payne, a three-year starter and saavy veteran; or sophomore Matt Costello, who made his first start in the season-opening win against McNeese State? Slowing Randle and his 22.5-point average could be the difference in the outcome.
O'Neil: Keith Appling and Andrew Harrison. If either Michigan State or Kentucky is going to be great, their point guards have to be great. Both come in with question marks -- Appling for his consistency, Harrison for his youth. I'm anxious to see who wins this little battle.
3. OK, it's early, but from what you've seen so far, which of the four teams has impressed you the most?
Katz: Duke. Kentucky's Julius Randle has been the most impressive player, but the Blue Devils crushed Davidson, the best opponent of the bunch. The one-two punch of Hood and Jabari Parker should send a strong message to the rest of the ACC.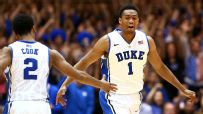 Streeter Lecka/Getty ImagesDuke and Jabari Parker rolled over Davidson in their opener.
Brown: Duke. Jabari Parker and Rodney Hood played pretty much as I expected in their debuts. I did not expect Quinn Cook and Rasheed Sulaimon to both reach 20 points, too, which made it the first time in school history four players scored 20 or more. And the Blue Devils shot 70 percent against Davidson, which to me is a better opponent than the other three teams have played.
O'Neil: Duke. The Blue Devils played a decent team to open the season and absolutely destroyed the Davidson Wildcats. That says something right there. I was impressed with how Duke shared the ball and with the scoring, especially Rodney Hood and Jabari Parker. If Duke can continue to be that unselfish, the Blue Devils will be hard to beat.
---
Earlier Words: 11/11 » 11/8 » 11/7 » 11/6 » 11/5 » 11/4 » 11/1 »
Games To Watch
VCU vs. Virginia, 7 p.m. ET, ESPN2


VCU has another strong team. Shaka Smart and the Rams will try to wreak more "Havoc" on opponents. But Virginia has a talented cast and an interested fan base. The game marks Virginia's first home sellout since 2007.
---
Michigan State vs. Kentucky, 7:30 p.m. ET, ESPN


Kentucky coach John Calipari and Michigan State coach Tom Izzo have been sniping at each other a bit in the days leading up to this big No. 1 vs. No. 2 showdown. Now it's time play, putting the focus on the Wildcats' youth and the Spartans' experience.
---
Florida vs. Wisconsin, 9 p.m. ET, ESPN2


Florida struggled in its opener, barely holding off North Florida. Standout freshman Kasey Hill had a solid debut, though. But doing it on the road, at the always-difficult-for-opponents Kohl Center, will be an entirely different story.
---
Kansas vs. Duke, 9:30 p.m. ET, ESPN


Duke's Jabari Parker gets to play in front of the home crowd. Kansas' Andrew Wiggins gets to play on his largest stage. Parker had a strong opening game, scoring 22 points against Davidson; Wiggins coasted to 16 points in a win against UL Monroe.
They Said It
t's game day! @championclassic pic.twitter.com/oaLjq7Rw6Q

— MSU Basketball (@MSU_Basketball) Nov. 7, 2013
ESPNU Basketball Podcast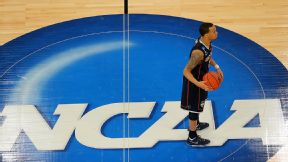 Adam Hunger/USA TODAY SportsAndy Katz and Seth Greenberg offer their thoughts on Kentucky vs. UConn.
Andy Katz and Seth Greenberg check in with newsmakers from around college basketball.