Daily Word: Winners, losers from Champions
Every weekday, Andy Katz leads a panel of our college hoops experts in a discussion of the biggest issues, trends and themes happening in and around college basketball.
1. Who had the best night at Champions Classic?
Andy Katz: That's a tough call. You could make a case for Kansas' Perry Ellis or Andrew Wiggins, or Kentucky's Julius Randle or Duke's Jabari Parker for individual performance. But the Jayhawks, as a team, ended up as the biggest winner, discovering that it has national title potential. Kansas withstood 50 percent shooting from the Blue Devils. It also found out it has as deep a freshman class as Bill Self has ever had/needed in a single season.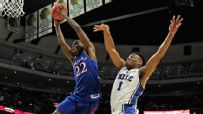 Jonathan Daniel/Getty ImagesOn a big night at United Center, Kansas -- and Andrew Wiggins -- were the big winners.
Eamonn Brennan: I'll say Kansas. I admit, I had the most doubts about KU going into the night, and its win over that lights-out Duke offense erased much of them.
Dana O'Neil: Kansas overall, but individually I'll go with upperclassmen. The freshmen were all spectacular, but much of both of these games were won on the shoulders of upperclassmen. Gary Harris (sophomores count as upperclassmen these days), Adreian Payne and, in the end, Branden Dawson were big for Michigan State, and Perry Ellis for Kansas.
2. Who had the most disappointing night?
Katz: Kentucky freshman Aaron Harrison struggled, going 1-of-7 overall, 0-for-5 on 3s. But the most disappointing part of the game for Kentucky was the Wildcats' free throw shooting (20-of-36) and 3-point shooting (4-of-20). Those are fixable areas, but were clearly the main reasons for the loss.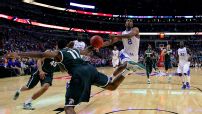 Dennis Wierzbicki/USA TODAY SportsAaron Harrison had a rough night. So did his brother, Andrew, against Michigan State.
Brennan: The Harrison twins. For UK's dribble-drive motion offense to truly work, the Harrisons need to stretch the floor with shooting and move the ball quickly and decisively. They didn't come close to either Tuesday, and UK couldn't crawl out of the resulting hole in time.
O'Neil: Andrew Harrison. And it wasn't just his shooting on this night. The point guard looked out of sorts and overwhelmed by the game. For Kentucky, that's a riddle that has to be solved. Much of the Wildcats' woes -- turnovers, bad free throw shooting, transition defense and boxing out -- are quick fixes, but to be great, they've got to get Harrison to forget this game and get better.
3. Which win was more impressive -- Wisconsin or VCU?
Katz: Wisconsin was at home playing against a depleted Florida team. VCU, which has longed to be on even footing with Virginia in the state, went to Charlottesville and won on a 3-pointer with 1.1 seconds left by Treveon Graham. The advantage Tuesday among non-Champions Classic teams, and now in the state of Virginia, goes to VCU.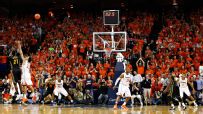 Geoff Burke/USA TODAY SportsVCU went into Charlottesville and got a big win down the stretch.
Brennan: Wisconsin's win, good as it was, came at home over a short-handed Florida team. VCU went on the road and took a stylistic conflict against a really good Virginia team. Great win.
O'Neil: VCU's win. Shaka Smart can't get too many big conference schools to play his team (and now he'll probably get fewer), so every opportunity in one of these games is huge. To go on the road against a team that is exactly the opposite of his own and win was a big one for the team this year and the program overall.
---
Earlier Words: 11/12 » 11/11 » 11/8 » 11/7 » 11/6 » 11/5 » 11/4 »
Games To Watch
Western Carolina vs. Oregon, 11 p.m. ET


A night after the Champions Classic showdowns -- not to mention VCU-Virginia and Florida-Wisconsin -- the schedule is light on top 25 teams. In fact, Oregon is the only top 25 team in action. The No. 18 Ducks are back on U.S. soil, ready to build off their season-opening win against Georgetown in South Korea.
ESPNU Basketball Podcast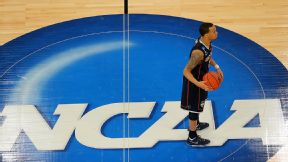 Adam Hunger/USA TODAY SportsAndy Katz and Seth Greenberg offer their thoughts on Kentucky vs. UConn.
Andy Katz and Seth Greenberg check in with newsmakers from around college basketball.