Daily Word: Biggest shocker of the weekend
Every weekday, Andy Katz leads a panel of our college hoops experts in a discussion of the biggest issues, trends and themes happening in and around college basketball.
1. What was the biggest shocker of the weekend?
Andy Katz: The easy answer is Belmont over North Carolina, but the Tar Heels are a shell of themselves without P.J. Hairston and Leslie McDonald. I could go with Indiana State winning at Notre Dame or Columbia giving Michigan State fits. But my answer is Melvin Ejim's quick recovery to score 22 points for Iowa State in a win over Michigan because he was supposed to be out much longer.
Myron Medcalf: Probably Belmont over North Carolina in Chapel Hill. I know P.J. Hairston is unavailable, but this is a Belmont squad that lost one of the most productive backcourts in program history (Ian Clark, Kerron Johnson). Plus, the Bruins had already lost at Richmond. James Michael McAdoo had 27 points and 13 rebounds, but the Tar Heels couldn't buy a free throw (22-for-48) or a 3-pointer (2-for-7).
C.L. Brown: Anyone watching North Carolina play without P.J. Hairston can't really be surprised at its loss to Belmont. Indiana State going into South Bend and soundly beating Notre Dame was no fluke. The Sycamores, who led by 15 on different occasions, handed the Irish their first November loss ever during Mike Brey's tenure. Notre Dame was previously 48-0 in the month under Brey.
Katz: Gordon was the one elite freshman who played for the United States this past summer, and he should have more recognition. Gordon was the MVP of the FIBA U-19 event, quite an accomplishment for a player who had yet to play college basketball. The big three should be a feared foursome by season's end, with Gordon joining Julius Randle, Andrew Wiggins and Jabari Parker.
Medcalf: He has to lead Arizona to victory in a couple of big nonconference matchups to earn similar respect. The Wildcats have a chance to face Duke and Parker in the NIT Season Tip-Off championship at Madison Square Garden next weekend, and they'll play Michigan in Ann Arbor on Dec. 14. Two big stages and opportunities for Gordon, who might be the most explosive and unique player in the 2013 recruiting class.
Brown: Perhaps the only reason Gordon is not mentioned is because he plays west of the Mississippi and many just haven't seen him yet. When the Wildcats play two games in Madison Square Garden in the NIT Season Tip-Off and Dec. 14 at Michigan, he'll have everyone's attention if he plays well in those games.
3. OK, we know about Jabari Parker. But if Duke is to make a title run, who is the next most important player on that team?
Katz: The reason I mentioned Rodney Hood as a player to watch in the preseason, and not Jabari Parker, is that Parker is the expected go-to, magnificent player. Maybe that didn't come across well. But for the Blue Devils to win the national title, Hood will have to be Parker 1-A and pose as much of a defensive mismatch issue. He has the ability to do so.
Medcalf: Rodney Hood can cause matchup problems for opponents because of his size and 3-point shooting ability. The Blue Devils really stretched the floor last season with Ryan Kelly. Hood can play a similar role and create more space for Parker and others because he's an outside threat.
Brown: The next most important player is Rodney Hood for the way he can take some of the pressure off Parker. But if the Blue Devils are truly going to be a title contender, point guard Quinn Cook is the key. March is all about guard play and he must prove himself consistent.
---
Earlier Words: 11/14 » 11/13 » 11/12 » 11/11 » 11/8 » 11/7 » 11/6 » 11/5 » 11/4 »
Games To Watch
UNC Asheville vs. Duke, 7 p.m. ET, ESPNU


Who made UNC Asheville's schedule? The Bulldogs started their season against then-No. 1 Kentucky. In their fourth game? Well, it's fourth-ranked Duke. Can UNC Asheville keep it closer against the Blue Devils? The Bulldogs lost to the Wildcats by 32.
---
Portland vs. Michigan State, 7 p.m. ET


The Spartans will play Monday with a new number next to their name: Michigan State is the new No. 1. Sparty struggled against Columbia; don't expect them to make the same mistake twice in a row.
---
F. Dickinson vs. Arizona, 11 p.m. ET, ESPNU


Aaron Gordon bailed Arizona out on the road at Arizona State on Thursday. This doesn't set up to be as stiff a test, but it is another stage on which Gordon can introduce himself to the nation.
They Said It
YESSSSSSSSSSSSSSSSSSSSSSSSSSSSSSSSSSSSSSSSSSSSSSSSSSSSSSSSSSSSSSS @BelmontMBB 83 UNC 80 JJMANN GW 3!!!!

— Belmont Basketball (@BelmontESPN) November 17, 2013
ESPNU Basketball Podcast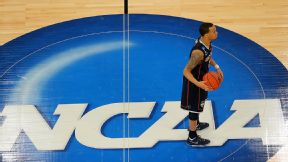 Adam Hunger/USA TODAY SportsAndy Katz and Seth Greenberg offer their thoughts on Kentucky vs. UConn.
Andy Katz and Seth Greenberg check in with newsmakers from around college basketball.