Daily Word: Can Memphis upset OK State?
Every weekday, Andy Katz leads a panel of our college hoops experts in a discussion of the biggest issues, trends and themes happening in and around college basketball.
1. How can Memphis upset Oklahoma State in Stillwater tonight?
Katz: The Tigers will have to defend without fouling and hope they can board. Memphis still doesn't have a reliable frontcourt. And if there is a flaw to Oklahoma State, it lies in the frontcourt, where the Cowboys don't have the same level of talent as along the perimeter.
O'Neil: I like the more frenetic style Josh Pastner is employing with his heavy guard rotation, but Memphis has to make sure the frenzy doesn't spread to its own offense, especially against Oklahoma State. The Cowboys guards, needless to say, are pretty good in their own right and the last thing Memphis wants to give Marcus Smart & Co. is easy offense.
Brown: The frenetic pace that Dana mentioned tended to sabotage Memphis at times last season. The Tigers had 21 turnovers in their season opener against Austin Peay -- that also happens to be the average number of turnovers the Cowboys force. It's simple, if Memphis plays under control against the Cowboys' pressure, they can pull off the upset.
2. Tuesday is the rare night when the biggest names among this freshman class are all in action. So which one -- Jabari Parker, Andrew Wiggins, Julius Randle or Aaron Gordon -- will have the most impressive performance tonight?
Katz: Randle. Kentucky coach John Calipari said he called the same play for Randle 16 straight times against Michigan State. Calipari will lean on Randle's size and strength advantage to exploit a mismatch against Arlington.
O'Neil: This is like picking the prettiest 10-carat diamond. All are good choices, but because we must pick, I'll lean toward Parker. Why? Because after a night that he scored 21 (as he did against UNC Asheville), his Hall of Fame coach wanted him to shoot even more. Parker has started his career with four consecutive 20-point nights. What's one more?
Brown: Randle will have most impressive performance, but it seems as though we're already starting to take him for granted. He's had a double-double scoring and rebounding in all four of Kentucky's games this season. Posting another will just be Randle doing what is already expected of him.
3. Which team in your Power Rankings played its way in with an impressive early win?
Andy Katz: Iowa State is the easy choice. But I'll offer up BYU. The Cougars were such an entertaining watch against Stanford that they made a strong enough case to be included. This team could end up being one of the top scoring teams in the country.
Dana O'Neil: For me, it's Iowa State. The Cyclones are fairly young but with a healthy Melvin Ejim, they proved against Michigan that they are a team to keep an eye on. Fred Hoiberg has done a terrific job rejuvenating the program in Ames and it looks as though he's not finished yet.
C.L. Brown: Iowa State with its win over Michigan looks primed to have many more big wins this season. Five players shoot more than 50 percent from the field, led by Ejim going 8-of-14 in his season debut against the Wolverines. Sophomore guard Naz Long, who has made 13 of 20 3-pointers, is another Canadian import to college basketball ready to make an impact.
---
Earlier Words: 11/18 » 11/14 » 11/13 » 11/12 » 11/11 » 11/8 » 11/7 » 11/6 » 11/5 »
Games To Watch
Hartford vs. Louisville, 7 p.m. ET, ESPN3


Louisville didn't partake in the Champions Classic and therefore missed out on the attention some of the other top-five teams received. Nonetheless, the Cardinals have beaten their first three opponents by an average of 31.7 points per game.
---
UTA vs. Kentucky, 7:30 p.m. ET, ESPN3


While many other ranked teams fell victim to upsets Sunday, Kentucky took care of business by routing Robert Morris and avenging last season's NIT loss. Oh, and the Wildcats did so by starting five freshmen for the first time in school history. Will coach John Calipari stick with that lineup?
---
Memphis vs. Oklahoma State, 8 p.m. ET, ESPN


Neither of these top-15 teams have been tested much early in the season. That's all about to change. It may not be the last time these two teams meet as a rematch in Orlando could be in store if both advance in the later rounds of the Old Spice Classic.
---
Iona vs. Kansas, 8 p.m. ET, ESPN3


Kansas looks to remain undefeated and welcomes Iona to Allen Fieldhouse. The Gaels, members of the MAAC Conference, lost their season opener to Cleveland State, but bounced back to beat Wofford last week.
They Said It
ICYMI: A fan belted out Miley Cyrus' "Wrecking Ball" as James Michael McAdoo tried to shoot a free throw. He missed » http://youtu.be/2D6V3ADmbZQ

— SportsCenter (@SportsCenter) Nov. 18, 2013
ESPNU Basketball Podcast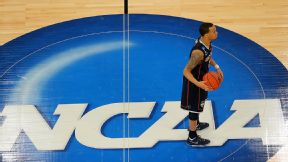 Adam Hunger/USA TODAY SportsAndy Katz and Seth Greenberg offer their thoughts on Kentucky vs. UConn.
Andy Katz and Seth Greenberg check in with newsmakers from around college basketball.