Daily Word: The return of Shabazz Napier
Every weekday, Andy Katz leads a panel of our college hoops experts in a discussion of the biggest issues, trends and themes happening in and around college basketball.
1. Shabazz Napier decided to return to UConn. What do you think about what he's done early in the year?
Andy Katz: Napier made an unselfish decision. He wasn't ready to leave or get selected high enough in the NBA draft or to contribute once there. He returned to improve his game and get UConn to the NCAA tournament. He's doing that by scoring when needed and by being the necessary playmaker (31 assists and 10 turnovers in four games). Napier is playing like an All-American.
Dana O'Neil: Napier has been exactly what UConn has needed this season -- a steady leader and a savvy playmaker. What's most impressive is that Napier isn't trying to do too much but rather making smart decisions at virtually every turn, shooting 50 percent from the floor and dishing out 31 assists to just 10 turnovers. He has been terrific.
Eamonn Brennan: I think he's figured it all out. Napier has always been a dangerous combination of scoring and playmaking at the point guard spot, but he's never quite found the balance between creating points and creating for others. Thus far this season, he's leading his team in usage but is fourth among starters in shot rate (17.7 percent); he's assisting teammates on 36.3 of his possessions; and he has been lights out (6-of-7 from 3) when needed. I think he has been spectacular.
2. What can VCU gain/prove at the Puerto Rico Tip-Off?
Katz: The Rams can come out of the event as a legit top-10 team. VCU already has won at Virginia, and a tournament title in Puerto Rico would mean the Rams will have likely taken out Florida State, Michigan and possibly Georgetown. The Rams will be fully vetted before the A-10.
O'Neil: The Rams can gain bonus points with the selection committee. Sans Saint Louis, Xavier, Temple and Butler, the Atlantic 10 isn't quite what it used to be, so wins there will be good but not great. Possible matchups with Michigan and Georgetown will go a lot further to cementing the Rams as a great team now and a solid seed come March.
Brennan: At this point, VCU's reputation is so strong -- and its performance to date has been so impressive -- that the only near-term thing to "prove" is whether the Rams are a bona fide Final Four candidate. That sounds like hyperbole, but if VCU can play within the new freedom of movement rules and still force opponents into a turnover on nearly 29 percent of their possessions, well, look out.
3. Wisconsin's Frank Kaminsky went for a school-record 43 points in his last game. What's your prediction for this one against Bowling Green?
Andy Katz: Let's not forget the Badgers have Sam Dekker, too. Kaminsky has the potential to be a scorer, but he doesn't need to be one for Wisconsin to win. And he's smart enough not to push his limitations. He'll play within what is given. So, I'll go with a 15-point outing for an encore, which will be more than acceptable.
O'Neil: I'll say 50. OK, not really. This isn't Grinnell. Kaminsky doesn't have to score crazy numbers for the Badgers to win, so I'm not sure we will see another night like the one he had against North Dakota. But Kaminsky is a serious and efficient scorer, so I do expect him to remain a big contributor to the Badgers offense.
Brennan: Fewer than 43 points! Bold prediction, I know. Of course it's not likely Kaminsky will go 16-of-19 from the field again anytime soon, but his outburst against North Dakota did give everyone a chance to notice a kid who was legitimately efficient in limited minutes for Wisconsin last season. He'll be a valuable weapon all year long.
---
Earlier Words: 11/20 » 11/19 » 11/18 » 11/14 » 11/13 » 11/12 » 11/11 » 11/8 » 11/7 »
Games To Watch
Boston College vs. UConn, 7 p.m. ET, ESPN2


The two schools get together at the 2K Sports Classic. The start of the season has not gone well for BC. And it might not get any easier, because it won't be easy to slow UConn's backcourt of Shabazz Napier and Ryan Boatright. The pair are averaging a shade over 26 points per game.
---
MTSU vs. Florida, 7:30 p.m. ET, ESPN3


Sure, the Gators are 3-1, but it hasn't been a smooth ride. And the loss of freshman guard Kasey Hill to a sprained ankle will make settling into the season even more difficult.
---
Florida State vs. VCU, 7:30 p.m. ET, ESPNU


The ACC could use a boost after a rough week. Can the Seminoles be the one that provides the conference the lift it needs, especially after bad, double-digit losses by NC State and Georgia Tech a night earlier?
They Said It
"Scoreboard!" #NCCUMBB defeats NC State for first win over an ACC team. pic.twitter.com/74IKCzPGOj

— NCCUAthletics (@NCCUAthletics) Nov. 21, 2013
ESPNU Basketball Podcast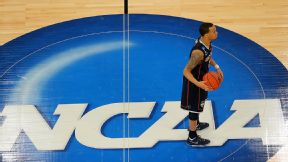 Adam Hunger/USA TODAY SportsAndy Katz and Seth Greenberg offer their thoughts on Kentucky vs. UConn.
Andy Katz and Seth Greenberg check in with newsmakers from around college basketball.