Daily Word: Checking out November's best
Every weekday, Andy Katz leads a panel of our college hoops experts in a discussion of the biggest issues, trends and themes happening in and around college basketball.
1. November is gone. What jumped out at you from the season's first month?
Andy Katz: The month started with a host of teams I felt certain could win the national championship. As the month ends, there is one that has the pieces and looks the part: Arizona. Now, of course there are a number of others who can -- and will -- challenge for the title (see: Michigan State, Kentucky, Louisville, Syracuse, Kansas, Duke, maybe Wichita State) but the Wildcats had the best month of the bunch and may have the most growth and combination of veterans and rookies to produce a title.
Myron Medcalf: I was just impressed by the maturity of the elite freshmen who entered the game accompanied by so much hype. Yes, Jabari Parker, Aaron Gordon, Andrew Wiggins and Julius Randle have flaws. But they haven't disappointed.
C.L. Brown: When No. 1 Michigan State trailed Columbia at halftime in the Breslin Center, it was just one of many games with ranked teams struggling that confirmed there are no clear-cut dominant teams. As Andy suggested, there are a lot of good teams that will have a legitimate shot at winning it all. But we could also see a No. 15 seed beat a No. 2 in the tournament.
2. What was the most significant individual performance of the past weekend?
Katz: Wichita State's Ron Baker scored 23 points in the CBE title win over BYU last week. His encore for the Shockers was 22 points at Saint Louis in a tough road environment. Baker was hurt last season and not a major factor at all in the Final Four run. The Shockers now have one of the best scoring wings in the country to add to an already elite team.
Medcalf: What was the most significant individual performance of the past weekend? Villanova's James Bell scored 20 points in a come-from-behind win over Iowa on Saturday in the Battle 4 Atlantis. His effort lifted the Wildcats, who also beat Kansas on Friday, into the Top 25. They also look like serious contenders for the Big East crown.
Brown: George Washington's Isaiah Armwood, who had 12 points in a 60-53 upset of Creighton, had a far bigger impact defensively. Armwood held Creighton's Doug McDermott to just seven points -- 21 points below his scoring average. By holding his own against McDermott, the Colonials didn't have to double-team and Armwood ended up with four blocked shots, two of which came at the expense of McDermott.
3. Florida starts a brutal 15-day stretch Monday against UConn, followed by games with Kansas and Memphis. What's the biggest key for the Gators over these three games?
Katz: Health. That may sound obvious, but the Gators have dealt with eligibility and injury issues. If Kasey Hill can come back sooner rather than later then Florida has a real shot to get through this gauntlet. The Gators are thin right now and we won't know the true ceiling of this squad until it is complete.
Medcalf: Health and availability. The Gators have had an unstable start due to all of the health issues and suspensions. But coach Billy Donovan has to work with what he has as the Gators build toward full strength. This gauntlet will really test a team that's still figuring things out due to the various lineups.
Brown: Playing with confidence down the stretch if the games happen to be close. The Gators were just 1-7 dating back to the 2010-11 season, according to gatorzone.com, in games decided by three points or less. Maybe Florida's 67-66 win against Florida State will be the boost they need before heading into their schedule crucible.
---
Earlier Words: 11/27 »11/26 »11/25 » 11/22 » 11/21 » 11/18 »
Games To Watch
Florida vs. Connecticut, 7 p.m. ET, ESPN2


Connecticut has already played a host of close games en route to its 7-0 start, with three wins decided by two points or less. Florida, meanwhile, has survived with a depleted roster, losing just once, on the road against Wisconsin. But the road is about to get more difficult for the Gators.
---
Auburn vs. Iowa State, 7 p.m. ET, ESPNU


Iowa State has already made noise, winning tough games against Michigan and BYU, along with the usual early-season blowouts mixed in. But now it's on to the Big 12-SEC Challenge. Can Auburn get a basketball stunner two days after a football shocker?
They Said It
Not sure a potential NCAA team/coach needed an early December win as much as Memphis and Josh Pastner Sun. Great bounce back vs. Ok State.

— ESPNAndyKatz (@ESPNAndyKatz) Dec. 1, 2013
ESPNU Basketball Podcast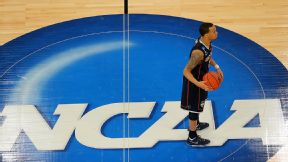 Adam Hunger/USA TODAY SportsAndy Katz and Seth Greenberg offer their thoughts on Kentucky vs. UConn.
Andy Katz and Seth Greenberg check in with newsmakers from around college basketball.