Daily Word: Ready for Big Ten/ACC Challenge?
Every weekday, Andy Katz leads a panel of our college hoops experts in a discussion of the biggest issues, trends and themes happening in and around college basketball.
1. How far can the Big Ten/ACC Challenge go in determining which is the best conference in the country?
Andy Katz: It may have no factor if the Pac-12 can get Arizona State back on track and UCLA continues to play well. Arizona is one of the best teams in the country, and Oregon is playing well. The Big Ten needs Michigan back to being Michigan and for Iowa to continue to exceed expectations. Michigan State and Ohio State are legit title contenders, while the ACC may have only one -- Syracuse -- or two, if Duke finds interior defense and a third and fourth scoring option.
Dana O'Neil: The ultimate measuring stick is still March. Whichever conference sends the most teams the furthest, if one should be able to hold the trophy at the end, that's where the real bragging rights come in. But the challenge is good at looking at the depth of the two conferences, and that's where I think the ACC falls apart in the comparison. Go outside the top, and you've got a really soft middle.
C.L. Brown: Early results are in, and the ACC has proven to be a paper champion so far despite preseason proclamations that it was the best conference. The Big Ten quietly has three top-10 teams -- including Michigan State at No. 1 -- and five teams ranked, which is more than any other league has. Ultimately, the winner will simply have bragging rights because March matters more.
2. What must Indiana do to upset Syracuse at the Carrier Dome?
Katz: This will be as tough a chore as the Hoosiers have had on the road recently. Indiana was befuddled by the zone in the Sweet 16, and that's when they had Cody Zeller and Victor Oladipo. This game may be decided more by how Indiana defends Syracuse, rather than the opposite. The Hoosiers will need to throttle the shooting of Trevor Cooney, keep Tyler Ennis out of the lane and attempt to limit C.J. Fair along the baseline.
O'Neil: Presumably, the Hoosiers are by now aware of the fact that Syracuse plays a zone. I say presumably because, last March, it sure looked like that was a surprise. Seriously, Indiana has to play smarter against the zone and attack it, not stand passively by and hope it falls apart, because it won't.
Brown: Yogi Ferrell and Will Sheehey are the only Hoosiers who played substantial minutes in that game, so, in a sense, IU will be getting used to the zone all over again. Ferrell has to have a better performance than his scoreless, four-turnover outing in the Sweet 16. Sheehey can help loosen up that zone if he can knock down a 12-footer that the Orange usually concede.
3. Can Duke overcome its defensive deficiencies and defend its 106-game nonconference home winning streak at Cameron Indoor against Michigan?
Katz: Yes. Michigan isn't healthy and is not playing up to its potential yet. There is no way the Blue Devils have a Vermont-like defensive effort two home games in a row. Losing to Arizona will fuel the Blue Devils to continue the streak without the drama.
O'Neil: I think Cameron tends to cure a lot of what ails Duke frequently, and against Michigan, I'd be surprised if that was any different. Certainly the Wolverines, who can work you inside-outside, will not be an easy opponent, but I think Duke wins this. Now, whether the Blue Devils are "cured" is another issue. One win does not a remedy make.
Brown: Part of the cure for the Blue Devils involves a dose of scoring more. I don't think, all of a sudden, Josh Hairston or Amile Jefferson is going to become a deterrent in the lane for Duke. But Michigan is stumbling into Cameron as it is, and the Blue Devils are good enough offensively to simply outscore the Wolverines.
---
Earlier Words: 12/2 » 11/27 » 11/26 » 11/25 » 11/22 » 11/21 »
Games To Watch
Indiana vs. Syracuse, 7:15 p.m. ET, ESPN


Syracuse ended Indiana's NCAA tournament run last season in the Sweet 16. The Hoosiers are looking for revenge in the Big Ten/ACC Challenge, but they will have to claim it on the road against the undefeated Orange, who beat Baylor to win the Maui Invitational.
---
Michigan vs. Duke, 9:15 p.m. ET, ESPN


Both programs have stumbled early, though Duke's losses (to Kansas and Arizona) are more excusable than Michigan's (Iowa State and Charlotte). Vermont nearly ended Duke's 106-game nonconference winning streak at Cameron Indoor Stadium. Can the Wolverines pull it off?
---
Notre Dame vs. Iowa, 9:15 p.m. ET, ESPN2


Notre Dame can endear itself to its new ACC colleagues by pulling the upset at Carver-Hawkeye arena. The Hawkeyes nearly came home from the Battle 4 Atlantis with the first-place trophy but fell to Villanova in overtime. The Irish's lone loss came to Indiana State at home.
They Said It
26 points.

Crucial 4-point play.

Buzzer-beater.

Yeah, Shabazz Napier had himself a game. pic.twitter.com/fUoqaJhcm1

— NCAA March Madness (@marchmadness) Dec. 2, 2013
ESPNU Basketball Podcast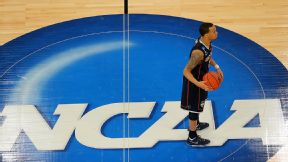 Adam Hunger/USA TODAY SportsAndy Katz and Seth Greenberg offer their thoughts on Kentucky vs. UConn.
Andy Katz and Seth Greenberg check in with newsmakers from around college basketball.