Daily Word: Florida getting back to full strength
ideo1>
Every weekday, Andy Katz leads a panel of our college hoops experts in a discussion of the biggest issues, trends and themes happening in and around college basketball.
1. Florida is getting near full strength, with Scottie Wilbekin and Kasey Hill available. What will be the most noticeable difference for Florida?
Andy Katz: If the Gators have Wilbekin and Hill on the court together, they might be able to play in a disruptive manner. Kansas has strong guards in Frank Mason and Nadir Tharpe. The big matchup could end up being Andrew Wiggins and Casey Prather and/or Joel Embiid and Patrick Young. But if the Gators can play frenetic, that will be the most significant change.
C.L. Brown: Composure. Wilbekin and Hill have combined for 34 assists and just 11 turnovers. Unlike in Florida's close losses to Wisconsin and UConn, if the game is tight against Kansas down the stretch, the Gators will at least have their floor leaders to guide them.
Eamonn Brennan: A more balanced Florida team is a more dangerous Florida team, and that's what the Gators will have as Hill and Wilbekin get healthy and eligible together. Frankly, the fact that Florida has been as good as it has is a minor miracle, given the vast personnel issues the Gators have had, and Patric Young and surprise All-American candidate Casey Prather deserve the credit. But they need help in the backcourt, and they should have more of it now.
2. What must Boise State do Tuesday to score an upset of Kentucky at Rupp Arena?
Katz: Score. Score. Score. The Broncos are the top-scoring team in the country. If they are going to pull off the upset, they will have to make this a high-scoring affair. Boise State can't play with Kentucky in the half court. But the Broncos have the shooters to rip and run.
Brown: Given Baylor's effective use of a zone defense against Kentucky, I'd imagine playing zone will be a heavy part of the equation. More importantly, the Broncos could be able to run in spots against the Wildcats, especially if their transition defense is as spotty as it was against the Bears.
Brennan: The biggest surprise of Kentucky's loss to Baylor on Friday night was that the Wildcats, who have struggled from beyond the arc this season, shot 47 percent from 3 in the loss. Packing in a zone, doubling Julius Randle and forcing the Wildcats to shoot had looked like the best option for stopping them … but now, as Kentucky's defense struggles, it looks as if getting up the floor and playing crisp offensive basketball gives you just as good a shot. Boise State can do as much.
3. Which team in your Power Rankings makes you most nervous?
Katz: The last one: UCLA. The Bruins had a tough road game at Missouri and will play Duke next week. They have struggled at times and don't have great depth. But the core group is talented enough to be a major factor near the top of the Pac-12.
Brown: The obvious answer is North Carolina, which has literally proved it can beat or lose to any team. Then again, a lot of ranked teams have flaws -- some just havent been exposed in defeat yet.
Brennan: Honestly? I'm most nervous that I didn't rank Pittsburgh. The Panthers' schedule has been straight-up atrocious, so it makes sense that they're not showing up on anybody's ballots these days. But their schedule also has hidden what looks, by the numbers, to be a very capable (and typical) Jamie Dixon team.
---
Earlier Words: 12/7 » 12/6 » 12/5 » 12/4 » 12/3 » 12/2 » 11/27 » 11/26 »
Games To Watch
Kansas at Florida, 7 p.m. ET, ESPN


Florida is at last getting its full team on the floor. It's nice to be fully healthy, huh? A win would make Kansas feel good, that's for sure. The Jayhawks are still smarting after being stunned by Colorado this weekend.
---
Boise State at Kentucky, 9 p.m. ET, ESPN


Like Kansas, Kentucky could use a win. The Wildcats fell against Baylor this weekend. But this won't be a layup; Boise State is a perfect 8-0 and is scoring more points (91.9 per game) than any other team in the nation.
---
Gonzaga at West Virginia, 9 p.m. ET, ESPN2


Gonzaga has rebounded after a disappointing early loss in Maui against Dayton, winning four in a row. West Virginia has lost two of three, and leading scorer Eron Harris is coming off his worst game of the year, going for just 8 points against Missouri.
They Said It
Help us congratulate @DickieV on 35 AWESOME years at ESPN with your own impression. Submit your videos w/ #DickieV35. http://youtu.be/ixfHopSabgo

— ESPN College BBall (@ESPNCBB) Dec. 10, 2013
ESPNU Basketball Podcast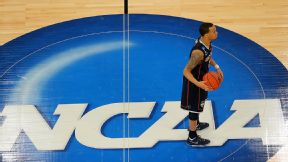 Adam Hunger/USA TODAY SportsAndy Katz and Seth Greenberg offer their thoughts on Kentucky vs. UConn.
Andy Katz and Seth Greenberg check in with newsmakers from around college basketball.