Daily Word: Who makes No. 1 Wildcats go?
Every weekday, Andy Katz leads a panel of our college hoops experts in a discussion of the biggest issues, trends and themes happening in and around college basketball.
1. All the early attention on Arizona was centered on Aaron Gordon. But what about T.J. McConnell as the Wildcats' most valuable piece? Or is it Nick Johnson?
Andy Katz: Nick Johnson is the most valuable player right now for Arizona. Coach Sean Miller said he is the one who can create his own shot when needed. He isn't afraid to take or make the big shot.
Dana O'Neil: A true point guard was the biggest missing piece for the Wildcats last year, so it's McConnell. As good as Johnson and all of the other pieces are for Arizona, they wouldn't be anywhere near as effective without McConnell.
Eamonn Brennan: I'm torn, because Johnson's perimeter scoring -- and lead scoring, for that matter; he is taking on almost 26 percent of his team's shots and staying efficient while doing so -- is valuable. But if I had to take one, I'd probably take McConnell, not only because his passing keeps Arizona's offense moving but because he's a quality perimeter defender, too.
2. Were Kansas' 24 turnovers more a product of the Jayhawks' inexperience or Florida's defense?
Katz: The Jayhawks were too one-dimensional. But Florida's sudden depth again on the perimeter played a role. Kansas is going through some "normal" freshman growing pains that should be solved by the Big 12. But the Jayhawks could take on another loss with a brutal slate still to come.
O'Neil: Yes. As in both. Playing a good defensive team, particularly one that can mix it up as Florida can, is a recipe for disaster for a young Kansas team and the disaster came in the form of all of those turnovers. The Jayhawks looked passive against the zone, if not flat-out confused.
Brennan: I don't know if turnovers correlate to experience or lack thereof, but I'll go with some version of "both." Kansas turns the ball over too much generally, and Florida's defense is excellent at hurrying opponents in its own right.
3. You know the old adage: Defense wins championships. Is there a better defensive team than Ohio State?
Katz: If the Buckeyes win the Big Ten it will be because of their defense. Ohio State has a reliable index to feed off of in close games. We still need to see how the Buckeyes navigate the more treacherous games to come. But Ohio State can rely on its defense to keep it in every game and in a position to win.
O'Neil: Thad Matta said before the season he wasn't terribly worried about the new rules because he had a team that knew how to play defense. He was right. The Buckeyes have mastered the art of being disruptive without being penalized, and that defense is a true separator between Ohio State and everyone else in the Big Ten.
Brennan: Ohio State's defense is not just the best in the country, it is also stands a very good chance of being the best of Matta's career -- the Buckeyes somehow force turnovers without fouling, a code Matta and very few others have cracked.
---
Earlier Words: 12/10 » 12/9 » 12/7 » 12/6 » 12/5 » 12/4 » 12/3 » 12/2 »
Games To Watch
Bryant at Ohio State, 7:30 p.m. ET


Maryland's season is off to a shaky start, but coach Mark Turgeon feels there are brighter days ahead. The Terps will get the chance to start conference play on a high note when they travel to play a struggling Boston College team..
They Said It
Florida's 67-61 win over Kansas by the numbers. #ItsGreatUF #UFvsKU pic.twitter.com/T4GjZ8wxcu

— Gator M-Basketball (@GatorZoneMBK) Dec. 10, 2013
ESPNU Basketball Podcast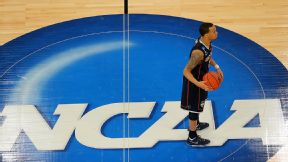 Adam Hunger/USA TODAY SportsAndy Katz and Seth Greenberg offer their thoughts on Kentucky vs. UConn.
Andy Katz and Seth Greenberg check in with newsmakers from around college basketball.