Daily Word: Will Florida's 1-3-1 cause problems?
Every weekday, Andy Katz leads a panel of our college hoops experts in a discussion of the biggest issues, trends and themes happening in and around college basketball.
1. Florida has introduced a 1-3-1 defense. How much of a problem might that be for Memphis?
Andy Katz: Memphis has the guards to drive on the zone, but the Tigers will need to be able to make shots if there is a collapse on the zone and an opening. Shaq Goodwin's ability to rebound and find the seams -- against Patric Young -- also will be a decisive part of the game. The Gators' pressure could be a problem for Memphis, too, if the Tigers can't handle a frenetic pace.
Myron Medcalf: A huge problem. That new scheme crushed a Kansas team that might not have Memphis' backcourt talent and experience, but the Tigers certainly have endured ballhandling woes. The Tigers are 128th in offensive turnover percentage and Florida is 12th in defensive turnover percentage, according Ken Pomeroy. Might be the most important stat of the night. /p>
C.L. Brown: It shouldn't be a problem at all if the Tigers practice patience against it. Memphis has a deeper backcourt than most, but it still has a tendency to turn it over too much. Geron Johnson has almost negated his team-leading 31 assists by committing 26 turnovers.
2. Pittsburgh is 10-0. How soft is that record?
Katz: Pitt wanted to play a better slate but drew Penn State in the Big Ten-ACC Challenge, and Ohio State moving out of the Legends Classic weakened that field. Look, Pitt's schedule now doesn't look strong, but in the end, after ACC play, the RPI should be just fine. The Panthers pass the eye test if you watch their ability to score, defend and play with purpose.
Medcalf: It's like a 10-0 record in the CBI tournament or something. Doesn't necessarily mean the Panthers are overrated or anything, but we probably won't know anything about them until they're knee-deep in ACC play.
Brown: It's soft enough to where I don't really know how to gauge the Panthers' start. Pitt has won by an average of 21 points per game, but I'm not convinced it will score at the same rate when the competition level increases. Cincinnati will put that to the test tonight, as the Bearcats rank sixth nationally in scoring defense.
3. Wichita State and Oregon are both undefeated. In which team do you have more confidence?
Katz: Can I answer both? These are two teams that have a legit shot to make a deep run in March. Oregon, which is averaging the second-most points in the country, is getting back Ben Carter and Dominic Artis after their nine-game suspension. If the interior players can defend and rebound, the Ducks have a shot. Wichita State plays with as much passion and intensity as any team in the country. This team never quits. These Shockers look more like a Final Four team than the one that made it last season.
Medcalf: I like Wichita State because I think the Shockers have the experience necessary to make another postseason run, they're as confident as any team in America, and they're playing great defense (12th in adjusted defensive efficiency, per KenPom.com). Find another team that's held BYU to 62 points.
Brown: I think that answer lies in what you prefer: a great offense or a great defense. I'll take defense and Wichita State. The Shockers are holding opponents to 38.8 percent shooting from the field. They continue to build off last season's Final Four run.
---
Earlier Words: 12/16 » 12/13 » 12/12 » 12/11 » 12/10 » 12/9 » 12/6 » 12/3 »
Games To Watch
Pittsburgh vs. Cincinnati, 7 p.m. ET, ESPN


The Jimmy V Classic kicks off with a game featuring two teams who have had impressive nonconference seasons, but find themselves outside of the top 25. Pitt doesn't have a marquee win, but is undefeated. Cincinnati started with seven wins, but has lost two straight games.
---
Florida vs. Memphis, 9 p.m. ET, ESPN


Those who wrote Florida off early might want to grab a seat on the bandwagon as the Gators, who beat Kansas last week, get back to full strength. Memphis, meanwhile, has not lost since being embarrassed by Oklahoma State in November.
---
Missouri State at Louisville, 9 p.m. ET, ESPN2


Louisville has rattled off four straight wins since losing to North Carolina, but the competition hasn't been exactly daunting. Missouri State's lone loss came to Virginia and the Bears are coming off a road win over Oral Roberts.
They Said It
Jabari Parker has 8 games with 20 or more points, 3 shy of Gene Banks' Duke freshman record (set in 1977-78 season) pic.twitter.com/1yeDKlx3Uw

— ESPN Stats & Info (@ESPNStatsInfo) Dec. 16, 2013
ESPNU Basketball Podcast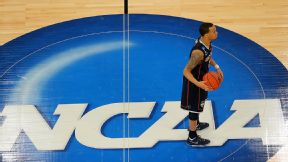 Adam Hunger/USA TODAY SportsAndy Katz and Seth Greenberg offer their thoughts on Kentucky vs. UConn.
Andy Katz and Seth Greenberg check in with newsmakers from around college basketball.