Daily Word: Is a renaissance coming at Texas?
Every weekday, Andy Katz leads a panel of our college hoops experts in a discussion of the biggest issues, trends and themes happening in and around college basketball.
1. Texas hasn't won an NCAA tournament game since 2009. Is this year's Longhorns squad a tournament team? Will we know after tonight?
Andy Katz: Texas has time to prove whether the Longhorns are tourney-worthy. The two games this week against North Carolina and Michigan State are a start, but with two games each against Kansas, Iowa State, Oklahoma State and Baylor, there are plenty of opportunities. UT coach Rick Barnes said earlier this week that this team wants to be in Austin. These players are committed to the program, and that's a shift from a year ago.
Myron Medcalf: Texas lost so much talent from last season. So the 9-1 start is impressive. But you can't talk tourney simply because the Longhorns have defeated Temple. The schedule has been soft and they'll face UNC, Michigan State and Oklahoma State in the coming weeks. We won't know about their postseason hopes for some time.
C.L. Brown: I'd only give a definitive yes if the Longhorns won both games against North Carolina and Michigan State this week. Texas is young and it is still a long season. The best thing that can come out of this week for Texas is a confidence boost, either in winning or playing well against ranked competition.
2. UConn hasn't played in almost two weeks. Is Stanford good enough to make the Huskies pay if they come out rusty?
Katz: The Huskies should be fine. They've got one of the leading candidates for national player of the year in Shabazz Napier. UConn has been tested in games against Maryland, BC, Indiana and Florida. The Huskies just need to continue to rebound to get by in key games.
Medcalf: Anything is possible in college basketball. Chasson Randle certainly helps. But the Cardinal have been plagued by defensive lapses all season (79th in adjusted defensive efficiency per Ken Pomeroy). That will be a problem against the Huskies.
Brown: If this game was on the West Coast I'd say yes, because UConn hasn't played a true road game yet and its three neutral-site games were in New York City. But alas, this game is in Hartford and the Huskies are 6-0 at home and will be facing a Stanford squad that allowed 88 points to offensively challenged Pittsburgh.
3. Is this Billy Donovan's best Florida team since his last title in 2007?
Katz: Yes. That doesn't mean the Gators will win the title, but it is his most talented and potentially deepest. Florida has been to three straight Elite Eights, so the Gators have the pieces in place to make another run with or without the addition of McDonald's All American Chris Walker.
Medcalf: If he gets Chris Walker and Chris Walker learns the system and everyone stays healthy and available ... then maybe. At 100 percent, this Gators squad is one of Donovan's best in recent years. But he's reached the Final Four and the Elite Eight multiple times in recent years with good Gators squads.They all had a cohesiveness that Florida is still developing.
Brown: These Gators are talented and tougher than Billy Donovan's teams since 2007, but most importantly, they're tested. Florida has played one of the toughest nonconference schedules with games against Wisconsin, Kansas, UConn and Memphis. And, it should be noted, it had key players missing in both of its losses. I believe the Gators have passed Kentucky as the SEC favorites and are national title contenders -- with or without Chris Walker.
---
Earlier Words: 12/17 » 12/16 » 12/13 » 12/12 » 12/11 » 12/10 » 12/9 » 12/6 »
Games To Watch
Texas at North Carolina, 7 p.m. ET, ESPN2


If North Carolina is to follow the trend of its season so far, the Tar Heels are ripe for a loss. But if the win over Kentucky was any indication, Roy Williams appears to have figured out how to play without missing pieces P.J. Hairston and Leslie McDonald.
---
Stanford at Connecticut, 9 p.m. ET, ESPN2


UConn remains undefeated, but the Huskies haven't played a game in almost two weeks. They will welcome a Stanford team that is in search of a nonconference win to hang its hat on. Having already lost to BYU and Pitt, this could be the Cardinal's last chance.
They Said It
Southern Illinois coach Barry Hinson went on an all-time EPIC rant after his team lost to Murray State last night » http://youtu.be/GBqZY72wZ90

— SportsCenter (@SportsCenter) Dec. 18, 2013
ESPNU Basketball Podcast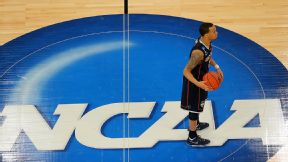 Adam Hunger/USA TODAY SportsAndy Katz and Seth Greenberg offer their thoughts on Kentucky vs. UConn.
Andy Katz and Seth Greenberg check in with newsmakers from around college basketball.