Daily Word: Can Northwestern pull stunner?
ideo1>
Every weekday, Andy Katz leads a panel of our college hoops experts in a discussion of the biggest issues, trends and themes happening in and around college basketball.
1. Northwestern is known to put a scare into somebody at Welsh-Ryan Arena during the Big Ten schedule. Any chance it can stun Wisconsin in the two teams' Big Ten opener?
Andy Katz: Northwestern hasn't shown that it can at this juncture in the season. The Wildcats have struggled closing out teams. Wisconsin has been the complete opposite. New Wildcats coach Chris Collins is still getting his feet on the ground with this crew. The Badgers have been far too efficient, disciplined and productive at home, on the road or a neutral court.
Dana O'Neil: A chance, sure. There's always a chance, but I'd say a fairly slim one. Northwestern has struggled offensively, and Wisconsin excels on defense. That's a bad combination for the Wildcats.
Eamonn Brennan: This is college basketball, so there's always a chance, but the Northwestern teams that have upset the occasional Big Ten title contender in recent years were much better than this group. The Wildcats have scored 114 points in their past 140 possessions, good for a win against Brown and a loss to DePaul. Not likely.
2. Gonzaga isn't at full strength. In light of Gary Bell being out and Sam Dower ailing, what weaknesses should Saint Mary's try to exploit?
Katz: The Gaels have to be patient. Kevin Pangos is still as dominant at his position as he has been all season. But Saint Mary's can't play a running game with the Zags. If Saint Mary's can rebound and defend in transition, the Gaels might have a shot. But Gonzaga proved this weekend -- even with starters out -- that it's deep enough to run through the league, regardless of the competition.
O'Neil: The Zags' biggest deficiency is in their numbers. Without Bell and Dower, Gonzaga is simply short-handed. So the Gaels' biggest advantage might be to just do what they do -- get up and down the floor and hit 3s. Gonzaga might not have the bodies to keep up with them.
Brennan: Saint Mary's has one of the more efficient offensive units in the country to date; Gonzaga's defense was kind of a mess before Bell and Dower were hurt. I don't think much changes for Saint Mary's on the offensive end: They're still going to run their stuff and shoot (and make) a bunch of 3s. The Zags' injuries hurt them most on the offensive end, where they might spend the night desperately trying to keep pace.
3. Arizona is the class of the Pac-12. That much is clear. Who comes next?
Katz: Oregon. The Ducks have more experience than any other team, with older players such as Mike Moser, Joseph Young and Jason Calliste, all of whom have been in situations in which they've had to produce. This Oregon team will be a major factor, not just in the Pac-12 but for certain in the NCAA tournament.
O'Neil: Oregon in a runaway. The Ducks won their first nine games without starting point guard Dominic Artis and have kept on winning with him in the lineup. This is no surprise undefeated team. Dana Altman has a potent offense, a deep bench and tons of talent all over the court that is capable of giving Arizona a run for its Pac-12 money.
Brennan: Oregon. The Ducks are one of a handful of remaining unbeatens, and there's nothing fluky in it (sorry, Toledo). Oregon has played beautiful, tight-knit offense; Moser has revitalized his career in that big-small-forward role; and Young is having a scoring season (142.4 offensive rating on 22.3 usage, 60.5 percent from 2, 46.7 percent from 3, etc.) for the ages.
---
Games To Watch
Wisconsin vs. Northwestern, 7 ET, ESPN2


The Badgers are off to their best start in 100 years, opening with 15 straight wins, and open the Big Ten season as one of three league teams in the top five in the nation.
---
Michigan at Minnesota, 7 ET


It's time for the Wolverines to test out how life in the Big Ten without Mitch McGary will work out. For Minnesota, this will be the first real test in a while; the Gophers played an easy schedule in December.
---
Oregon vs. Utah, 8 ET


Like points? This is the game for you. The two teams are in the top three in the nation in points and in field goal percentage.
---
Saint Mary's at Gonzaga, 9 ET, ESPN2


Sure, it's early in the conference season; Saint Mary's has played one WCC game and Gonzaga has played two. Still, this is a big game in the scope of the league because these are two of the WCC's finest.
They Said It
Rise and shine... It's Gameday from snowy Evanston pic.twitter.com/iLT26Qfyyo

— Wisconsin Basketball (@BadgerMBB) Jan. 2, 2014
ESPNU Basketball Podcast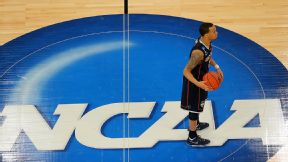 Adam Hunger/USA TODAY SportsAndy Katz and Seth Greenberg offer their thoughts on Kentucky vs. UConn.
Andy Katz and Seth Greenberg check in with newsmakers from around college basketball.