Daily Word: Key to Ohio State-Michigan State
ideo1>
Every weekday, Andy Katz leads a panel of our college hoops experts in a discussion of the biggest issues, trends and themes happening in and around college basketball.
1. What's the toughest matchup to gauge in tonight's game between Ohio State and Michigan State?
Andy Katz: Keith Appling will have a hard time dealing with Aaron Craft. The question will be how Ohio State handles Gary Harris. The stingy Ohio State defense will make it hard for Michigan State to get open shots, but if/when any of them come, Harris has to knock them down.
Dana O'Neil: The Keith Appling-Aaron Craft matchup will, of course, be fascinating and critical but the one that will be trickier to really gauge is on the inside -- just how do Amir Williams and LaQuinton Ross fare against Branden Dawson and Adreian Payne? The Spartans' interior players have been terrific while the Buckeyes have been spotty, so whoever wins this battle could win the game.
C.L. Brown: It has to be Appling versus Craft, doesn't it? In seven career games against the Spartans, Craft has overall gotten the best of Appling, statistically speaking, which is why the Buckeyes hold a 4-3 edge in those meetings. Whoever wins this individual matchup will likely also be celebrating a team victory too.
2. Both Iowa State and Baylor can score. Who do you expect to play better defense in Tuesday's top-10 matchup?
Katz: Iowa State. Baylor has the length, but whether the Bears have the lockdown defenders is the question. The Cyclones have proved they can defend in late-game situations at home, road or on a neutral court.
O'Neil: I rarely put Baylor and defense in the same sentence, but the Bears, in this case at least, excel on the boards while Iowa State leans toward anemic. It's splitting the smallest of hairs, but with two teams that are offense first, second and last, that little difference might be all that matters.
Brown: I'm leaning toward Baylor, because I'm not sure Iowa State can keep the Bears off the boards. They average 13 offensive rebounds per game so even if the Cyclones' defense is tough on the initial shot, they will most likely end up defending a second attempt. That can break any defense down.
3. How do you expect Duke to perform against Georgia Tech after its loss to Notre Dame
Katz: This is the worst-case scenario for Georgia Tech. Duke will be on complete lockdown for this game after losing to the Irish. A depleted Georgia Tech is the perfect team for Duke to play in order to get its mojo back. Expect Jabari Parker to erase the sour taste of his first poor performance as he scored seven points in the loss to Notre Dame.
O'Neil: Duke needs to thank the ACC scheduling gods for this manna from heaven. There is nothing like a home game against a struggling opponent to cure what ails you. But I'm pretty sure that Mike Krzyzewski will be looking at more than just the final score. This will be about how the Blue Devils play, and more how they defend. I suspect Duke will come out charged but I also think what ails the Blue Devils isn't a quick overnight fix.
Brown: If Duke had to play in Atlanta, maybe it would still be reeling a bit from the loss in South Bend. But returning home to Cameron Indoor Stadium will be the Blue Devils' panacea.
---
Earlier Words: 1/6 »1/3 »1/2 »1/1 »12/30 »12/27 »
Games To Watch
Baylor at Iowa State, 7 ET, ESPN2


Both teams average more than 75 points per game, meaning defense could make the difference. Baylor is one of the best 3-point shooting teams in the country (42.5 percent), but also boast an inside presence with leading scorer Cory Jefferson.
---
Georgia Tech at Duke, 7 ET, ESPNU


Duke suffered a demoralizing loss at Notre Dame in its first ACC contest as coach Mike Krzyzewski chose to sit Jabari Parker down in the game's final minutes. How will the Blue Devils and Parker respond back in the friendly confines of Cameron Indoor Stadium?
---
Ohio State at Michigan State, 9 ET, ESPN


Michigan State was hardly tested in its first two Big Ten road games (at Penn State and Indiana), but undefeated Ohio State is believed by many to be the best defensive team in the country. Can the Buckeyes bottle up Keith Appling and Gary Harris?
ESPNU Basketball Podcast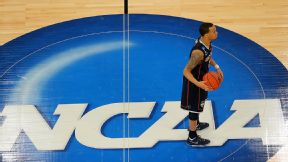 Adam Hunger/USA TODAY SportsAndy Katz and Seth Greenberg offer their thoughts on Kentucky vs. UConn.
Andy Katz and Seth Greenberg check in with newsmakers from around college basketball.