Daily Word: Will Arizona stop UCLA?
ideo1>
Every weekday, Andy Katz leads a panel of our college hoops experts in a discussion of the biggest issues, trends and themes happening in and around college basketball.
1. UCLA and Arizona's only meeting of the season comes Thursday. Is UCLA's offense potent enough to find the holes in Arizona's stingy defense?
Andy Katz: Arizona has more size, commitment and discipline than USC, so the Bruins will find it more difficult to score in transition. But they must score in transition if they are going to have a chance. The Bruins will have a hard time winning a half-court game against the Wildcats' length inside.
Dana O'Neil: There's a reason that old cliche exists: Defense does win championships. It will be much easier for a very good defensive team like Arizona to force style and tempo than a free-wheeling team like UCLA. The Wildcats are long and tough, especially inside, which will make it hard for UCLA's guards to get to the rim. On the flip side, Arizona can score, too, and UCLA will have a tough time stopping that.
Myron Medcalf: The Bruins have the weapons to execute against Arizona, but that doesn't mean they will. Arizona's size and athleticism (second in adjusted defensive efficiency, per Ken Pomeroy) will give UCLA a unique defensive look that has created problems for opponents all season. Plus this is only the third ranked opponent that UCLA has faced this season, so the Bruins' 87.1 PPG (fifth in the country) has to be viewed in the proper perspective.
2. Memphis went 2-of-17 from 3-point range in its loss to Cincinnati. Are the Tigers too reliant on the deep ball? Can they afford to be Thursday night against Louisville?
Katz: The Tigers should be more of a driving team with the ability of Michael Dixon and Joe Jackson to put the ball on the floor. The Cardinals aren't going to give the 3-point line up to Memphis. If the Tigers are going to win, they must get the ball on the floor and make it to the basket.
O'Neil: In a word, yes. With four guards who are as quick, explosive and fearless as the ones Memphis has, they should be going to the basket more frequently than settling for 3s. At the very worst, with the new rules, they are bound to draw contact and get fouled. Against Louisville, a team whose frontcourt is rebuilding without Chane Behanan, the Tigers absolutely need to drive the ball to win the game.
Medcalf: They relied on the 3 too much in that game, but not overall. They've taken only 209 3-pointers this season. And they've only made 29 percent of them. I think Memphis knows that the 3-ball is not its strength at this juncture.
3. Were you surprised to see Boise State take San Diego State to the final possession?
Katz: Not at all. Boise State has five starters back and pushed Iowa State to the max, too. As well as the Aztecs have played this season they don't possess the blowout capabilities. Boise State is talented enough to be a tournament team, but it has to start winning these games against comparable NCAA teams if it wants a bid.
O'Neil: No. Remember, at the beginning of the season Boise State was on everyone's sleeper lists, and with all of their starters, there was good reason. Mix in the fact that the Aztecs were coming off arguably their biggest win by taking down Kansas and that conference play is always bananas and it's easy to see why Boise State was right there with San Diego State until the end. Caveat: The Aztecs still won, the mark of a truly good team.
Medcalf: Not really. San Diego State is really good. But Boise State is a tourney team that features every key player from last season. The Broncos played Iowa State tough earlier this season. They have Top 25 talent, but they have to learn how to finish.
---
Games To Watch
Memphis at Louisville, 7 ET, ESPN


Louisville will play its first home game in almost a month against the rival Tigers. The Cardinals have won the last four meetings in the rivalry, but expect this one to be close. The teams are almost mirror images of each other.
---
Arizona at UCLA, 9 ET, ESPN


Part of the reason Arizona is the No. 1 team in all the land is its stellar defense (it allows 54.9 points per game). UCLA scores almost 90 points per game. Something has to give. Can the Wildcats slow the Bruins at Pauley Pavilion?
They Said It
Georgia coach Mark Fox, who lost his dad Friday, shares an emotional moment with a player after tonight's upset win: pic.twitter.com/8BuNf5A1Lq

— NCAA March Madness (@marchmadness) Jan. 8, 2014
ESPNU Basketball Podcast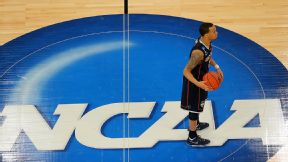 Adam Hunger/USA TODAY SportsAndy Katz and Seth Greenberg offer their thoughts on Kentucky vs. UConn.
Andy Katz and Seth Greenberg check in with newsmakers from around college basketball.