Daily Word: Must-win for Ohio State?
ideo1>
Every weekday, Andy Katz leads a panel of our college hoops experts in a discussion of the biggest issues, trends and themes happening in and around college basketball.
1. Is Thursday's game against Minnesota a must-win for Ohio State?
Andy Katz: Hard to say that now. Teams can still lose three in a row at this stage in the season and survive. Ohio State doesn't have much to show for its nonconference slate with Marquette and Notre Dame tailing off. But the Buckeyes still haven't suffered a bad loss. Their losses to Michigan State and Iowa came down to late-possession scenarios. Minnesota has been scrappy. This isn't a must-win, but it's a good bet the Buckeyes need it if they want a chance to chase the league title.
Dana O'Neil: It's a must-win for their confidence more than anything. Ohio State clawed back against Michigan State, but lost. Then the Buckeyes led late against Iowa -- and lost. That's going to shake anybody, but especially a team that prides itself on winning with defense and chutzpah. Three losses in January wouldn't be the end of the world NCAA tournament-wise, but it could hurt Ohio State mentally.
Myron Medcalf: I don't think the Buckeyes are in a must-win situation after losing to two of the top teams in the country, Michigan State and Iowa. And this upcoming stretch should help Ohio State recover (at Minnesota, at Nebraska, Illinois, Penn State). But a loss would be a concern simply because the Buckeyes don't have an impressive win on their résumé yet.
2. Memphis forward Shaq Goodwin has been on a tear. Does UConn have an answer in its frontcourt?
Katz: DeAndre Daniels and suddenly Amida Brimah are more than capable of checking Goodwin. The length both possess could be an issue, but only if they hold their ground and don't give into the temptation of chasing Goodwin. But Shabazz Napier must play well for the Huskies to have a chance in Memphis.
O'Neil: They have the bodies, but the question is: Are they capable? DeAndre Daniels, Omar Calhoun and Amida Brimah have been OK lately, but certainly the frontcourt has dogged the Huskies all season. Brimah's emergence helps, but stopping Central Florida is a lot easier than containing Goodwin. The combination of Memphis' four guards and their ability to penetrate with Goodwin could be too much for UConn to handle.
Medcalf: Maybe. As Andy mentioned, DeAndre Daniels is capable. And Amida Brimah will help. But Goodwin is a different player this season because his body has changed. He's not tiring in lengthy stretches anymore, so the overall stamina of UConn's frontcourt will be significant in this matchup.
3. UMass went on a 7-1 run in the final 36 seconds to beat George Mason. How do the Minutemen keep warding off defeat?
Katz: The Minutemen are having one of those special seasons. UMass has been down the past few games and found a way to win. Derrick Gordon has been opportunistic of late, making big shots. This team has shown it's not just Chaz Williams. UMass doesn't quit and its defense has come through late in games.
O'Neil: Sometimes after a team has fought and scrapped to become good again, it all finally just comes together. That's UMass right now. This is a talented, experienced team with a terrific leader in Chaz Williams. It's also a team that has that little extra something that can't be quantified: confidence. The Minutemen believe they can win, even in the craziest of circumstances.
Medcalf: Last month, I spent some time with the program. Players said the difference between this season's team and last season's is the selflessness. Last season, they admitted, a "get mine" attitude kept them from reaching their potential. But that's no longer a problem, so they're sticking together instead of unraveling in tough times.
---
Earlier Words: 1/15 »1/14 »1/13 »1/10 »1/9 »1/8 »1/7 »
Games To Watch
UConn at Memphis, 7 ET, ESPN


Here's a matchup between two teams that are seemingly riding opposite trajectories in the American race. After a hot start, UConn dropped its first two conference games (at Houston and SMU). Memphis, meanwhile, is fresh off wins at Louisville and Temple.
---
Missouri at Vanderbilt, 7 ET, ESPN2


In order to keep pace with Florida and Kentucky in the SEC, Missouri cannot afford any more losses like the game it dropped at home to Georgia last week. Vanderbilt is still in search of its first conference win.
---
Ohio State at Minnesota, 9 ET, ESPN2


Minnesota might be sitting at .500 in the Big Ten, but don't let that fool you. Joe Lunardi's latest bracket has the Gophers making the NCAA tournament. Ohio State is looking to shake its two-game losing streak after falling to Michigan State and Iowa.
They Said It
I cannot thank our fans enough, especially our students, for their support tonight. You were our sixth man. Our guys fed off of your energy.

— Tubby Smith (@CoachTubbySmith) Jan. 16, 2014
ESPNU Basketball Podcast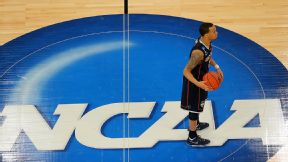 Adam Hunger/USA TODAY SportsAndy Katz and Seth Greenberg offer their thoughts on Kentucky vs. UConn.
Andy Katz and Seth Greenberg check in with newsmakers from around college basketball.