Daily Word: Game-changer in Baylor-Kansas
ideo1>
Every weekday, Andy Katz leads a panel of our college hoops experts in a discussion of the biggest issues, trends and themes happening in and around college basketball.
1. Down the stretch, who makes the big play that decides Baylor vs. Kansas?
Andy Katz: I'm all-in with Joel Embiid now. His defensive presence is the difference and can disrupt Baylor at key moments. This will be the toughest task yet for him with the length of Baylor's Isaiah Austin and Cory Jefferson. But he has become a game-changer.
Dana O'Neil: I'm not certain a down-the-stretch play will be necessary, but if push comes to shove, I think Andrew Wiggins is the guy. The freshman had the worst game of his extremely young career against Oklahoma State. He scored three points, took five shots and wasn't even on the floor when the game was being decided. My guess is that Wiggins will come out differently against Baylor.
C.L. Brown: If Kansas wins, I'm not convinced it will be that close. The Jayhawks have never lost to the Bears in 11 meetings in Lawrence. But if Baylor pulls the shocker, I think Kenny Chery delivers the clutch plays late. Chery hasn't shied away from taking the big shot this season, although he may need a Jefferson tip-in like in the win over Dayton.
2. Creighton looked awful against Providence. Now comes Villanova. Any reason to expect the Bluejays to play that poorly twice in a row?
Katz: No. That's not in Creighton's nature. This should be a test for the team's toughness, as there is no reason the Bluejays can't win at Villanova. The key will be on the perimeter. Doug McDermott will get his points, but can the Bluejays defend the productive Nova guards? That's where the game could be won.
O'Neil: Of all the bizarre Saturday scores, the one out of Providence surprised me the most, so I don't expect to see the same sort of debacle from Creighton against Villanova. However, the Wildcats are really good defensively. If McDermott isn't feeling well and, maybe worse, if he doesn't get help from his teammates, this game could go south for the Bluejays as well.
Brown: My guess is Creighton probably stumbled at Providence because it was looking ahead to Villanova. The Bluejays have played well in all their big games this season, so there's no reason to expect another dud. But their defense will have to show up unlike the unit that allowed Providence to shoot 55 percent in the second half.
3. Virginia is 4-1 in the ACC as it hosts North Carolina. Reason to believe in Cavaliers?
Katz: Virginia had a tremendous comeback at Duke and showed great poise but fell short. This team has figured out how to play with its current makeup and has different scorers and drivers to get it out of difficult offensive situations. The Cavs will defend extremely well, too. This is a monster test for UNC.
O'Neil: In this game, yes. The Cavaliers are terrific defensively, are ranked third in the country and allow only 56 points per game. That's big trouble for a team as woefully inconsistent as North Carolina. I do think Virginia coach Tony Bennett has his best team at Virginia, but I am holding out a little before going all-in. So far, the Cavs have had a pretty easy slate of conference games.
Brown: There's reason enough to keep an eye out for the Cavs, but I'm not totally convinced they're the team I thought they would be in the preseason. They should beat North Carolina and Virginia Tech at home in the next two games. To me, the true barometer for Virginia will come in consecutive road games at Notre Dame and Pittsburgh. Win those, and there is reason to believe.
---
Earlier Words: 1/16 »1/15 »1/14 »1/13 »1/10 »1/9 »1/8 »1/7 »
Games To Watch
Creighton at Villanova, 7 ET, FS1


This game had some of the luster rubbed off it with Creighton's brutal performance over the weekend against Providence. But a win, which would put both teams at 5-1 in the Big East, would erase that.
---
North Carolina at Virginia, 7 ET, ESPN


Virginia had high expectations when the season opened, but faded some. Now those expectations are back. After a rough December, the Cavaliers have been tough in January, holding opponents to fewer than 66 points in a five games this month.
---
Baylor at Kansas, 9 ET, ESPN


Kansas looks like it has things figured out; the Jayhawks are 4-0 in the Big 12. Baylor looks lost; the Bears are 1-3 in the league after Saturday's home loss against Oklahoma.
They Said It
OK, no way did anyone see Oregon going 1-4 to start Pac-12. Still think the Ducks can be dangerous if they defend. OSU got much-needed W.

— Andy Katz (@ESPNAndyKatz) Jan. 16, 2014
ESPNU Basketball Podcast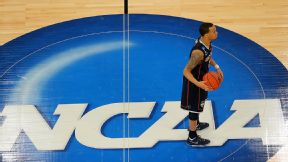 Adam Hunger/USA TODAY SportsAndy Katz and Seth Greenberg offer their thoughts on Kentucky vs. UConn.
Andy Katz and Seth Greenberg check in with newsmakers from around college basketball.